The Perfect Los Angeles Itinerary for 5 Days
Best Los Angeles Itinerary For First-Time Visitors!
City of stars, are you shining just for me?
I bet you just sang it instead of reading it, right? Oh and please don't tell me you haven't seen the movie La La Land because that's an absolute MUST if you visit the sunny city in Southern California.
Ever since I saw the movie, it was my biggest dream to visit LA – one of THE most famous cities in the world!
No joke, but I almost cried when I finally booked the flight and planned my Los Angeles itinerary for 5 days. One of my biggest dreams came true and the feeling was simply overwhelming.
We had a total of 6 full days in Los Angeles, however, we decided to plan a day trip to San Diego as well.
Initially, we even thought of doing a proper California road trip to visit other places like San Francisco or Joshua Tree as well but then decided against it. Six days just weren't enough so we stayed in LA.
I probably don't have to tell you that the city is huge and it's simply impossible to see and do all the cool stuff in only 5 days.
I'm still quite astonished by how many things we covered in such a short time. We never felt rushed or stressed tho and spent enough time at every place.
So if you want to make the best out of your time in the "City of Angels", here's your perfect Los Angeles itinerary for 5 days. Packed with all the must-see's and -do's, it guarantees you an unforgettable time!
(This post contains affiliate links, which means I receive a certain percentage of a sale if you purchase after clicking.)
BTW, you can totally change the order of the days, it's just an example of how we planned them. Don't hesitate to adjust the itinerary as you like it! 🙂
Day 1: Beverly Hills, LACMA & Melrose Avenue
On our first day, we decided to visit one of the fanciest and most expensive parts of Los Angeles: Beverly Hills.
Beverly Hills
Home to many Hollywood stars and only the most expensive boutiques it's almost impossible to not feel super poor in this area – unless your name's Kim Kardashian.
Let's start your journey through this extraordinary part of LA at the iconic Beverly Hills Sign.
Beverly Hills Sign
The 12 meters long Beverly Hills sign in Beverly Gardens Park is one of the most recognized sights in this area. The small pond in front of the sign is especially beautiful in spring and summer with countless blooming water lilies.
It's also a perfect opportunity to snap a photo as evidence you've really been there!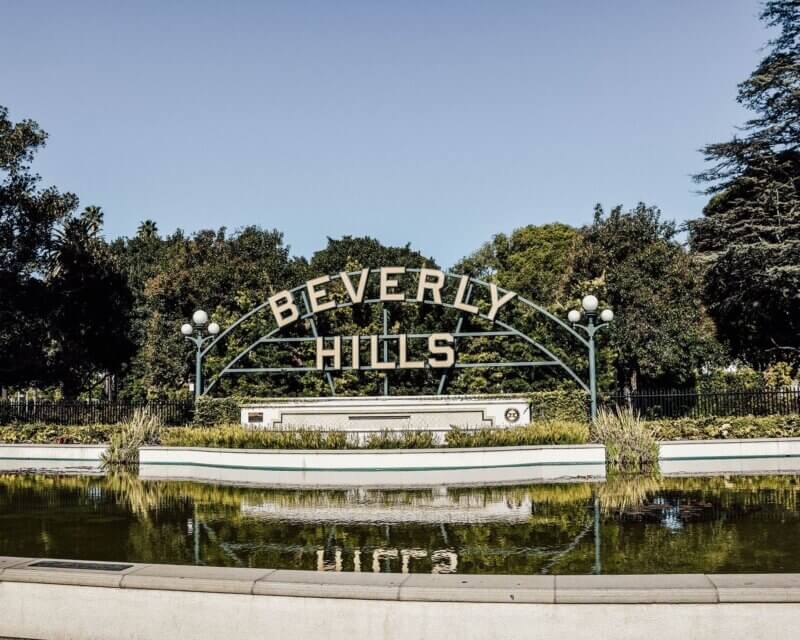 Rodeo Drive
Walk along Beverly Gardens Park with the main street to your left and you'll reach Rodeo Drive. Turn left and you'll find yourself at the beginning of the famous and expensive shopping street.
Just wander along, admire the unaffordable goods in all the shop windows and feel a bit like Julia Roberts in Pretty Woman.
If you turn around and make your way back to Beverly Gardens Park, keep on following Rodeo Drive to reach the most iconic hotel nearby: The Beverly Hills Hotel.
The Beverly Hills Hotel
On your way to the hotel, you'll pass numerous very impressive villas – one bigger and more beautiful than the other one.
Some of them have a very modern architectural style whereas others almost look like Greek temples with huge columns at the entrance.
The Beverly Hills Hotel is a 5-star hotel and has been a hot spot for many celebrities – old and young – since 1912. So keep your eyes open, maybe you'll see someone familiar entering the "Pink Palace" at Sunset Boulevard.
Tours you might find interesting:
Will Rogers Memorial Park
Right across the street from the iconic hotel there's the lovely Will Rogers Memorial Park – a very beautiful and also historic place with a small fountain and huge palm trees.
It's the perfect place to sit back, relax and watch some ducks play and swim in the water.
Alright, time to leave Beverly Hills and all the fanciness because it's time to head to the next stop on our Los Angeles itinerary: Melrose Avenue!
Melrose Avenue
Melrose Avenue is one of LA's most famous streets where you can find unique vintage shops, a lot of different dining places and some awesome wall paintings.
I really recommend you to just take your time, stroll around and enjoy the relaxing and cool atmosphere at Melrose Avenue. Don't hesitate to visit some of its clothing stores, you can find many creative and unique pieces there!
Lunch at Fala Bar (optional)
No matter what part of Melrose Avenue you're at, you'll always find some great restaurants nearby.
If you want to have some nice vegan food in LA tho, I have the perfect address for you.
Fala Bar is a stylish vegan cafe offering a menu of organic falafels, sandwiches, and salads. It's rather small and there are only a few tables outside so it's likely you'll have to wait to get a free one.
Trust me, the yummy food is definitely worth waiting tho!
LACMA
The last stop of the day is the Los Angeles County Museum of Art, short LACMA. This art museum is the largest of its kind in the western part of the US and features more than 150,000 works.
No matter if you prefer Modern and Contemporary Art, Greek art, Islamic art or Asian art – LACMA has it all! There are even parts of the museum entirely dedicated to photography and film.
Directly in front of the entrance to the museum, you can find a permanent art installation called "Urban Lights".
202 fully functional street lights from cities in and around Los Angeles make an awesome photo opportunity during the day as well as in the evening when they're turned on.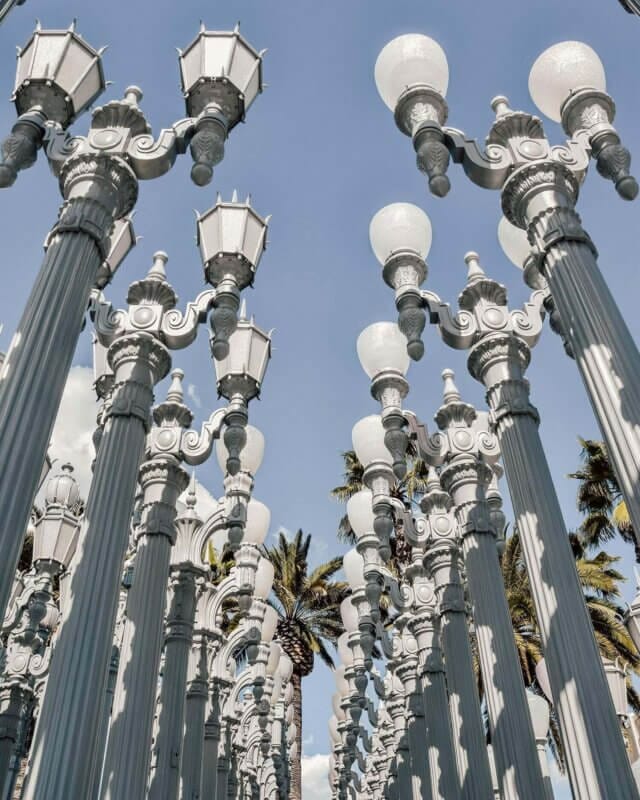 If you're not a fan of visiting museums and want to do something fun and exciting instead, head over to the neighborhood of Century City where you find The Escape Game, America's #1 escape room!
Tours you might find interesting:
Day 2: Warner Bros Studio Tour, Hollywood Sign & Griffith Observatory
You're probably already familiar with the fact that Hollywood is home to the famous U.S. film industry. Thus visiting at least one of its historic film studios is an absolute must!
Day 2 of this Los Angeles itinerary takes you to the Warner Bros Studio, one of the oldest and most popular film studios in the world!
Warner Bros Studio Tour
The Warner Bros Studio Tour is an awesome and fun way to experience the production of different movies and series close up.
Led by an experienced tour guide, the tour usually takes between 2-3 hours and you're in a small group together with a few other people.
During this time you'll see different sets where series like The Big Bang Theory or Two and a Half Men were filmed. Moreover, you can have a look at the original requisites from their latest productions.
The time we went there, their latest popular movie produced was Crazy Rich Asians so we could admire all the colorful dresses and other interesting stuff used in the movie.
It's a very popular tour to take so you should buy tickets online to avoid queuing.
After the Warner Bros Studio Tour, grab something to eat at the Whole Foods Market close by and make your way to the iconic Hollywood Sign!
Hollywood Sign (Hike)
Hiking up the Hollywood Sign was my absolute favorite activity during my time in LA. Don't worry, the hike is not as exhausting and long as it may seem at the beginning.
TIP: I recommend you start from Lake Hollywood Park and simply follow Mulholland Highway until you reach a fork. There, take a left and continue on Mount Lee Drive.
After a while, you'll spot another fork with a snake-warning sign – keep on walking straight ahead and you'll reach the sign.
The entire hike takes around 50 minutes and is a bit steep sometimes, but trust me, the view is definitely worth it. Standing up there and looking down at the City of Angels is a once-in-a-lifetime experience you'll never forget!
Griffith Observatory
Very close to the Hollywood Sign you can find Griffith Observatory – the next and final stop of this day.
It's a public observatory on the southern part of Mount Hollywood offering a spectacular view of downtown LA, the Hollywood area and the Pacific Ocean.
Besides enjoying an amazing view, you can see live shows in the Planetarium, look through telescopes and visit different exhibitions to learn more about our planet and the universe.
Get more information about the Griffith Observatory and its exhibitions + tours.
Plus I highly recommend staying until it gets dark. You really don't want to miss one of the most stunning sunsets!
Day 3: Hollywood, Runyon Canyon
Alright, day 3 of my Los Angeles itinerary for 5 days and now it's time to explore the "glamorous" Hollywood a bit more!
This day isn't as packed as the others so you'll have enough time to enjoy a cup of coffee at one of the many cafés on Hollywood Boulevard.
Hollywood
If there's one part of Los Angeles EVERYONE knows, it's Hollywood. In my opinion highly overrated and not glamorous at all yet not to miss during your time in LA.
Tours you might find interesting:
Walk of Fame
Start your journey through Hollywood by taking a casual stroll at the popular Walk of Fame. More than 2,600 celebrities were honored by writing their names on stars embedded in the sidewalk.
It's more than 2.1 kilometers long so it can take some time until you finally spot your celebrity crush!
Dolby Theatre
I bet you've seen Dolby Theatre on TV already because it's where the famous Oscars ceremony takes place. Once a year, it gets prepared to welcome the high society of the film industry.
On all other days tho, Dolby Theatre functions as a shopping and entertainment mall.
Fun fact: The Academy Awards took place the day we left LA. Thus the entire theatre was covered and everyone was working hard to get ready for the important awards. That's also the reason why I couldn't take a proper picture of it.
TCL Chinese Theatre
Right next to the Doby Theatre, you find the grand TCL Chinese Theatre.
Is there a new movie you desperately want to see? There's no better place than in this impressive movie palace shaped like a Chinese temple.
Don't wonder about the masses of people staring at the ground in front of it tho. The floor at the entrance is filled with the hands and footprints of famous actors and actresses.
Even if you don't want to see a movie or do a tour inside, it's fun to stand in the footprints of George Clooney & Co. and compare them with your own feet size!
After casually walking around Hollywood, it's time to get more active again. If you follow this Los Angeles itinerary, the next place to check out is Runyon Canyon.
Runyon Canyon
This 160-acre park at the end of the Santa Monica Mountains is a very popular hiking destination. Moreover, it's also one of the most dog–friendly places in Los Angeles so be prepared to see many furry friends there!
You can either use the entrance at Mulholland Drive or the one at North Fuller Avenue as we did. It's your choice where to go, the park is big and there are many awesome viewpoints.
However, keep in mind it's not an easy climb to reach them so wear appropriate shoes. Once at the top, you'll be rewarded with another breathtaking view of the city.
Moreover, the sunset up there is to die for so definitely deserves to be among the best places to watch the sunset in LA!
PSSST: Rumors say it's a hotspot for celebrities so keep an eye open. Maybe if you're lucky, you'll see a familiar face.
Dinner at Firefly (optional)
If you're hungry and want to have some really fancy dinner, check out the restaurant Firefly in Studio City. It belongs to the more expensive sort of restaurant, but the food and the ambiance make an excellent dining experience.
Day 4: Downtown LA
Day 4 of my Los Angeles itinerary for 5 days is all about exploring Downtown LA.
This part of the city has long been and still is an area not many people decide to visit. Frankly, I haven't been the biggest fan of it either and preferred other parts of LA more.
Nevertheless, there are some really awesome and fun activities you shouldn't miss. In fact, it has so much to offer that I wrote an entire blog post including all the best things to do in Downtown LA.
I have some photos for you, just to give you a little foretaste of what awaits you there.
Day 5: Santa Monica & Venice
Oh how much I hate to tell you but we reached the last day of my Los Angeles itinerary already.
Now it's time to explore – in my opinion – the two coolest, hippest and simply best parts of Los Angeles: Santa Monica & Venice!
Santa Monica
Right at the Pacific Ocean and to the west of Downtown LA lies the coastal city of Santa Monica. It is mostly famous for the iconic Santa Monica Pier with the Pacific Park amusement park.
Before you're going to spend some time here tho, make your way to the neighboring beach town Venice.
The best way to get there is to rent a bike from one of the rental stations near the pier. Then follow the cycle path along the beach until you reach the popular Venice Skatepark where you can park your bike.
So get on that bike, enjoy the sea breeze and dig in all the stunning views on the way!
Venice
For me, Venice felt so different compared to the rest of LA. Everyone was super chilled and it almost seemed life happens slower than everywhere else in the city. No matter where you go, you'll feel the relaxing atmosphere.
The best way to get an authentic experience of Venice is by taking a casual walk through the colorful beach town.
Start at the Venice Skatepark where you can see both, beginners and professionals, do some laps on their skateboards. It's really fun to watch all the different tricks they perform!
Then continue your way to the central part of the town where you can find the iconic Venice Sign. It's a great photo opportunity so make sure you click some good ones before heading to the Venice Canals!
The Venice Canals are beautiful, man-made canals off 25th street. They're not easy to spot so if you didn't know about this place, you would probably just walk by.
Along the canals, you can find gorgeous houses, easily walkable sidewalks, and many connecting bridges. It's a truly peaceful area and perfect for a leisurely stroll.
Lunch at Tocaya Organica (optional)
If you're looking for a nice place to have lunch, I highly recommend the restaurant Tocaya Organica nearby. It's an organic Mexican restaurant chain founded in Venice which has now locations all over Los Angeles.
Check out: Vegan Food Guide Los Angeles
After lunch, make your way back to the promenade and spend some time there before heading to Santa Monica again. If you want, you can also follow the cycle path in the other direction to see a bit more of Los Angeles' coastline.
Santa Monica
Back in Santa Monica, you can now do all the fun activities at Santa Monica Pier. Whether you're brave and try the rollercoaster or enjoy the breathtaking view from the Ferris wheel – it won't get boring at all!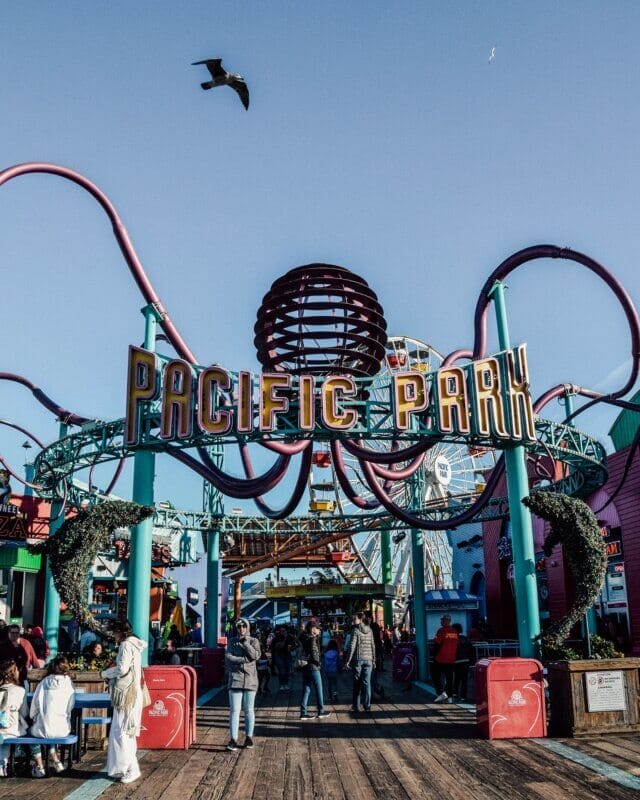 Is there a better way to end the last day of your Los Angeles trip than with a sunset at Santa Monica Beach? I doubt it! So walk down to the beach, sit down and watch the sun disappear behind the horizon of California's coastline.
Drinks at The Misfit & Shangri-La Rooftop Bar (optional)
Oh, I almost forgot one thing to make it a great last day! In downtown Santa Monica, only a few minutes from the pier, you can find some awesome bars to have a drink (or two.)
My recommendations are The Misfit (awesome atmosphere) and the Shangri-La rooftop bar (best views of Santa Monica Pier). So cheers to unforgettable 5 days in Los Angeles!
How to Get Around in Los Angeles
Do you believe me if I tell you it's not necessary to rent a car in LA?
Although everyone recommended renting a car, we decided against it. Instead, we mainly used public transport to get around the city and it was really simple!
Only a few times we had to order an Uber to reach places such as Hollywood Lake Park or Griffith Observatory. So if you don't want to get stuck in the horrible traffic of LA, give public transport a chance!
---
Like it? Pin it!
---
Do you want to travel like me?
Here are some of my favorite travel tips and resources:
Flights: I prefer using CheapOair or Skyscanner to book flights. The destination everywhere feature is perfect for finding some cheap deals!

Accommodation: Booking.com is my favorite site to find some great hotel deals. I do love staying at a local place as well, thus I book an Airbnb every now and then.

Travel Insurance: There are many reasons why travel insurance is important and I never travel without having one. I use the simple and flexible one from World Nomads to be protected against unforeseen events.

Tours: I love taking tours to explore destinations like a local. My favorite website to book them in advance is GetYourGuide.

Camera Gear: I use a Nikon D5300 camera with an 18-105 mm and a 10-20 mm wide-angle lens to take my photos.