9 of The Best Things to do in Downtown LA
Downtown Los Angeles has long been and is still an area where many people don't go during their visits. Frankly, I wasn't the biggest fan of it either and liked other parts of the city way more.
However, there are some really cool activities to do and places to see.
Before diving into my personal favorites, here's a tip: if you're flying into LA and need a smooth ride downtown, you can choose airport transfer service from LAX. They ensure you arrive comfortably and ready to explore!
In my opinion, these are the best things to do in downtown LA:
(This post contains affiliate links, which means I receive a certain percentage of a sale if you purchase after clicking.)
1. Get Lost in a Maze Of Books at The Last Bookstore
The first place on my list is The Last Bookstore – one of the best bookstores in the world. Even though it's the largest bookstore for old and new books in California, the atmosphere inside is very cozy and quiet.
Whether you're interested in fantasy books; romantic novels or non-fiction literature, The Last Bookstore offers something for everyone.
Additionally, you can find all different kinds of records or if you want to get rid of your old books you can sell them at the store as well.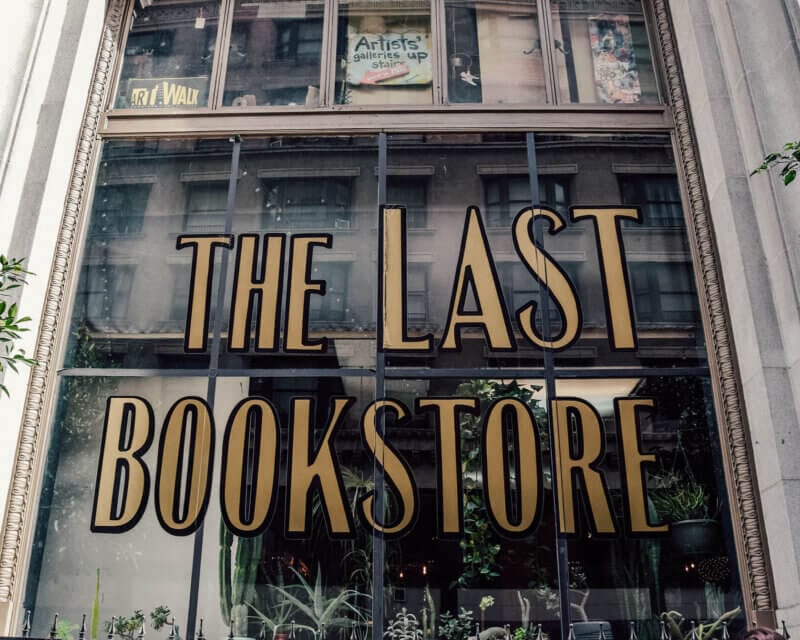 Whereas the ground floor looks like a normal store, as soon as you climb the stairs to the upper floor you'll find yourself in a real maze of bookshelves. A tunnel and a spy hole made of books are part of the adventurous labyrinth.
Be careful, otherwise, you'll get lost between hundreds of bookshelves!
Tours you might find interesting:
2. Stop at The Historic Bradbury Building
The historic Bradbury Building became well-known thanks to the science-fiction movie "Blade Runner" which was filmed there.
Although the five-story office building is open to the public, it's neither allowed to use the elevators nor the stairs to go up.
Luckily, it's not necessary to do so as you can admire the extraordinary atrium with its unique walkways from the ground floor.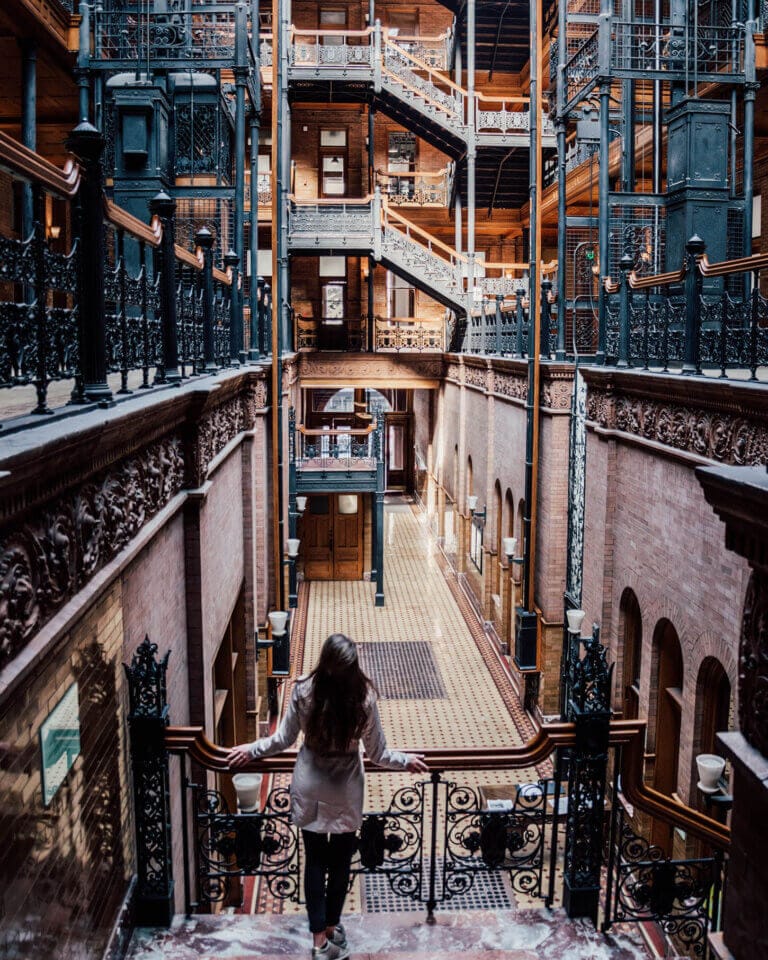 The Bradbury Building is an extraordinary construction and therefore a short visit is definitely a great thing to do in downtown LA.
3. Try Different Food From All Around The World at Grand Central Market
Have you ever been to a city where you couldn't find a food market? I doubt that's even possible. Therefore, it's no surprise that the next activity you need to do in downtown LA is to stuff yourself with delicious food at Grand Central Market.
From eggslut to sticky mango rice or Mexican tortillas, there's a big selection of international cuisine that offers something to eat for everyone.
Not only the dishes are super yummy, but the prices are pretty affordable too. If you're curious about what I tried, have a look at my vegan food guide.
4. Take a Ride on The World's Shortest Railway
Just a stone's throw from Grand Central Market is Angels Flight Railway, the world's shortest railroad and a beloved landmark of the city.
The railway had been closed for more than 30 years before it started operating again in August 2017 after it was used as a filming location for the movie "La La Land".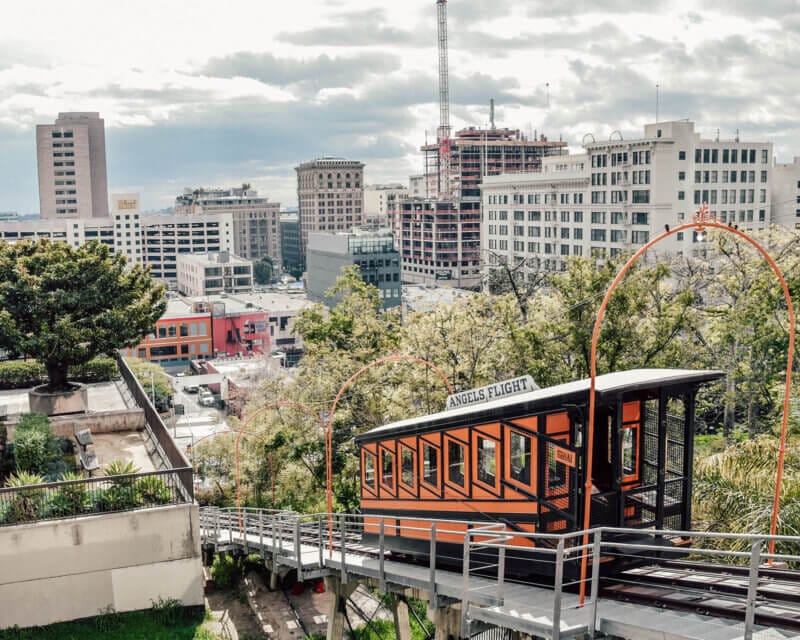 The fare for the short ride between Hill Street and Grand Avenue is only 1$ each way and if you have a TAP Card you get a 0.50$ discount. It doesn't cost you a fortune and you can tick riding the world's shortest railway off your bucket list!
5. Admire The Incredible Architecture of Walt Disney Concert Hall
One of the most astonishing architectural masterpieces in Los Angeles is the Walt Disney Concert Hall. It was designed by architect Frank Gehry whose mission was to guarantee the most wonderful sound inside the building.
Therefore he decided to construct a rather extraordinarily shaped concert hall without the usual straight walls. As a result, some people claim that the sound inside the main hall makes you feel transported into a violin.
Unfortunately, we didn't have the chance to watch a concert live. However, with its curvy shape and steel facade, the enormous building is a real eye-catcher even from the outside.
If you use the stairs on the left side of the concert hall you can climb up to the backside of it. There you'll find a small rose-shaped fountain and a mirrored walkway for great photo opportunities.
6. Look at Unique Pieces of Modern Art at The Broad
Another place I recommend you to go to is The Broad. The Broad is a contemporary art museum located right next to the Walt Disney Concert Hall.
Probably, some of you aren't that much into modern art, but I give you two simple reasons why you should check it out nevertheless.
First of all, tickets are completely free. Therefore, I recommend you reserve them online in advance to avoid queuing. Second, you can admire the pretty awesome Infinity Mirrored Room from Yayoi Kusama.
The installation is basically a mirror-lined room with flashing LED lights. You enter it through a door and then have 45 seconds to enjoy the breathtaking atmosphere inside.
It's really one-of-a-kind and a magical experience everyone should add to their Los Angeles bucket list!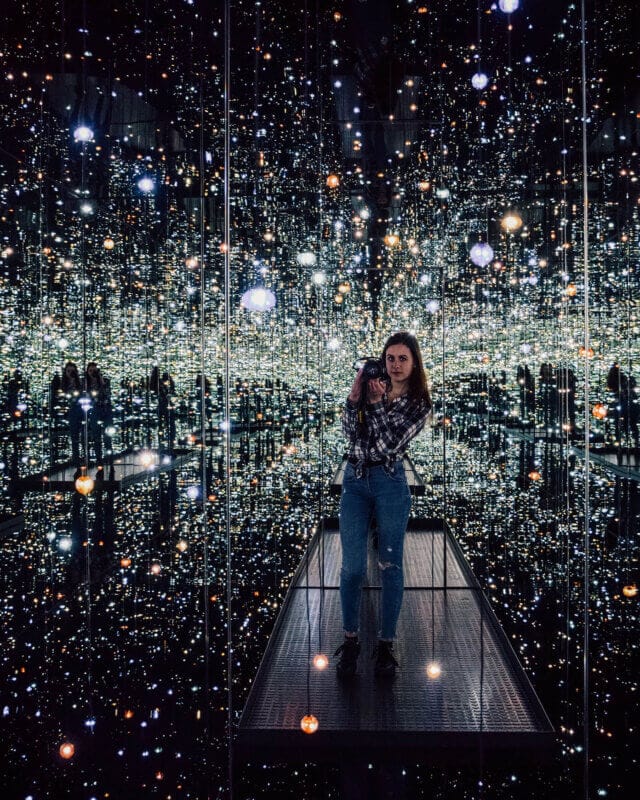 An escalator in the entrance hall leads to the upper floor where the actual exhibition takes place. There you'll find some famous artwork such as The Balloon Dog by Jeff Koons or great pieces from Andy Warhol.
7. Find Yourself in Japan While Exploring Little Tokyo
Just as the majority of all cities worldwide have their own Chinatown, Los Angeles has its own as well. However, besides Chinatown, you can also find the Little Tokyo Historic District there.
The fact that it's home to the largest Japanese-American population in North America makes you really feel beamed to Tokyo for a few moments.
Whether you're craving some delicious Japanese food or solely wanna buy some fancy cosmetics, Little Tokyo is the place to go!
8. Take Some Photos in Front of The Coolest Street Art
The next place is heaven on earth for all street art lovers. On the east side, there's another one of the many neighborhoods in Los Angeles called the Arts District.
In this particular area, people gave life to old industrial buildings by painting colorful murals and quotes on their walls.
Moreover, there are plenty of art galleries and some really nice clothing shops to find. Time to grab your camera and start the hunt for the best Instagram spots in LA!
9. Relax And Escape The Busy City Life in Grand Park
Undoubtedly, no city is complete without some green areas to escape the busy city life. One of these great parks is Grand Park in the heart of downtown LA. I
n the park, you can find a newly restored fountain, an event lawn, and a terrace full of different plants. Thus, it's a great place to enjoy the sun and embrace nature in the middle of the big city.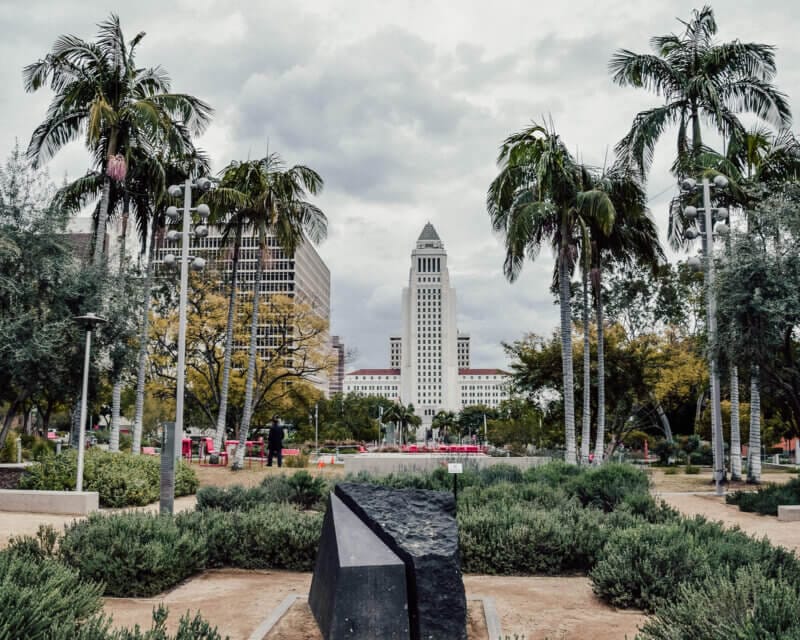 As you can see, there are a lot of awesome activities to do in downtown LA. Even though, it's not as great as other parts of the city, in my opinion.
Have you visited downtown Los Angeles already and if so, how did you like it there?
---
Like it? Pin it!
---
Do you want to travel like me?
Here are some of my favorite travel tips and resources:
Flights: I prefer using CheapOair or Skyscanner to book flights. The destination everywhere feature is perfect for finding some cheap deals!

Accommodation: Booking.com is my favorite site to find some great hotel deals. I do love staying at a local place as well, thus I book an Airbnb every now and then.

Travel Insurance: There are many reasons why travel insurance is important and I never travel without having one. I use the simple and flexible one from World Nomads to be protected against unforeseen events.

Tours: I love taking tours to explore destinations like a local. My favorite website to book them in advance is GetYourGuide.

Camera Gear: I use a Nikon D5300 camera with an 18-105 mm and a 10-20 mm wide-angle lens to take my photos.