Top 12 Things to do in Brussels For First-Timers
Brussels is one of those cities that is just perfect for a long weekend getaway. Yet, it's still among the rather underrated cities in Europe, even though there are so many awesome things to do in Brussels!
Just think, for example, of historic sites, interesting museums, vibrant nightlife, and certainly beer, fries, and chocolate! If it's your first time in Brussels, you might even get overwhelmed by the vast amount of activities to do.
To prevent just that and to help you put together your perfect Brussels itinerary, I compiled this awesome list featuring all the unmissable things to do and places to see. All based on my personal experience – as always. 😉
Let's venture out and explore the Belgian capital!
(This post contains affiliate links, which means I receive a certain percentage of a sale if you purchase after clicking.)
12 Epic Things to do in Brussels That Guarantee The Best Time!
1. Explore Architectural Gems at The Grand Place
The Grand Place is the crown jewel of Brussels and one of the most stunning squares in the world. Therefore a visit to it is one of the top things to do in Brussels.
This European UNESCO World Heritage site is a harmonious blend of opulent architecture, intricate facades, and historical significance. The square's origin dates back to the 10th century when it served as a marketplace for traders.
Today, the buildings surrounding the Grand Place showcase a mix of Gothic, Baroque, and Louis XIV architectural styles, highlighting the rich heritage of Brussels.
You may have seen photos of the famous Flower Carpet here at Grand Place. Every two years in August, the square gets covered with over 500,000 begonias and dahlias to create a breathtaking floral tapestry.
The next Flower Carpet is set for August 15, 2024, so you better mark that date in your calendar already!
2. See The Iconic Manneken Pis
No visit to Brussels is complete without a glimpse of the iconic Manneken Pis. This beloved bronze statue portrays a little boy playfully urinating into a fountain and has become a symbol of the city's fun-loving nature.
Situated close to the Grand Place, the Manneken Pis is a true tourist magnet, despite its small size of just about 61 cm tall.
Though small, the Manneken Pis has an extensive wardrobe. Various countries and organizations have gifted it with outfits over the years.
On special occasions, the statue wears these costumes so you might catch the Manneken Pis dressed as a sailor, cowboy, or in traditional national attire. It even has its own dressing calendar!
3. Visit Audrey Hepburn's Birth Place
Did you know the "Breakfast at Tiffany's" star Audrey Hepburn was born in Brussels? Well, I didn't until my friend told me.
So if you are a movie enthusiast or an Audrey Hepburn fan, a visit to her birthplace is a must. Just head to 48 Rue Keyenveld in Ixelles, a vibrant neighborhood of Brussels, where Audrey Hepburn's birthplace still stands.
Although it is a private residence and not open to the public, the facade bears a commemorative plaque, allowing you to appreciate the significance of this iconic location.
4. Indulge in Authentic Belgian Fries
Undoubtedly, one of the top things to do in Brussels is savoring the irresistible taste of authentic Belgian fries. Known locally as "frites," Belgian fries have earned a reputation for being among the best in the world, and for good reason!
What's so special about them is their crispy exterior and fluffy interior, the result of a specific cooking process.
Authentic Belgian fries are twice-fried: The first fry ensures that the inside of the fries is cooked thoroughly, while the second fry creates a golden-brown and crispy texture.
You can find many "friteries" (fry shops) scattered throughout Brussels, with the majority being near the Grand Place. To enjoy your frites like a true Belgian, remember to order them in a paper cone and eat them with a miniature fork.
Whether as a snack to enjoy while sightseeing or as a satisfying meal, you won't be able to resist the aroma of freshly fried potatoes. I'm speaking of experience. 😉
5. Go Inside The Famous Atomium
When one thinks of Brussels, the Atomium is likely one of the first iconic sights that comes to mind. No wonder, with its unique appearance it shapes the city line like no other building!
Its one-of-a-kind look comes from the idea of resembling a giant model of iron, assembled from 9 tiny iron pieces. It's like someone took a little piece of iron and enlarged it 165 billion times to create this extraordinary and distinct shape.
Undoubtedly, its shape is truly astonishing but Atomium is not only cool to see from outside but a visit inside is just as fascinating.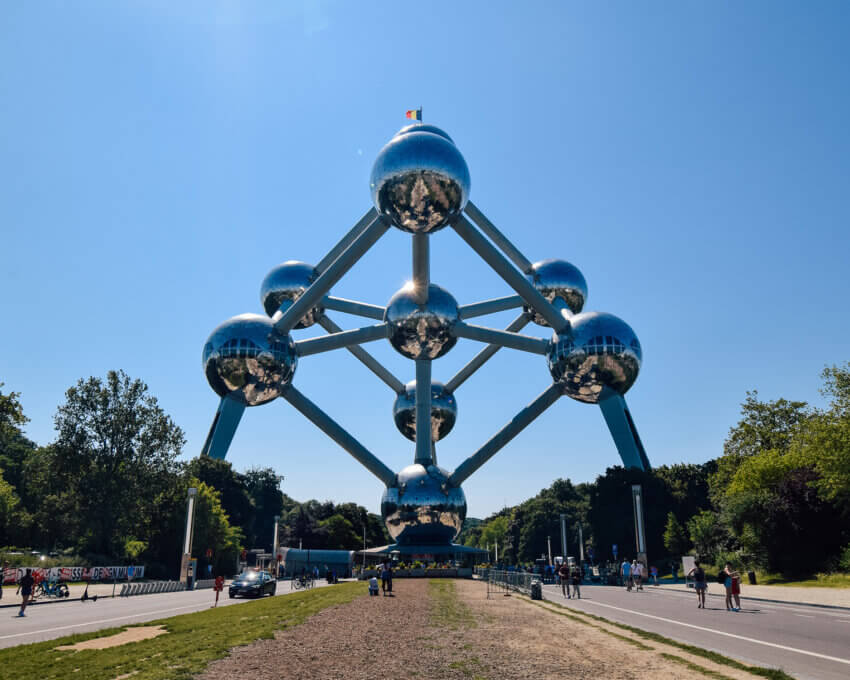 Purposefully designed for the 1958 Brussels World's Fair, it was originally intended to be a temporary structure solely for the fair's duration. However, due to its overwhelming popularity, the decision was made to keep the Atomium permanently.
Today, the Atomium operates as both a science center and museum, offering a variety of fascinating things to explore.
Inside, you'll find engaging exhibits to learn more about its history, captivating light displays, a panoramic viewpoint of Brussels, a restaurant, and a souvenir shop.
At first, we were a little hesitant about whether buying a ticket was really worth it. A single adult ticket costs €17, so not necessarily a bargain, but luckily we decided to go for it.
We all enjoyed it really much and I was especially fascinated by the impressive light shows and the great views of Brussels. Just make sure to buy tickets online in advance, the queue can get insane!
Tours you might find interesting:
6. Discover Brussel's Political Heart at The European District
Being the capital city of the European Union, exploring the European District is one of the top things to do in Brussels!
The European District is a neighborhood where many important institutions of the European Union (EU) are located such as the European Parliament, the European Commission, and the European Council.
The European Parliament in particular plays a crucial role in shaping EU laws and policies and its enormous building size reflects its importance even more.
The European Parliament offers guided tours to give you insight into the work and functions of the institution.
During these tours, it's possible to enter the impressive hemicycle, the circular debating chamber where parliamentary sessions take place, and other public areas and exhibition spaces within the building.
If you're politically interested, I think it's a great way to learn more about the history, values, and achievements of the European Union.
7. Take a Stroll in Parc du Cinquantenaire
If you want to escape the hustle and bustle of the city for a while head to Parc du Cinquantenaire, a serene park in the European District.
This green oasis spans over 30 hectares and provides ample space for leisure activities and picnics.
If you enter the park from the east, you'll be greeted by a grand triumphal arch known as the "Monument du Cinquantenaire" This beautiful arch marks the 50th anniversary of Belgian independence and is the main attraction in the park.
As you explore the park, you'll find charming fountains, statues, and flowerbeds as well as several museums, including the Autoworld Museum and the Art & History Museum.
Whether you want to enjoy a peaceful walk, have a relaxing picnic, or explore the fascinating museums, Parc du Cinquantenaire is the perfect place to escape the busy city life!
8. Have a Beer (or Two) at Delirium Café
Besides fries, Belgium is also renowned for its rich beer culture, boasting a long and proud history of brewing. Even if you're not a beer fan (I'm actually none either), a visit to Delirium Café is an absolute must thing to do in Brussels!
Located a stone's throw from Grand Place, Delirium Café boasts an astonishing selection of beers from all around the world. With an impressive collection of over 2,000 different beers, you're sure to find something for your taste buds.
From classic Belgian brews to rare international varieties, here you really get everything!
The best part is, you can order a meter of beer where you get 10 different kinds of beer for €39. This way you can taste different beer flavors for a cheap price, especially if you share it in a small group like we did.
As mentioned, I'm not a beer drinker at all but in Belgium, you can order various sorts of fruit beer such as the famous cherry beer or raspberry beer.
At Delirium Café, my favorite was the Floris Cactus & Lime Beer which has a very unique but super delicious taste!
9. Enjoy Stunning City Views From Mont des Arts
If you want to enjoy one of the most stunning views of Brussels, head to Mont des Arts which is located near the historic city center.
Mont des Arts translates as "Hill of the Arts" and this name is quite fitting because it offers a great number of cultural attractions such as the Royal Library of Belgium and the BELvue Museum.
In addition to its cultural institutions, Mont des Arts features a charming small park that adds to the area's allure. The Mont des Arts Garden (Jardins du Mont des Arts) offers a tranquil and picturesque oasis amidst the bustling cityscape.
From the top of the hill, you can see iconic landmarks such as the Town Hall at Grand Place or the Cathedral of St. Michael and St. Gudula.
Mont des Arts is not only perfect for sightseeing during the day but also offers a magical experience in the evening.
When the sun sets and the city's lights begin to illuminate, it creates a romantic atmosphere that's perfect for a peaceful evening stroll.
10. Try Finest Belgian Chocolate
We had Belgian fries, we had beer. What's missing? Exactly, Belgian chocolate! Renowned for its quality and rich flavor, Belgian chocolate is one of the best chocolates you can find.
As you explore the city, you'll find an array of chocolatiers and chocolate shops scattered throughout Brussels. Whether in the form of a classic chocolate bar, pralines, or truffles, you'll find different creations everywhere!
Step into one of the many chocolate shops and experience the delicious aromas and mouthwatering displays while choosing your favorite flavors, fillings, and cocoa percentages.
Especially the dark varieties are very often vegan and besides the classic noir chocolate, they are also available infused with fruits, spices, or liquors.
11. Start Your Morning With The Best Brunch
Can you imagine a better way to kickstart your day with some hearty brunch that will leave you energized and ready for adventure? Probably not.
Luckily, Brussels offers a great number of fantastic brunch spots that will satisfy your morning cravings. Especially in the neighborhood of Ixelles, there's a variety of cozy cafés and eateries.
Two of them that I highly recommend are Hinterland and The Wild Lab. Whether you prefer sweet or savory, hearty breakfasts or lighter options, both offer something for everyone!
12. Plan a Day Trip to The Fairy Tale City of Bruges
Last but not least, one of the top things to do in Brussels is to plan a day trip to Bruges.
Just a 1-hour train ride away, Bruges is a charming medieval city that will transport you to a world of cobblestone streets, picturesque canals, and captivating architecture.
TIP: Use Omio to find train connections from Brussels to Bruges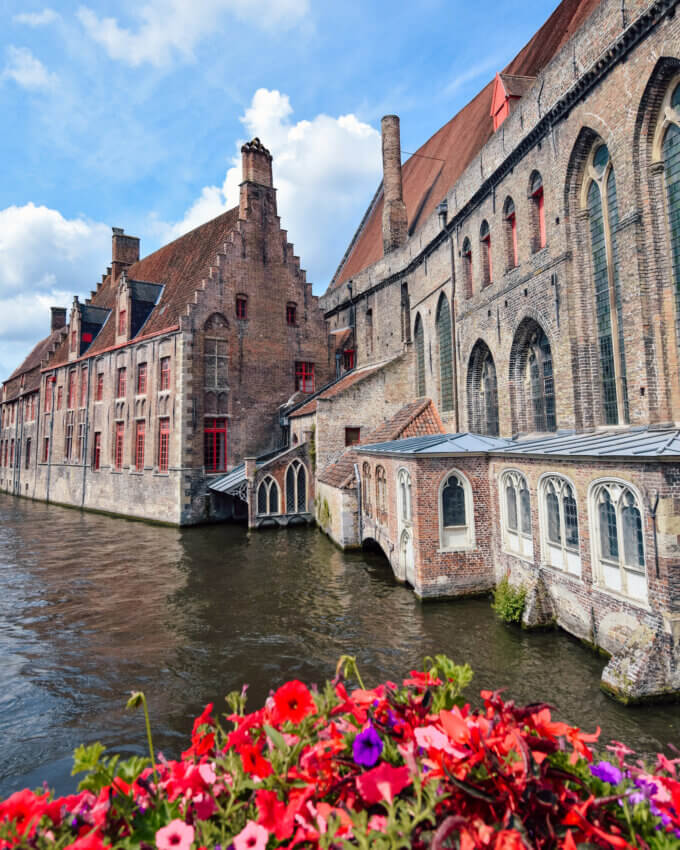 Enjoy postcard-perfect views of the reflections of the quaint houses and ancient bridges while taking a leisurely stroll along the canals. You can find charming shops, inviting cafes, and centuries-old buildings at every corner.
However, the most perfect way to explore the city is by boat. A boat tour along the serene canals of Bruges is a true must-do experience, providing a unique perspective of the city's architecture and landmarks from the water!
Tours you might find interesting:
---
Like it? Pin it!
---
Do you want to travel like me?
Here are some of my favorite travel tips and resources:
Flights: I prefer using CheapOair or Skyscanner to book flights. The destination everywhere feature is perfect for finding some cheap deals!

Accommodation: Booking.com is my favorite site to find some great hotel deals. I do love staying at a local place as well, thus I book an Airbnb every now and then.

Travel Insurance: There are many reasons why travel insurance is important and I never travel without having one. I use the simple and flexible one from World Nomads to be protected against unforeseen events.

Tours: I love taking tours to explore destinations like a local. My favorite website to book them in advance is GetYourGuide.

Camera Gear: I use a Nikon D5300 camera with an 18-105 mm and a 10-20 mm wide-angle lens to take my photos.