A Complete Guide to Visiting Jozani Forest
While planning my two-week trip to Zanzibar, I had a few must-see places and activities in mind. One of them was Jozani Forest, the island's only national park. And as a true nature lover, it simply had to be on my itinerary.
Jozani Forest is located in the southern part of Zanzibar and easily reachable from Stone Town, Jambiani, Paje, or, in my case, Michamvi where I stayed three nights at Michamvi Spirit Lodge. Only a 40-minute car ride away, it was the perfect starting point for a half-day tour of the national park.
I've been to quite many European national parks already, but never got the chance to visit one on another continent. Thus, my curiosity and excitement were accordingly high, which animals, plants and other sights I would discover.
So, now that you've landed here on this page, I guess you already made the decision to visit Jozani Forest as well. To save you time-consuming browsing through thousands of websites to gather all the needed information, I compiled this comprehensive guide to Jozani Forest.
It includes everything relevant to know such as opening times, price, how to get here and what to see plus some personal tips.
Are you ready to dive into the vast flora & fauna of Jozani Forest?
(This post contains affiliate links, which means I receive a certain percentage of a sale if you purchase after clicking.)
To understand how the national park became what it is today, let's take a quick look at its history.
History & Origin
Initially, Jozani Forest was founded as a forest reserve in the early 1960s where most travelers came to hunt for Zanzibar leopards. It was only in 1984 that this place was turned into a national park to protect its precious wildlife.
Looking back, it was a necessity to declare it a national park. Otherwise, some of the animals living here today might no longer exist.
The Zanzibar leopard, for example, is already believed to be extinct because it was last spotted in 2003. Opinions differ here tho since people keep reporting observations but none of which can be proven.
Nowadays, the whole park area covers 50 square kilometers, which is, compared to many other national parks worldwide, relatively small. Still, Jozani Forest can boast of itself as home to the largest remaining stand of near-natural forest in Zanzibar.
Opening Times & Entrance Fee
You can visit Zanzibar's only national park all year round from 7:30 am to 5:00 pm every day. From June to September it's the dry season in Zanzibar so I recommend you plan a visit during these months. It's not really fun to walk through the park on a rainy day.
Although you can arrive at Jozani Forest on your own, it's not possible to visit it without a tour guide. You don't need to pay extra for one tho, it's already included in the price.
Speaking of price, the entrance fee to the national park is quite affordable. A ticket for one person costs 25000 TSH which is roughly $11.
If you pay in USD it usually costs a bit more so make sure you carry the local currency to save a few bucks. I only had USD with me and paid a total of $24 for two tickets.
How to Get to Jozani Forest
The easiest way to get to the national park is as part of an organized tour. It depends on the area and type of accommodation you stay at, but most hotels all around the island offer guided tours. Especially from Stone Town, there are many options of half-day tours to Jozani Forest.
Tours you might find interesting:
Thanks to its convenient location, the park is easily reachable from most parts of Zanzibar. For example, the car drive from Michamvi, the area I stayed at, was just less than 45 minutes. And even from the very northern places such as Nungwi or Kendwa, it only takes a little over an hour.
If you're brave enough to rent a car, you can park it almost directly at the starting point of the tours. There are enough parking spaces available.
The last option is to come here by dala dala, the public minibusses of Zanzibar, but you never know when one comes or leaves so you may have to wait for an unknown time.
What to See at Jozani Forest
Now that you've learned enough about the national park's history, know how much money you're going to leave here and the best way to arrive, let's finally come to the most interesting and exciting part of this blog post: The truly fascinating and unique vegetation and inhabitants of Jozani Forest!
Different Monkey Species
The Zanzibar red colobus monkey is the one animal Jozani Forest is most popular for and one of the most amazing animals to see in Africa. Sadly, it's also the most threatened group of African monkeys.
Even though they're under species protection, their population in Africa is slightly decreasing. This is mainly due to poaching and habitat loss.
Nowadays, there are only about 20,000 red colobuses alive of which around 5,000 can be found in Jozani Forest, according to the tour guide.
Compared to other monkeys that run away from visitors or, on the contrary, even attack you, the ashy red colobuses are totally relaxed and don't bother being observed and photographed.
They're seriously so cute, I could have spent hours just watching them jump from tree to tree or delouse each other.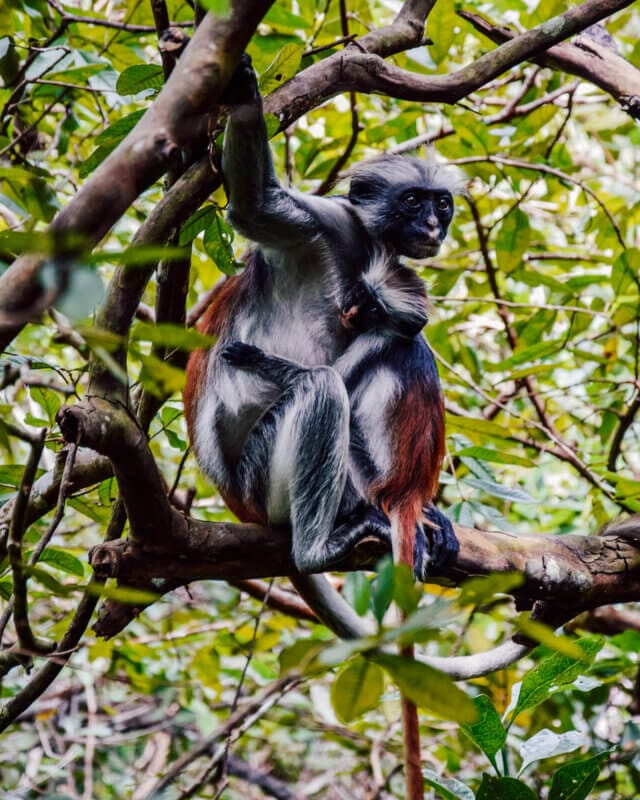 Besides the red colobuses, another monkey species you may encounter is the Syke's monkey, also known as the white-throated monkey.
It's another very rare monkey species and you need a bit of luck to spot them. Unfortunately, I wasn't lucky so there's also no photo to see.
Small Antelopes
Another rare and very shy mammal to see at Jozani Forest is the Aders's duiker, a small to medium-sized brown antelope. It's the rarest antelope species in Africa and can only be found in heavily-wooded areas in Kenya and Zanzibar.
Nowadays, there are only between 300 and 600 of them remaining in the wild, so you can consider yourself very lucky if you see one of them. Especially since they're very alert and sensitive to sound.
Just like the Aders's duiker, the suni antelope is another antelope species roaming around in the lush vegetation of the forest. It's even tinier than its relative, equally shy and getting one in front of your eyes is incredibly difficult as well.
During the tour, I spotted a small antelope hiding in the bushes but neither I nor the tour guide could determine whether it was an Aders's duiker or a suni antelope. Cause as soon as we saw it, it was already gone a second later.
Various Reptiles
Much to my displeasure – and probably to many others' too – Jozani Forest is not only home to adorable mini antelopes and friendly monkeys. No, it's also the habitat of highly venomous snakes such as the green and black mamba and a few species of cobras.
As someone with a strong snake phobia, you can probably imagine how much I freaked out when I heard our tour guide saying this. Me and some of the most poisonous snakes on this earth in one place, an absolute nightmare. I literally froze on the spot, unable to just make one single step further.
It only helped a little when I was told they can be found only very deep in the forest and not in the area we were exploring. Still, just the thought of a snake dropping down from a tree gave me the chills.
If you're brave enough, you can ask your guide to walk deeper into the forest to get a chance to find these snakes. It's not an impossibility because the next day after our excursion, I met two German girls at my accommodation who told me they saw a green mamba during their tour.
Well, what should I say? I was just jolly glad I was spared that.
Besides venomous snakes, there are numerous other, more harmless reptiles to watch such as lizards, chameleons, geckos and tortoises.
Remarkable Flora
Last but not least, Jozani Forest is home to some of the island's most remarkable vegetation. There are all sorts of unique and interesting plant and tree species. A lot of what goes into local daily life, medicines and tools comes from this area of Zanzibar.
A large part of the forest is made up of 100-year-old Mahogany trees whose wood is mainly used for furniture production. Furthermore, you find a vast number of eucalyptus trees and various other plants with medicinal benefits which your guide explains to you.
However, in my opinion, the most fascinating part is the mangrove area on the other side of the park. Here you can walk a pathway in the midst of a broad mangrove forest and learn more about some of the rarest trees in the world.
The mangroves play an important role in the ecosystem of Zanzibar since they are powerful carbon sinks. Moreover, they provide a habitat for many animals such as tiny black crabs, lizards, snakes and birds.
As I learned from my tour guide, there are three different types of mangroves to find here. It's possible to tell them apart simply by the form of their roots. A truly fascinating fact I had not known anything about before!
A Few Personal Suggestions
Now, coming to the end of this blog post, I just want to give you some personal tips for your visit to Jozani Forest.
First, there's a tropical climate and with this type of climate always comes the mosquito plague. Therefore, make sure to use a bug spray to avoid getting stung. I totally forgot about it so I was really busy scaring away mosquitos from my skin.
Second, keep in mind that this area is a natural habitat for precious wildlife so behave accordingly. Avoid loud noises so as not to disturb the animals and move carefully offside the paths to obviate destroying rare plants.
Last but not least, observe your surroundings consciously and keep your eyes and ears open. Otherwise, it might happen you miss one or the other little thing happening right next to you.
Tours you might find interesting:
---
Like it? Pin it!
---
Do you want to travel like me?
Here are some of my favorite travel tips and resources:
Flights: I prefer using CheapOair or Skyscanner to book flights. The destination everywhere feature is perfect for finding some cheap deals!

Accommodation: Booking.com is my favorite site to find some great hotel deals. I do love staying at a local place as well, thus I book an Airbnb every now and then.

Travel Insurance: There are many reasons why travel insurance is important and I never travel without having one. I use the simple and flexible one from World Nomads to be protected against unforeseen events.

Tours: I love taking tours to explore destinations like a local. My favorite website to book them in advance is GetYourGuide.

Camera Gear: I use a Nikon D5300 camera with an 18-105 mm and a 10-20 mm wide-angle lens to take my photos.