8 Reasons Why You Should Visit Poland
If you think of Europe and its most beautiful and travel-worthy countries, Poland probably wouldn't be on your list right? Time to change that!
Here are some reasons why you should visit Poland and consider this country as your next destination:
(This post contains affiliate links, which means I receive a certain percentage of a sale if you purchase after clicking.)
1. It is Less Touristy Than Other European Countries
Even though it's almost impossible to avoid tourist crowds nowadays – they're literally everywhere – you can still experience the traditional local feeling in many parts of the country.
Especially if you avoid going there during peak season. I went there at the end of November when winter slowly arrived and Christmas was in the air. Because of the cold and windy weather, it's not the best time for sure.
However, it's way less crowded and it has something very magical with all the Christmas decorations.
2. It is Affordable
Compared to the majority of Europe's touristy places, Poland is probably one of the cheapest ones. You can get really delicious food and good accommodation for fair prices.
Moreover, many cheap airlines approach Poland's main airports such as WizzAir or RyanAir and public transport within the country doesn't cost you much either. I took the bus from Krakòw to Warsaw which was around €5.
3. Warsaw Will Surprise You!
Honestly, I didn't expect much as I left the bus after arriving in Warsaw. However, after exploring it all day and discovering the old and new parts of the city, I need to confess that I even like it a bit more than Kraków.
There are so many cool things to do in Warsaw! The city has just both – the medieval vibes of the old town and the big city feeling with the Palace of Culture and Science, one of the most famous landmarks in Poland.
So whether you decide to spend 24 or 48 hours in Warsaw – or even more – the city never gets boring!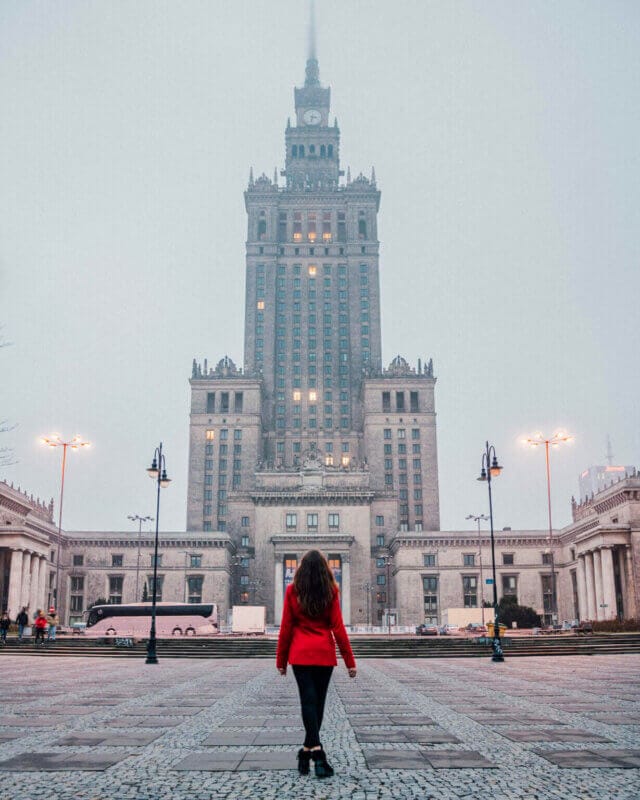 4. Poland is Rich in History
Whether you put Wawel Castle or Schindler's Enamel Factory on your Kraków itinerary, visit the Concentration Camp in Auschwitz, or one of the three museums in Warsaw, this country is full of interesting and sad stories.
Thus it should be on the list for every history fan out there!
Definitely have a look at a complete Poland itinerary to not miss any of the major things!
5. The Country is Perfect For a Weekend Getaway
Located right in the heart of Europe, Poland is quickly reachable from almost every European country. If you plan a weekend trip from Bratislava or Budapest, you can even visit Poland by train.
It doesn't matter if you take the bus, train or plane, it's very cheap and affordable to travel to Poland, as I already mentioned above.
6. The Architecture is Stunning!
Poland absolutely wins with its architecture. Most buildings and castles are centuries old and the gorgeous facades of all the houses at the Old Town Market Place in Warsaw speak for themselves.
Even though they were rebuilt after being completely destroyed during World War II.
7. The Hospitality of Polish People is Amazing
If you visit Poland you'll be heartily welcomed by the Polish. They're definitely one of the most polite and friendly people because everyone tries to help you as much as they can!
For example, when I went to a local cosmetic store where everything was in Polish, the staff really tried their best to translate everything into English for me and even looked up all the things I didn't know.
8. Poland Has a Rich Diversity
Poland is in the top ten of Europe's largest countries. Therefore its diversity is remarkable and there are a lot of different activities to do.
For instance, skiing in the mountains, playing at the beach, or discovering all its beautiful cities and villages. The opportunities are endless and you definitely won't get bored there!
If you can think of any other reasons why someone should visit Poland feel free to let me know in the comments below!
I have only seen a small part of this wonderful country and therefore can't wait to go back and see some more facets!
---
Like it? Pin it!
---
Do you want to travel like me?
Here are some of my favorite travel tips and resources:
Flights: I prefer using CheapOair or Skyscanner to book flights. The destination everywhere feature is perfect for finding some cheap deals!

Accommodation: Booking.com is my favorite site to find some great hotel deals. I do love staying at a local place as well, thus I book an Airbnb every now and then.

Travel Insurance: There are many reasons why travel insurance is important and I never travel without having one. I use the simple and flexible one from World Nomads to be protected against unforeseen events.

Tours: I love taking tours to explore destinations like a local. My favorite website to book them in advance is GetYourGuide.

Camera Gear: I use a Nikon D5300 camera with an 18-105 mm and a 10-20 mm wide-angle lens to take my photos.