16 Most Beautiful & Famous Landmarks in Dubai
Stunning Landmarks in Dubai You Should Add to Your Itinerary!
Dubai, one of the seven emirates that make up the UAE, is known for its futuristic architecture, luxurious shopping malls, and vibrant nightlife.
As a travel enthusiast, Dubai has always been on my bucket list of places to visit. Last winter, I finally had the chance to visit this incredible city and celebrate my 25th birthday there, making it a trip I'll never forget!
During my time in the bustling city of superlatives, I could tick off many of the popular places in Dubai that I had on my list.
From the iconic Burj Khalifa to historic neighborhoods like Al Fahidi – the blend of modernity and tradition is what makes the city so unique.
In this blog post, I am thrilled to be collaborating with other travel bloggers to share our experiences and insights on the most famous landmarks in Dubai.
Whether you're planning a trip to Dubai or simply looking to learn more about this vibrant city, stay tuned for an exciting adventure!
(This post contains affiliate links, which means I receive a certain percentage of a sale if you purchase after clicking.)
Most Famous Places & Landmarks in Dubai
1. Burj Khalifa
Recommended by me
Burj Khalifa is undoubtedly one of the most famous landmarks in Dubai if not one of the most famous landmarks around the world! Standing at a towering height of 828 meters, it's the tallest building in the entire world and an engineering marvel.
The skyscraper features a sleek and modern design and its impressive height is a result of state-of-the-art engineering and construction techniques.
From the observation decks, located on the 124th, 125th, and 148th floors, you can enjoy 360-degree views of the entire Downtown Dubai and even further on clear days.
In addition to its observation decks, Burj Khalifa is also home to the world's highest restaurant. At.mosphere, located on the 122nd floor offers a fine dining experience with a menu that features international cuisine and luxurious decor.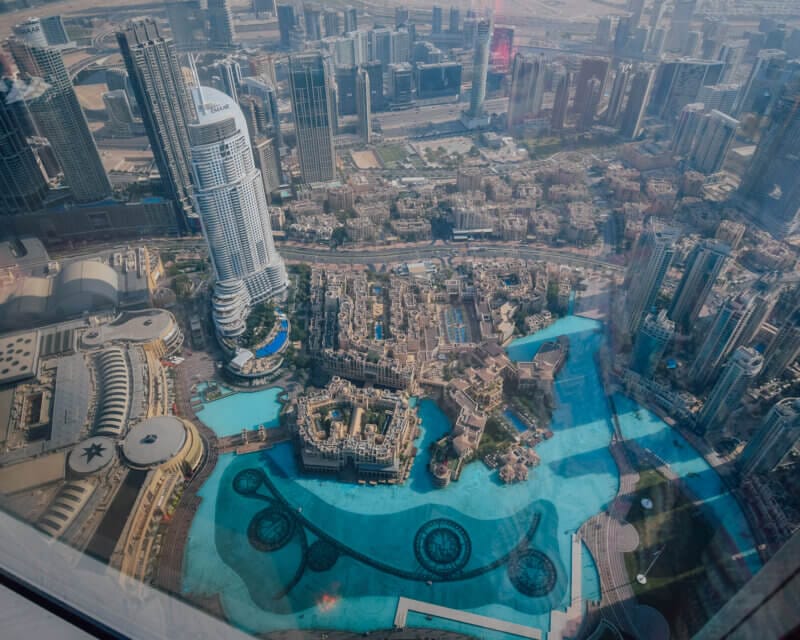 Moreover, it's home to the Armani Hotel – a luxurious high-end hotel that is a perfect example of Dubai's dedication to luxury and hospitality.
Burj Khalifa is open every day from 8:30 am to 11:00 pm, with the last entry at 10:00 pm. Entrance fees vary depending on the time of day and the observation deck level.
The price ranges from AED 149 to AED 378 for adults, and children under four can enter for free.
Make sure to book tickets for the observation decks in advance, especially during peak seasons, to avoid long lines.
Tours you might find interesting:
2. Dubai Fountain
Recommended by me
Another spectacular landmark is located in the heart of Downtown Dubai as well, more precisely, at the foot of the Burj Khalifa.
Dubai Fountain is the largest choreographed fountain system in the world, featuring a range of water jets, lights, and music that create a breathtaking display.
It was designed by WET Design, the same company behind the famous fountains at the Bellagio Hotel in Las Vegas.
The fountain is almost 300 meters long and features a variety of water displays that shoot water up to 150 meters in the air. These displays are choreographed to a range of music genres, including Arabic, classical, and contemporary.
You can watch the fountain shows every day, with performances taking place in the evening from 6:00 pm until 11:00 pm.
Make sure to experience it from one of the surrounding restaurants or cafés, which offer stunning views of the fountain and the surrounding skyline!
3. Dubai Mall
Recommended by me
While talking of landmarks in Downtown Dubai, the largest shopping mall in the world can't be missed to mention!
With over 1,200 retail stores, restaurants, cafés, and entertainment options, Dubai Mall offers high-end shopping to world-class entertainment and cultural experiences.
The mall is home to a range of luxury fashion brands, including Chanel, Gucci, and Louis Vuitton, as well as popular retailers like H&M, Zara, and Forever 21.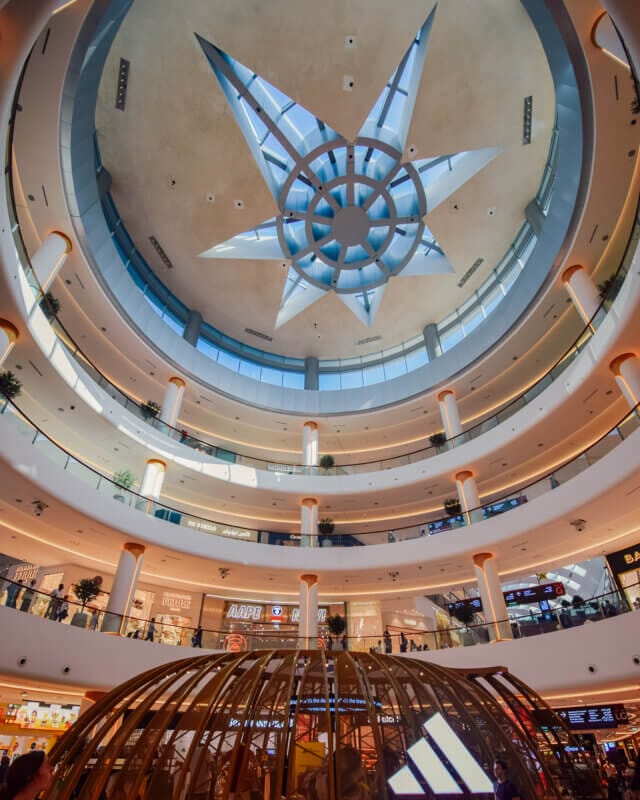 Aside from shopping, Dubai Mall also offers a range of entertainment options for visitors of all ages. It is home to an indoor theme park, an aquarium and underwater zoo, an ice rink, a cinema, and a virtual reality park.
Furthermore, the mall features a range of art installations and exhibitions, including the Dubai Dino, a 155-million-year-old dinosaur skeleton that was discovered in Wyoming, USA.
Dubai Mall is open daily from 10:00 am to midnight, with extended hours on weekends and public holidays.
4. La Mer Dubai
Recommended by me
La Mer Dubai is a vibrant beachfront destination located in Jumeirah 1 and is one of the city's coolest neighborhoods.
It covers an area of over 23 acres and offers a range of attractions, including a family-friendly water park that features a range of attractions, including a lazy river, water slides, and a wave pool.
Moreover, the beachfront destination is home to over 130 restaurants, cafes, and food outlets, serving a range of cuisines from around the world.
You can also shop for souvenirs or beachwear at the various retail outlets that are located throughout the neighborhood.
La Mer Dubai is also known for its colorful and eye-catching street art. It offers a range of murals and installations by local and international artists, adding to its vibrant and eclectic atmosphere.
Simply take a stroll around the area and discover the various artworks that are scattered throughout the entire central area!
5. Burj Al Arab
Recommended by me
As a symbol of luxury and extravagance, Burj Al Arab Hotel is another one of the most famous landmarks in Dubai. It's known for its iconic sail-like shape and its height of 321 meters makes it the fourth tallest hotel in the world.
Burj Al Arab Hotel is situated on an artificial island, connected to the mainland by a private curving bridge.
The interior of the hotel is equally stunning, with lavish decor and luxurious amenities, making it a popular destination for tourists and business travelers alike.
The hotel also features a number of restaurants and bars, including the Al Muntaha, which is located at a height of 200 meters and offers panoramic views of the city.
Additionally, the hotel has a spa, fitness center, and a few swimming pools.
Another iconic feature of the hotel is the helipad, which is located at a height of 212 meters and is therefore one of the highest in the world.
Although Burj Al Arab is primarily a hotel and private residence, it is possible for you to visit the hotel and its amenities, even if you are not staying there. However, access is restricted and requires advanced booking.
Tours you might find interesting:
6. Al Fahidi Historical Neighborhood
Recommended By David & Intan of The World Travel Guy
The Al Fahidi Historical District is a nice little area in Bur Dubai (near Dubai Creek) that's been preserved to look the way it did hundreds of years ago, with traditional-style buildings and narrow alleys.
Some of the best sights here include the museums and art galleries, including a coin museum and coffee museum. You can also find lots of nice antique souvenirs for sale, including traditional lamps, daggers, pots, intricate rugs, and other items.
This historic area is free to visit, although there's a small cash fee of AED 3 if you enter the Dubai Museum. Opening hours are 7:00 am to 8:00 pm daily, although they may vary during Muslim holidays.
You can see the best parts of the historic district in half a day, with or without a tour. All in all, the Al Fahidi neighborhood is a great place to visit in Dubai if you're interested in culture, history, and souvenir shopping!
7. Spice Souks
Recommended by Emily of Sea to Summit Alaska
After scouring the southeastern borders of the city in search of the most iconic landmarks including the Burj Khalifa, travelers seeking more local experiences will be pleasantly surprised by the Spice Souks found on the northern side of Dubai Creek!
Located in the local part of Dubai, the Spice Souk is one of the oldest and most vibrant markets in town, offering an array of spices from around the world.
It's easy to get lost among its narrow alleys and find yourself surrounded by all sorts of fragrant aromas and colors.
The entrance fee may be free, but you'll quickly notice that haggling and consistent persuasion to get you to buy some of the local specialties is all part of the experience.
It doesn't matter which day you prefer to visit. The souk opens every day at 7:30 am and closes at 10:00 pm on weekdays or 11:00 pm on weekends.
Just be sure to check the local times if you'll be visiting on a special holiday.
With beautiful colors and endless spice combinations available around dozens of unique alleyways, the Spice Souk is easily one of the most local and famous landmarks in Dubai.
8. Museum of The Future
Recommended by Josie of Josie Wanders
Dubai has many famous landmarks, but one of the most beautiful is the Museum of the Future. Opened in 2022, it boasts a futuristic circular style, distinctive amongst all of the towering skyscrapers that surround it.
The outside is covered in Arabic script carved into a stainless steel façade designed to reflect the surrounding environment and change color throughout the day.
It also includes technology such as solar panels to reduce its carbon footprint.
Inside, the museum focuses on innovation and sustainability. It is divided into different zones, each with its own theme and interactive exhibits.
You can explore topics such as artificial intelligence, robotics, climate change, and urban planning through immersive displays and interactive installations.
Located on the main thoroughfare of Sheikh Zayed Road in the center of Dubai, this is one building you can't help to be impressed by during your visit.
Currently open every day from 10:00 am to 9:30 pm, tickets are AED 149, with kids under four free. Make sure to book tickets in advance, as it is often sold out.
9. Dubai Marina
Recommended by Anya of Road is Calling
One of the most impressive landmarks of Dubai is Dubai Marina, known for its distinctive waterfront location and impressive skyline.
This iconic symbol of Dubai shows very well what the modern and cosmopolitan character of this city is and makes it very easy to spend the whole day in the area.
If you decide to rent a car and drive in Dubai, parking is available, both paid and free.
Dubai Marina is a luxurious waterfront community with a notable feature which is a man-made canal that stretches over three kilometers and offers breathtaking views of the skyscrapers and surrounding neighborhoods.
Visiting this community is possible for everyone as it is not gated and there is no entrance fee.
Once you visit, you can take a leisurely stroll along the canal, go shopping at one of several high-end shopping centers such as Marina Mall or The Walk, dine at one of the many waterfront restaurants, or even take a yacht or boat tour to experience the marina from the water.
In addition to shopping and beautiful walks, Dubai Marina is a hub for entertainment and nightlife.
There are several high-end nightclubs and bars in the area, including the famous Buddha Bar and Zero Gravity that offer live music and entertainment together with panoramic views of the city.
Tours you might find interesting:
10. Al Mamzar Beach Park
Recommended by Anu of Country Hopping Couple
Al Mamzar Beach Park located in Deira is an amazing park to visit and to add to your itinerary if you are visiting Dubai.
Spread over 106 hectares of land, there are five pristine beaches and as many as 1,600 palm trees and 300 coconut trees.
In contrast to the concrete structures of Dubai, the hustle and bustle of souks, Al Mamzar beach park comes with a different package.
With plenty of green space, walking areas, swimming pools, picnic areas and pristine beaches, Al Mamzar is a more relaxed and laid-back place in Dubai, a place that locals love to visit.
You can go for a walk, swim in the sea, watch the sunset, rent a cozy chalet, ride a jet ski or simply enjoy a barbecue or picnic.
The park is open from Sunday to Wednesday from 8:00 am to 10:00 pm and there's an entrance fee of AED 5.
11. Dubai Miracle Garden
Recommended by Rachel of World Heritage Sites
Dubai Miracle Garden is unlike any other garden you've ever visited. It's the Disney of gardens, made more unbelievable by the fact that Dubai has a desert climate.
It's not a big place, but it's packed with all sorts of over-the-top flower creations.
Flowers are everywhere: in neat flower beds and borders, but also in the form of 3D floral designs like houses or animals. There's even a full-sized Airbus 380 entirely encrusted in flowers!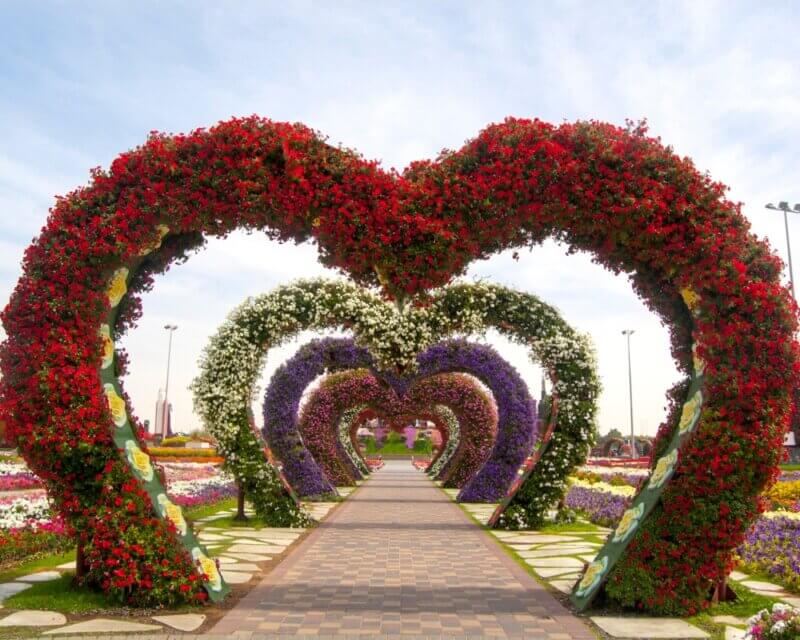 The smell of this place alone makes a visit worth doing, it's a welcome relief from the dry dusty air of the city. (Another great place to go to see some greenery is Al Ain in Abu Dhabi, a UNESCO site that makes a great day trip.)
It's all very Instagrammable, particularly the Heart Tunnel – flower-covered heart shapes – and the Umbrella Tunnel, which is shaded by hundreds of umbrellas. Expect a visit to take 2-3 hours.
Dubai Miracle Garden is usually open from October until April from 9:00 am -9:00 pm on weekdays and 9:00 am – 10:00 pm on weekends. Admission is AED 75 for adults and AED 60 for children 2-12.
Tours you might find interesting:
12. Dandelions Light Sculpture
Recommended by Catrina of 24 Hours Layover
The Dandelions Sculpture is one of the most famous and impressive landmarks in Dubai that is definitely worth a visit. It is located in Burj Park in Downtown Dubai, which is adjacent to the Burj Khalifa.
The Dandelions Sculpture is a unique installation by the internationally renowned artist, Nazar Bilyk. It comprises three beautiful oversized stainless steel sculptures of dandelions that tower up to 12 meters high.
The installation represents the resilience and strength of the human spirit and it is a popular spot for visitors to take photographs and enjoy the beautiful scenery.
Burj Park is a popular destination for both tourists and locals who want to relax and enjoy the stunning views of the Burj Khalifa and the Dubai Fountain.
Visitors typically spend around 30 minutes to an hour in Burj Park. There are no entrance fees for the Dandelions sculpture and you can view them at any time of day or night as Burj Park is open 24/7 with free admission.
It is recommended to go visit early in the morning or in the evening to avoid the heat as well as the crowds, as it is one of the most popular photo spots in Dubai.
13. Dubai Frame
Recommended by Kerri of Dubai Travel Planner
Only in Dubai can you find the world's largest picture frame! The 150-meter tall structure in Zabeel Park is a purpose-built iconic landmark of Dubai, designed to frame the city, between old and new Dubai.
Take the glass elevator up 48 floors to the top of The Dubai Frame, then attempt the transparent walkway across the structure.
Although certainly not the tallest of structures in Dubai, it is undoubtedly impressive and gives visitors a wonderful vantage point over the city, with interactive screens explaining other city landmarks.
After you've completed your frame walk, the exhibits continue on the ground floor with the Dubai Future Gallery, a glimpse into what the city could look like 50 years from now, plus the obligatory gift shop.
Open daily 9:00 am to 9:00 pm, adult tickers are AED 50, sold in 30-minute slots.
While you wait your turn to ascend you are also entertained by a dancing fountain display and a journey through an interactive display on life before oil and tourism in the city.
If you're short on time, this makes an excellent (and much more affordable) observation deck experience than At The Top with an emphasis on connecting the city's past and present. Allow 1-2 hours overall for your Dubai Frame experience.
Tours you might find interesting:
14. Dubai Desert Conservation Reserve
Recommended by Sarah of CosmopoliClan
No better place to escape the glittering lights of the Dubai metropolis than the vast desert.
Watching the sun set over the golden dunes as you indulge in an authentic Bedouin meal from the comfort of an enchanting desert camp, is a magical adventure.
The best place to experience this unique atmosphere is within the boundaries of the Dubai Desert Conservation Reserve. This desert haven aims at protecting the natural surroundings of an Emirate that's mostly known for its jaw-dropping projects.
It was the first national park in the UAE and encompasses 5% of the emirate of Dubai. The Dubai Desert Conservation Reserve is home to dozens of indigenous plants and animal species such as the Arabian oryx and sand gazelle.
While a dazzling number of tour operators organize visits to the Dubai desert, only a select group of companies is allowed to operate within the boundaries of the Dubai Desert Conservation Reserve.
So, when you consider booking a desert safari from Dubai, be sure to opt for one that values this unique environment by focusing on ecotourism.
If you're looking for more than just a day trip to the desert, then book yourself a stay at Al Maha, a Luxury Collection Desert Resort & Spa.
This mesmerizing hotel is located on the grounds of the Dubai Desert Conservation Reserve and is known to be one of the best places to stay in Dubai.
15. Palm Jumeirah
Recommended by Greta of Greta's Travels
If you're looking for the most famous and iconic landmarks in Dubai, you have to add Palm Jumeirah to your Dubai itinerary.
Palm Jumeirah is an artificial island shaped like a palm tree, which started construction in 2001 and was completed in 2006.
It covers an area of almost six square kilometers and is home to countless luxury hotels and villas, fancy apartment complexes, upmarket shopping malls and international restaurants.
It's located close to Dubai Marina, in the sea right in front of Dubai Internet City. You can easily visit the Palm both by public transport or by driving there yourself, at any time of the day.
Some of the must-see sights in the Palm include the waterpark and aquarium at Atlantis Hotel, the fountain show at The Pointe, and the new viewing platform called The View at The Palm.
You have to visit the last of these attractions, as it's the only way to properly see Palm Jumeirah.
Located on the 52nd story of Palm Tower, this viewing deck has 360 views over The Palm, the Dubai Marina skyline, Burj al Arab and Burj Khalifa.
It's open weekdays from 10:00 am to 10:00 pm and weekends until 11:00 pm. Tickets range from AED 100 to AED 158 during "prime hours" (4:00 pm– 7:00 pm).
Tours you might find interesting:
16. Jumeirah Mosque
Recommended by Vanessa of The Traveling Colognian
The Jumeirah Mosque is one of the traditional sights you should not miss when traveling to Dubai.
It is located close to Jumeirah Beach from where you have a stunning view of the iconic Burj Al Arab, the only 7-star hotel in the world.
The Jumeirah Mosque was built in 1976 and offers space for 1,200 believers. It is the only mosque in Dubai that non-muslims can visit as part of a guided tour.
This guided tour is the focal point of their program "Open doors. Open minds." It takes place six days a week at 10:00 am and 2:00 pm except for Fridays when the mosque is closed for non-muslims.
You don't need to pre-book the tour but you should be there 30 minutes before the tour starts.
Make sure to dress modestly and wear a long-sleeved shirt and long pants or a long skirt. Females should bring their own scarf or head cover.
The tour itself is not a guided tour in the classical sense because after entering the mosque, visitors sit down on the carpet and the tour guide starts telling about the mosque, about Islam, the history, and the culture of the United Arab Emirates.
It is highly recommended to allow extra time before or after the guided tour because the mosque from the outside is also a great photo motif!
---
Like it? Pin it!
---
Do you want to travel like me?
Here are some of my favorite travel tips and resources:
Flights: I prefer using CheapOair or Skyscanner to book flights. The destination everywhere feature is perfect for finding some cheap deals!

Accommodation: Booking.com is my favorite site to find some great hotel deals. I do love staying at a local place as well, thus I book an Airbnb every now and then.

Travel Insurance: There are many reasons why travel insurance is important and I never travel without having one. I use the simple and flexible one from World Nomads to be protected against unforeseen events.

Tours: I love taking tours to explore destinations like a local. My favorite website to book them in advance is GetYourGuide.

Camera Gear: I use a Nikon D5300 camera with an 18-105 mm and a 10-20 mm wide-angle lens to take my photos.