8 Reasons to Stay at Michamvi Spirit Lodge
I've written quite many hotel reviews on my blog, mostly only positive ones. However, none of those accommodations blew me away as much as Michamvi Spirit Lodge in Zanzibar did.
But what is so special about this place that it deserves such praise? Does it have spacious, luxurious rooms with private whirlpools and epic views? Or is it the rooftop bar serving fancy cocktails? Guess what, it's neither of them!
Although I always enjoy a bit of luxury on my travels every now and then, I decided to book Michamvi Spirit Lodge for my stop in Michamvi. Now this sentence might sound a bit horrible like it was a complete flophouse with bed bugs, dirty bed sheets and all that.
Of course, it wasn't like this at all! Otherwise, I wouldn't be writing this blog post right now, let alone recommending it to anyone. 😉
So now that we've clarified no bed bugs and dirty bed sheets await you here, let's move on to the part where I actually write about the cool and unique stuff which makes this place worth mentioning on my blog.
Because, honestly, it totally deserves it! So here are 8 reasons why you ABSOLUTELY NEED to stay at Michamvi Spirit Lodge in Zanzibar.
(This post contains affiliate links, which means I receive a certain percentage of a sale if you purchase after clicking.)
1. It's Close to One of Zanzibar's Best Beaches
First of all, Michamvi Spirit Lodge deserves 100 points for its great location. It's just a two-minute walk from Michamvi Kae which is one of Zanzibar's most beautiful, finest and whitest sand beaches.
Since it's also on the east side of the peninsula, you get to experience the most stunning sunsets that will leave you speechless! Michamvi Kae is actually the only place on the west side of Unguja island where it's possible to see the sun go down.
The village of Michamvi itself is also just a short walk away. Here you find local supermarkets and also the stop for the local minibusses called dala dala.
To get to Michamvi Kae you just need to walk through the lodge gate and straight across the soccer field. Turn right and then left to find yourself on one of Zanzibar's dreamiest beaches.
2. The People at Michamvi Spirit Lodge Are Simply Phenomenal!
Clearly, the main reason I enjoyed my stay at Michamvi Spirit Lodge so much was the incredible feeling of being welcome and taken care of. I can't remember any accommodation where I interacted so much with the owners, other guests and every single staff member.
With only four bungalows and three guest rooms, Michamvi Spirit Lodge is rather small. But that's exactly the reason why staying here doesn't feel like staying at a hotel. On the contrary, it feels more like a little village on its own.
Every time you leave the room there's your neighbor greeting you, asking how you're doing. The owners organize fun game nights or cocktail nights at local bars. Everyone always seems to be deeply relaxed and in a good mood.
So prepare yourself for going to bed relatively late cuz you don't want to miss all the fun with the people at Michamvi Spirit Lodge! 😉
3. Each Room is Individually Decorated
The lodge is definitely not lacking in attention to detail because every single room is uniquely decorated. You can see clearly the love for the small things which give a place its special touch.
In our bedroom, the focus was on earthy colors such as brown and yellow whereas our bathroom was painted dark blue.
Unfortunately, I didn't see all the other rooms from inside, only that of our direct neighbors. Unlike ours, the walls and bed sheets were mainly kept in light blue and other bright colors.
Not only the rooms but the entire outside area is adorned by all sorts of exotic plants, colorful flowers and, of course, a lot of palm trees.
4. Michamvi Spirit Lodge is Quite Affordable
One of the most important reasons why we chose this accommodation was the tempting low price.
We booked three nights on booking.com and paid a total of … drum roll, please … $240!!! And no, this is not per person but for two people including breakfast.
Even for Zanzibar, that's really cheap because many hotels are actually quite expensive on the island. Plus, the value you get for your money at Michamvi Spirit Lodge is truly unbeatable!
5. They Have 18 Cats … or More Now
I'll say it right away: If you have a cat allergy, then you better look for another place to stay. As much as I love this lodge, the people and everything around it, in this case, it's not a good choice for you at all.
It's not like there are just one or two cats you might spot once a day passing by your room, no. At Michamvi Spirit Lodge, at least 18 cats roam freely around, chill on chairs and tables or want to be petted by you.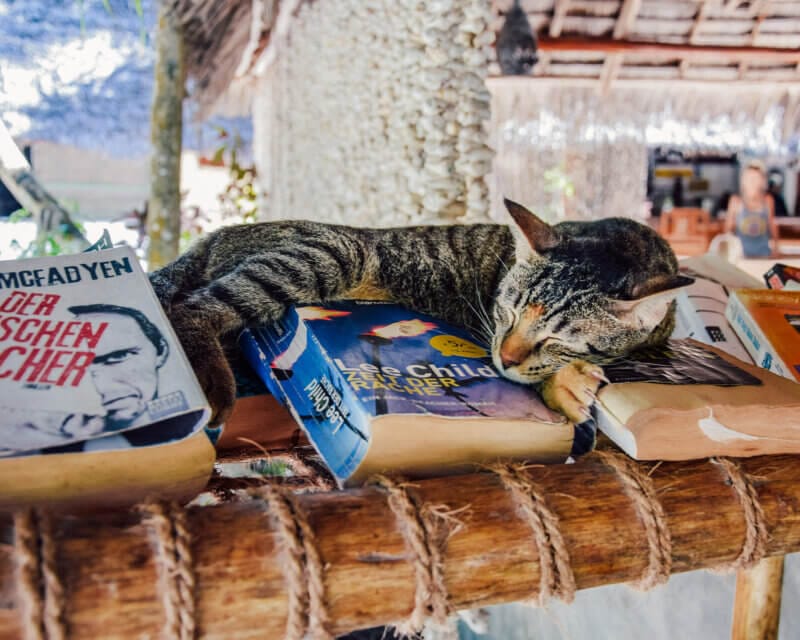 For crazy cat ladies like me and all other lovers of purring furballs, this place is heaven. It doesn't matter whether you just leave your room for a moment, have breakfast or chill at the pool, there is always a friendly cat seeking your attention and waiting to get some love from you.
Isn't that fantastic?!
6. You Can Observe Bush Babies (If You're Lucky)
Have you seen the movie Madagascar? You know, the movie about four animals who've spent all their life in a zoo end up in the deep jungle of Madagascar and need to survive in the wild.
If so, can you remember Mort, the chinchilla-looking small animal with the big googly eyes and the fluffy tail? This cute animal is called a bushbaby and can not only be found in Madagascar but in Tanzania as well.
There is even a specific type of it on Zanzibar named Zanzibar bushbaby and if you're lucky, you can find them right here in this lodge!
Especially at night, they love to sit on the trees from where you often hear them scream. Oh and don't be scared if you stay in one of the bungalows and hear some toddling steps above your head: Bushbabies love to run across the roofs!
7. It's The Perfect Place to Recharge Your Battery
Although it's very close to Michamvi village and its well-visited beach, it's always very quiet and relaxed in the lodge. This is also due to the fact that the area is fenced all around. The only way to enter and leave the lodge is through a wooden gate.
Whether you do a few laps in the pool, sunbathe on the loungers or chat with people, you can literally feel your battery recharge at Michamvi Spirit Lodge.
It almost feels like time slows down here. The word stress doesn't even exist and the motto is 'pole pole' which means 'slow, slow' in Swahili.
Make sure you pack enough books because you'll have enough time to finish them all!
8. Staying at Michamvi Spirit Lodge is an Unforgettable Experience!
Last but not least, a stay at Michamvi Spirit Lodge is truly unforgettable!
Undoubtedly, there are more beautiful and luxurious hotels on the island, but the spirit of this lodge is one of a kind. I guarantee you'll never forget all these amazing and fun moments and memories.
Something I'll always remember is that on the day we arrived the power was gone in some parts of the island including Michamvi. Not only for a few minutes or an hour, no, it was gone for more than eight hours!
What may sound like a real nightmare turned out to be a pretty cool experience. In the evening when it got dark, everyone gathered around a campfire, the only source of light. There was a lot of laughing and talking and the atmosphere was exuberant.
Yes, a stay here is something incomparable and you'll probably leave Zanzibar with one eye laughing, the other crying, wishing to come back as soon as possible.
So, are you ready for your personal adventure at Michamvi Spirit Lodge?
---
Like it? Pin it!
---
Do you want to travel like me?
Here are some of my favorite travel tips and resources:
Flights: I prefer using CheapOair or Skyscanner to book flights. The destination everywhere feature is perfect for finding some cheap deals!

Accommodation: Booking.com is my favorite site to find some great hotel deals. I do love staying at a local place as well, thus I book an Airbnb every now and then.

Travel Insurance: There are many reasons why travel insurance is important and I never travel without having one. I use the simple and flexible one from World Nomads to be protected against unforeseen events.

Tours: I love taking tours to explore destinations like a local. My favorite website to book them in advance is GetYourGuide.

Camera Gear: I use a Nikon D5300 camera with an 18-105 mm and a 10-20 mm wide-angle lens to take my photos.