24 Famous Landmarks in Spain You Need to Visit
Most beautiful landmarks in Spain to add to your bucket list!
As a European country rich in history, the list of medieval castles, stunning churches and futuristic buildings in Spain is endless.
Not only in the two most famous cities Barcelona and Madrid but all over Spain, you'll find incredibly beautiful Spanish landmarks.
The country offers many manmade architectural masterpieces but the fascinating natural creations of mother earth itself deserve to be on every traveler's bucket list as well.
Even though I've been to Spain a few times, I've only seen a tiny, tiny part of the country's beauty. But that's no wonder with a country of this size.
If you're coming to Spain for the first time, planning what to see and where to go can get really overwhelming.
To help you decide, I asked more than 20 experienced travel bloggers to share their favorite landmarks in Spain!
(This post contains affiliate links, which means I receive a certain percentage of a sale if you purchase after clicking.)
Famous Landmarks in Barcelona
1. Park Guell
Recommended by Helga of Wandering Zone
Park Guell is not only one of the most beautiful landmarks in Barcelona but usually in Spain too!
It was Antoni Gaudi who created this amazing work, just like many others of Gaudi's masterpieces around Barcelona, such as the Sagrada Familia, or the Casa Battlo.
Park Guell is located on El Carmel Hill on the edge of the city.
The park system is composed of gardens, stunning buildings decorated with colorful ceramic tiles, walkways, sculptures, and architectural elements that create together an incredible atmosphere.
Park Guell was commissioned by Eusebi Guell, who wanted to create a stylish park for Barcelona's aristocracy. The work was finished and the park itself was opened to the public in 1924.
If you arrive through the main entrance, you will see the two most famous buildings of Guell Park, together with Gaudi's magical dragon sculpture that's also covered in colorful tiling.
Tickets for the park cost €10 and can be bought online.
Tours you might find interesting:
2. La Sagrada Família
Recommended by Jane and Duncan of To Travel Too
The Basilica de la Sagrada Família is located on Carrer de Mallorca 401 in the Eixample district of Barcelona.
The construction of the Basilica started in 1882. Antoni Gaudi, the main architect, joined the project in 1883 but unfortunately, he passed away from an accident in 1926.
The construction is still not finished but is expected to be completed by 2026.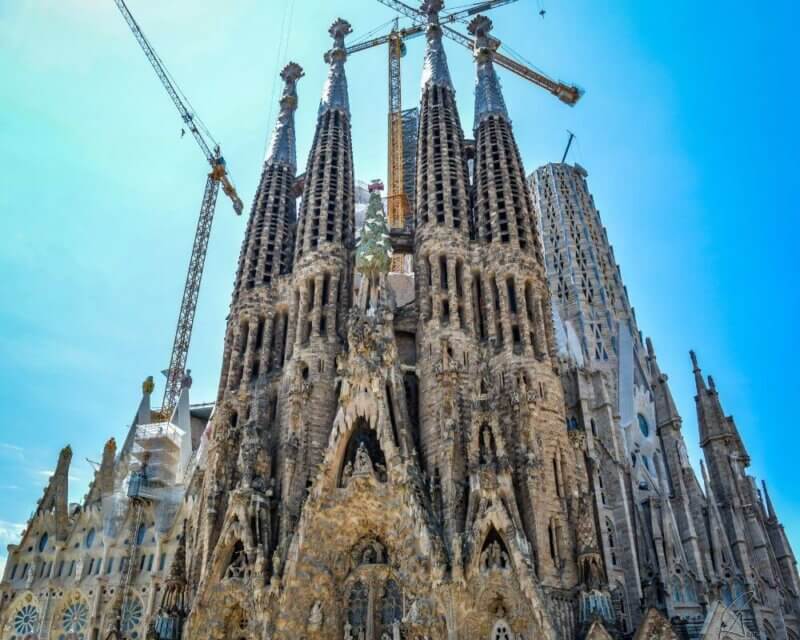 As it is the city's most popular tourist attraction and thus part of every Barcelona itinerary, it attracts millions of visitors each year.
There are online tickets you can buy in advance but if you wish to queue and purchase tickets on arrival you should arrive before 9:00 am. At busy times expect to queue for up to two hours.
Opening hours are from 9:00 am to 8:00 pm and the current price for entry tickets is €30 per person.
The best is to purchase a ticket for a visit to one of the towers – the views are spectacular over Barcelona and you can get a closer view of the construction.
Allow at least two or three hours to visit.
Tours you might find interesting:
3. La Pedrera (Casa Mila)
Recommended by Christin of Christin has Fernweh
La Pedrera (Casa Mila) is one of architect Antoni Gaudi's famous creations in Barcelona.
It is located on the busy shopping street of Passeig de Gracia, only minutes away on foot from Gaudi's other gem Casa Battlo.
At Casa Mila however, you will also be able to visit a fully furnished modernist-style apartment. This way you get a much better idea of how the families actually lived at that time.
Make sure to go up on the roof terrace during your visit! Not only is the view incomparable, but its design is so unique, it gives many an insta-worthy photo opportunity.
For opening times and other useful information check on the La Pedrera website.
Allow about two hours for your tour of the building, more if you don't buy your tickets in advance, and visit during the summer months.
As one of the best things to do in the city, a visit to Casa Mila should be on everyone's Barcelona itinerary!
4. Casa Batlló
Recommended by Vicki of Vicki Viaja
Besides the famous Sagrada Família, La Pedrera (Casa Mila) and other buildings, Casa Batlló is another magnificent building designed by the "Barcelona designer" Antoni Gaudí.
However, for the locals, it is this building that is very special. This is because the facade of this extraordinary building represents the story of Sant Jordi, the patron saint of Catalonia.
Especially on Sant Jordi Day in April, also known as Catalan Valentine's Day, when the story of Sant Jordi is celebrated throughout Catalonia, both locals and visitors come here to admire the rose-adorned splendor of Casa Batlló.
However, what is not easily seen from the street is that the roof of the house was designed to represent a dragon, as a dragon plays an essential role in the legend surrounding Sant Jordi.
The house reworked at the beginning of the 20th century, is now considered a UNESCO World Heritage Site.
Recently, you can see not only traditional designs inside but also the state-of-the-art 10D Experience show.
Depending on the ticket option you chose, the ticket costs around €35. But with a Barcelona Tourist Pass, you can easily get it cheaper.
To avoid queuing you can buy entry tickets in advance. The building is open during the high season from 9:00 am – 9:00 pm.
5. Montserrat
Recommended by Jenifer of The Evolista
A day trip to Montserrat is one of the most exciting things you can do on a trip to Barcelona.
It's only a one-hour trip to get there by car or train. Then there's an incredible cable car ride up to the most interesting-looking serrated mountains for a visit to a Benedictine monastery.
People travel from all over to the Montserrat monastery and wait in line to see the Black Virgin statue that is believed to bestow blessings upon visitors.
Twice daily, the L'Esconia boys choir performs in the ornate basilica and it's absolutely magical.
Get there early to grab a spot because it's very popular.
Another huge draw to the area is hiking in Montserrat. There are multiple trails available for every level of hiker.
From simple walks on paths around the monastery to the popular, albeit difficult, 5.8-mile Sant Jeroni Summit Loop, you are guaranteed amazing views.
The area is open from 9:00 am to 8:00 pm. Plan to spend between two and four hours at Montserrat. The only cost to visit Montserrat is for transportation, parking or the onsite museum.
The combined train from Barcelona and cable car up the mountain is €23 and if you drive there, parking is €6.50. Museum entry is €7.
Tours you might find interesting:
Famous Landmarks in Madrid
6. Temple of Debod
Recommended by Nate of Travel Lemming
Believe it or not, the ancient Egyptian Temple of Debod is actually one of the most famous landmarks in Spain.
The temple was originally constructed in Egypt in 200 BC as a monument dedicated to the god Amun. In the 1960s its location along the Nile came under threat due to the construction of a dam that threatened to flood it.
As a thank you for Spain's help in several restoration projects at the time, Egypt gifted the temple to the country of Spain.
With the help of UNESCO, the temple was moved to its current location in Madrid, Spain in 1968, where today it is one of the few Egyptian temples you can visit outside of Egypt.
You can easily visit the temple for free in its location in Parque de la Montaña in central Madrid. Its position over a reflecting pool makes it one of the best photo spots in the city.
It's especially spectacular to visit during sunrise or sunset when the temple lights up in the colorful reflections of the pool.
7. Museo Nacional Del Prado
Recommended by Nicole of Go Far Grow Close
Museo Nacional Del Prado or the Prado Museum is the National Art Museum of Spain. It is located in central Madrid, the "Paseo del Prado", near many important and popular attractions.
It is considered the most important museum in Spain and one of the most important museums in the world.
The Prado displays a valuable collection with over 8,000 paintings and more than 700 sculptures.
There are many fine works of art on display that would tempt anyone to visit the Prado. In particular, it offers work by Velazquez, El Greco, Goya and El Bosco.
Try to set aside at least two hours to wander the collections; however, you could spend days exploring.
The Prado is generally open seven days a week from 10:00 am to 8:00 pm (7:00 pm on Sundays and holidays) with some exceptions.
Tickets range in price but for a regular adult ticket, it is €15. Admission is free from Monday to Saturday from 6:00 pm to 8:00 pm, and on Sundays and holidays from 5:00 pm to 7:00 pm.
Group tours are offered daily by the museum from 9:00 am – 10:00 am for €50.
8. Royal Palace
Recommended by Victoria of Guide Your Travel
The Royal Palace in Madrid is one of the most famous landmarks in Spain and an absolute must-see when you visit the capital.
The palace is definitely a popular tourist attraction so it can get quite crowded. During the day the lines to get into the palace get very long so buying your tickets online in advance is recommended.
A regular ticket costs €12 but students only pay €6 which is a much better price.
Inside the palace, you can see historical artifacts, incredible art and beautiful architecture. The palace is quite large so you can spend at least a few hours here.
During the months between April and September, you can visit between 10:15 am and 19:00 pm. From October to March the palace is open from 10:15 am to 17:00 pm.
Always check the official website before going as the palace might be closed due to special events.
Tours you might find interesting:
Famous Landmarks in Seville
9. Plaza de España
Recommended by Helen of Helen on her Holidays
The Plaza de España is one of the top sights in Seville and an instantly recognizable landmark in the city.
Built in 1928 in preparation for the 1929 Ibero-American Exposition, the semi-circular building with its canal and boating lake is iconically Sevillian.
You'll find the Plaza de España just to the south of Seville's historic center, in the Parque de María Luisa.
The large hall was designed to showcase Spanish technology and industry and has lots of features representing places across Spain.
The four bridges across the canal represent the four historic regions of Spain, while pretty seating alcoves are named after Spanish provinces.
The Plaza de España is famous for its beautiful tiles or azulejos, which are intricately decorated in Moorish designs, typical of the Andalusia region.
Visiting the Plaza de España is free, and since it's a public square, it's open 24 hours a day. The building is home to several government offices so unfortunately, you can't go inside.
One of the loveliest things to do in Seville is to visit in the early evening and take one of the rowing boats out on the little canal and boating lake; it's very romantic.
There are many lovely boutique hotels in Seville, especially around Plaza de España, if you decide to spend a couple of days in the city.
10. Royal Alcazar
Recommended by Jiayi of The Diary of a Nomad
The Royal Alcazar in the heart of Seville, Andalusia, is hands down one of the most impressive historical landmarks in Spain.
This complex is one of the oldest royal palaces in Europe, and it's still in use today. In fact, the Spanish royal family still resides on the upper floors of the palace!
With over 1,000 years of history, the Royal Alcazar displays an incredible blend of architectural styles including Mudéjar, Gothic, and Renaissance.
Wandering around its compound, one can clearly see remnants of Muslim Spain (between 711 and 1492), complete with breathtaking courtyards and intricate mosaics.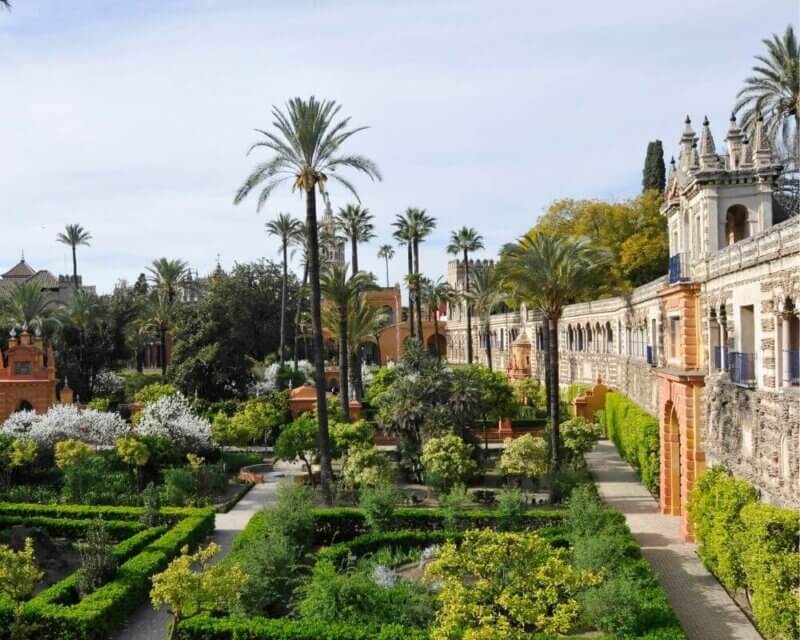 You can easily spend an entire day in the Royal Alcazar wandering its many halls, rooms, courtyards, and lush gardens. Some of the best stops include Patio de las Doncellas, Salón de Embajadores, and Galería del Grutesco.
If you're tight on time, allow at least two to three hours to admire the main highlights.
Be sure to book your visit in advance and to get there 30 mins before opening hours as the lines can be very long.
The Royal Alcazar is open between October and March from 9:30 am to 5:00 pm daily, and between April and September from 9:30 am to 7:00 pm daily.
A regular ticket costs €11.50, whereas students under 25 years old only need to pay €3.
Tours you might find interesting:
Other Famous Landmarks in Spain
11. Palma Cathedral, Mallorca
Recommended by me
If you travel to the Balearic island of Mallorca and visit its capital city Palma, the first thing you'll probably notice is the huge cathedral overlooking the grand harbor.
This impressive building is the Cathedral of Santa Maria of Palma, also referred to as La Seu. The magnificent sandstone building was built in the 14th century and is the most emblematic building in Palma.
It's not only among the most famous landmarks in Spain, but it's also one of Europe's tallest Gothic structures!
The cathedral is often called 'the Cathedral of Light' and that's for a good reason. As soon as you enter the building, you'll understand why.
In total, there are 61 stained-glass windows in La Seu – the most spectacular being the central rose window where (on sunny days) the morning sun shines through and illuminates the entire nave.
You can visit the cathedral through the Chapter Museum entrance by paying a small charge. There are also audio guides available for hire at an extra cost.
It's open from Monday to Friday from 10:00 am and closing times depend on the time of year. On Saturday you can go there only from 10:00 am to 2:00 pm.
Tours you might find interesting:
12. El Torcal de Antequera
Recommended by Joanna of Andalucia in my pocket
El Torcal de Antequera is one of the most spectacular natural landmarks in the South of Spain and a must-stop on every Andalucia road trip.
The karst and limestone formations started shaping over 150 million years ago when this entire area was under the sea. Natural elements such as water and wind helped to carve unique shapes into the stones.
The best way to reach El Torcal de Antequera is by car, as there is no public transport going up the national park.
Once you get to the visitor's center you can choose one of the different difficulty trails: green, yellow, orange or red.
The easiest is the green one and it can be easily done by children as well. The yellow one is longer and marked as medium difficulty, but it's relatively easy as well.
If you want to learn more about the Torcal de Antequera, the visitor center organizes tours on the red route, which you can only access with a professional guide.
The red route takes five hours to complete, and it is not recommended for children or unfit people.
On this trail, you will see fossils but also traces left by the prehistoric man who lived here in the Megalithic age.
No matter which trail you choose to hike in El Torcal de Antequera, make sure you are wearing proper hiking shoes, as the terrain is extremely uneven and rocky.
13. City of Arts and Sciences, Valencia
Recommended by Martina of PlacesofJuma
The City of Arts and Sciences (Ciudad de las Artes y las Ciencias) in Valencia is definitely one of the most beautiful landmarks in Spain. This futuristic attraction is a real must-see on any city break.
Designed by Santiago Calatrava and Félix Candela, the complex's buildings opened between 1998 and 2009 and include various museums, exhibitions, and gardens.
As one of the highlights, the beautiful modern opera is also located here! Also, the integrated waterscapes are particularly amazing, making this landmark a real eye-catcher.
The most worth-seeing attractions in the City of Arts and Sciences are the 3D cinema L'Hemisfèric, the Science Center, L'Oceanogràfic, L'Umbracle, and the Opera.
If you like, you can rent a paddleboat and sail around the water landscape.
Another unique feature is that you can visit the area completely free of charge. However, if you want to visit the buildings from the inside, you have to pay for admission.
You can save money with combination tickets that include several exhibitions.
The area can be visited at any time of the day, most exhibitions as well as the aquarium are open from 10:00 in the morning and close in the evening.
For visiting the City of Arts and Sciences it's worth taking some time, so with visiting one or two museums plan at least half a day!
Tours you might find interesting:
14. Xativa Castle
Recommended by Emma of Emma's Roadmap
Xativa Castle is located not far from the city of Valencia and thus perfect to visit on an afternoon!
The castle is easy to reach from Valencia by train and then it's just a short walk from the train station to the castle.
The castle itself is located high on a hill with an amazing view over the surrounding region. It consists of two parts: el castell menor and el castell major.
During your visit, which costs you €6, you can walk around freely, admire the ruins and learn more about the history of the castle.
If you plan to visit make sure to buy your ticket online beforehand. This ticket gives you access to both the castle and some local museums in the village.
Note that the castle is open daily from 10:00 am until 8:00 pm. and you'll probably need half a day to visit. But don't worry, there's the possibility to eat and drink something at the castle!
15. Walls of Ávila
Recommended by Tom of TravelPast50
The first thing you notice as you approach Ávila, Spain is the walls. They are hard to miss.
The entire idea of the city of Ávila seems bound up in the walls. The old city is surrounded by 2.7 kilometers (1.7 miles) of stone and concrete walls.
The average height of the walls of Ávila is 12 meters (39 feet) and their average thickness is three meters (10 feet.) There are 88 semicircular towers that stick up above the wall another three or four meters.
Ávila was one of the first towns reconquered by the Spanish Christians from the Moors in the 11th Century. The walls were begun soon after.
The Cathedral of Ávila was also started near the same time and its walls were integrated into the city walls.
The idea of the rebuilding of Ávila as a fortress was to repopulate the area with Christians, and along with nearby Salamanca and Segovia, provide a rear guard against possible counter-attacks by the Moors.
Tours you might find interesting:
16. Puente Nuevo, Ronda
Recommended by Or of My Path in the World
A must-have stop on a trip across Andalusia is Ronda, and one of the top things to see in this charming town is Puente Nuevo (New Bridge).
Dating back to the 18th century, the 322-feet high bridge connects the two parts of Ronda, the New Town (called El Mercadiilo) and the Old Town, which are divided by a gorge of the Guadalevín River.
But why is it called new? First of all, there were already two bridges crossing the gorge, but neither directly connected the two sides of Ronda, so this new bridge was essential.
Moreover, it is the second bridge built on this spot, after the first one collapsed in 1741.
The bridge also contains a small chamber that had various purposes throughout the years (including a prison) and is now an exhibition room showcasing the bridge's history.
When crossing Puente Nuevo, you'll be rewarded with magnificent views of El Tajo Gorge, the Cuenca Gardens, and the town's white houses perched on the cliff.
Be sure to also head to Mirador La Hoya Del Tajo and Mirador Puente Nuevo de Ronda, two incredible viewpoints.
Tours you might find interesting:
17. Alcazaba de Malaga
Recommended by Cristina of My Little World of Travelling
Alcazaba de Malaga is one of those beautiful landmarks you cannot miss when visiting Andalusia.
This Moorish fortress-palace, located in the heart of the city, is full of history and outstanding architecture.
The building was built between 1057 and 1063 and was once used for military purposes due to its strategic location near the sea.
Once you enter the palace, you will feel like you are in a magical maze full of surprises – Andalusian patios, aromatic jasmine flowers, and beautiful fountains.
Every little corner will surprise you, however, one of the best things about this palace is the panoramic view of the city.
Although you may see everything in an hour or less, it's relaxing to sit on one of the garden benches and enjoy the sights and atmosphere.
The entrance fee is €3.50, however, you can enter for free every Sunday after 2:00 pm, and you may want to check other beautiful attractions in Malaga that are free on Sundays too.
After visiting Alcazaba, there is nothing better than having a meal at El Pimpi, a bodega bar where you can enjoy traditional food while having a beautiful view of the Alcazaba and Roman Theatre.
18. Alcazaba de Almería
Recommended by Paulina of Paulina on the Road
The Alcazaba of Almería can be seen from any part of the city once you reach Almería.
Alcazaba de Almería is the biggest citadel from the Arab age in Spain. It has great historical significance and is the biggest Moorish fortress in Andalusia.
The ruined structures and gardens of the Alcazaba are storytellers that offer significant insight into the history of Andalusia, which is what makes it a special landmark.
The fortification contains military compounds, a mosque, a house, public baths, and a palace that was owned by Moorish kings.
The present construction of Alcazaba is more extended because it was renovated numerous times by the rulers who ruled it.
Within the Alcazaba, you can explore a lot of areas from historical gardens to courtyards and walls that offer scenic views of the coast.
The entrance fee to Alcazaba de Almería is free. From Tuesday to Saturday, the Alcazaba opens from 9:00 am to 6:00 pm.
You should at least take out a day to explore the fortress from opening to its closing time. What makes it attractive is its proximity to the sea and seaside resorts.
There you can also relish regional food like Spanish potato salad after exploring the fortress.
Tours you might find interesting:
19. El Caminito del Rey
Recommended by Linn of Andalucia Hiking
El Caminito del Rey is one of the most important landmarks in Malaga in southern Spain.
The deep, narrow Desfiladero de Los Gaitanes gorge is now visited by thousands of tourists after the walking path hanging 100 meters up on the gorge wall was rebuilt in 2015.
Before this, it was the most dangerous walk in the world.
Originally, the pathway was built as a way to transport materials to the building site of Guadalhorce's reservoir at the beginning of the 1900s.
It's called the "King's Pathway" as it was walked by King Alfonso XIII back in 2021 for the official opening of the reservoir.
You can reach El Caminito del Rey by taking a train from Malaga to El Chorro. From there, there is a shuttle bus to the beginning of the trail.
You must book tickets in advance, as there are only a limited number of people that can enter at the time. Ticket prices start at €10 and opening hours are from 9:00 pm to 5:00 pm.
The walk is linear and takes about two hours to return to El Chorro where you can take the train back to Malaga.
Tours you might find interesting:
20. Guggenheim Museum, Bilbao
Recommended by Christina of Travel2Next
The Guggenheim Museum is another of the famous landmarks in Spain that attracts millions of visitors each year.
Located in Bilbao, a city in Spain's Basque Country, the museum is so impressive that visiting it should be at the top of anyone's list of things to do in Bilbao.
It opened in 1997 and is a marvel to visit. Visitors can walk through an exhibition hall into a courtyard with cascading waterfalls, then up into the museum building itself to gawk at the titanium and glass.
It has a spiral ramp and a domed skylight that lets natural light enhance the artworks within the museum.
With 20 galleries spread over three floors, the Guggenheim Museum is a fantastic place to spend the day learning about art. The galleries are designed in different shapes to enhance the viewing of modern art.
Visitors can enjoy several exhibitions throughout the year, including those showcasing Spanish and Basque artists as well as significant artworks from all over the world.
There are also events at Guggenheim Bilbao, such as workshops for children and guided tours by professional staff members.
Online tickets cost €10 (adults), €5 (students and pensioners) and are free for children.
The museum is open from 11:00 am to 7:00 pm daily but is closed on certain Mondays throughout the year.
Tours you might find interesting:
21. Alhambra of Granada
Recommended by Emma of Travel on a Time Budget
The Alhambra of Granada is one of the landmarks in Spain that definitely has to be at the top of everyone's list to visit.
A European UNESCO world heritage site, it covers an area of 35 acres and is on the main hill overlooking Granada in Andalusia, southern Spain.
There's so much to see that it's easy to spend an entire day here; at the very least set aside half a day.
It's a place for history and culture lovers and a lovely place to walk around. There are a variety of different parts to the Alhambra all of which reflect the influence of different religions, cultures and rulers.
This includes a 13th-century fortress, a 14th-century royal summer residence set in stunning gardens, and a 16th-century amphitheater.
Particularly the 14th-century Nasrid Palaces stand out, a collection of indoor and outdoor Moorish rooms, courtyards and water features. To say this part is stunningly beautiful is an understatement.
The Alhambra is a really special place and exploring it is one of the best things to do in Granada!
However, to truly take in its scale and magnificence, head to the Mirador de San Nicolas, a viewpoint at the top of the hill in the Albaicin district of the city. You won't regret making the trip here!
Tours you might find interesting:
22. Dalt Vila, Ibiza
Recommended by Nadine of Le Long Weekend
When you think of Ibiza, the island's history might not be the first thought that comes to mind.
Despite its reputation as a party destination (rightly so because there are many great beach clubs in Ibiza), the capital city, also named Ibiza (or Eivissa), is home to some incredible ancient sites. Namely, the old town of Dalt Vila.
Standing high above the harbor, Dalt Vila was declared a UNESCO World Heritage Site in 1999 and it's been heralded for its well-maintained examples of Renaissance military architecture.
Enclosed by ramparts and adorned by a striking 13th-century cathedral, Dalt Vila is a fascinating place to discover.
Wander through the main entrance at Portal de Ses Taules and walk through a stone drawbridge flanked by Roman statues.
Take your time to explore the cobbled streets that lie within and the colorful boutiques, cafes, and wonderful viewpoints you'll pass on the way. Allow yourself at least an afternoon to savor it properly.
Or, if you're staying in Ibiza, Dalt Vila also makes a lovely place to stay in the city, as you're immersed in history, yet just a short walk away from the nightclubs and renowned beaches.
23. Santiago de Compostela Cathedral
Recommended by Samantha from The Wandering Wanderluster
As one of Europe's largest countries, Spain has a multitude of amazing cities and towns to visit with a number of famous landmarks.
While Santiago de Compostela may not be one of the popular cities to visit, it is one of the most important cities in the country, home to the historic Santiago de Compostela Cathedral.
Every year thousands of pilgrims make their way from numerous starting points in neighboring countries as part of the Camino de Santiago, often walking hundreds of kilometers to Santiago de Compostela, where the remains of the Apostle St James are said to lay in rest inside the Cathedral.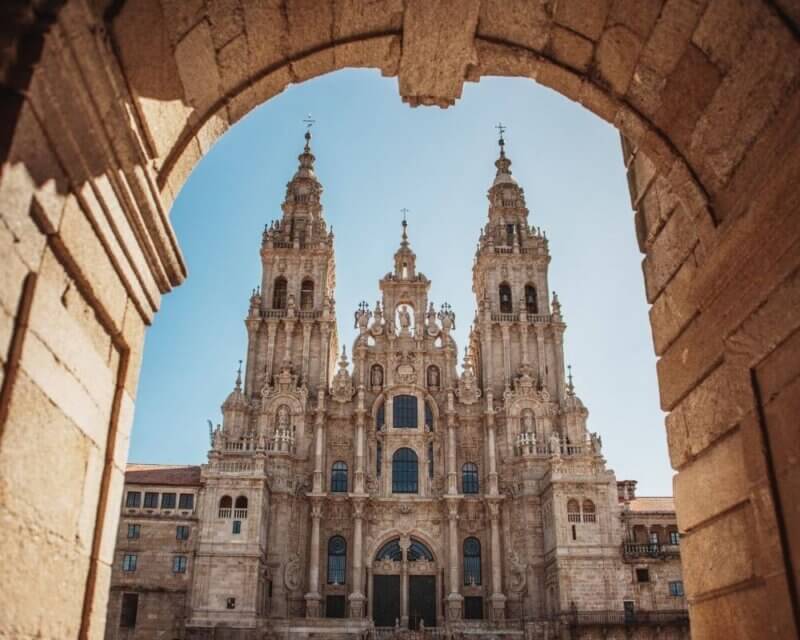 Its tall gothic spires that can be seen from a distance are the final stop of their pilgrimage, where a special mass is held and pilgrims can receive a plenary indulgence (forgiveness of sins).
The Cathedral is open daily and while it's free to enter, donations are happily accepted. You can also pay to visit the Cathedral's museum during your visit.
If you're lucky enough, you may even get to witness the famous Botafumeiro 'censer' swing dramatically over the nave 20 meters high reaching speeds of up to 68 km/h.
A true sight to behold!
24. Aqueduct of Segovia
Recommended by Becki of Meet Me In Departures
If you adore UNESCO historical cities, then you'll certainly want to put Segovia on your radar. The city's most iconic landmark is El Aqueducto or the Aqueduct of Segovia, which dates back to Roman times.
The Aqueduct was a feat of engineering, which therefore gives plenty of scope for some fascinating stories surrounding how it was built.
One story states that it was built by none other than the mighty Hercules. Whereas others say it has a more sinister story and was the work of the devil.
Whether you choose to be drawn in by the fascinating stories or leave it down to science, there are a plethora of interesting facts about the Aqueduct.
Such as the gigantic structure contains no mortar to hold it together, it's supported through gravity and the clever shape and placement of the stones.
After marveling at the Aqueduct, other things to see in Segovia are the Alcazar of Segovia,, the Gothic Cathedral, Jewish Quarter and the City Walls.
Check out:
– 16 Famous Landmarks in Austria
– 22 Famous Landmarks in Germany
– 30 Famous Landmarks in Italy
– 27 Famous Landmarks in France
– 26 Famous Landmarks in Portugal
– 20 Famous Landmarks in Greece
– 16 Famous Landmarks in Sweden
---
Like it? Pin it!
---
Do you want to travel like me?
Here are some of my favorite travel tips and resources:
Flights: I prefer using CheapOair or Skyscanner to book flights. The destination everywhere feature is perfect for finding some cheap deals!

Accommodation: Booking.com is my favorite site to find some great hotel deals. I do love staying at a local place as well, thus I book an Airbnb every now and then.

Travel Insurance: There are many reasons why travel insurance is important and I never travel without having one. I use the simple and flexible one from World Nomads to be protected against unforeseen events.

Tours: I love taking tours to explore destinations like a local. My favorite website to book them in advance is GetYourGuide.

Camera Gear: I use a Nikon D5300 camera with an 18-105 mm and a 10-20 mm wide-angle lens to take my photos.