8 Best Things to do in Amman For 1-2 Days
Nestled in the heart of the Middle East, Amman, the capital of Jordan, is a fascinating blend of old and new. Its rich history, evident in ancient ruins and landmarks, and a modern urban landscape make it an exciting city to explore.
Together with my partner, I spent two days in Amman, checking out all the best things the city has to offer.
From the iconic Amman Citadel to the vibrant Rainbow Street and the marvelous King Abdullah Mosque – we didn't miss anything!
If you are also going to spend 1-2 days in Amman, this blog post is just right for you as it covers all the best things to do in Amman within that time frame.
So, get ready for an exciting and fun adventure in Jordan's capital!
TIP: Before you travel to Jordan, I highly recommend buying the Jordan Pass. It includes a tourist visa with FREE entry to more than 40 tourist sites, many of them being in Amman.
(This post contains affiliate links, which means I receive a certain percentage of a sale if you purchase after clicking.)
1. Explore The Grounds of The Amman Citadel
Exploring the grounds of the Amman Citadel is an absolute must for anyone visiting Jordan's capital city, especially if you're into history and culture.
Perched atop a hill, the ancient citadel offers an interesting journey through Amman's rich history and breathtaking panoramic views of Jordan's capital below.
The site offers a fascinating blend of cultures and civilizations, showcasing remnants from the Roman, Byzantine, and Islamic periods.
Once there, get ready to immerse yourself in the ruins of the iconic Temple of Hercules, the Umayyad Palace, and the intriguing Archaeological Museum, housing artifacts that date back to the Neolithic period.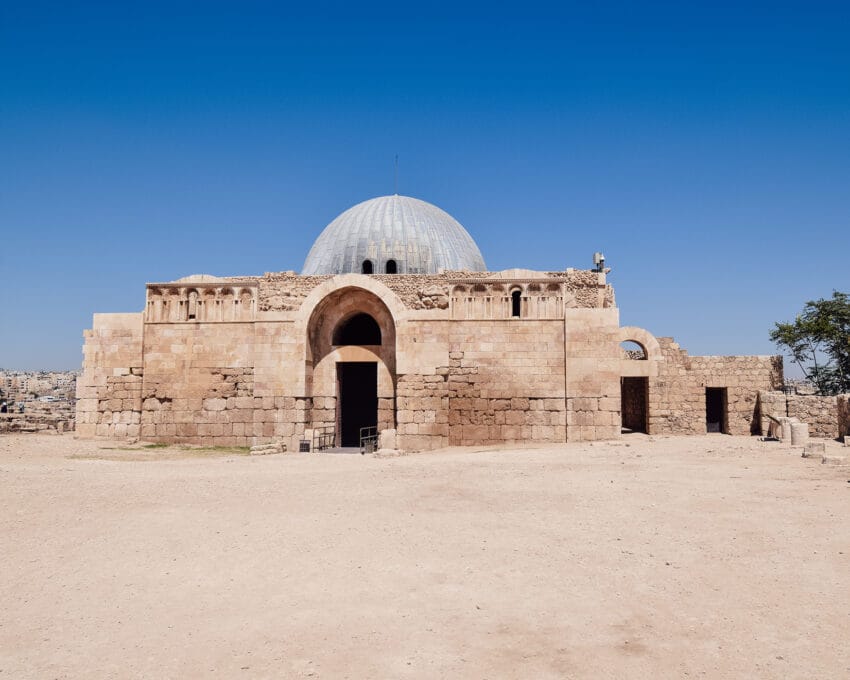 The Amman Citadel is open from 8:00 am to 4:00 pm during the winter months (October to March) and extends its hours until 7:00 pm in the summer.
I highly recommend heading there as soon as it opens at 8:00 am. In this way you avoid the crowds and, if you visit in summer like we did, the intense heat.
If you don't carry the Jordan Pass, the entrance fee is JOD 3 which is equivalent to around $4.
Check out: Your Perfect Guide to Visiting The Amman Citadel
Tours you might find interesting:
2. Visit The Ancient Roman Theater
The Amman Citadel isn't the only historic site to see in Amman. Just a 15-minute walk away, there's the impressive Roman Theater, another place giving a peek into Jordan's exciting past.
The main purpose of the grand theater was to host big shows and it could fit around 6,000 people. Even nowadays, it's used for various cultural events and performances, particularly during special occasions, festivals, and cultural celebrations.
If you're interested in experiencing a show, the best is to check with the local tourism information or event listings.
But don't worry if there's no show to experience during your visit, with its big half-circle shape and lots of detailed carvings in the stone, it's nevertheless an impressive place to explore!
One of the best things to do is to climb to its top to get a full overlook of the entire theater and enjoy a nice view of downtown Amman.
However, I only recommend doing this if you're not afraid of heights. With 33 meters it's quite high and standing on its top and looking down can make you feel dizzy!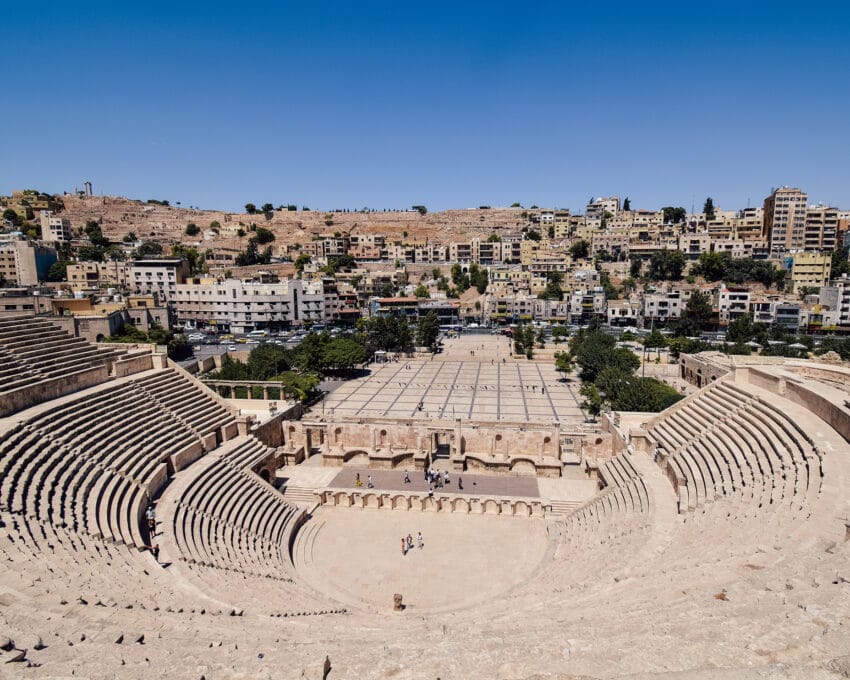 The Roman Theater opens at 8:00 am and just like at the Amman Citadel, it's a good idea to go early to avoid the sun and the big crowds. Morning light also makes for awesome pictures and a peaceful time to take it all in.
The entrance to the theater is included in the Jordan Pass. Otherwise, you need to pay a small fee of JOD 2 (approximately $2.80).
Tours you might find interesting:
3. Take a Stroll Along Rainbow Street
Another one of the best things to do in Amman is to take a stroll along the famous Rainbow Street.
This vibrant, bustling street is filled with an array of experiences that showcase the city's modern culture.
As you wander, you'll find trendy cafes, small boutiques, and art galleries offering a taste of contemporary Jordanian life. Try some local street food or sit at a cozy café, sipping traditional tea and people-watching.
Moreover, something else you'll notice is the colorful graffiti and murals adorning the walls, giving the area a vibrant urban vibe. So make sure to keep your eyes open all the time, otherwise, you might miss out on something cool!
Rainbow Street is also renowned for its lively nightlife and it truly comes alive after sunset, offering a variety of pubs, bars, and clubs.
4. Do Some Shopping at Abdali Mall
If you're a shopping enthusiast like me who loves checking out malls and shopping streets while traveling, you need to add Abdali Mall to your itinerary.
The modern complex in the business district offers a diverse range of shops, boutiques, and international brands, making it a shopper's paradise. From fashion and electronics to local souvenirs, there's nothing you won't find there.
In addition, Abdali Mall also boasts numerous dining outlets, including traditional Jordanian cuisine and international food chains.
5. Admire The Stunning King Abdullah Mosque
One place you need to pack into your 1-2 days in Amman is the stunning King Abdullah Mosque. Due to its convenient location, being just 10 minutes away from Abdali Mall, a visit to the beautiful mosque can easily be combined.
King Abdullah Mosque is a real architectural marvel, known for its beautiful blue mosaic dome and intricate Islamic designs. It was built in the 1980s and is the only mosque in Amman open to non-Muslim visitors.
The mosque features a lovely courtyard that can fit up to 3,000 prayers and a main prayer hall, big enough to house another 7,000 prayers.
Once inside the octagonal main prayer hall, the first thing you will probably notice is the giant chandelier consisting of three circles. It hangs from the center of a magnificent blue dome with golden accents and its 168 lanterns illuminate the whole interior.
For visitors, the mosque is open from 8:00 am to 7:00 pm on Saturdays to Thursdays between April and September and until 4:00 pm between October and March. To enter, you need to pay a small entrance fee of JOD 2 (around $2.80).
Just like any other mosque, it's important to wear the right clothes. Men need to wear long pants, women should wear attire covering their arms, legs, and head.
Don't worry if you're not properly dressed, you can borrow headscarves together with abayas (black full-length dresses) for free.
6. Discover All The Colorful Murals
Rainbow Street isn't the only area to find colorful murals in Amman.
Take Jabal Lweibdeh for example, a neighborhood known for its bohemian vibe, where numerous artsy paintings embellish walls and alleyways. The place attracts many aspiring artists every year who love to reveal their love for creativity and expression.
Additionally, the area around Ras Al Ain Gallery is a hotspot for art enthusiasts, showcasing a blend of murals and paintings that often highlight social issues or celebrate cultural diversity.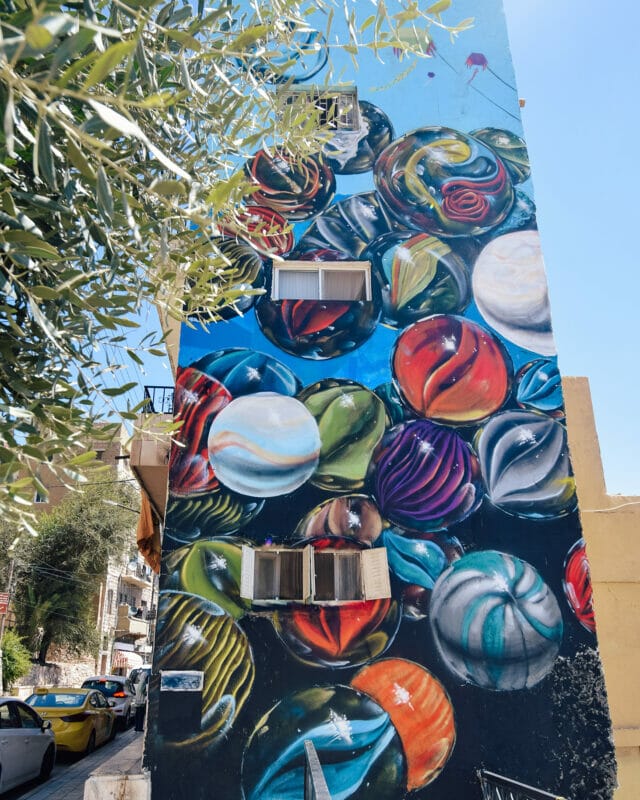 Even if you aren't around these areas or planning to do so, you will most likely stumble upon some great murals by just wandering around the city. Seriously, we came across the coolest paintings when we didn't expect it!
On the way from the Citadel to the Roman Theater, for example, we saw the 'The Column' mural, one of the biggest and most famous ones in Amman.
There are many, many more hidden all over the city, so are you ready to get on a mission to find them all?
7. Try Vegan Shawarma at Bayt Sara
Undoubtedly, all the exploring in Amman can work up quite an appetite, and there's no better place to satisfy your hunger than Bayt Sara – I swear!
Bayt Sara is a fully plant-based restaurant located near Rainbow Street that serves Romanian-Italian-Jordanian-Hungarian homemade food.
And if you're now wondering why they offer so many different cuisines, here's the answer: The owner, Sara, is half Romanian and Jordanian and lived in Italy for some time. Thus the great variety of dishes.
Besides that, the portions at Bayt Sara are huge! And by huge I mean really huge – one serving is actually the size of two servings.
When one of the staff members told us what dishes were served (there is something different every day and no fixed menu), he mentioned it but we couldn't quite believe it.
We decided to share two dishes and ordered the vegan Shawarma and a vegan Tofu wrap. Well, what should I say? The staff member didn't exaggerate at all. The portions were so big, we needed to take the Tofu wrap as a takeaway.
Both dishes were absolutely delicious but the vegan Shawarma was heavenly!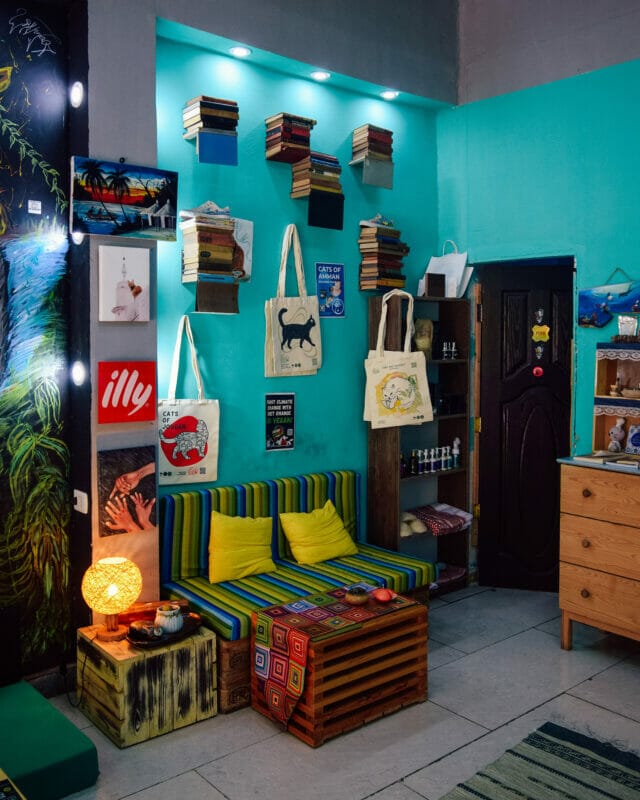 Besides serving excellent food, the owner, Sara is also an inspiring activist who advocates for many important causes, which she shared in an interview for the Middle East Vegan Society.
8. Plan a Half-Day Trip to The Ruins of Jerash
Last but not least, one of the best things to do in Amman is to plan a trip to the Roman Ruins of Jerash for half a day.
However, I recommend this only if you spend at least two days in the city. You need at least one full day in Amman to see all its major spots!
The city of Jerash is less than 50 kilometers north of Amman and the easiest way to get there is by taxi which typically takes around 45 minutes to an hour, depending on traffic.
Jerash is mostly renowned for the ancient remnants of the fortified Greco-Roman settlement of Jerash, one of the largest and best-preserved late antique cities in the Middle East.
Listed as a UNESCO World Heritage Site, the archaeological site offers a rich array of historical and architectural attractions. Impressive colonnaded streets, grand plazas, imposing temple complexes, and amphitheaters are just some of the highlights.
You can visit the archaeological site from Thursday to Sunday from 8:00 am to 7:00 pm and from Monday to Wednesday from 8:00 am to 6:30 pm.
There's an entrance fee of JOD 12 to pay, which also includes the entrance to the archaeological museum. If you purchased the Jordan Pass, the entrance is free.
If you're a history enthusiast, or photographer, or enjoy a leisurely pace, you could easily spend five hours or more there!
Check out: Visiting The Roman Ruins of Jerash – a Complete Guide
Tours you might find interesting:
---
Like it? Pin it!
---
Do you want to travel like me?
Here are some of my favorite travel tips and resources:
Flights: I prefer using CheapOair or Skyscanner to book flights. The destination everywhere feature is perfect for finding some cheap deals!

Accommodation: Booking.com is my favorite site to find some great hotel deals. I do love staying at a local place as well, thus I book an Airbnb every now and then.

Travel Insurance: There are many reasons why travel insurance is important and I never travel without having one. I use the simple and flexible one from World Nomads to be protected against unforeseen events.

Tours: I love taking tours to explore destinations like a local. My favorite website to book them in advance is GetYourGuide.

Camera Gear: I use a Nikon D5300 camera with an 18-105 mm and a 10-20 mm wide-angle lens to take my photos.