Visiting The Roman Ruins of Jerash – a Complete Guide
Just a 50-minute ride from Amman you'll find the Roman Ruins of Jerash, an archaeological site of great historical significance.
Listed as a UNESCO World Heritage Site, the ancient city of Jerash is – besides the Amman Citadel and Petra – one of the best places to learn about Jordan's history.
As you wander along the colonnaded streets and between the remains of monumental temples, you will almost feel as if you have stepped back in time – at least that's how I felt.
Even if you're not particularly passionate about history, leaving Jerash out of your itinerary would be a serious oversight.
To help you plan your visit to the Ruins of Jerash, I compiled this ultimate guide that includes everything you need to know such as how to get there, opening times, entrance fees, what to see, and more.
So hold on tight, your adventurous journey back in time starts now!
TIP: Before you travel to Jordan, I highly recommend buying the Jordan Pass. It includes a tourist visa with FREE entry to more than 40 tourist sites such as the Roman Ruins of Jerash.
(This post contains affiliate links, which means I receive a certain percentage of a sale if you purchase after clicking.)
History of Ancient Jerash
Originally known as Gerasa, the archaeological marvel dates back to the Hellenistic period, with traces of settlement as early as the 4th century BC.
However, it wasn't until the height of the Roman Empire, that Jerash flourished into a thriving metropolis.
Under Roman rule, Jerash experienced a cultural and architectural upswing, evident in the well-preserved ruins that now captivate travelers from near and far.
In the 2nd century, the city became a crucial hub of trade and commerce in the Eastern Mediterranean, expressing its greatness through impressive colonnaded streets, grand theaters, and monumental temples.
Throughout history, the ancient city witnessed the rise and fall of different empires during the Byzantine and Umayyad periods before eventually succumbing to a decline in the 14th century.
Rediscovered in the early 19th century, the Roman Ruins of Jerash now offer a glimpse into Jordan's exciting past.
Where to Find The Roman Ruins of Jerash
The Roman Ruins of Jerash are located in the north of Jordan, less than an hour from Amman. To get to Jerash, you have several options.
If you use a rental car you can easily access Jerash by taking the Jerash-Ajloun Road connecting Amman and Jerash. Alternatively, you can take a taxi like we did – it's super convenient and they're very inexpensive in Jordan!
For a more immersive experience book a guided tour or use public transportation. You'll find several bus connections from the North Terminal Bus Station, taking you directly to Jerash.
Tours you might find interesting:
Opening Times & Entrance Fee
The opening times of the site vary, depending on the time of the year.
During the winter months, from November to April, the place can be accessed between 8:00 am and 4:00 pm. In summer, it's open longer meaning you can explore it until 6:30 pm.
In April and May, the opening hours are again different, as the site is then accessible from 8:00 am to 5:30 pm. And if you decide to visit Jerash in the holy month of Ramadan, you can go there from 9:00 am to 5:00 pm.
No matter what season you choose, I highly recommend making your way to the site right at its opening time. In this way, you can beat the crowds and, particularly in the scorching summer months, escape the intense heat.
If you haven't bought the Jordan Pass – which I advise you to get as it grants access to multiple historical sites in Jordan and includes a tourist visa – you'll need to pay an entrance fee of JOD 12, roughly equivalent to $17.
You can get the tickets at the visitor center which is located inside the fenced area, after passing Hadrian's Arch and the Hippodrome.
It's a bit of a hefty price, although it includes entrance to the Archaeological Museum, but again, it totally pays off to get the Jordan Pass!
What to Wear at The Ruins of Jerash
For your visit to the Roman Ruins of Jerash, it's important to know what to wear. Your outfit should be appropriate for both the local culture and the weather conditions.
Jordan is a conservative country, so it's best to wear modest clothing. For both men and women, this means covering your shoulders and knees.
Loose-fitting, long-sleeved tops and pants or skirts that reach below the knee are a good choice.
The site is really big so you'll walk a lot. Make sure you wear comfortable and sturdy shoes as you'll be exploring uneven terrain. Sneakers or closed-toe sandals are a good option.
Especially in summer, the weather in Jordan can get quite hot (speaking from experience) and you won't be much in the shade. Make sure to cover your head, wear sunglasses, and use sun protection.
During the cooler months, you may want to wear a light sweater or jacket and be able to remove it when it gets warmer during the day.
What to See at The Roman Ruins of Jerash
The site covers a huge area which might seem daunting at first. However, after a while, you'll find your way around well, ready to explore all the highlights.
The following sights are among the most impressive and famous – you should definitely not miss them. Nevertheless, make sure to go off the main path as well to discover more secrets of ancient Jerash.
Hadrian's Arch
The first impressive building that you will probably see from the street already is Hadrian's Arch.
This triumphal arch, constructed to honor the visit of Emperor Hadrian in the 2nd century, stands tall with its impressive Corinthian columns and intricate carvings.
Could you imagine a better way to start your exploration than passing beneath this historical marvel? Probably not!
Hippodrome
Just right after passing Hadrian's Arch, while continuing your way to the official entrance of the ancient city, you'll find the impressive Hippodrome to your left.
With a seating capacity for thousands, this well-preserved arena once hosted thrilling chariot races and other public events.
Today, as you stroll through the remnants of this grand place, you can almost hear the echoes of cheers and the thundering hooves, immersing yourself in the dynamic history of Jerash.
Oval Plaza
After passing the visitor center and the south gate, you'll soon find yourself standing at the Oval Plaza, a captivating open space surrounded by impressive columns and remnants of grand structures.
This central gathering place served as the vibrant heart of ancient Jerash, hosting various civic and social activities.
Take your time to stroll through this historic square at a slow pace, and imagine the daily life and communal spirit that once animated the bustling streets of Jerash.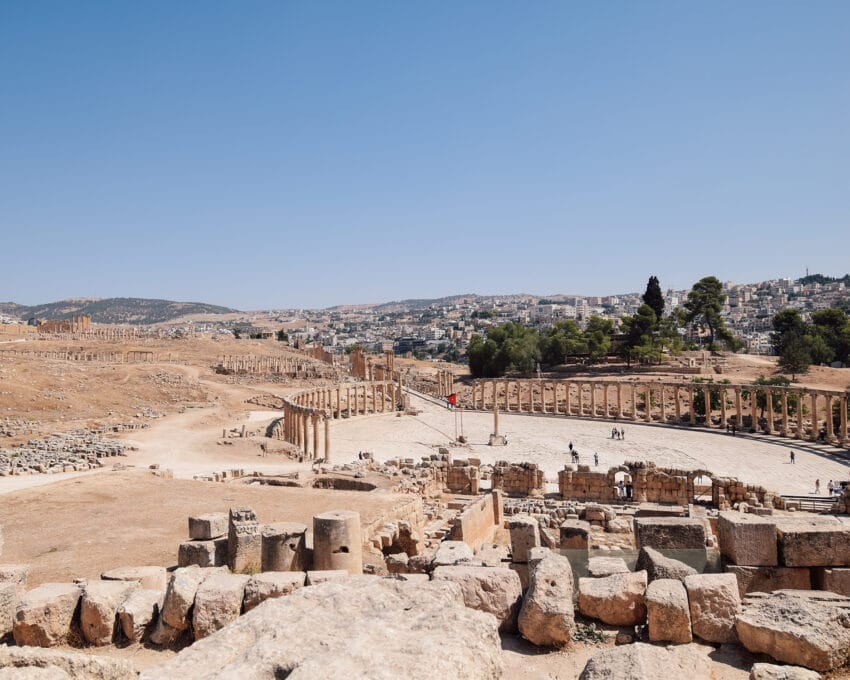 Cardo Maximus
The Cardo Maximus is a majestic colonnaded street lined with towering columns on either side.
This ancient street is approximately 800 meters long and begins at the Oval Plaza, leading right up to the North Gate. It's flanked by the remnants of shops and other impressive structures, allowing you to envision the historical vibrancy of the city.
Nymphaeum
Among the most significant buildings you'll pass while following the Cardo Maximus is the Nymphaeum. This ornate public fountain once served as the main water source and was dedicated to the water nymphs.
The two levels of its facade were beautifully decorated with reliefs, panels, and columns with Corinthian capitals.
If you look closely, you'll see several lion heads from which water poured into a large, deep basin.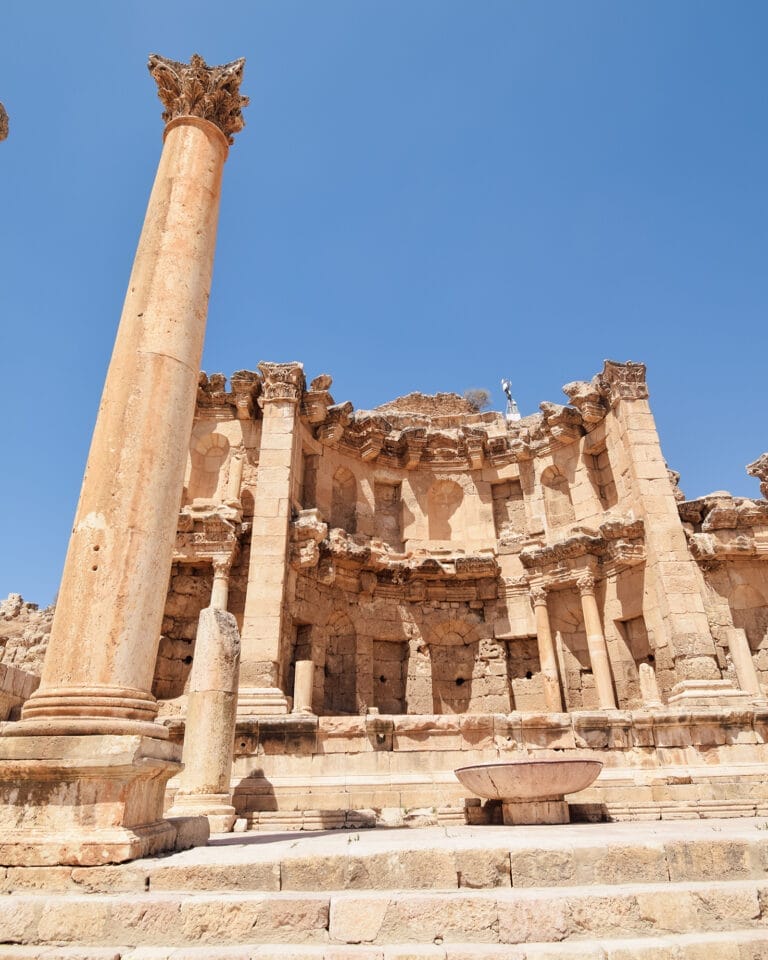 The North & The South Theater
Just like Amman has its Ancient Theater, the archaeological site of Jerash has not only one but two theaters.
The South Theater, the larger of the two, once accommodated thousands of people who gathered for performances and events.
Its well-preserved structure, complete with tiered seating and a commanding stage, offers a glimpse into the vibrant cultural life of the city's past.
The North Theater, though smaller, boasts intricate details and a picturesque setting, providing a more intimate atmosphere for its audience.
When you visit the two theaters, make sure to climb up the stairs to enjoy panoramic views of the theaters below, the entire site, and the modern city in the background!
Temple of Zeus
Just right next to the South Theater, you'll find the remnants of a majestic tribute to the king of the ancient Greek gods.
Once dominating the sky with its towering columns, the Temple of Zeus once symbolized the importance of religious worship in Jerash.
Although the columns and architectural details are all that are left, it's easy to imagine the opulence it once had while wandering around the well-preserved ruins.
Thanks to its location atop a hill, the temple also provides wonderful views of the Oval Plaza and the Cardo Maximus.
Temple of Artemis
The Temple of Zeus wasn't the only temple dedicated to a Greek god.
The Temple of Artemis, the Greek goddess of hunting and fertility, is another remarkable monument situated right in the heart of the ancient city.
It was built during the 2nd century and once served as a sacred space for worship and reflection.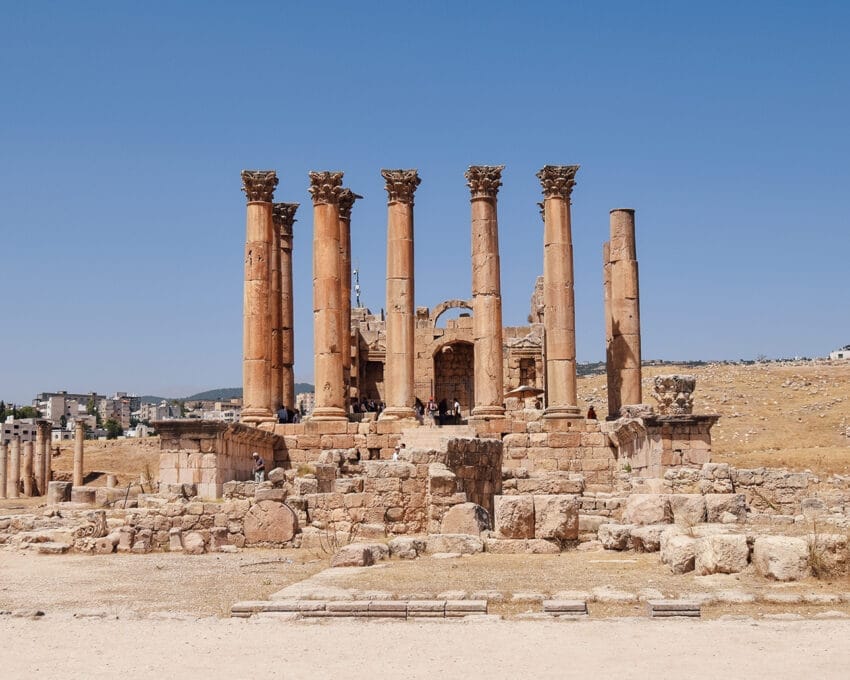 The Temple of Artemis is actually part of a whole sanctuary complex, that extends from the eastern fence of the archaeological site to the temple on the west. So besides the temple, there are other ruins to explore such as a church or an altar.
How Much Time to Plan & Last Words
Depending on your level of interest in history and archaeology, 2-3 hours is enough to see all the main attractions and gain a good understanding of the site.
However, if you're a history enthusiast or enjoy a more leisurely pace, you might want to reserve 4-5 hours.
We spent around four hours at the site which was enough time to see most of it without a rush.
No matter how much time you decide to spend, a visit to the Roman Ruins of Jerash is a fantastic experience and a wonderful way to get to know the history of Jordan better.
Tours you might find interesting:
---
Like it? Pin it!
---
Do you want to travel like me?
Here are some of my favorite travel tips and resources:
Flights: I prefer using CheapOair or Skyscanner to book flights. The destination everywhere feature is perfect for finding some cheap deals!

Accommodation: Booking.com is my favorite site to find some great hotel deals. I do love staying at a local place as well, thus I book an Airbnb every now and then.

Travel Insurance: There are many reasons why travel insurance is important and I never travel without having one. I use the simple and flexible one from World Nomads to be protected against unforeseen events.

Tours: I love taking tours to explore destinations like a local. My favorite website to book them in advance is GetYourGuide.

Camera Gear: I use a Nikon D5300 camera with an 18-105 mm and a 10-20 mm wide-angle lens to take my photos.