Where to Stay in Amman – Hilton Amman
This blog post is written in cooperation with Hilton Amman and based on my personal experience at the hotel.
If you're traveling to Jordan and don't know where to stay in Amman, the capital city, don't worry – I have the perfect choice for you!
From its great location in the heart of the city, only a short walk away from major city attractions, to unparalleled luxury and hospitality, Hilton Amman is the ultimate blend of comfort, convenience, and indulgence.
With its stylish rooms, world-class amenities, and staff that goes above and beyond (they truly give the word hospitality a new meaning) the hotel is designed to make your visit unforgettable.
Whether you're exploring Amman's historic sites or immersing yourself in its vibrant culture, returning to Hilton Amman is always a delight.
Keep on reading to find out what our stay was like at Hilton Amman and why I think it's one of the best hotels in Amman!
(This post contains affiliate links, which means I receive a certain percentage of a sale if you purchase after clicking.)
Our Memorable Stay at Hilton Amman
Amman was my partner's and my first stop on our trip to Jordan and we had planned 2.5 days there. As soon as we landed at Queen Alia International Airport, we ordered a taxi to take us directly to the hotel.
The drive took around 40 minutes from the airport and taxis are pretty cheap in Jordan – compared to the prices in Europe.
A Somewhat Different Welcome
As soon as our taxi driver stopped the car in front of the hotel, we were heartily greeted by two staff members, welcoming us and helping us with our luggage.
When we entered the lobby, I could not believe my eyes what I saw there: First of all, I was flashed by its modern, luxurious, and sumptuous design and second, there was a small robot standing right in front of me!
I knew robots like that already existed in some hotels, but had never seen one myself – until that moment. An employee noticed my excitement and approached the robot to click the button "Welcome to Hilton" on the robot's screen.
The robot then began to spin in circles while displaying a shower of confetti on its screen. It was seriously so incredibly cool and a really unique kind of welcome I had never experienced before!
After this lovely welcome dance, we proceeded to the reception to pick up the keys to our room for the next three nights.
Our Spacious Home Away From Home
Hilton Amman features 169 uniquely designed rooms in different categories arranged over 21 floors.
Our room was in the category "King Superior Room" on the 9th floor, just enough to be a little above the rooftops of Amman but still being part of all the surrounding happenings.
It was among the most spacious rooms and its grand size was the first thing I noticed after entering.
On a total of 36 square meters, the living area came with a big kingsize bed, a lounge chair, a desk plus two upholstered armchairs, a huge flat TV, a minibar, some drawers to store things, and a wardrobe with hangers.
The entire room felt very modern, but at the same time very cozy – a combination I always love.
But my absolute highlight was the fact that there was a tablet at the bedside table I could use to turn on/off the lights or TV, order laundry pick-up, and much more.
And all this from the bed! Super convenient. 😉
The bathroom was also spacious enough and included everything from a rain shower and bathtub in one to a large wash basin and personal care products such as shampoo, shower gel, body lotion, etc.
In total, it was the best place imaginable to return to after some exciting adventures out in the Jordanian capital!
What a Sweet Surprise!
We were just about to unpack our suitcases when suddenly someone knocked at the door. It was the Room Service Manager who wanted to greet us personally and bring us a little something.
The "little something" as he said, wasn't as little as we thought tho. When he entered the room, he lovingly arranged three plates on our desk, each having different delicacies on top.
Fresh fruits on one, sweet delights such as dates with almonds and macarons on the other, and the last one featured local products such as olive oil, bread, and various herbs.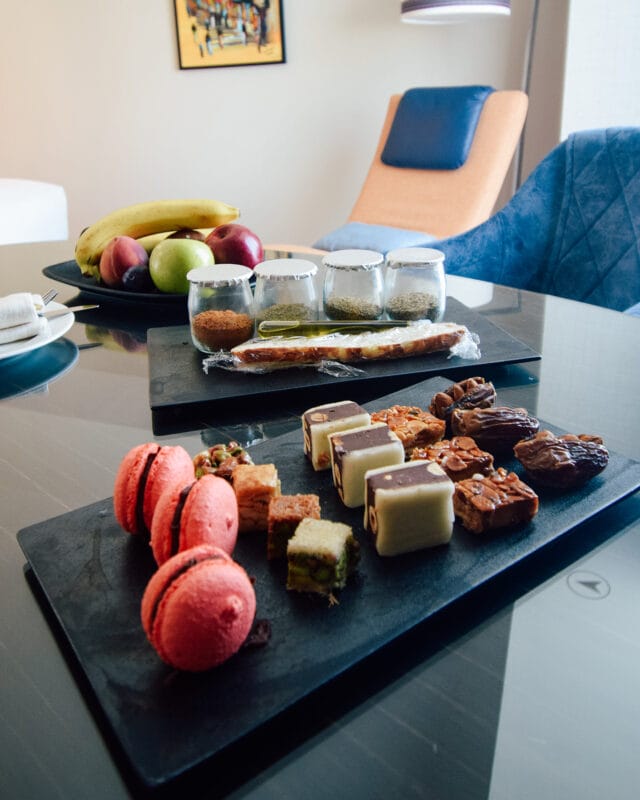 We were truly flabbergasted because we didn't expect this at all. It was such a sweet welcome gesture and reflected the great hospitality Hilton is known for!
Time to Relax …
Exploring a new city and checking out all its sights is always an exciting adventure. However, sometimes it can be a bit overwhelming and exhausting, especially when you're on the move from early morning to late at night.
Luckily, there's the perfect place at Hilton Amman where you can give your tired feet a break and fully recharge your batteries: Sense Spa.
On our second day in Amman, we returned to the hotel a bit earlier to relax in the spa area and treat ourselves to a 10-minute express BNS massage.
Shiatsu techniques were used to relieve tensions and I could hear my neck cracking a couple of times but it felt absolutely incredible!
My neck and shoulders were less tense afterward and we both enjoyed this treatment so much that we decided to book a 45-minute Swedish massage as well. It truly made us feel newly born!
Besides many different types of massages, at Sense Spa, there's also the option to get a facial or try traditional Moroccan and Turkish bath experiences.
After our absolutely fantastic treatments, we headed to the pool area where we ended the day chilling on loungers and doing a few laps in the pool.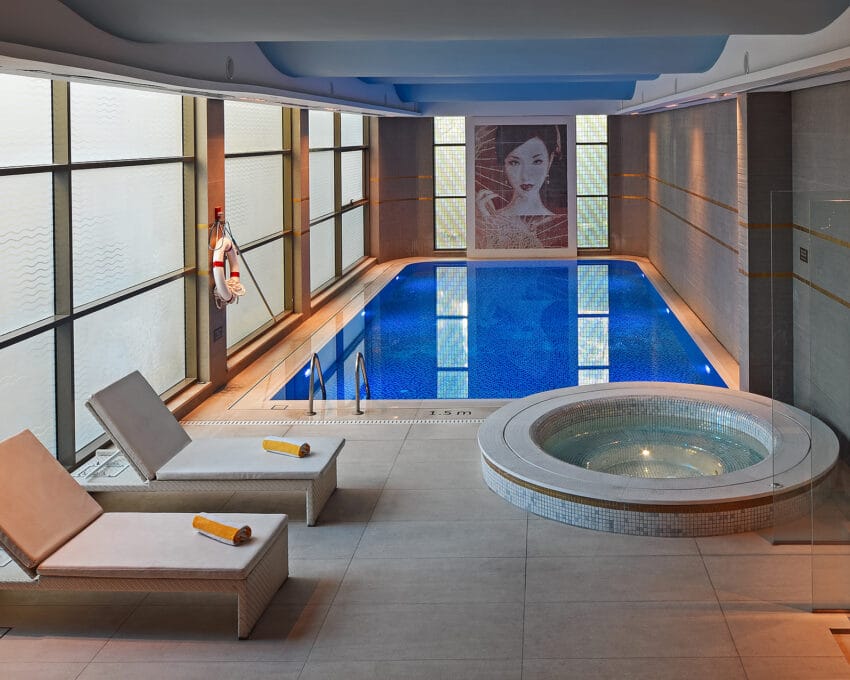 If you think that's all that there is at Sense Spa, then you thought wrong!
Besides the already mentioned facilities and treatments, there's also a jacuzzi, a sauna and a steam bath (women and men separated), a fitness room, fresh fruits, tea, and detox water to stay hydrated.
We were both super glad that we took advantage of the Spa area and felt wonderfully relaxed even after a busy day exploring Amman.
Culinary Choices & a Swing
On our first day after we moved into our room, we went back to the lobby, or more precisely to the lobby lounge. Since we had a long journey with very little sleep, we decided to stay at the hotel for the rest of the day – it was late afternoon anyway.
At Hilton Amman, there are several gastronomical offers that you can use.
First, there's the just-mentioned "El Atrio" lobby lounge, a wide and open modern space right next to the front desk where you can lean back on giant, pompous couches and armchairs to enjoy a drink.
In our case, it was an Aperol Spritz and oh man, it tasted just like in Italy!
On the same level, there is also Serai, a restaurant offering both a buffet option and a special a la carte menu so you can choose what you prefer. Moreover, it's the place to find the breakfast buffet in the morning.
One floor above is the Fuma restaurant offering the first Le Petit Chef dining experience in Jordan. If you're looking for a fun dining experience with 3D visuals, it's the place to go!
Last but not least there's Nasma, a Lebanese outdoor terrace that became our favorite restaurant at Hilton Amman.
With a lovely outdoor seating area surrounded by flowers and a cozy swing, the atmosphere of this restaurant was simply unbeatable. Plus, the Lebanese food was so good, we had dinner here twice!
Each time, we ordered various dishes to try but my favorite was clearly Batata Harra, a dish consisting of potatoes, red peppers, coriander, chili, and garlic which are all fried together in olive oil. So delicious!
Combined with a good glass of Lebanese Chardonnay wine there was nothing more I needed. 😉
Final Thoughts About Staying at Hilton Amman
In conclusion, our experience at Hilton Amman was truly exceptional.
While we loved our luxurious room, the rejuvenating Spa area, and the many great gastronomic offerings, what set this stay apart was the outstanding dedication and hospitality of the staff.
Every single member went above and beyond to ensure our comfort and satisfaction, making us feel welcomed and at home.
Hilton's vision is "To fill the earth with the light and warmth of hospitality" and I can honestly say at Hilton Amman, this motto truly comes to life. Therefore I think it's the best place to stay in Amman!
---
Like it? Pin it!
---
Do you want to travel like me?
Here are some of my favorite travel tips and resources:
Flights: I prefer using CheapOair or Skyscanner to book flights. The destination everywhere feature is perfect for finding some cheap deals!

Accommodation: Booking.com is my favorite site to find some great hotel deals. I do love staying at a local place as well, thus I book an Airbnb every now and then.

Travel Insurance: There are many reasons why travel insurance is important and I never travel without having one. I use the simple and flexible one from World Nomads to be protected against unforeseen events.

Tours: I love taking tours to explore destinations like a local. My favorite website to book them in advance is GetYourGuide.

Camera Gear: I use a Nikon D5300 camera with an 18-105 mm and a 10-20 mm wide-angle lens to take my photos.