A Perfect 3-Day Cyprus Itinerary – Best Things to See & Do
Best Cyprus Itinerary That Guarantees an Unforgettable Time!
Even though the island of Cyprus is rather small, it still has a lot of awesome things to offer. Whether you want to chill at the beach, visit ancient ruins or hike in the Troodos Mountains – everything's possible!
If your time is limited tho, you probably won't be able to do all of the mentioned things above. I spent three days on the island and got to see a lot of its beauty in a short time.
To help you and make sure you don't miss anything awesome I put together this Cyprus itinerary with all the best things to see in three days!
(This post contains affiliate links, which means I receive a certain percentage of a sale if you purchase after clicking.)
Useful Things to Know
This 3-day Cyprus itinerary is for the southern part of the island only. As you probably know, Cyprus has been divided since 1974 when Turkish people invaded the northern part of the country.
Since then, one-third of the island has been led by a Turkish Cypriot government whereas the other two-thirds in the south is led by Greek Cypriots.
There are a lot of places to visit in North Cyprus but this itinerary is for the southern part only.
It doesn't matter if you stay in Paphos, Limassol, Larnaca, or any other city in the south. You can easily reach all the places on this itinerary from any of these cities.
The best way to get to these places is to rent a car. Otherwise, it'll take you way too long if you take public transport.
Don't forget there's left-hand traffic! But don't worry, you'll get used to it in a very short time. Simply go for an automatic car, stay on the left side of the road and don't forget the turn signals are on the right side.
Trust me, it's not that difficult at all. I drove most of the time and I'm really not a good driver – yet, we survived! 😀
There are many other things to know before you visit Cyprus but these are definitely the most important ones.
Alright, are you mentally prepared for your Cyprus trip? Because here comes the ultimate Cyprus itinerary for three full days!
Day 1: Troodos Mountains
Ok, guys, I have some good news for you. There's no need to panic about driving on the first day because if you follow this itinerary, you won't need a car!
On the first day, you're going to take a Troodos Mountains tour to explore the untouched nature of the island.
The Troodos Mountains are a huge and impressive mountain range in Cyprus with the highest peak being almost 2,000 meters.
Although it's possible to go drive there on your own, I highly recommend you not to do this. Most of the streets are not good to drive on and in winter there can be snow on them.
Instead, take an organized full-day tour to get the best and most authentic, local experience. Lean back and watch the stunning landscape pass by while sitting in a Jeep.
Most of the tours include off-road driving so an unforgettable adventure is guaranteed!
The Troodos Mountains cover an enormous area so it's impossible to explore every part of them. Thus many companies offer different kinds of tours.
We did some research and decided to book the tour from Trackers Excursions. Honestly, it was such a good decision!
We visited a copper mine, drank tea with locals, drove off-road, went to an abandoned village, stood on top of a mountain, and explored the gorgeous village of Lefkara.
If you want to read more about that adventurous day check out my blog post about the Troodos Mountains tour on the first day of my Cyprus itinerary.
Tours you might find interesting:
Day 2: Paphos, Avakas Gorge & Aphrodite's Rock
On day 2, the first stop of this Cyprus itinerary is the coastal city of Paphos in the southwestern part of the island.
If you go there from Larnaca as we did, it's not more than a 1.5-hour drive by car.
Paphos
Paphos' history is a very rich one. During the past centuries, folks such as the Greeks, the Romans, the Turks and even the British left their mark there.
Moreover, it's said that the Greek goddess of love Aphrodite was born at a place nearby. I'll tell you which one it was further down in this post as it's also a stop on this itinerary.
Thanks to its turbulent and exciting history, the old part of Paphos was declared a UNESCO World Heritage site 40 years ago.
The best way to immerse yourself in that history is to visit some of the remaining archaeological sites. One of the most popular ones is the Archaeological Park.
Archaeological Park
Opening hours: Every day from 8:30 am – 5 pm
Entry fee: €4.50 per person
The Archaeological Park is home to the major part of the ancient Greek and Roman cities.
Some of its sites and monuments are from the 4th century BC to the Middle Ages. Whereas others date to the period of the Romans.
While strolling through the park, you'll probably find some beautiful mosaic floors.
These floors are the remains of four Roman villas – the houses of Theseus, Aion, Dionysos and Orpheus – and show different scenes from Greek Mythology.
Not far from the ancient ruins and still, within the area of the archaeological park, there's a white lighthouse with a great view of the sea.
If you follow the path next to it, you'll discover the remains of an ancient amphitheater right beneath the lighthouse.
The Archaeological Park isn't the only place showcasing the life of ancient folks in Paphos.
A short 5-minute car ride away, you can find another super interesting archaeological site: The Tombs of The Kings.
Tombs of The Kings
Opening hours: 8:30 am – 5 pm
Entry fee: €2.50 per person
Can you imagine being surrounded by countless ancient tombs of high-ranking officials and aristocracy who lived centuries ago?
Well, welcome to the Tombs of The Kings.
Tombs of The Kings is a place where you can find very well-preserved tombs and chambers of residents during the Roman and Hellenistic periods.
In total, there are seven excavated tombs spread over a wide area. My absolute favorite and in my opinion the most impressive one was tomb number 3.
In contrast to all other tombs, it had an open atrium with surrounding columns which made it look pretty awesome and unique.
Most of the other tombs and chambers had niches built into the wall where the dead people's bodies were stored. Nevertheless, they weren't less impressive to visit!
Exploring this historic place made me start wondering. How were those people buried there? Why and when did they die?
For me, it's important to learn something about the history of a country when visiting it.
Both, the Archaeological Park and the Tombs of the Kings are the perfect places to expand your knowledge of Cypriot history. Therefore they shouldn't be missed on a perfect Cyprus itinerary!
Lunch at Meraki Market Café (optional)
You should plan at least 2 – 3 hours for the Archaeological Park and the Tombs of the Kings.
Before we continue exploring the island, it's time to head for lunch and gather some energy for the next stop – trust me, you'll need it.
Finding a place to have lunch is really super easy in Paphos. The city is a major tourist destination and there are tons of restaurants around every corner.
Whether you're craving seafood, pizza, Chinese noodles or tacos – you can find almost any kind of cuisine.
You can even find 100% vegan restaurants which made me super happy because I was a bit worried about not finding anything nice to eat.
The place we went to was called Meraki Market Café – a small and really lovely bistro located outside the main tourist area.
On their menu, you can find different breakfast options, burgers, wraps, sandwiches, healthy salad bowls or pasta.
Moreover, their selection of smoothies and coffees is overwhelming and if you have a sweet tongue as I have, you can choose from a few homemade goodies such as cakes, cookies or scones.
Everything sounded really delicious and I chose a chickpea sandwich with fries whereas my friend went for a vegetable burger and sweet potato fries.
Plus we both decided to try some of their fancy lattes – a dragonfruit and a gingerbread latte.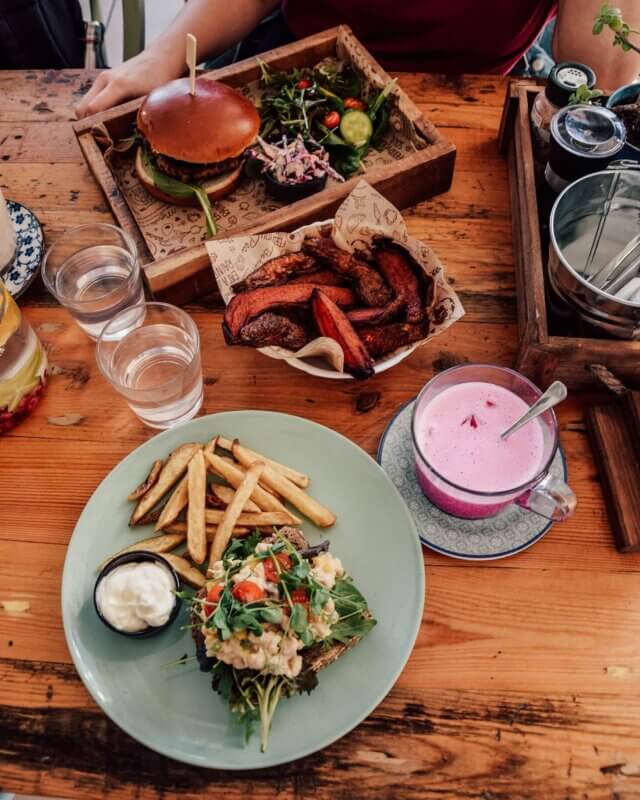 It was my first time trying a dragonfruit latte and although the color was really awesome – its taste needs getting used to.
The food was great tho and I decided to take one of their chocolate cookies with me. So if you want to eat delicious plant-based food, you should definitely go to Meraki Market Café!
Tours you might find interesting:
Avakas Gorge
For the next stop on our Cyprus itinerary, I advise you to pack hiking/walking shoes or – even better – rubber boots.
Trust me, I'm not joking and I really wish I'd known this before heading there.
Only a 40-minute drive from Paphos, there's a popular and adventurous hiking area called Avakas Gorge.
Avakas Gorge is a stunning canyon offering amazing wildlife, water views, and lush flora and fauna. Some of its walls are more than 30 meters high and it has a total length of 3 km.
Moreover, this place is also known for its wild goats frolicking around so if you're lucky, you'll probably see some. (We did!)
The best way to get there is to simply follow the street along the coast until you reach a point where there's no asphalt anymore.
There's a small car park near the ocean and above a nice beach with an impressive cliff. From there walk along the gravel road until you see a sign for the Avakas Gorge.
The closer and deeper you get into the canyon, the more dangerous the hike gets.
On our way, we had to cross the river floating through the canyon a couple of times – jumping from one stone to another.
We both didn't wear proper shoes so it was really slippery and we had to be careful to not fall into the water.
Although the gorge is only 3 km long, we couldn't even make it to half of it.
Since we went there in winter, the water level was pretty high and we weren't able to continue after a while as we had to walk through the water.
Thus we decided to turn around and make our way back.
Nevertheless, it was a truly unforgettable adventure exploring this masterpiece of nature and thus it's a must on my 3-day Cyprus itinerary.
Aphrodite's Rock
Remember when I told you about Aphrodite's birthplace not far from Paphos? Now it's time to go there and see it with your own eyes!
The last stop of the second day is Aphrodite's Rock – the place where the Greek goddess of love, beauty, and passion was born according to legends.
It's a huge rock located off the shore, surrounded by beautiful beaches and crystal-clear water.
From Avakas Gorge it's around 50 minutes to get there. Simply take the same way back to Paphos and then continue for another 10 minutes on the highway.
In my opinion, the best time to go there is for sunset. That's why we chose it as the final stop of our second day in Cyprus.
Feeling the last warm sun rays on your face and watching the sun disappear behind the horizon is an amazing experience at this truly magical place.
So sit down, relax and enjoy the unforgettable moment and perfect ending of a great day!
Day 3: Cape Greco, Ayia Napa & Larnaca
On the third and last day, the Cyprus itinerary takes you to the southeastern part of the island. And what is this part of Cyprus famous for? Yes exactly, Cape Greco!
Cape Greco is a 50-minute drive from Larnaca and a bit more than a 2-hour drive from Paphos.
Cape Greco
The Cape Greco is a headland at the southern end of Famagusta Bay and belongs to the Municipality of Ayia Napa.
This place is not only the easternmost point of Cyprus but also of the entire European Union!
This fact alone makes it a place not to miss.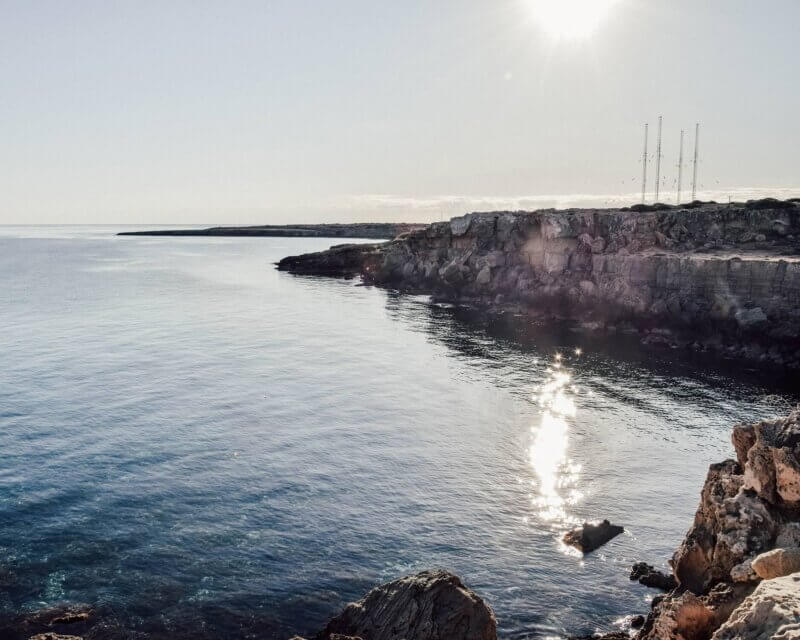 Cape Greco is not only the cape itself but an entire National Forest Park including many more sights to visit besides the cape, for example, The Blue Lagoon.
The following few places are the ones we visited and which you shouldn't miss seeing.
Kamara Tou Koraka Stone Arch
The Kamara Tou Koraka Stone Arch is a natural stone arch connecting two sides of a cliff. It looks exactly like a bridge but it's not allowed to step on it.
In front of the arch, there's a fence preventing people climb on it. This is because it's just way too risky as the stone arch could collapse anytime
(We all know what happened to the Azure Window in Malta.)
Nevertheless, it's a very interesting place to see and it shows us in what fascinating forms and shapes nature comes!
Konnos Beach (optional)
Another 10-minute car ride from the Stone Arch you can find Konnos Beach. Our tour guide on the first day told us we should go there so we followed his advice and did.
Due to the fact it was January, the beach was completely empty.
However, in summer, I'm pretty sure it's a lovely place to relax and take a swim in the sea. So if you're heading to Cyprus during the warm months – you should definitely plan a stop at this beach.
Sea Caves
Last but not least, don't forget to check out the famous Sea Caves in the Cape Greco National Forest Park.
The coastline of these natural sea caves is simply breathtaking and looking down from these 10-meter-high cliffs can make you feel dizzy.
Some of these sea caves extend for more than 80 meters underground and at low tide, they can even be explored on foot.
Besides soaking in that stunning view, there are many other activities that can be done at the sea caves such as cliff jumping, diving, snorkeling and swimming.
Unfortunately, it was way too cold for any of these activities so we spent our time enjoying the view from the cliffs.
Cape Greco is truly a wonderful area to visit as you can find so many fascinating natural gems there. This itinerary allows you to spend the entire morning exploring all the sights there.
So relax, take your time and soak in all the natural beauty before heading to the next stop on our Cyprus itinerary!
Ayia Napa
Before you continue admiring more natural masterpieces, it's time to head for lunch at the town Ayia Napa close by.
You can choose from various restaurants offering seafood, Cypriot cuisine, Greek cuisine, Italian cuisine and more.
It's also easy to find vegan food because in typical Cypriot restaurants, you can always get dishes such as grilled vegetables or pita bread with potatoes.
Don't expect much of the town tho. Ayia Napa is a tourist resort so all you can find are restaurants, souvenir shops, boutiques, cafés, and a small harbor.
However, a bit outside the town center you can find Ayia Napa's most beautiful attraction and the island's most remarkable natural bridge: Love Bridge.
Love Bridge
Love Bridge is another one of nature's epic formations. Unlike the Kamara Tou Koraka, it is possible to stand on this bridge.
It's not that easy to get there and it requires some climbing skills but it's really not dangerous at all. Just don't walk that far or close to the edge and be careful.
The bridge may look rather thin in the picture but it's way thicker in real.
On the bridge itself, there's a pile of locks as a symbol of eternal love. Couples "lock their love" by placing locks on the bridge to seal their love forever.
Isn't that romantic?!
… and kind of cheesy. 😀
Well, at least now we know why it's called Love Bridge.
Tours you might find interesting:
Larnaca
Leaving Ayia Napa and the Love Bridge, it's time to travel back to the west. Our final stop on the 3-day Cyprus itinerary is the third-largest city on the island: Larnaca.
Besides its palm-tree seafront and beach promenade, there's one thing Larnaca is really famous for.
Salt Lake & Hala Sultan Tekke
In the western part of the city, you can find the Larnaca Salt Lake – a complex network of four salt lakes of different sizes.
Covering an area of more than 2.2 km², it's the second-largest salt lake in Cyprus after the one in Limassol.
So now you're at the salt lake but what is so special about it?
Well, the answer is easy: FLAMINGOS!
Every winter thousands of Flamingos spend the cold months at the salt lake to eat a special sort of shrimp which can be found in saltwater lakes only.
Sometimes they come close to the shore if you're lucky.
Unfortunately, we saw them only from the distance but they were easy to spot because they were so many!
At the bank of the lake lies Hala Sultan Tekke – a holy Muslim shrine that is possible to visit.
Before you go there, make sure you're properly dressed. Your shoulders and knees need to be covered, otherwise, you have to wear a cape they give you.
Trust me, they're very strict because although I was wearing black tights underneath my skirt, I had to wear that cape.
It's an interesting place to see tho so I recommend you to visit it.
The rest of the day you can spend exploring the gorgeous town center with the Saint Lazarus Church or strolling along the beach promenade.
If you get hungry, I have the perfect place for you to end your Cyprus trip with an amazing dinner!
Dinner at Maqam al Sultan (optional)
Maqam al Sultan is a Lebanese restaurant located directly at the beach promenade and only a few minutes from the Saint Lazarus Church.
On their menu, you can find various typical Lebanese dishes – many of them vegan-friendly!
We ordered many small dishes to share including falafel, stuffed vine leaves filled with rice, boiled fava beans with chickpeas and pita bread.
Not only was the food fantastic, but the staff was very courteous and friendly.
Having dinner at this place was such a great experience and I can highly recommend this place to everyone!
No matter how you decide to end your last day, I hope you found this Cyprus itinerary useful and I wish you a wonderful time exploring the island!
---
Like it? Pin it!
---
Do you want to travel like me?
Here are some of my favorite travel tips and resources:
Flights: I prefer using CheapOair or Skyscanner to book flights. The destination everywhere feature is perfect for finding some cheap deals!

Accommodation: Booking.com is my favorite site to find some great hotel deals. I do love staying at a local place as well, thus I book an Airbnb every now and then.

Travel Insurance: There are many reasons why travel insurance is important and I never travel without having one. I use the simple and flexible one from World Nomads to be protected against unforeseen events.

Tours: I love taking tours to explore destinations like a local. My favorite website to book them in advance is GetYourGuide.

Camera Gear: I use a Nikon D5300 camera with an 18-105 mm and a 10-20 mm wide-angle lens to take my photos.