The Troodos Mountains Tour in Cyprus – an Epic Adventure
Crystal clear water, great beaches, and ancient ruins – that's what Cyprus is mainly known for.
However, this country is more than just your typical holiday destination. In the middle of the island and difficult to oversee is the largest mountain range of Cyprus – Troodos Mountains.
Abandoned mountain villages, snowcapped peaks, and gorgeous monasteries are only a few of the things you can find there.
So if you're looking for a little adventure, don't miss to adding a Troodos Mountains tour to your Cyprus itinerary!
(This post contains affiliate links, which means I receive a certain percentage of a sale if you purchase after clicking.)
To visit the Troodos Mountains, the best way is to take a guided tour. Certain places are only accessible by Jeep so you can't really explore the mountains with your standard rental car.
If you're a confident driver, it's possible to hire a Jeep, but you have to drive off-road pretty often. Moreover, in winter it's very likely that the streets in the mountains are covered with snow.
My advice is to simply book a tour, lean back and enjoy the adventure!
We researched a few different tour operators in advance and decided to do a Troodos Mountain tour with Trackers Excursions. It was a full-day tour which cost €65 per person.
As I already mentioned above, the Troodos Mountains are a huge mountain range so it's impossible to cover everything by taking only one tour.
That's why many companies offer different experiences there. Take a look at some of the best Troodos Mountain tours at Get Your Guide to find the most suitable for you.
Tours you might find interesting:
A Troodos Mountains Tour With Trackers Excursions
We decided to go for the tour offered by Trackers Excursions simply because they promised a very natural and authentic experience. That's exactly what we wanted to have.
I booked the tickets online, paid a deposit of €20 each and told them the pick-up address. Everything went really smoothly and I got a confirmation mail saying we'll be picked up from our place by 9:00 am.
Pick-up From Our Apartment
During our time in Cyprus, we decided to stay at a very lovely apartment we found on Airbnb. It was located in Larnaca, one of the biggest cities in Cyprus.
Our driver arrived right on time and since my friend and I were the only ones taking a tour that day – it was a private tour for us!
We jumped into the backseats of the Jeep, ready for an adventurous day full of exploration.
On our way to the Troodos Mountains, our driver told us a lot about the history of the island. Plus he knew everything about all the different plants, trees and flowers in Cyprus.
It was great listening to him while passing small villages and stunning landscape scenes.
Copper Mine
After we drove for a while, our guide suddenly steered the jeep and we continued our way on an unpathed and rocky road. Not long after, we stopped at a copper mine – the first place our guide wanted to show us.
The red-colored ground and the deep blue color of the water looked almost surreal.
We learned that copper mining began in 4,000 BC but started booming only when the island was colonialized by the British.
Besides copper, people used it to mine gold, iron, chromites, cement, and even petroleum.
Until a few years ago, the mining industry was a really important sector of the economy but it's not anymore nowadays.
Tea & Coffee With Locals
The second stop on our itinerary was a stop in a small village called Lythrodontas – I double-checked the spelling but don't blame me if it's wrong! 😀
Since our guide promised us a real and authentic experience, we headed to a very small, local coffee place. As soon as we entered, around 10-15 pairs of eyes stared at us.
It was only one big room with a bunch of very old tables and chairs. Local men from older generations played card games, watched TV and warmed up next to the fireplace.
We ordered tea and coffee and sat down at a free table. It didn't take long until people approached us and asked where we were from.
They were really kind and happy to see us because they barely see foreigners there. It was such a nice experience having tea and chatting with them.
After we finished the drinks, our tour guide told us to follow him to a room next door. It was sort of a football club meeting room with tons of photos and paintings.
There were prizes of all kinds displayed in glass cabinets – from small medals to big trophies.
However, the room was more than just an old club meeting room. On the walls, there were photos of men who died in World War II and the Turkish invasion of Cyprus in 1974.
Our guide explained that the Turkish invasion was way more tragic and worse for the people of Cyprus. In 1974, more men lost their lives than during World War II.
Then it was time to continue our journey towards the Troodos Mountains so we said goodbye to the friendly locals and went back to our Jeep.
Saint Onoufrios Church
The closer we came to the mountains, the steeper and bumpier our ride became. At a certain point, we started exploring the area completely off-road.
That was the moment when the real adventure finally began!
Our tour guide drove the Jeep through the deepest forest, up and down the steepest hills and rockiest paths. No joke, I almost felt like in a roller coaster.
It was really awesome sitting in the back of the Jeep tho, experiencing the fascinating and lush nature around.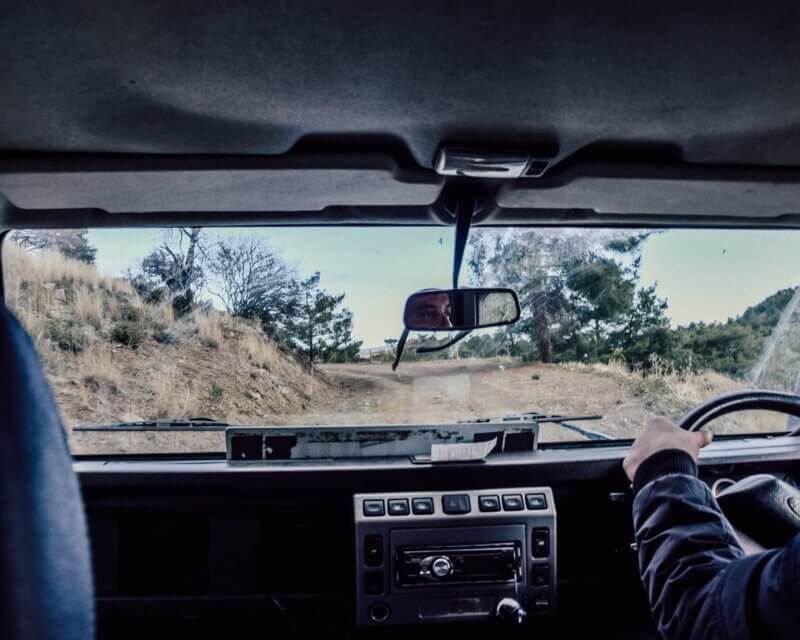 The photo above shows the kind of road we mostly drove on. Believe me, if I tell you it was a bit scary too.
Our first official stop in the Troodos Mountains was the small Saint Onoufrios Church. It was a rather inconspicuous-looking building right in the middle of nowhere.
Inside there weren't more than a few seats to sit but the most fascinating fact about the church was the ceiling painting. It was a huge painting of Jesus looking down on us.
Besides the ceiling painting, there were many other precious old paintings in the small church. Our guide told us something about the church's history and its namesake Onoufrios.
Onoufrios was born in the 3rd century and son of the King of Persia back then. After some years at a monastery in Egypt, he went into the desert of Thebes where he spent more than 70 years living in a hut.
Legends say a guardian angel helped him survive.
Apparently, when he died, his soul came out in the form of a snow-white pigeon and Christ took it into heaven.
As a true history freak, I enjoyed listening to that story very much and I almost felt being taken back in time.
After that short history lesson, we hopped in the Jeep and continued our journey deeper into the mountains.
Lake in The Mountains
The following stop on our tour came rather unexpectedly.
We were driving for around 15 minutes when our driver suddenly stopped the Jeep. He told us to look outside the left window where we spotted a beautiful, tranquil lake.
It was a very surprising sight because we didn't expect a lake to be there.
We left the Jeep and went for a short stroll around the lake.
In summer, people who take the same tour usually go for a swim there. Unfortunately in winter, it is way too cold but I can imagine how cool it must be to dive into the crystal-clear water!
Fikardou
It was already lunchtime when we arrived at our next stop: A small, abandoned mountain village called Fikardou. Thus we decided to have lunch before exploring the place itself.
Lunch at Yiannakos
In the entire village, there's only one small family-run restaurant with typical Cypriot cuisine. Luckily, it's open every day so we went inside the cozy place.
We were heartily welcomed by the owners who told us to sit down at a table next to the fireplace. Believe me or not, it was unbearably cold that day and neither my friend and I were properly dressed.
As soon as we got the menu our hopes for a good, warm vegan dish were gone. Most of the traditional food in Cyprus includes meat and all the vegetarian options were with cheese.
We told the guide our concerns who then asked the owner in Greek if they could prepare something special for us.
Good for us, they were really flexible and it didn't take long until they served us a huge plate of warm couscous with spinach and onions.
It tasted absolutely delicious and I felt my energy coming back while enjoying every single bite.
After we finished eating, we remained a bit longer at the fireplace before continuing our tour.
Exploring The Abandoned Village
Back outside, the sun was shining and as long as the wind wasn't blowing the temperatures were fine.
Fikardou is located 870 meters up in the Troodos Mountains and we could spot the snowcapped mountain peaks from there.
The temperature difference can be really significant in Cyprus – especially in winter.
On the day we took the Troodos Mountains tour, the weather was warm and sunny with more than 15 degrees at the sea. Whereas the temperatures in the mountains were between 0 and 5 degrees with an ice-cold wind.
Nevertheless, we started exploring the abandoned village and our guide told us about its history.
Fikardou was built between the 5th and 8th centuries and is famous for being one of the most picturesque villages on the island.
No wonder, with its traditional brick houses and red-tiled roofs it really does look like a painting.
Centuries ago, the place was a lively, medieval settlement whereas nowadays only three people still live there.
Our guide told us that they simply couldn't survive living so far away from civilization anymore. Thus people left Fikardou and moved to more civilized towns nearby.
We wandered through the narrow streets of Fikardou, went inside some of the abandoned houses and picked herbs such as sage. It was truly fascinating to see how people lived in a place like this a long time ago.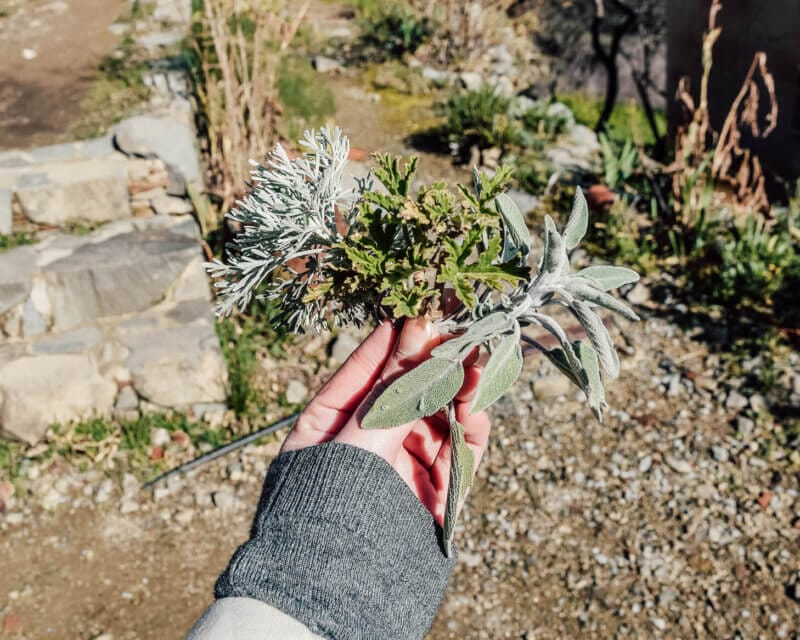 Wait, what is that?
After a while, I recognized some weirdly-shaped pots hanging from houses. I asked our guide about them who then told us they were dried pumpkins!
People not only used them as pots but as bottles as well. I'd never seen anything like this before and I was completely fascinated by how smart that was!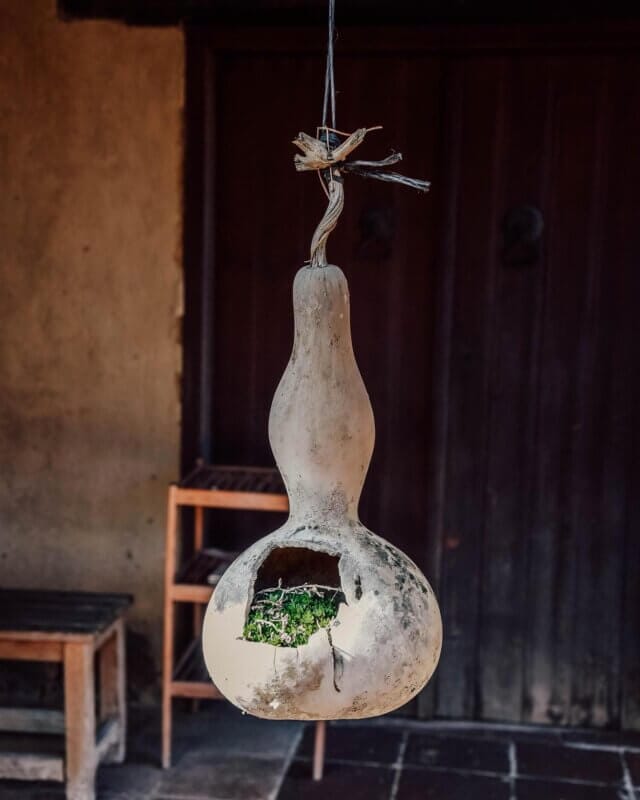 We continued walking on the cobblestoned path and came to a tiny church with a graveyard. Right behind the church was an amazing viewpoint offering a truly breathtaking view of the island's nature.
There were still a few stops on our Troodos Mountains tour so we soaked in the view for a couple of minutes and then headed back to our Jeep.
We left Fikardou and continued our way even higher up in the mountains.
Machairas Monastery
Apart from the many churches, the island has also many monasteries. Deep in the Troodos mountains at an altitude of 900 meters, there's the so-called Machairas Monastery.
This monastery is dedicated to the Virgin Mary and was founded in the 12th century.
It wasn't a very long drive from Fikardou until we arrived there. We left the Jeep and our guide let us explore the monastery alone.
Unfortunately, it was forbidden to take photos inside the area so all I can show you is the monastery from the outside.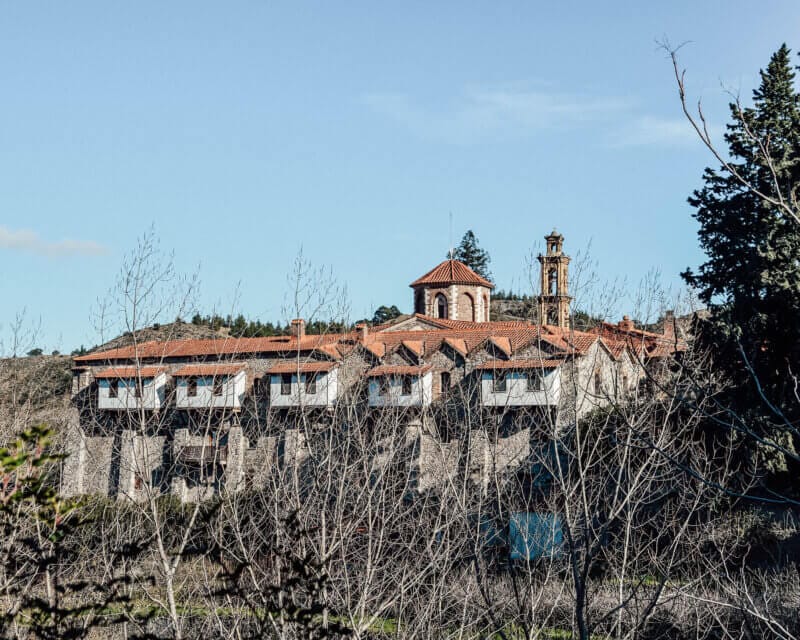 After we entered the property through a gate, we came to a gorgeous inner courtyard with trees and beautifully arranged flowerbeds.
There were cats sleeping in some of them and there wasn't a single person around. The entrance to the monastery building was behind another gate.
It's really a pity I can't show you how it looked inside because it was incredibly stunning.
Huge crystal chandeliers were hanging from the ceiling and the room was filled with pictures of religious icons and wall frescoes. Besides my friend and me, there was a monk taking care of everything.
It was a very calm, quiet place and I couldn't stop being astonished by all the wonderful decorations.
Before we exited the area we visited the small Monastery shop where we bought some dried elders to make tea with our collected herbs.
Mountain Peak
The monastery was the last stop before we reached one of the highest peaks in the Troodos Mountains.
Our driver parked the Jeep at an altitude of 1,200 meters and we all jumped out of it – just to be blown away by the wind right after.
No joke, the wind up there was unbelievably icy and strong! It was the coldest one I've ever experienced and it went right through me.
We stood at the edge of the mountain and enjoyed the view for a few minutes. It was incredibly beautiful and definitely worth freezing our asses off.
The snow was the last thing I expected to see in Cyprus but apparently, it's pretty normal. Sometimes it snows that much, people can even ski during the cold months!
Lefkara
The last stop on our Troodos Mountains tour took us back further down. We visited Lefkara – apparently one of Europe's most beautiful villages according to our guide.
He wasn't wrong at all, Lefkara is definitely a true gem. The village is mostly famous for its lace known as lefkaritika and silver handicrafts.
According to old sayings, Leonardo da Vinci visited Cyprus in the 15th century and took a Lefkara lace to Italy with him.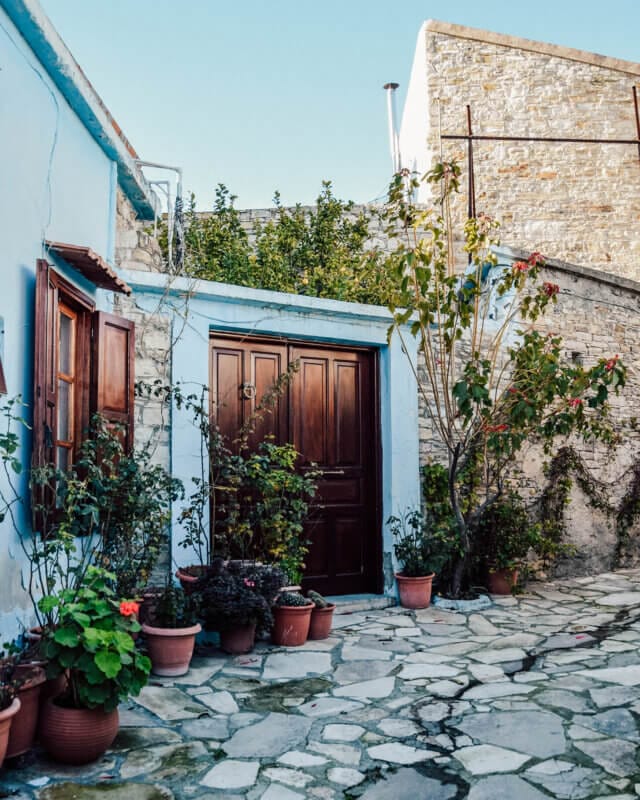 We wandered through the narrow streets of Lefkara for a while and then visited a small local café. Guess what – the owner had coconut milk for us!
Therefore I ordered a caramel latte and my friend a hot chocolate. I was positively surprised by how easy it was to get plant milk in even the smallest cafès in Cyprus!
Drinking that yummy caramel latte was seriously the best end to an amazing day full of adventures.
Our driver took us back to the apartment where we said goodbye and thanked him for being such a great tour guide.
Seriously, taking this Troodos Mountains tour was such a good decision as we had an amazing time exploring the island's nature and its untouched places.
It was such a real, authentic and adventurous experience and I highly recommend you take a Troodos Mountains tour as well!
Tours you might find interesting:
---
Like it? Pin it!
---
Do you want to travel like me?
Here are some of my favorite travel tips and resources:
Flights: I prefer using CheapOair or Skyscanner to book flights. The destination everywhere feature is perfect for finding some cheap deals!

Accommodation: Booking.com is my favorite site to find some great hotel deals. I do love staying at a local place as well, thus I book an Airbnb every now and then.

Travel Insurance: There are many reasons why travel insurance is important and I never travel without having one. I use the simple and flexible one from World Nomads to be protected against unforeseen events.

Tours: I love taking tours to explore destinations like a local. My favorite website to book them in advance is GetYourGuide.

Camera Gear: I use a Nikon D5300 camera with an 18-105 mm and a 10-20 mm wide-angle lens to take my photos.