22 Best Places to Visit in Europe in December
Top Places to Visit in Europe in December – Recommended by Travel Experts!
If you decide to visit Europe in December, expect a diverse array of experiences awaiting you. From magical snowy landscapes and cozy, less-crowded cities to unexpected warm getaways – there's a destination for every preference.
Some cities beckon with their festive charm and enchanting holiday markets whereas others score with their warm weather and winter sun.
Together with more than 20 other experienced travel bloggers, I compiled this comprehensive list featuring all the best places to visit in Europe in December.
Whether you prefer to escape the cold or experience a magical Christmas atmosphere, this post includes a perfect choice for everyone!
(This post contains affiliate links, which means I receive a certain percentage of a sale if you purchase after clicking.)
Most Magical Places to Visit in Europe in December
1. Budapest, Hungary
Recommended by me
Budapest is a truly enchanting city, especially during winter, making it one of the best places to visit in Europe in December. The city transforms into a magical wonderland, exuding a magical atmosphere.
The main attractions during the festive season include the renowned Christmas markets, particularly the one at Vörösmarty Square, where you can buy traditional Hungarian crafts and try delicious street food and mulled wine.
Another one of the must-do activities in Budapest during winter is visiting the beautifully decorated St. Stephen's Basilica to experience a captivating Christmas light show.
If you're looking for relaxation and comfort in the cold weather, you can spend some time at the thermal baths.
To fully immerse yourself in the festive spirit, a stay of at least four to five days is recommended.
This duration allows ample time to explore the Christmas markets, savor traditional Hungarian holiday treats, and experience the rich cultural heritage that Budapest offers.
For accommodation, the centrally located NH Budapest City is good value for money.
Tours you might find interesting:
2. Brussels, Belgium
Recommended by Jo of World Wild Schooling
Brussels, the capital of Belgium, is a destination that truly comes alive in December, making it an ideal winter getaway. This city offers a rich blend of history, culture, and festive charm.
In December, Brussels transforms into a winter wonderland with the famous Brussels Christmas markets where you'll find seasonal treats, artisanal gifts, and the beloved Belgian chocolates and waffles.
Moreover, don't miss the light show and the towering Christmas tree at Grand Place.
Of course, one of the best things to do in Brussels is to explore the city's iconic attractions, such as the Atomium, a unique architectural marvel, and the Manneken Pis, a quirky Brussels landmark.
The Royal Palace, surrounded by lush gardens and the Royal Park, provides a glimpse into the city's history.
While you can see the main sights in the city center in one day, to truly enjoy Brussels, plan to spend at least two or three days there. This allows time for festive markets, cultural discoveries, and gastronomic adventures.
Regarding accommodation, consider staying at centrally located hotels near Grand Place, such as Hotel Amigo. That way you have easy access to the city's main attractions.
Tours you might find interesting:
3. Hallstatt, Austria
Recommended by Martina of PlacesofJuma
The picturesque village of Hallstatt in Austria is definitely one of the most stunning places to visit in Europe in December!
Especially in winter, this small town shows one of its most unique sides, when the snow hangs in the mountains and together with the black lake creates a postcard backdrop. 
Although relatively small, Hallstatt has many attractions to offer. You can take a romantic walk around the historic market square with its beautiful Holy Trinity Column and the many houses decorated with lights.
In winter there is a charming little Christmas market! Also worth seeing is the Bone House, a historic collection of 600 colorful skulls in the cemetery.
Another highlight is the Hallstatt Viewpoint, which offers an incredible view of the snow-covered landscape.
Hallstatt can easily be visited in one day, for example as a day trip from Vienna, but it is worth spending a few days in the region, especially if you like skiing in December.
A recommended place to stay is the Seehotel Grüner Baum, which scores with a perfect location right in the center with a beautiful lakeside terrace. You will also fall in love with the regional breakfast and delicious dinner.
Tours you might find interesting:
4. Stockholm, Sweden
Recommended by Kenny of Knycx Journeying
Stockholm is a trendy and hip city with a rich history, unique culture, and great food. The cityscape is rather dynamic, the archipelago is separated by rivers and connected by bridges, and so it's nicknamed the "Venice of the North".
There are a lot of things to see and do in Stockholm – Stockholm's City Hall is an iconic venue for the Nobel Prize Ceremony, and the city offers various boat tours for visitors to experience the sceneries from the water.
Stockholm also celebrates the holidays during winter. Get festive at one of the traditional Christmas Markets including the Gamla Stan Christmas Market and Skansen Christmas Market.
Or, if you prefer to stay warm indoors, explore the city's prestigious art galleries and museums. There are many free things to do if you carry the Stockholm Pass, with a lesser crowd during winter.
The list of sites includes the Vasa Museum, Nordiska Museet, Fotografiska, and Viking Museum; You may also take a round-shape glass gondola to the top of Avicii Arena.
For accommodation, Downtown Camper by Scandic is a boutique hotel conveniently located in the city center within walking distance to Stockholm's Old Town, Kungstradgarden, and Stockholm Central Station.
Tours you might find interesting:
5. Zakopane, Poland
Recommended by Holly of Four Around The World
There are few places that are quite as spectacular as winter in Zakopane, Poland. This quaint mountain town is located in the breathtaking Tatra Mountains, making it a firm favorite of tourists and locals alike.
December is an especially popular time to visit thanks to its stunning snowy backdrop, with plenty of winter activities for visitors to enjoy.
Of course, one of the most popular things to do when visiting Zakopane is to visit the Tatra Mountains which are among the best natural landmarks in Poland.
Take the cable car up Kasprowy Wierch for incredible views. This can be extremely busy close to Christmas, but well worth it. Or take the funicular up Mount Gubalowka where you will find food stalls, markets, and ski slopes.
Skiing and snowboarding are popular activities and there are plenty of ski resorts such as the Nosalowy Park Hotel & Spa and the Aries Hotel & Spa.
Apart from skiing, Zakopane has plenty of other activities to keep everyone entertained, such as the Zakopane Thermal Baths, dog sledding, or sleigh rides through the forest.
The markets are also great to wander through, situated at the bottom of Mt Gubalowka.
If you're lucky enough to be there for the end-of-year celebrations, the whole main street turns into a massive New Year's Eve party that will definitely be memorable!
6. Salzburg, Austria
Recommended by Sylvie of European Cities With Kids
Located in Eastern Austria amidst the snow-capped peaks of the Austrian Alps, Salzburg is one of the dreamiest places to visit in Europe in December as it turns into a real winter wonderland.
The city is the birthplace of Mozart and also the place where the famous film – 'The Sound of Music' was filmed.
In December, you'll be able to visit the Salzburg Christmas markets at Residenzplatz and Domplatz squares, some of Austria's best Christmas markets.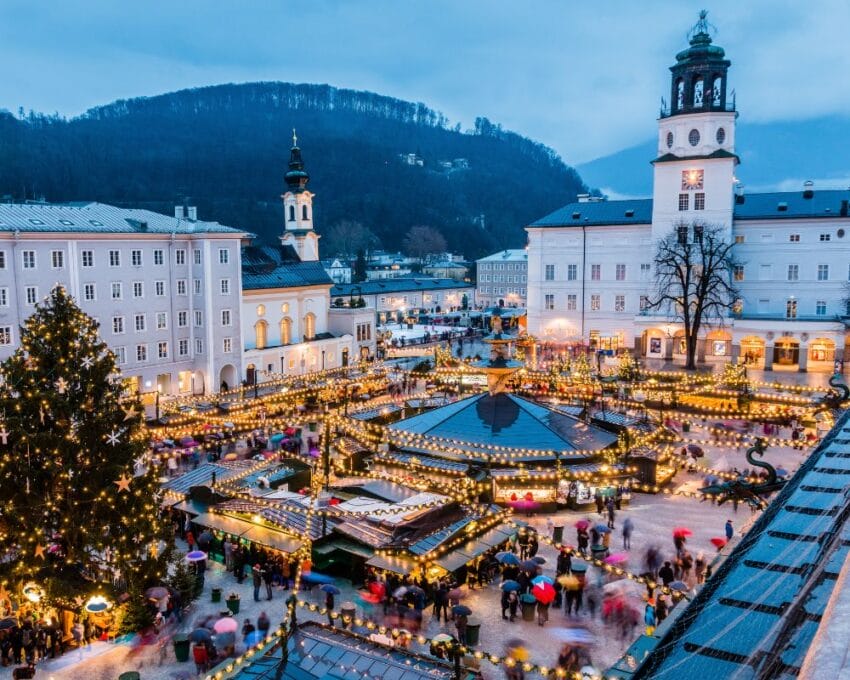 The squares are buzzing with twinkling lights, traditional ornaments, and the tantalizing aroma of roasted chestnuts. Wander around to find unique handcrafted gifts, and try warm mulled wine.
While in Salzburg, make sure you visit The Hohensalzburg Fortress. This Austrian landmark is perched high above the city and provides breathtaking panoramic views, especially when the city is blanketed in snow.
Make sure to spend at least three days in Salzburg to really get a feel for the city.
A good and inexpensive place to stay is the Adlerhof Hotel, located near the central train station and within walking distance of the city center.
7. Dublin, Ireland
Recommended by Janae of Adventures With TuckNae
Dublin is the perfect European city to visit in December for a festive weekend getaway in Ireland. There are always plenty of fun things to do in Dublin, but even more exciting activities pop up in winter. 
If you are looking for Christmas activities, you will find no shortage of things to do! Of course, you should plan to see all of the Christmas lights that brighten up the town.
Grafton Street, Henry Street, and O'Connell Street are all superbly decorated for the holiday festivities.
If you enjoy ice skating, several outdoor skating rinks show up in November and December, including one of the most popular, the 'Ice Skating Blanchardstown,' which provides a fun winter activity for visitors and locals alike.
You can also find several Christmas markets in Dublin in December, as well as special Christmas concerts, shows, and even special Christmas services at St. Patrick's Cathedral and Christ Church Cathedral.
Plan to spend at least 2-3 days in Dublin in December if possible. If you need a recommendation for where to stay, Marlin Hotel Dublin is lovely and is within easy walking distance of many popular attractions.
8. London, UK
Recommended by Paulina of UK Every Day
London in December is a captivating and magical experience. As the festive season approaches, the city comes alive with twinkling lights, beautifully decorated streets, and an atmosphere filled with joy and cheer.
One of the highlights of this time of year is the iconic Winter Wonderland in Hyde Park. This enchanting event transforms the park into a wonderland, featuring thrilling rides, ice skating, and a festive market.
For those seeking a cultural experience, London's renowned theaters host an array of captivating shows and performances during December. From timeless classics like "The Nutcracker" to heartwarming musicals such as "Elf," there is something to suit every taste.
London's world-class shopping scene also reaches its peak in December. Oxford Street, Regent Street, and Covent Garden are adorned with stunning window displays, making shopping a delight.
The city's famous department stores, including Harrods and Selfridges, offer an extensive selection of Christmas gifts, ensuring that finding the perfect present is a breeze.
Tours you might find interesting:
9. Paris, France
Recommended by Amber of Amber Everywhere
One of the best places to visit in Europe in December is Paris, where the entire city is adorned with Christmas lights and festive decorations.
You can enjoy the Christmas markets, elaborately decorated department stores, and artisan gifts available to purchase throughout the city.
The Christmas market in the Tuileries Garden near the Louvre Museum is one of the biggest and most festive markets where you can enjoy raclette and mulled wine or find nice artisan crafts.
Try a bûche de Noël (Christmas log) while you're in Paris in December. These traditional treats are made with chocolate cake and cream, though many artisan chocolatiers make upscale, less traditional versions around the holiday season.
Plan to spend at least four days. This will give you time to try several restaurants, walk through the city, and peruse one of many museums and galleries.
December is technically the off-season, so you can often find great budget-friendly Parisian hotels to stay in while you enjoy the festivities.
Hotel Joyce is a fabulous choice because it is centrally located and has great amenities, like free non-alcoholic drinks and snacks in the lobby.
Tours you might find interesting:
10. Edinburgh, UK
Recommended by Moumita of Chasing the Long Road
Beautiful at any time of the year, the Scottish capital city of Edinburgh looks magical in winter. There are plenty of amazing things to do in Edinburgh to make visitors fall in love with this charming city.
The city is famous for its medieval architecture, numerous festivals, and dynamic landscapes. One of the main highlights is the iconic Edinburgh Castle. Perched over an extinct volcano, it dominates the city's skyline.
In December, Christmas events and activities take over the city center and Edinburgh's most famous Christmas market can be found in the Princes Street Gardens.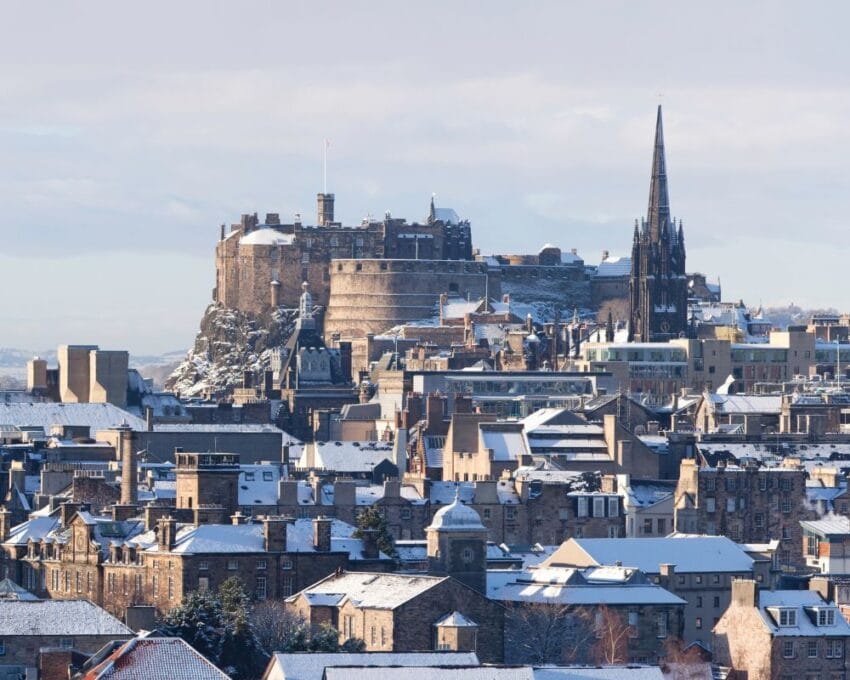 There you'll find many beautifully decorated market stalls selling Christmas decorations and local Scottish products. For some additional fun, put on your skating shoes to take a spin on the cozy Alpine ice rink.
It typically takes at least two days to visit all the tourist attractions and to soak in all the festivities.
Accommodation choices are great as there are many luxury and budget hotels dotted all around the city. The Rutland Hotel would be a great choice to stay in Edinburgh for its convenient location.
Tours you might find interesting:
11. Copenhagen, Denmark
Recommended by Sophie of Delightful Travel Notes
December is a magical time in Copenhagen with twinkling fairy lights, charming Christmas markets, and festive treats.
A visit during this time of the year allows visitors to fully embrace the spirit of hygge, a Danish concept of warmth, coziness, and contentment.
It is a delightful experience to indulge in seasonal delicacies, such as risalamande – Danish rice pudding with cherry sauce, and gløgg – Danish mulled wine.
While exploring, don't forget to walk by Hotel d'Angleterre, a historic hotel well-known for its lavish holiday decorations, which include a giant advent calendar in some years.
Tivoli Gardens, one of the world's oldest amusement parks, is among the must-see places in Copenhagen in December.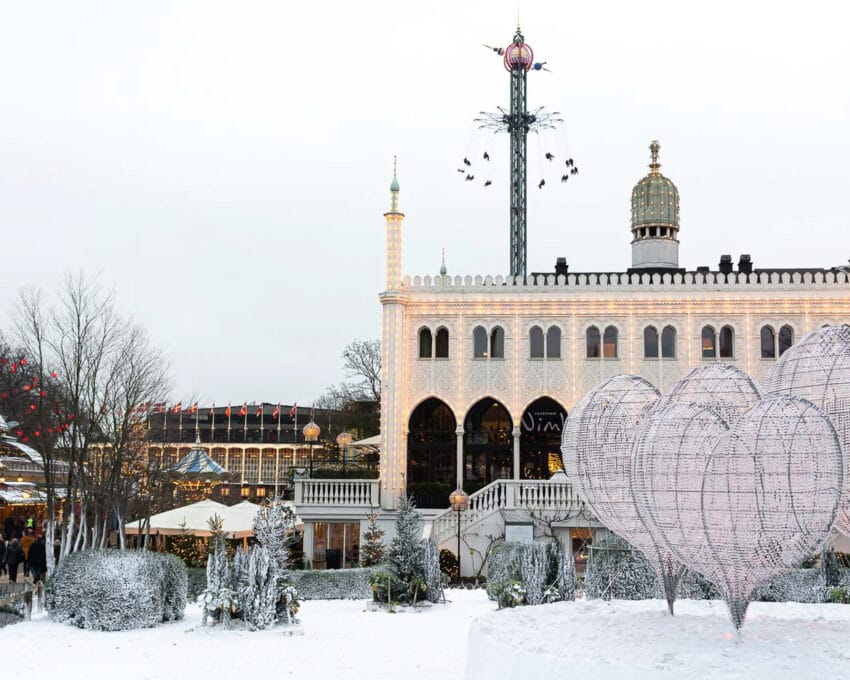 The park transforms into a winter paradise with rides, games, and stalls selling delicious treats. At night, thousands of fairy lights illuminate Tivoli, creating a magical ambiance.
Setting aside three to four days will give you a decent amount of time to explore the city and soak in the atmosphere, as well as venture to some beautiful sites just outside of Copenhagen.
For a luxurious stay with magnificent festive decorations, Hotel d'Angleterre is a perfect choice. For a more affordable option, check out Hotel NH Collection Copenhagen.
Tours you might find interesting:
12. Vienna, Austria
Recommended by Joanna of The World In My Pocket
Vienna is one of the most beautiful European destinations to visit in December.
The entire city transforms into a fairytale, with Christmas markets at every corner, colorful lights and decorations hanging over streets, and the most cheerful atmosphere.
Even if the weather is cold and it's snowing sometimes, Vienna is so worth visiting in December, especially for the Christmas markets.
The main ones are in front of the city hall, at Schoenbrunn Palace, as well as at Belvedere Palace. To see them all, it is recommended to spend at least three days in Vienna.
Visiting the Christmas markets is the first step in getting into the festive spirit. The stalls sell everything from traditional Austrian Christmas foods to handmade ornaments and decorations for the tree.
Each Christmas market focuses on a different theme, so, if you are into artisan gifts, for example, you must visit the Schoenbrunn Christmas market.
A good place to stay in Vienna during the festive season is Motel One at Westbanhof. This hotel is located halfway between the City Hall and Schoenbrunn Palace, making it easy to walk between the two.
Tours you might find interesting:
13. Prague, Czech Republic
Recommended by Hannah & Adam of GettingStamped
There is something special about visiting Christmas Markets in Europe, as you can feel a sense of magic during the holiday season. One of the best places to experience the magic is Prague, the capital of the Czech Republic.
Set among Prague's historic architecture are magical Christmas markets in the month of December that create a festive ambiance and unique experience you don't want to miss.
The most popular Christmas Markets to visit in Prague are located at Prague Castle, Wenceslas Square (Václavské náměstí), and Old Town Square (Staroměstské náměstí).
The stalls are decorated with festive ornaments and colorful lights, and Christmas trees surround the pathways.
At the stalls, you will find traditional crafts created by locals, including wooden toys, glass ornaments, hand-knit scarves, and much more.
Be sure to try traditional drinks like medovina (honey wine) or svařák (mulled wine). Yummy treats like trdelník (a rolled pastry) and gingerbread cookies can be enjoyed while strolling the market.
Children will enjoy live music, carollers, and Czech folk performances, and in some markets, you will find rides for kids like carousels.
A good accommodation is the MOODS Charles Bridge Hotel. It is near some of the best things to do in Prague and is within walking distance of The Old Town Square.
Tours you might find interesting:
14. Rovaniemi, Finland
Recommended by Sam of Find Love And Travel
There couldn't be a better destination to visit in December than Rovaniemi, Finland.
Rovaniemi is known as the 'home of Santa', so visiting during December is a no-brainer, and it has such a wonderfully festive atmosphere. You should plan to spend three to four days in this winter wonderland city.
While in Rovaniemi, you can enjoy a husky ride, cruise on a snowmobile through the scenic Lapland forest, and even experience a Finnish Sauna. Many saunas consist of jacuzzis and frozen lakes!
Another great feature of Rovaniemi is that it is one of the best places to see the Northern Lights in Finland. To increase your chances of seeing the aurora, you should book a guided tour.
Keep in mind that seeing the Northern lights is weather-dependent. Planning the tour for a clear day is your best bet.
For something Christmas-themed, you should head to Santa Claus Village, where you can meet Father Christmas, spend time at a Reindeer farm, stand at the Arctic Circle, and check out the popular restaurants and Christmas-themed stores.
There are so many unique places to stay in Rovaniemi. Apukka Resort is a great option that offers affordable igloo huts. It is located in the wilderness and offers many tours right at the hotel.
Tours you might find interesting:
Less-crowded Places to Visit in Europe in December
15. Porto, Portugal
Recommended by Victoria of Guide Your Travel
Porto, nestled along the scenic banks of the Douro River in northern Portugal, is a captivating destination that beckons travelers year-round.
However, December holds a unique charm in this historic city, making it an exceptional time to visit. The crisp winter air carries a festive spirit as the city decks itself with twinkling lights and Christmas markets.
Visitors can explore Porto's rich cultural heritage by strolling through its UNESCO-listed historic center, where cobblestone streets wind past colorful buildings adorned with intricate azulejo tiles.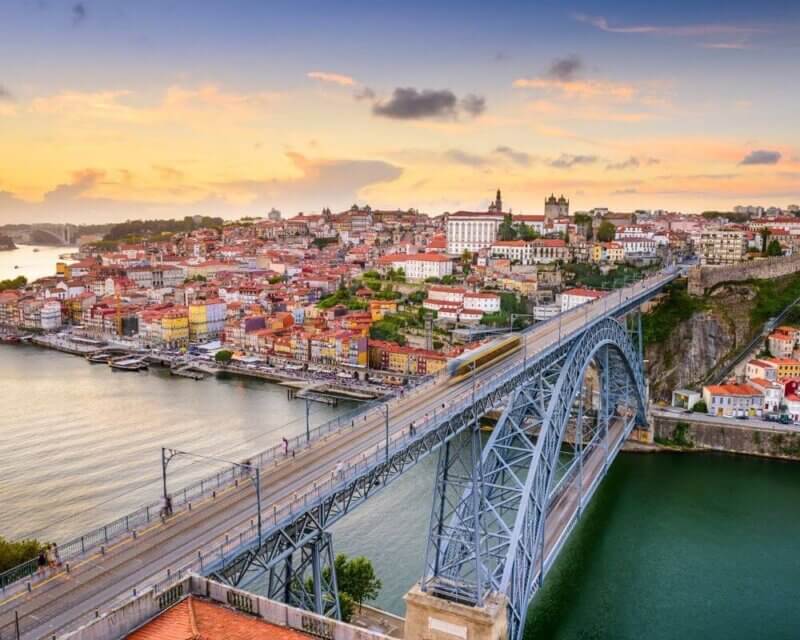 The stunning Livraria Lello, an enchanting bookstore that inspired J.K. Rowling, is a must-see.
A minimum of three days is recommended to savor Porto's delights fully. Beyond the city's captivating architecture, you can try its famed port wine during one of the many wine cellar tours.
Additionally, a relaxing boat cruise along the Douro River offers breathtaking vistas of the region's terraced vineyards.
For accommodations, the iconic Pestana Vintage Porto Hotel, situated along the riverfront, offers a delightful blend of luxury and history, allowing you to soak in Porto's enchanting ambiance.
Tours you might find interesting:
16. Rome, Italy
Recommended by Lisa of Waves and Cobblestones
Italy's capital city Rome is the perfect place in Europe to visit in December. The city will be less crowded and the days will be cooler so you can spend more time experiencing all the best things that Rome has to offer!
Start your visit by taking a Rome golf cart tour. It's a great way to check many famous sights off your list, such as the Colosseum, the Pantheon, the Trevi Fountain, and beautiful Rome piazzas such as Piazza Navona.
After getting your orientation to the city, you can decide which attractions you want to explore further.
If you have your heart set on some of the most popular activities, like visiting the Vatican to see the fabulous Sistine Chapel, you'll want to get your tickets in advance.
In December you'll also be able to see Rome festively lit up for the holidays and to shop at its Christmas markets. A once-in-a-lifetime experience is to watch the Pope address the world on Christmas Day in St. Peter's Square.
Stay at the Starhotels Metropole, a 4-star hotel conveniently located near the Roma Termini train station and other public transportation.
Tours you might find interesting:
17. Istanbul, Turkey
Recommended by Tamar of World by Weekend
December is a wonderful time to visit the bustling megacity of Istanbul.
Though the weather can be cold with occasional snow, there are many great indoor activities for visitors willing to brave the winter weather.
Famous Turkish landmarks like the Hagia Sophia, Galata Tower, and Topkapi Palace are all open in December. Also in December, there are fewer tourists in the city, meaning shorter wait times to get into these top attractions.
Istanbul is an exciting city to ring in the new year. New Year's Eve in Istanbul is a spectacle worth staying up for as the city goes all out for the celebration. Multiple fireworks displays are set off, illuminating the Bosphorus with their dazzling colors.
Give yourself at least four days to see the highlights of Istanbul.
To be central to the top sights, stay at the Adamar Hotel in Sultanahmet. This hotel also has a rooftop restaurant where you can watch the sun rise and set over Istanbul.
Tours you might find interesting:
Warm Places to Visit in Europe in December
18. Nice, France
Recommended by Kristin of Global Travel Escapades
Known for its bright blue waters, colorful buildings, and vibrant atmosphere, Nice is one of the best places to retreat to in December.
During the winter season, Nice has an average high temperature of 57°F (14°C) and an average low temperature of 43°F (6°C), which is comparatively warm to the rest of Europe! On top of this, Nice offers visitors plenty of things to do.
For example, visitors who want to take in the stunning Cote d'Azur coastline can ascend to the top of Castle Hill. Afterward, spend some time roaming Nice's Old Town and tasting the region's flavorful Niçoise food!
To celebrate the holiday season, head over to Nice's Christmas market, which usually features around 60 stalls selling an abundance of festive items, local foods, and souvenirs!
So, if you're ready to spend the holiday season in Nice, consider staying at Le Negresco. This iconic 5-star hotel offers unbeatable views of the coast and is perfect for a 3-day getaway!
19. Seville, Spain
Recommended by Dhara of It's Not About the Miles
If you are looking for destinations in Europe for a December holiday, you can't go wrong with Seville!
Seville in winter offers milder weather than much of Europe, and the opportunity to visit all the iconic sights without the crowds of spring and summer. Plus, in December, Seville is very festive, making it a joy to explore the historic core.
While you'll definitely want to visit the Royal Alcazar, the Seville Cathedral, and the Plaza de España during the day, reserve the evenings for wandering around Barrio Santa Cruz and El Centro, taking in the holiday illuminations and decor.
The nativity scenes are charming!
Nearer the holidays, you'll also come upon people singing carols or dancing in the streets. In the historic center, there are at least two Christmas markets you can visit, featuring handcrafted figurines, wooden toys, and ceramics.
Be sure to have some cash handy to buy freshly roasted chestnuts from street vendors! Also, make sure to sample all the hearty cold-weather tapas on winter tapas bar menus.
Two or three days in the weeks just before Christmas is the perfect amount of time to spend in Seville. Stay at the Gran Melia Colon, a short walk from the Seville Cathedral. It has a rooftop terrace and bar with great views!
20. Malta
Recommended by Alice of Adventures of Alice
Malta is a beautiful archipelago located in the heart of the Mediterranean. Filled with old buildings, pretty cobbled streets, and mild temperatures all year round, it makes it one of the best places to visit in Europe in December.
It isn't quite sunbathing weather but, hot enough to wear a T-shirt and perfect for a stroll across the picturesque harbors and historic streets.
There are many great places to visit in Malta – including the European UNESCO World Heritage Site of Valletta, Mdina, the Hypogeum, an underground prehistoric temple, and of course, the Christmas Markets to soak up the festive spirit.
You can also visit Gozo which is another small island a short 20-minute ferry ride away from Malta's main island.
In addition to its rich history and scenic beauty, Malta boasts a vibrant culture and warm hospitality. You can stay in a hotel such as Hotel Juliani, but if you'd like to experience the architecture even more, then a stay in a house/villa is recommended.
To fully appreciate this Mediterranean gem, plan between 5-7 days so you aren't rushed. However, if you don't plan on traveling around the whole island or you aren't interested in visiting Gozo then a shorter stay may also work.
21. Gran Canaria, Spain
Recommended by Inês of RandomTrip
Looking to escape the cold for some winter vacations? Swimming in the sea, hiking, exploring beautiful towns, and enjoying beautiful sunsets are just some highlights of what winter looks like in Gran Canaria.
The third largest island of the Canary Archipelago is known by the locals as a miniature continent because of its heterogeneous landscapes and the best part is that the island boasts a stable climate throughout the year.
In December, Gran Canaria's beaches in the south are perfect for relaxation, being the average temperature between 23ºC during the day and 14ºC at night.
Maspalomas golden sand dunes are one of the must-see landscapes with more than 400 hectares of beach and sand, but there is so much more to explore!
Even though there's a variety of climates within the same island, colder in the north and interior, it rarely is below 14ºC so if you feel like hiking, reaching Roque Nublo, and watching the sunset from one of its windows (Ventanas del Nublo) are one of the top experiences on the island.
Ideally, you should have one week to get a taste of this small continent but if you do not have that much time, save at least three days.
Stay in Parador de Cruz de Tejeda if you want to get some of the best views of the island, a spa where you can relax, a restaurant serving traditional Canarian cuisine, and a comfy, spacious room.
Tours you might find interesting:
22. Valencia, Spain
Recommended by Tina of Veganderlust
Valencia is an ideal choice if you're looking for the best places to visit in Europe in December. Temperatures can reach up to 17°C, a comfortable climate to explore the city.
You can enjoy the sunshine while taking a stroll through the nine km-long Turia Garden, which is a public park in Valencia that used to be the Turia River.
The former river-turned-park runs through the middle of the city and is just one of the unique things to see and do in Valencia.
Other attractions include the City of Arts and Sciences, a futuristic museum complex within Turia Garden, the historic city wall gates, and Valencia's famous central market.
For a perfect weekend getaway, consider staying at the Only YOU Hotel. This elegant hotel is in the heart of Valencia and has a fitness studio and a wide range of room sizes.
If you opt for a cheaper Airbnb, be sure to check if the room has heating, as not all apartments in Valencia have this, and sometimes it can be warmer outside than inside.
Tours you might find interesting:
---
Like it? Pin it!
---
Do you want to travel like me?
Here are some of my favorite travel tips and resources:
Flights: I prefer using CheapOair or Skyscanner to book flights. The destination everywhere feature is perfect for finding some cheap deals!

Accommodation: Booking.com is my favorite site to find some great hotel deals. I do love staying at a local place as well, thus I book an Airbnb every now and then.

Travel Insurance: There are many reasons why travel insurance is important and I never travel without having one. I use the simple and flexible one from World Nomads to be protected against unforeseen events.

Tours: I love taking tours to explore destinations like a local. My favorite website to book them in advance is GetYourGuide.

Camera Gear: I use a Nikon D5300 camera with an 18-105 mm and a 10-20 mm wide-angle lens to take my photos.