Explore Skopelos Town – Best Things to See & Do
The island of Skopelos is often called "Mamma Mia Island". That's mostly because some of the most iconic scenes of the first movie were filmed here.
Although Skopelos Town was not used as Mamma Mia filming location, the capital is truly worth a visit.
Due to its small size – approx. 3,000 people live here – Skopelos Town provides a manageable number of sights.
Although most, or even all of them, can be seen in a day, I recommend you to plan at least 2-3 days. Thus you'll have enough time to try a couple of different restaurants and check out some of the fancy bars.
When my sister and I went to Skopelos, we used this town as a base to explore the entire island. Thus we had enough time to get to know the whole place and discover even the most hidden corners.
Skopelos Town is located in the northern part and most places around the island are easily reachable from here so you can do it like us and use this town as the starting point for all your excursions.
Even though there's a functioning public transport system, I would highly recommend you hire a rental car. The majority of public buses just go to the beaches and main cities and you won't be flexible at all.
(This post contains affiliate links, which means I receive a certain percentage of a sale if you purchase after clicking.)
What to do in Skopelos Town
In the town itself, there's no need of taking any kind of public transport. You can easily reach the following places on foot.
So, here's the beginning of my list of all the things you need to see & do in Skopelos Town!
1. Visit The Church of The Virgin Mary (Panagitsa Tower)
The Church of The Virgin Mary (Panagitsa Tower) is a small chapel sitting on the seafront at the port, overlooking Skopelos Town on the one and the ocean on the other side.
It's usually the first thing travelers spot when entering the harbor by boat or ferry.
Access to the small church is relatively simple. Even though you need to climb around 70 steep stairs, the path is enjoyable.
The church itself is wonderful to see, however, the best part is undoubtedly the incredible view of Skopelos Town and the Aegean Sea.
The interior of the church is no less beautiful and many people choose it as the place to get married or baptize their children.
2. Enjoy a Glass of Greek Wine at Thalassa Café Bar
If you follow the path to the church further up, you'll reach a small terrace with tables, chairs and parasols. It belongs to the lovely Thalassa Café Bar situated right on the edge of the old town.
It's run by a local Greek couple who owns an adorable dog that loves to sleep all day long on one of the chairs.
This place is perfect for everyone looking for quality drinks, beverages and local appetizers. Moreover, thanks to its epic location, the view while enjoying a cold drink is seriously to die for!
Whether you choose a good glass of local Greek wine (highly recommend the white one!) or something else, Thalassa Café Bar is a place not to miss in Skopelos Town.
3. Sip a Cocktail in Some of The Fancy Bars
Compared to its neighbor island Skiathos, Skopelos is a rather chilled-out island. Nevertheless, there is some great nightlife thanks to many hip music bars and two nightclubs.
The following bars are the ones we visited during our stay. Each and every one of them is unique in its kind and truly worth a visit!
Mercurius
Mercurius Cocktail Bar is probably THE most popular hangout spot on the entire island. Since July 1997, both locals and tourists come here to spend the warm summer nights with a fancy cocktail in their hand while listening to awesome music.
They're very strict about age so don't be surprised if someone comes and asks how old you are. It happened to my sister and me because apparently, we don't look old enough to be sitting in a cocktail bar. 😀
All in all, the staff is very friendly, the drinks are pretty nice and the view over the harbor is simply amazing!
The Hidden Door (Paraporti Bar)
The Hidden Door lies rather off the main tourist streets, hidden in the alleys of Skopelos Town.
It's a small, cozy cocktail bar that opened in 2013 serving everything from beers and long drinks to shots and their own signature cocktails.
A beautiful courtyard with wonderfully smelling flowers, chilled lounge music and the always smiling staff guarantee a wonderful atmosphere.
SKALA
We stumbled upon this bar just by coincidence, to be honest. We were just climbing the stairs on the way to Vrachos bar (featured next) when a friendly guy approached us and invited us to this bar.
At first, we thought we arrived at Vrachos bar and let the staff guide us to a free table. Only when we got the menu, we realized it was a completely different bar!
We hesitated for a moment but then decided to stay and order some of their specially created cocktails.
What should I say, we didn't regret our decision at all!
SKALA is a very lively, hip bar with awesome cocktails and a great view of the port. Plus, the fact it's located on a 2-floor balcony makes it even more special!
Vrachos
Lastly, make sure to check out the above-mentioned Vrachos bar. You'll get there if you pass the SKALA bar and just continue climbing the 100 stairs.
Vrachos bar was opened in 1992 and has been one of the island's hotspots ever since. During the day you can enjoy a good cup of coffee while at night you can choose from a long list of different cocktails and other drinks.
Especially their cocktails are worth giving a try as they use only fresh fruits to create an original and authentic taste.
Thanks to its awesome location on a huge balcony overlooking the roofs of Skopelos Town, Vrachos bar offers a magnificent view of the harbor and the bay area.
4. Try Local Food at Typical Greek Restaurants
One of the reasons why people love to travel to Greece is because of the delicious and mouthwatering food.
Of course, Skopelos Town is full of restaurants serving typical Greek cuisine and other specialties, however, to get the best experience I advise you to try the following places:
Taverna Mouries
Taverna Mouries is a traditional, family-run Greek taverna located above the harbor with wonderful views of the promenade and the port.
The food is traditional Greek and gets served on tables placed beneath mulberry trees.
In this restaurant, every family member from the youngest to the oldest helps to cook or serve the dishes. Everyone is really friendly and hospitable, the service is fast and professional.
The menu is not extensive but includes a good selection of different dishes to satisfy everyone's desires.
We decided to order a couple of different starters to share including the typical Greek eggplant dip, giant baked beans (Gigantes plaki) and some feta salad for my sister.
So if you're looking for genuine Greek food, Taverna Mouries is the perfect address – even for vegans!
Alexander's Garden Restaurant
For the next restaurant, you need to follow the narrow roads leading deep into Skopelos Town. You just need to follow the signs that you'll find at the harbor already.
Alexander's Garden Restaurant is hidden in a wonderfully blooming courtyard with fragrant flowers, lemon trees and pines.
The waiters are very friendly and courteous, serving traditional Greek dishes – most of them very meat-heavy.
Nevertheless, if you're vegetarian or even vegan like me, you can choose from a good range of dishes such as grilled vegetables, fava beans or eggplant salad.
The lovely ambiance, the tasty smells and the excellent food make Alexander's Garden Restaurant a wonderful place for dinner.
Rodi Restaurant
Not far from the above-mentioned restaurant is Rodi, an exclusive restaurant also located in a courtyard surrounded by pomegranate trees.
This restaurant was opened around six years ago and offers Greek and Mediterranean dishes with a focus on special, quality flavors.
Hand-made appetizers, traditional Greek dishes and even vegan pasta are just some of the things you find on their extensive menu.
Rodi also provides selected Greek wines and together with relaxing music, it's a nice place to spend the evenings in Skopelos Town.
Plus, it seems that even half of the island's cats enjoy the ambiance at Rodi as you'll always find some either stroking around your feet or balancing on the walls.
Taverna Apolafsi
Last but not least, I want to show you Taverna Apolafsi, a family-run taverna which got a really special place in my heart.
Every evening when we walked from our hotel towards the old town, we passed this restaurant.
And every evening, we witnessed a group of old and young Greek people playing guitars and singing traditional Greek folk songs. The guests were applauding and obviously enjoying their evening very much.
It seemed like a lot of fun. Fun we didn't want to miss so we decided to have our last dinner in Skopelos Town at Taverna Apolafsi. Unlike the evenings before, we didn't just pass by but were part of the clapping and cheering crowd.
It's an extremely popular taverna with many locals regularly coming to dine here. The menu consists of traditional Greek dishes, each prepared with lots of love.
Even for vegans, they have great food like stuffed courgette flowers which I can highly recommend!
Taverna Apolafsi does not offer the best view, but its warm-hearted owners, mouthwatering food and generally the whole atmosphere make it one of the best restaurants in Skopelos Town!
5. Wander Along The Harbor
The island of Skopelos has two harbors: The biggest and most frequently approached one of Skopelos Town and the smaller one of Glossa, which is situated on the northwestern side of the island.
There are actually two ports in Skopelos Town, the old port and the new port. Of course, all trading ships and passenger ferries dock at the latter.
So during the day, you can observe a lively hustle and bustle at the new port when island hoppers set off to explore new islands or the merchant ships deliver different goods from the mainland.
While the new port is the center of traffic, the old port invites you to take a leisurely stroll along the promenade.
Sit down in some of the many lovely cafés, go and search for unique souvenirs or just take a short rest on one of the many benches.
The old port promenade is a wonderful place to spend a relaxed afternoon.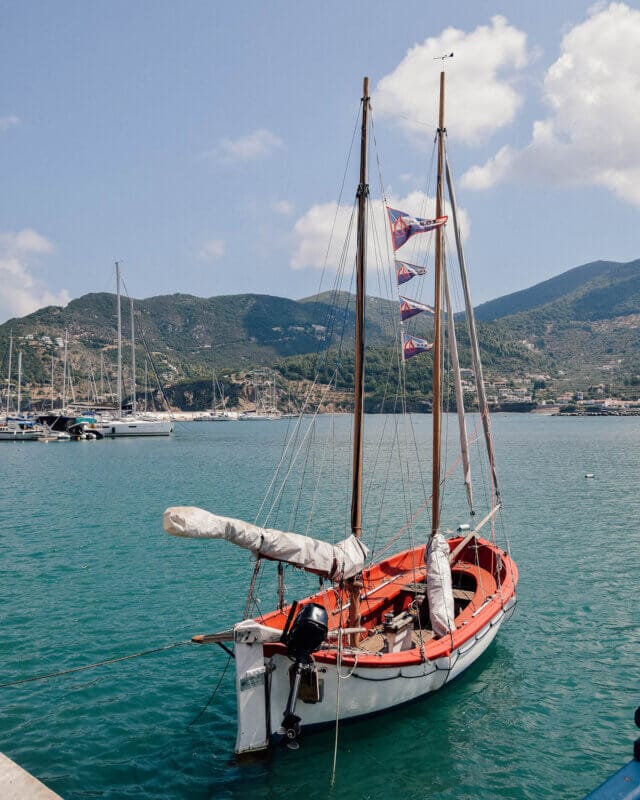 At night, this area turns into a hotspot for locals and travelers who love to enjoy a cold drink and hip music as most of the bars can be found here.
6. Get Lost in The Streets of Skopelos Town
My last recommendation for what you should do in Skopelos Town is to just leave the main tourist paths and follow the many narrow streets leading into the heart of the city.
What is that noise over there? Who lives in this bright red building with blue window frames? And how come no one is around this beautiful church?
Walking off the beaten path usually leads to places that no or few travelers have seen before.
So put away the map – or nowadays: switch off Google Maps – and get lost in the maze of alleys in Skopelos Town!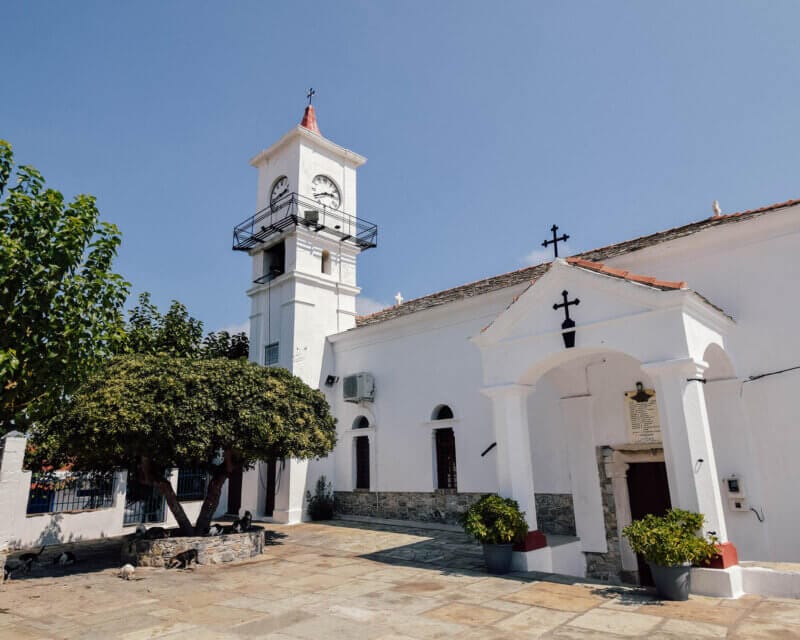 ---
Like it? Pin it!
---
Do you want to travel like me?
Here are some of my favorite travel tips and resources:
Flights: I prefer using CheapOair or Skyscanner to book flights. The destination everywhere feature is perfect for finding some cheap deals!

Accommodation: Booking.com is my favorite site to find some great hotel deals. I do love staying at a local place as well, thus I book an Airbnb every now and then.

Travel Insurance: There are many reasons why travel insurance is important and I never travel without having one. I use the simple and flexible one from World Nomads to be protected against unforeseen events.

Tours: I love taking tours to explore destinations like a local. My favorite website to book them in advance is GetYourGuide.

Camera Gear: I use a Nikon D5300 camera with an 18-105 mm and a 10-20 mm wide-angle lens to take my photos.