ALL Mamma Mia Filming Locations on Skopelos & Skiathos
Oh, Greece! If someone asks me about one of my favorite countries, my vote will most likely go to this jewel in Southeast Europe.
I've been there a total of five times, exploring islands like Santorini, Tinos, Thassos, Corfu, etc. And nevertheless, every year I'm craving to discover more of this country's fascinating beauty.
It's not only an attractive country for me, but every year people from all around the world come to enjoy stress-free and relaxed holidays.
Greece's stunning nature and slow, laidback lifestyle are also very popular with filmmakers.
The list of movies filmed here is long, including 'The Bourne Identity', 'Before Midnight' and 'Tomb Raider: The Cradle of Life'.
However, the most famous one is by no doubt the musical 'Mamma Mia!' released in 2008. It was filmed on the two Greek islands Skopelos and Skiathos, both parts of the Northern Sporades island group.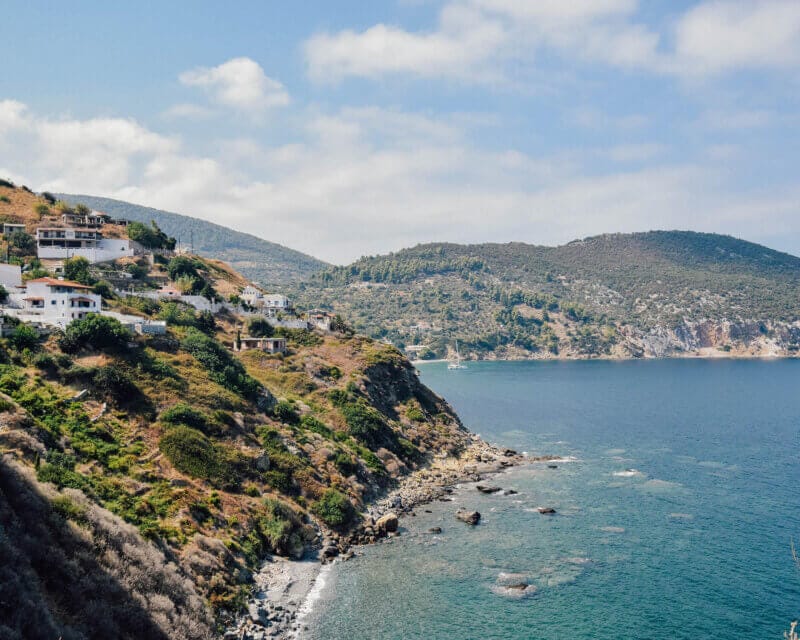 As a huge fan of this feel-good movie – I've seen it at least ten times – visiting the Mamma Mia filming locations in Greece has been on my bucket list since the first time I watched it.
This year it was finally time for me to pack my bags, catch the ferry to Kalokairi and stay at the famous Villa Donna!
… or at least I pretended to do that. 😉
If you love the movie as much as I do, Skopelos and Skiathos are the best Greek islands to visit!
To help you plan your perfect trip there, I created this guide to all Mamma Mia filming locations on both islands. Make sure to keep it handy for the time you go there to not miss any of the top places!
(This post contains affiliate links, which means I receive a certain percentage of a sale if you purchase after clicking.)
Mamma Mia Filming Locations on Skopelos
Most parts of the movie, particularly the outdoor scenes, were shot on the unspoiled island of Skopelos.
Ever since the film crew came here in 2007 Skopelos has been known as "The Mamma Mia Island".
If you're lucky you can find photos of cast members dining out in some bars and restaurants or even meet locals who got to chat with the actors back then!
But for now, let's see which wonderful places on Skopelos represent the island Kalokairi in the movie!
If you don't want to visit all the locations by yourself, you can book an organized Mamma Mia Island Tour around Skopelos.
Glysteri Beach
Remember the scene when Donna picks up her two friends Tanya and Rosie and they all make their way up to Villa Donna in a jeep? It was filmed amongst the olive groves above Glysteri beach on the north side of Skopelos.
Moreover, the olive groves were also used for other general scenes, such as the one where Sophie sets off from Villa Donna for her wedding on a donkey.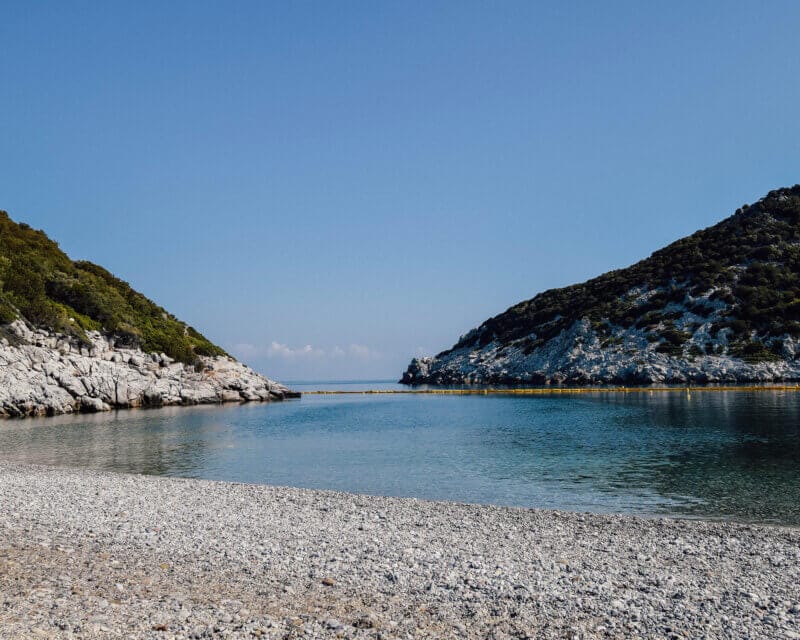 Another scene shot at Glysteri Beach is the one where Sophie and her three fathers jump off the rocks after their sailing trip.
The beach itself is rather small but comes with crystal clear water, perfect for snorkeling.
It's not far from Skopelos Town and can be easily reached by car, quad or motorbike. There's a large parking area so don't worry about finding a place to park your vehicle.
Glysteri Beach is well-organized featuring a busy beach cafe, many sunbeds to rent and feel-good music in the summer.
So if you're looking for a quiet secluded beach with few people, this beach is probably not the best choice.
Kastani Beach
Amongst all Mamma Mia filming locations, Glysteri isn't the only beach shown in the movie.
Kastani Beach, just 18 km located from Skopelos Town, is a small bay of white sand surrounded by lush vegetation.
It's rather difficult to access, with a very steep and bumpy road leading there but with enough parking lots. Nevertheless, this doesn't prevent locals and tourists to flock to one of the loveliest beaches on Skopelos.
Although the beach had been famous before, it gained even more attention after it was featured in the scene of Mamma Mia where Sophie and Sky sing 'Lay All Your Love on Me' while lolling around on the white sand.
Another iconic scene filmed here is when a friend of Sky feels attracted to Donna's much older friend Tanya who completely rejected him while singing and dancing to 'Does Your Mother Know'.
Both, the small pier and the beach bar in these two scenes were built only for the movie. So don't wonder if you can't spot either of them. Instead, you'll find rows of sunbeds and a hip beach café as well as watersports rentals.
If you don't have a rental car, accessing the beach may be kinda difficult, so booking a guided Mamma Mia tour is definitely advantageous.
Chapel of Agios Ioannis
Undoubtedly, all Mamma Mia filming locations on Skopelos are truly breathtaking and worth visiting.
However, the star among all is the tiny chapel of Agios Ioannis, the location where Sophie's and Sky's wedding takes place.
Situated on top of a rock overlooking the ocean, the chapel can be reached by climbing more than 200 narrow steps. As a reward, you can enjoy a wonderful view of the rugged coastline and the beach below.
The beach is gorgeous but a couple of times a day it gets really packed when excursion boats dock there. Usually, they leave after 1-1.5 hours, then you'll have the beach almost to yourself again.
When you enter the chapel, you'll quickly realize it's way too small to fit all the wedding guests you see in the movie. Therefore they built a larger version of it in the Pinewood Studios, using another church on Skopelos as a model.
The chapel is also used as the background in the 'The Winner Takes it All' scene with Donna and her former lover Sam who declares he still loves her.
Afterward, Donna runs up the steps to join the wedding but before, she stops and turns around in the doorway at the top to look back at Sam.
Amarandos Cove
For the next scenic filming spot, we have to go back all the way down to the south side of Skopelos.
There, located along a rocky road, you find the breathtaking coastline of Amarandos, consisting of small islands, rocky coves and mesmerizing turquoise water.
This snorkeling paradise is not easy to find.
When you travel through Agnontas, keep an eye open for a barely readable sign saying Amarandos on the right side of the road. Whereas if you come from the east, the sign will be to your left.
If you have a rental car, I recommend you park the car next to the main road and then walk the rest of the way. It only takes around 20 minutes and it's much better than driving your car on this very bumpy and uneven road.
While walking through the pine forest, you may get the feeling of being part of the Mamma Mia movie yourself.
That's because the surroundings at Cape Amarandos were used for the scene where Sophie runs through the pines singing 'Honey, Honey' while she reads parts of her mother's diary.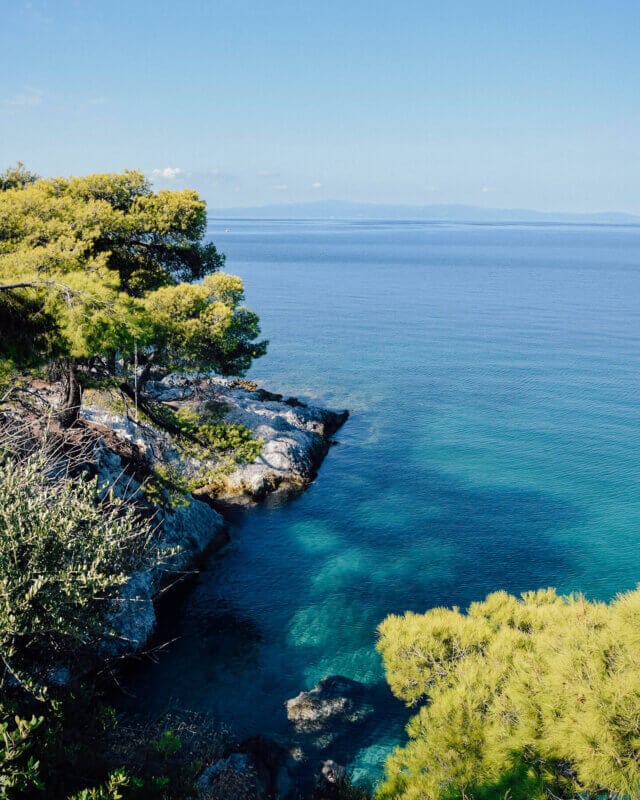 Amarandos Cove was also used as the location for one of my absolute favorite scenes in the entire movie. The idyllic sailing scenes of Sophie and her three potential fathers to the song 'Our Last Summer' were shot here as well.
If you look closely, you'll spot the two pines on a small peninsula that are featured in Mamma Mia.
This exact place has become the symbol of Skopelos and is one of the most photographed landmarks on the island and among the most famous natural landmarks in Greece.
Agnontas
Once you spent enough time enjoying the serene beauty of Amarandos Cove, plan a stop in Agnontas.
It was the picturesque setting in Agnontas that inspired the filmmakers to create the fantasy scene in which Donna sings 'Money, Money, Money' and imagines being rich.
The fishing village itself is relatively small with just a few taverns and a beach visited mainly by locals. It's a nice place to have lunch though or watch the sunset at the coves nearby.
Map of All Mamma Mia Filming Locations on Skopelos
Mamma Mia Filming Locations on Skiathos
Although most of the Mamma Mia filming locations can be found on Skopelos, it's not wrong to include Skiathos on your trip as well.
Compared to its quiet and calm neighboring island, Skiathos is livelier with a bustling main town and an international airport.
Old Port of Skiathos
It's the old port of Skiathos that you see in the scene where Sam and Harry try to catch the ferry to Kalokairi, just to see it take off without them.
Fortunately, Sophie's third potential father Bill invites both to join him on his sailboat and start the journey together.
Moreover, the opening scene where Sophie sings 'I have a dream' also includes views over the old town rooftops and the Agios Nikolaos Church and Clock Tower.
---
Like it? Pin it!
---
Do you want to travel like me?
Here are some of my favorite travel tips and resources:
Flights: I prefer using CheapOair or Skyscanner to book flights. The destination everywhere feature is perfect for finding some cheap deals!

Accommodation: Booking.com is my favorite site to find some great hotel deals. I do love staying at a local place as well, thus I book an Airbnb every now and then.

Travel Insurance: There are many reasons why travel insurance is important and I never travel without having one. I use the simple and flexible one from World Nomads to be protected against unforeseen events.

Tours: I love taking tours to explore destinations like a local. My favorite website to book them in advance is GetYourGuide.

Camera Gear: I use a Nikon D5300 camera with an 18-105 mm and a 10-20 mm wide-angle lens to take my photos.