27 Most Famous Landmarks in California You Need to See!
What do the Hollywood sign in LA, the Painted Ladies in San Francisco and Coronado Island have in common?
Exactly! They're all among the most famous and beautiful landmarks in California!
The sunshine state on the west coast of the US is known for its cities filled with glitz and glamour, breathtaking coastlines and a variety of national parks that are home to the most amazing flora & fauna.
So whether you're the city type of person or prefer the adventurous outdoors, California has got it all!
The following list of landmarks in California includes a good mix of everything.
From the most popular sights like the Hollywood Sign or the Golden Gate Bridge to the lesser-known ones like Hearst Castle or the Ferry Building in San Francisco.
And if you think landmarks are usually monuments, buildings or other manmade constructions, make sure you continue reading until the last part of this post. 😉
(This post contains affiliate links, which means I receive a certain percentage of a sale if you purchase after clicking.)
Famous Landmarks in & Near Los Angeles
1. Hollywood Sign
Recommended by me
Who would have thought that nine white letters on top of a hill could become a city's most iconic sight? Probably no one.
The talk is about the Hollywood Sign overlooking the neighborhood of Hollywood in the world-renowned city of Los Angeles.
It's not only the city's number one attraction but also one of the most famous landmarks in California!
The sign was initially created as an advertisement for a local real estate agency in 1923. However, over the years, it got more and more recognition so people decided to just leave it up.
Nowadays, the Hollywood Sign frequently appears in establishing shots for different movies and series set in and around Hollywood.
Even though it's visible from many points across LA, you should climb up to the top of the sign for an unforgettable and panoramic view of the city.
You can either hike from Griffith Observatory or take the trail starting at the Bronson Canyon entrance to Griffith Park.
To avoid tourist crowds and/or the heat it's recommended to start early in the morning or later in the evening.
Being on top of this landmark guarantees you a once-in-a-lifetime experience!
Tours you might find interesting:
2. Santa Monica Pier
Recommended by me
The first thing most people think about when they hear of Santa Monica is the famous Santa Monica Pier.
A full-service amusement park, numerous restaurants, bars and souvenir shops are some of the awesome attractions one can find there.
Especially the red and yellow Ferris wheel attained a lot of fame and has always been the most popular attraction on Santa Monica Pier.
The fact that it's completely solar-powered makes this construction even more special.
Pacific Park is free of entry, meaning you can come and go as you want. Only for the rides and attractions, you need to pay and the prices usually range between $5 – $12.
It's open daily from 10:00 am to 8:00 pm.
In the evening when the sun disappears beyond the horizon, you might be lucky to experience live music while listening to the sound of the waves. Plus, it's also the perfect time to ride the Ferris wheel!
Whether you want to have some fun at the amusement park or simply enjoy a stick of puffy cotton candy while taking a stroll, Santa Monica Pier needs to be part of every Los Angeles itinerary!
3. The Getty Museum
Recommended by Victoria of Guide Your Travel
The Getty Museum is arguably one of the most impressive structures and landmarks in California.
It's far more than an art museum and should be at the top of your list when you're visiting LA!
When you arrive you actually can't walk up to the museum itself. Instead, you need to leave your car at a car park before a tram takes you to the museum.
The views are incredible and the property is incredibly large so there is a lot to explore.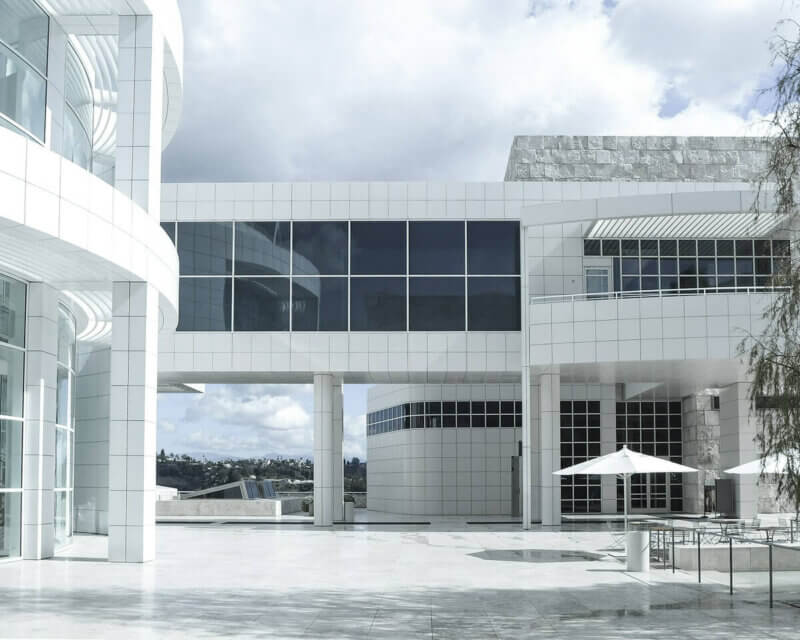 Take your time and plan it as a day trip from Los Angeles because there is so much to see. Admission to the museum is free but you have to pay $15 per car for parking which is very reasonable.
The Getty offers different workshops you can participate in throughout the week. This includes painting, drawing or even photography courses.
Definitely sign up for one if you happen to be visiting during this time.
4. Walt Disney Concert Hall
Recommended by Kenny of Knycx Journeying
Walt Disney Concert Hall is a modern architectural landmark in Los Angeles downtown that no one should miss.
Literally, because the venue is located within the bounds of Grand Avenue, Hope Street, 1st and 2nd streets, with the entire city's skyline right behind the hall's dramatic curves and shiny exterior.
The Concert Hall was commissioned by Lilian Disney in 1987, with the purpose of offering the locals a performance venue and paying tribute to Walt Disney, for his contribution to Los Angeles.
Designed by renowned architect Frank Gehry, the concert hall was completed in 2003. It was the fourth hall of the Los Angeles Music Center, and it has a capacity of 2,265 people.
A great way to explore the concert hall is to sign up for a guided tour or a self-guided audio tour to learn all about the fun facts of this building. Or catch a show on its roster from the concert, live performance, to the orchestra, and more.
If time is limited, simply take a walk around the hall, and admire the stainless-steel exterior and design.
Not only the concert hall hosts various music shows but it is also predominantly featured in many TV shows, movies, and even video games. Iron Man (2008), Get Smart (2008) and Furious 7 (2015) are only a few of them.
5. Walk of Fame
Recommended by Milijana of Wold Travel Connector
Who hasn't seen photos of celebrities posing next to their stars on the Hollywood Walk of Fame yet?!
The iconic Hollywood Walk of Fame is one of the most famous landmarks in California. Quite frankly, there's no visit to LA without snapping tourist photos of yourself with the stars of your favorite celebrities on the Walk of Fame.
The Hollywood Walk of Fame is the most famous sidewalk in the World.
The celebrated terrazzo and brass stars represent an eternal tribute to celebrities who left their outstanding mark on the entertainment industry.
Funnily or not, some fictional characters like Mickey Mouse, the Muppets, and the Simpsons have their stars as well.
Today legendary Walk of Fame stretches over 1.3 miles of Hollywood Boulevard and Vine Street. It features more than 2,600 five-pointed stars and hundreds of handprints and footprints.
To find the stars of your favorite celebrities easily, try out Walk of Fame's online star search tool that will show you the exact location. The Walk of Fame is open 24/7 and there's no entrance fee.
After strolling the Walk of Fame, don't forget to visit the amazing TCL Chinese Theatre, El Capitan Theatre, and the Hollywood Wax Museum.
After all, Hollywood is one of the best areas to stay in Los Angeles for first-time visitors!
Tours you might find interesting:
6. Griffith Observatory
Recommended by Alanna of Periodic Adventures
Griffith Observatory is not only an icon of Los Angeles but also of California as a whole. It's a world-famous observatory with amazing interactive exhibits, views of the Los Angeles skyline, and hiking trails surrounding it.
The observatory is located in the city of Los Angeles up on Mount Hollywood in Griffith Park.
Entrance to Griffith Observatory is free and you can also park for free along the road that leads to and from the observatory.
However, when it becomes crowded and parking becomes scarce, you can easily take the cheap DASH shuttle from the bottom of the hill up to Griffith.
Griffith Observatory is open Tuesday through Friday from 12:00 to 10:00 pm and on weekends from 10:00 am to 10:00 pm.
To avoid crowds, visit on weekdays early or later at night. Plus, at night you can peer through the large telescopes at the cosmos!
You can easily spend three hours at Griffith Observatory exploring all the exhibits, wandering the grounds, taking in the views, and enjoying the ticketed planetarium show.
If you can visit Griffith Observatory on your trip to California, you won't regret it!
7. TCL Chinese Theatre
Recommended by Hannah of Get Lost Travel Blog
TCL Chinese Theatre is a California icon that you don't want to miss on your visit.
Located on Hollywood Boulevard alongside one of the most famous stretches of the Hollywood Walk of Fame, this L.A. spot draws tourists from around the globe.
The theatre has been home to the most prominent movie premieres since 1927. The biggest celebrities have graced the theatre with their presence on the red carpet for almost a century.
Plus, in the Forecourt of the Stars, you can place your hands in the imprints left by the most famous names in the movie industry.
You can explore the forecourt of the Chinese Theatre for free at any time of day, except during special events. If you want to take a tour of the theatre, you can pre-book your tickets online.
Tours take place most days throughout the morning and early afternoon and cost $10 per person.
The tour lasts for 30 minutes. However, if you just want to admire the outside of the building and try the imprints on for size, you'll only need 30 minutes max.
It's an ideal stop for your perfect LA weekend to take a glimpse at the lives of Hollywood's rich and famous.
8. Runyon Canyon
Recommended by Catalin of Travel Trained
Runyon Canyon Park rests at the eastern end of the Santa Monica mountains. This massive park is the habitat of diverse vegetation and California wildlife, but that's not the only reason it's famous!
The park is just outside of Hollywood's A-list residences, which means that celebrities frequent it. The natural beauty, quality hiking trails, and the possibility of running into a celebrity bring visitors all year round.
Runyon Canyon officials recommend taking the 3.5-mile loop that surrounds the entire area, which will allow visitors to enjoy everything that the park has to offer.
This trail typically takes three to four hours, which means hikers should plan accordingly.
One-mile trails are also available, which usually take twenty minutes. No matter what trail guests choose, the park advises that all hikers bring water and a lightweight travel daypack!
Runyon Canyon Park does not charge an entrance fee. The park is open Monday through Sunday, from sunrise to sunset.
Guests can find the main entrance on N Fuller Avenue. There is another entrance on the northern side that is on Mullholl and Dr road.
The park is filled with thriving flora and fauna, making it a gorgeous place to take a hike. Anyone who finds themselves in Los Angeles should stop by the Runyon Canyon.
9. Hearst Castle
Recommended by Karee of Our Woven Journey
Hearst Castle is located on Highway 1 along California's coastline, about four hours north of Los Angeles.
Set 1600 feet above sea level on what George Hearst named "the Enchanted Hill", the mansion can be seen from miles away.
What was once a private estate, Hearst Castle has become a California State Park and a historic house museum that includes thousands of works of art from all around the world.
Visitors can choose from several tour options, including the Grand Rooms, Upstairs Suites, Cottages and Kitchens and seasonal tours. Each tour takes about three hours and separate tickets are needed for each of them.
Tickets are $25 per adult, $12 for children ages 5-12 and free for children under five. The tour begins at the bottom of the hill with a 15-minute bus ride along the winding, mountain road up to the castle.
Since this was once the site of the world's largest private zoo, it's not unusual to see zebras on the hillside, descendants of those who were once part of the zoo.
When the guided tour is finished, visitors are welcome to take self-guided tours of the Indoor Roman Pool and the beautiful gardens before boarding the bus to return to the parking area.
Famous Landmarks in San Francisco
10. Alcatraz
Recommended by Anisa of Two Traveling Texans
Alcatraz, also known as "The Rock," is a small island in the middle of San Francisco Bay with a maximum-security prison that closed in 1963.
It's been home to some of America's most notorious criminals like Al Capone, George "Machine Gun" Kelly, and Robert Franklin Stroud (the "Birdman of Alcatraz") and has become a popular tourist attraction.
While Alcatraz was originally developed as a military fortification with a lighthouse, in 1934 it became a high-security federal prison.
There are many interesting things to know before visiting Alcatraz, for example, during almost 30 years as a prison, there were 36 prisoners that tried to escape, but none were successful.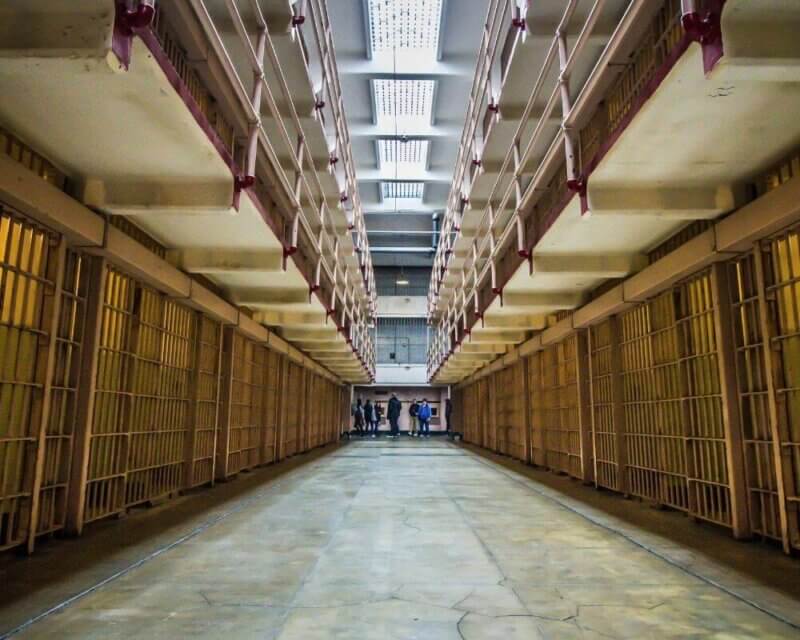 If you want to visit Alcatraz, you have to take one of the official tours. They offer a day tour, night tour, or behind-the-scenes tour.
The Alcatraz night tour offers a bit of an eerie atmosphere and special ranger talks. On the behind-the-scenes tour, you get to see areas of Alcatraz Island normally off-limits.
Tickets start at $41 per adult. Be sure to book in advance to avoid disappointment.
All the tours start with a scenic boat ride from Fisherman's Wharf to Alcatraz Island. Then you can explore the cell block at your own pace with the audio tour.
The rest of your visit will vary depending on which tour you chose.
Tours you might find interesting:
11. Golden Gate Bridge
Recommended by Martina & Jürgen of PlacesofJuma
The Golden Gate Bridge is probably one of the most amazing landmarks in California. The imposing, world-famous red suspension bridge is located in San Francisco and is a real tourist magnet.
Every year, around 14 million people from all over the world come to admire and photograph this spectacular sight.
The bridge owes its name to the entrance to the bay below, which was called "the Golden Gate" in 1846 because of the gold rush.
The bridge was not built until 1933 and in 1937 the 2,737-meter-long red suspension bridge was opened. Today, it is even on the list of Modern Wonders of the World!
On a trip to San Francisco, this landmark is almost a must-see on any sightseeing tour. Along the coast, there are numerous places from where you can experience a spectacular view of this structure.
The best place to view the Golden Gate Bridge is South Vista Point. From there you can take the most amazing photos!
Nevertheless, you can also take great photos from North Vista Point, as well as from Baker Beach at Presidio Park and Conzelman Road in Marin County.
Tours you might find interesting:
12. Twin Peaks
Recommended by Stéphanie of Bey of Travel
At 922 feet in elevation, Twin Peaks offers spectacular views of the Bay Area and is one of the most famous landmarks in California to visit.
Originally called "Los Pechos de la Choca" (Breasts of the Maiden) by early Spanish settlers, these two peaks provide postcard views and feature beautiful wildflowers and animal and plant diversity.
The trail is primarily used for walking, running, road biking, and scenic driving and is accessible year-round. Dogs are also able to use this trail but must be kept on a leash.
This is a must-visit for all visitors to and citizens of San Francisco.
The hill is in the middle of the city, offering incredible views of the whole city. You can access it from all directions. There are several paved roads leading to the top, that can be driven, walked, or biked.
Be aware of the fact that it is always very windy on top of Twin Peaks. This typically means that it is cold. Be prepared by bringing a windbreaker with you!
The east-facing slopes tend to get more sun than the west-facing slopes due to the unique geographical features of the hills so keep that in mind if you're getting too chilly up there!
Tours you might find interesting:
13. Ferry Building
Recommended by Haley of Haley Blackall Travel
The San Francisco Ferry Building is located in the bustling Embarcadero area, the most eastern waterfront and roadway of the Port of San Francisco.
This famous landmark in California opened its doors in 1898 and acted as the main city port for ferry boats crossing the San Francisco Bay from mainland California.
The building itself boasts repeating arches, overhead skylights, and a sizable clock tower.
Once the Golden Gate Bridge and Bay Bridge were constructed in the 1930s, the ferry building lost its purpose.
In 2003 the San Francisco Ferry Building was restored and converted into a vibrant public food market. The landmark food hall is open daily from 7:00 am to 10:00 pm and is free of charge to enter.
Must-try dishes include the secret breakfast sundae from Humphry Slocombe and the farmhouse grilled cheese from Cowgirl Sidekick Cafe.
Spend a couple of hours in the morning admiring the architecture, perusing the stalls, and eating to your heart's content!
14. City Hall
Recommended by Noel of Visit California and Beyond
One of the most famous California monuments and San Francisco attractions is the Main City Hall building.
It sits right in the middle of the city and is always the site for massive demonstrations, political gatherings and other celebrations that focus on San Francisco-related activities in a social, political or cultural venue.
The City Hall building is beautiful and always a major attraction for visitors and tourist buses that flock to the plaza to take photos and also check out the beautiful rotunda interior inside the building.
City Hall is magnificent in its Beaux-Arts style which is characteristic of the American period of the 1880s. It was rebuilt after the 1906 earthquake that burned most of the city down.
This impressive structure is actually taller than the United States Capitol by 42 feet and has a central interior court with the main rotunda above and a grand staircase that amazes everyone at the entrance.
San Francisco City Hall is so popular as a setting that it is actually staged in many American movies.
Moreover, for major social and political events, the entire structure is lit up magically at night in colors representing a particular event that resonates with the local government and the citizens of the city.
15. Painted Ladies
Recommended by Sydney of A World in Reach
One of San Francisco's most photographed spots, the Painted Ladies, is definitely among the city's most famous landmarks.
The Painted Ladies, also known as the "Seven Sisters" and "Postcard Row", are a row of seven candy-colored Victorian homes lining Steiner Street across from Alamo Square Park.
The colorful homes have become a San Francisco icon, popular among tourists and locals.
The Painted Ladies are also frequently featured in movies and TV shows, most popularly being shown in the opening credits of the TV sitcom Full House.
A trip to San Francisco isn't complete without seeing the Painted Ladies – which is completely free by the way!
One of the best things to do on a weekend trip to San Francisco is to get a takeaway lunch and picnic at Alamo Square Park.
Grab a spot on the side overlooking the Painted Ladies and enjoy your lunch with a great view of one of the most beautiful landmarks in California.
Tours you might find interesting:
16. Fisherman's Wharf
Recommended by Alice of Adventures of Alice
San Francisco is a city of contrast. It has the charm of an old-fashioned American town, with cable cars and Victorian houses.
But it also has the energy and attitude of a modern metropolis, boasting high-rises and multi-billion dollar corporations.
There are the dizzying heights of its hills and skyscrapers and an eclectic mix of cultures. But there's also Fisherman's Wharf, which offers a more traditional experience for visitors.
The Fisherman's Wharf district in San Francisco continues to support the mix of cultures in this incredible city.
It's one of those places where you can experience both sides: walk up Telegraph Hill or ride on a cable car for stunning views of the bay or go down to Pier 39.
It's a must on any San Francisco itinerary as you'll be able to visit the gorgeous but a little smelly seals.
The area has a rich history dating back to 1849 when it was home to many fishermen. Today, many descendants of those same fishermen can be found at Pier 45 fishing for crab and other seafood.
Alongside them are artisans selling fresh produce, flowers, souvenirs, and more that will make your visit unforgettable.
Fisherman's Wharf itself is free to visit, although many of the attractions there are paid for.
Famous Landmarks in San Diego
17. Belmont Park
Recommended by Dymphe of Dymabroad
Another one of the most famous landmarks in California is Belmont Park in San Diego. Belmont Park is an amusement park that you can find on Ocean Front, which is in the Mission Bay Area.
What's special about Belmont Park is that it was already founded in the year 1925 and that it's still operating.
There are lots of attractions at Belmont Park that make going here a lot of fun! Furthermore, it is one of the most instagrammable places in San Diego.
The most famous attraction of the park is the Giant Dipper roller coaster. Besides the great attractions, there are a lot of places for food, which makes spending a day here very comfortable.
A pass that grants access to all rides for a full day costs $56 for people taller than 48 inches, and $46 for people shorter than 48 inches. Besides that, it is possible to buy separate tickets for the attractions.
Spending a full day in Belmont Park is a great experience!
18. Coronado Island
Recommended by Jumana of Planet Hopper Girl
Coronado Island is a stunning island located just opposite San Diego bay, connected by the mighty Coronado Bridge from San Diego.
Coronado beach with its white sand beach is repeatedly voted one of the top beaches in San Diego and is also very popular for water sports like kayaking, surfing and sailing.
The island also has multiple other beaches including a very dog-friendly one.
On the island you'll find the Ferry Landing park area that hosts many cute shops and restaurants with a view, making it very popular for both families and couples to hang out.
Coronado Island also hosts galleries, museums and theaters which makes it very popular amongst art lovers.
It's a must-stop on every San Diego road trip, but it is also easily accessible via a ferry service from San Diego bay which is a 15 minutes ride.
You can walk the island with guided tours available or even rent a bike to tour the island.
Hotel del Coronado in Coronado is very famous with lots of history attached to it and being a national historic landmark makes it a must-visit here.
With the white sandy beach, water sports opportunities and restaurants with a great view, Coronado is a must-see destination for your San Diego vacation.
Tours you might find interesting:
Natural Landmarks in California
19. Big Sur
Recommended by Maggie of The World Was Here First
If you want to experience the California coast in all of its rugged, natural glory, then you need to visit Big Sur.
This incredible area of outstanding natural beauty is located on California's Central Coast, about 30 minutes south of the Monterey Bay area.
Big Sur can easily be visited as a day trip from Monterey, Carmel or even San Francisco or it can be enjoyed for a few days as part of a road trip up the Pacific Coast Highway.
Big Sur is obviously noted for its rugged and dramatic scenery which includes cascading cliffs, Redwood forests, the unique McWay falls and much more.
You also cannot miss driving over the iconic Bixby Creek Bridge or trying to spot sea otters lounging in the surf.
There are countless hiking opportunities in Big Sur along with a myriad of scenic viewpoints where you can experience some of the most beautiful scenery California has to offer.
So if you're looking to visit one of the most iconic areas of the Golden State, then look no further than the inimitable Big Sur!
20. Napa Valley
Recommended by Emma of Emma Jane Explores
A short drive from San Francisco lies the beautiful wine region of the famous Napa Valley in California.
Napa Valley is wine country at its absolute best, with seemingly endless rolling hills full of lush vineyards to explore.
Tours depart from San Francisco daily, however, to truly explore the region, it is definitely best to stay for a night or two.
This will give you the ability to drive between the many quaint towns on the Napa wine trail, stopping in to sample the wares of each winery at the cellar door.
These days, most Napa wineries require a booking and a small deposit to stop in and do a tasting. Thus you will need to do a little bit of advance planning to make sure you are able to visit all the wineries on your list.
Artesa, Maroon Wines and Auburn James are all excellent choices to experience the varieties of wines on offer in the region.
There are plenty of wonderful restaurants on the wine trail as well, with the wonderful paddock-to-plate dining experience at The Farmhouse in St Helena a particular favorite.
Tours you might find interesting:
21. Yosemite Valley
Recommended by Kris of Nomad by Trade
Yosemite Valley is truly one of the most iconic landmarks in California. This stunning natural wonder was carved out by glaciers and is now one of the most famous recreational spots in the whole state.
Visitors can drive down into the valley to see spectacular views of the uniquely-shaped Half Dome, the giant granite face of El Capitan, and Yosemite Falls among other highlights.
Numerous paths wind through the valley, or for more of a challenge, you can tackle one of the Yosemite hiking trails that climbs up out of the valley for aerial views of the most famous locations.
Make sure to take Yosemite maps with you so you won't get lost.
For an easier route to the top, the Glacier Point Road is open during the warmer months and allows visitors to drive to one of the park's most iconic overlooks for striking panoramic views of Yosemite Valley's highlights.
Yosemite National Park is open year-round, though roads may close seasonally or temporarily due to weather conditions.
Entrance fees vary based on vehicle type, so checking the official website before arrival is highly recommended.
Tours you might find interesting:
22. Lake Tahoe
Recommended by Patricia of Ze Wandering Frogs
Lake Tahoe and the surrounding area are prime destinations for adventurous travelers looking for outdoor activities in California.
Water activities on the lake itself include paddling, renting a boat, and kayaking around the turquoise waters of Emerald Bay. Hiking is another top activity, with hundreds of miles of trails available.
From the Sierra High Route to several wilderness areas, or stunning views of the lake from Mt Tallack, hikers of all levels can find trails fitting their boots: short moderate hikes or strenuous challenging multi-day treks.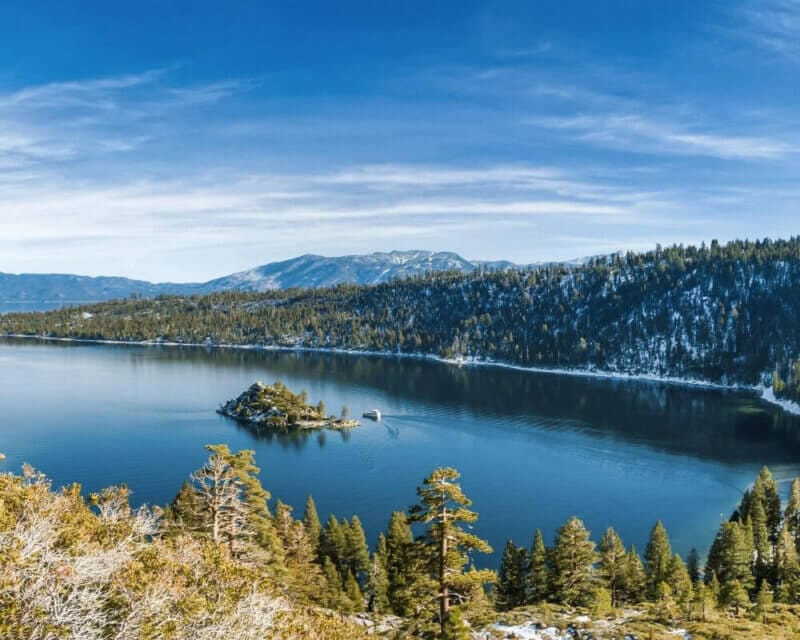 Other outdoor experiences include mountain biking and horseback riding. Come winter, Lake Tahoe offers incredible skiing and snowboarding opportunities across ten different ski resorts.
Snowshoeing, dog sledding, and snowkiting are also cool winter activities.
Located about 200 miles from San Francisco high in the Sierra Nevada mountain range, the popular lake can be explored from either its North Shore with the towns of Truckee and Tahoe City as the main hubs.
On the South Shore, the city of the same name is the principal hub.
Tours you might find interesting:
23. Devils Postpile National Monument
Recommended by Dhara of Roadtripping California
Devils Postpile National Monument is a must-visit California landmark in the Eastern Sierra region of California.
It protects the Devil's Postpile natural basalt column formation, the stunning Rainbow Falls, and the beautiful environment that surrounds the two wonders.
Devils Postpile is accessed from Mammoth Lakes. In the busy season (summer), you have to take a mandatory shuttle. If the shuttle is not operating but the monument is open, you can drive there on your own.
The monument generally opens to vehicular traffic sometime in June and closes down sometime in October. The exact dates vary based on snow accumulations.
At the monument, you can do a short hike to admire the columns of basalt created by volcanic forces years and years ago. The formation is spectacular, with some columns more than 60 feet tall.
You must also stop by Rainbow Falls, an impressive 101-foot curtain of water that gets its name from the rainbows that appear in the spray when it is sunny. The falls are created by the Middle Fork of The San Joaquin River.
During the operating season, the monument is open 24 hours a day. While entrance to the monument is free, the Reds Meadow shuttle costs $8 per adult for the day.
A full day is recommended to enjoy all the monument has to offer.
24. Badwater Basin
Recommended by Daria of The Discovery Nut
Located at the southern end of the Death Valley National Park in California, Badwater Basin is the lowest point in North America and sits 282 feet below sea level.
However, it's not everything that there is to this place: Badwater Basin also has incredible salt flats covering nearly 200 square miles that have formed here over a long period of time.
According to historical records, Badwater Basin got its name when a mule belonging to one of the prospectors refused to drink from the spring-fed pool in the area because it was too salty.
However, despite the salinity, many organisms live here.
To visit Badwater Basin, drive for about 17 miles south of Badwater Basin and park near the entrance that leads to the salt flats and requires a 1.5-mile walk.
Since Badwater Basin is located within the park, there's no separate fee to enter the site. What's interesting is that the highest point in North America, Mount Whitney is just over 2 hours away.
If you want to see it as well, you need to drive along Highway through Death Valley to exit through the western entrance of the park and drive north until you reach Lone Pine, a gateway town to Mount Whitney from where you can see the snow-covered peak.
Tours you might find interesting:
25. Sequoia National Park
Recommended by Jenny of Limitless Hiker
The Sequoia National Park in California is the only place in the world where you can see beautiful Sequoia trees.
Sequoia trees are the widest trees and the third longest-lived tree species with the oldest one being over 3,200 years old. The park also has some beautiful hiking trails.
If you're a beginner hiker looking for easy trails, do the Congress Trail or General Sherman Trail that takes you around some of the giant sequoia trees, hike to the top of Moro Rock for stunning views of the high Sierra mountains to the east, or do the Tokopah Falls trail.
You can also spend the day hanging around Hume Lake.
If you're looking for more challenging trails, the 72-mile High Sierra Trail which takes you from Crescent Meadows to the top of Mt. Whitney is a must-do.
Mt. Whitney is the highest peak in the lower 48 states and also resides inside Sequoia National Park.
Sequoia National Park is beautiful in any season. In winter, the trees are covered in snow and it's perfect for snowshoeing.
However, if you're looking to do more hiking and exploring, summer and fall are the best seasons to visit.
The entrance fee is $35 per car, or you can purchase a national park pass for $70 and visit every park for a year without additional fees.
26. Red Woods National Park
Recommended by Constance of The Adventures of Panda Bear
The coastal redwoods at the Avenue of the Giants in Humboldt Redwoods State Park are one of the most beautiful landmarks in California, arguably even better than those at Redwoods National and State Parks.
This northern California scenic drive was once part of the highway US-101 until a freeway bypass was built in 1960.
Today, it is an alternate road known as State Route 254, taking visitors through a scenic road filled with towering, lush redwood forests between the towns of Garberville and Fortuna.
All along the Avenue of the Giants, you'll get a chance to explore the redwood forests via many hikes throughout the park.
Be sure to check out beautiful Founder's Grove, a quick 0.5-mile hike, for some of the largest trees in the forest.
Shrine Drive-Thru Tree is also another popular stop along this drive, taking you on a trip through a living tree.
Both the Avenue of the Giants scenic drive and the Humboldt Redwoods State Park are free to visitors.
The drive itself is approximately 30 miles long and takes an hour without stopping, however jumping in and out of the car to take photos and short hikes is highly recommended.
Plan for at least one day for photo opportunities and some light hikes.
27. Joshua Tree National Park
Recommended by Victoria of Bridges and Balloons
Joshua Tree National Park is probably among America's most underrated national parks, even though it's an extraordinary place to visit.
Joshua Tree is an otherworldly landscape, characterized by the distinctive Joshua tree which dots the California desert.
The park spans nearly 800,000 acres and is the transition zone between the Colorado and Mojave deserts. It's a place to enjoy the great outdoors while soaking up the laidback desert vibes.
The starry skies are epic and many artists have been drawn there over the years adding to the hippy, creative feel that pervades the local area.
Popular things to do there include hiking in the park, taking a trip to Pioneertown (a town built by Hollywood celebrities and a popular filming location for Western movies) and visiting the Integration for a sound bath.
It's also known as one of the best places to climb in California with unusual rock formations and gorgeous natural springs amid the desert.
Joshua Tree is just over two hours from Los Angeles, so it's a popular spot for weekenders, many of whom have set up Joshua Tree Airbnb cabins and styled them in a distinct desert chic vibe.
Tours you might find interesting:
---
Like it? Pin it!
---
Do you want to travel like me?
Here are some of my favorite travel tips and resources:
Flights: I prefer using CheapOair or Skyscanner to book flights. The destination everywhere feature is perfect for finding some cheap deals!

Accommodation: Booking.com is my favorite site to find some great hotel deals. I do love staying at a local place as well, thus I book an Airbnb every now and then.

Travel Insurance: There are many reasons why travel insurance is important and I never travel without having one. I use the simple and flexible one from World Nomads to be protected against unforeseen events.

Tours: I love taking tours to explore destinations like a local. My favorite website to book them in advance is GetYourGuide.

Camera Gear: I use a Nikon D5300 camera with an 18-105 mm and a 10-20 mm wide-angle lens to take my photos.