17 Best Day Trips From Los Angeles
Easy Day Trips From Los Angeles For Everyone!
There's no doubt that the city of Los Angeles has so much to offer you could easily spend years here and still don't see everything! However, sometimes you just need a change of scenery.
Luckily, it's an easy drive from downtown LA to many surrounding places in SoCal such as nearby beaches, desert landscapes, small towns or wineries.
So no matter if you spend two weeks, one week or only 5 days in Los Angeles, make sure to plan a day trip to explore other nearby destinations!
With the help of 16 other travel bloggers, I compiled this list of best day trips from Los Angeles featuring gorgeous coastal towns, national parks, bustling cities and other hidden gems in California.
I guarantee you're sure to find a quick day trip worth taking on this list!
(This post contains affiliate links, which means I receive a certain percentage of a sale if you purchase after clicking.)
1. San Diego
Recommended by me
Among the most popular day trips from Los Angeles is a visit to San Diego which is just a 2-hour car ride to the south.
Although the city is quite big, spending one day in San Diego is enough to discover all the main sights.
One place you shouldn't miss is Balboa Park. This urban park is home to 17 different museums, arts venues and plenty of other cultural institutions.
There's for sure one or two museums you find interesting or what about a casual stroll through Alcazar Garden or Palm Canyon when the weather is sunny?
Moreover, make sure to explore some of San Diego's lovely neighborhoods including the historic Gaslamp Quarter offering hip places to eat and drink or Little Italy with lovely Italian patio cafés and restaurants.
Last but not least, finish your exciting day trip to San Diego with a casual walk along the harbor, and don't miss visiting the lovely Seaport Village.
Besides shops, restaurants, and cafés, this Spanish-style village features shaded courtyards, tiled fountains, and even a small pond.
If you have some time left, make sure to explore one or two of the secret beaches in San Diego!
Tours you might find interesting:
2. Palos Verdes Peninsula
Recommended by Janelle of Make The Trip Matter
For another great day trip from Los Angeles, be sure to check out Palos Verdes Peninsula.
Located about a 45-minute drive south of LA, it's easy to spend a day away from the hustle and bustle of the city.
Start your day by exploring the South Coast Botanical Gardens – with over 87 acres of land and more than 2,500 species of plants in bloom, it's both beautiful and educational.
Follow that up with stopping to view the unique organic architecture of The Wayfarers Chapel before heading to Point Vicente Lighthouse for some stunning coastal views and a bit of local history.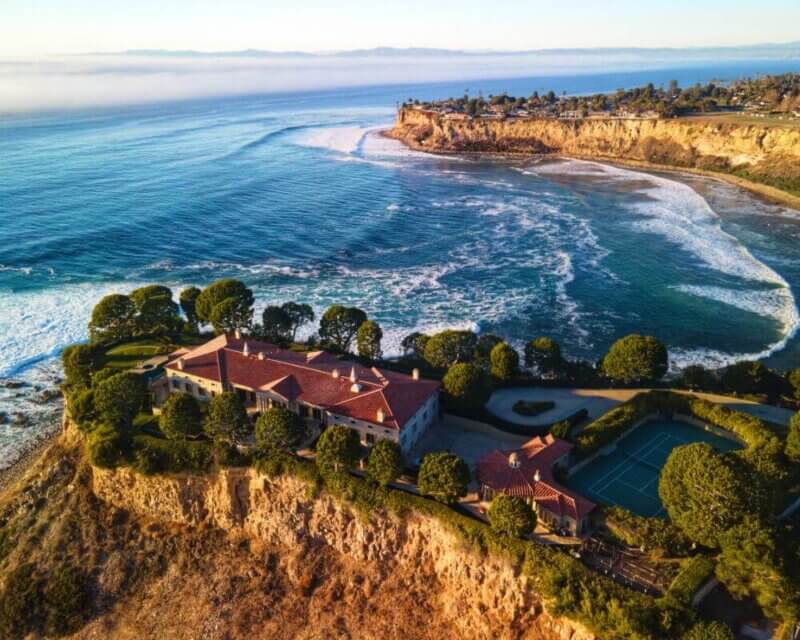 One of the best activities is to simply hike along one of the many paths across the peninsula such as the ones that start at Del Cerro Park that have absolutely stunning panoramic views!
Or, pick a path that leads down to the beach where you can find rocky shorelines and tide pools to explore.
If you're looking for a relaxing place to lay out in the sun on a sandy beach, spend some time at Torrance Beach, located on the northwestern side of the peninsula.
No matter how you choose to spend your time in Palos Verdes, you will love exploring this hidden gem in Los Angeles County!
3. Disneyland Park
Recommended by Faith of 3TicketsPlease
It is hard to imagine a trip to Los Angeles that doesn't include some time at the "happiest place on earth." And at just over 30 miles from Los Angeles, Disneyland is a great day trip for young and old alike.
Since 1955, Disneyland Resort in Anaheim, California has transported its guests into the Disney movies of their childhood.
From Sleeping Beauty's castle and Star Wars Galaxy's Edge to Lightning McQueen's Radiator Spring, there is something for everyone on a day trip to Disneyland.
But be sure to plan a very long day if Disneyland is on your list.
The best way to take advantage of Disneyland is to arrive by rope drop, which means getting into the park about 45 minutes before it opens.
Definitely stay through the night shows, especially if you chose one of the nights where fireworks light the park and delight its guests.
Disneyland is an easy trip from Los Angeles by car, shuttle, rideshare or public transit.
And while the tickets are certainly not inexpensive, there are certainly ways to plan your day trip to Disneyland on a budget.
Because no one on a trip to Los Angeles should miss out on a day with a bit of Disney magic.
4. Laguna Beach
Recommended by Megan of Bobo & Chichi
One of the best day trips from Los Angeles is also one of the loveliest small beach towns in California, Laguna Beach.
This artist community and oceanside town not only has a gorgeous coastline filled with mansions perched on steep cliffs overlooking the beach, but also a charming downtown full of art galleries, shops, restaurants, and several incredible beaches.
Located 52 miles south of Los Angeles, expect the drive to take around an hour if you plan around rush hour and peak traffic times.
While you could easily spend a few days here beach hopping and enjoying all the hiking with views, you also want to make sure to spend some time downtown.
Use the free Laguna Beach trolley to get from the north to south ends of town too!
You won't want to miss the Top of the World hike, the Pirate's Tower at Victoria Beach, a walk through Heisler Park, and if you're visiting in the summer make sure you visit the annual Sawdust Festival.
Another summer activity to enjoy and plan around is the Pageant of the Masters where you can get tickets to a one-of-a-kind event in an outdoor amphitheater.
The performance has people in makeup and costumes recreating famous artworks from classical to contemporary art!
5. Joshua Tree National Park
Recommended by Christine of Live Love Run Travel
If you are looking for the best day trips from Los Angeles, consider taking a day trip to Joshua Tree National Park.
Depending on LA traffic, it should only take about two hours to drive the 150 miles to Joshua Tree.
If you leave early in the morning, you can still see most of the top things to do in Joshua Tree.
For example, start your day driving along Park Boulevard from the West Entrance and seeing all of the famous namesake trees.
Then head to White Tank Campground to hike to Arch Rock.
You can also hike to Skull Rock or just see it from the road as you drive by.
If you want to get off-road and still see more of the Joshua Trees, a drive down Queen Valley Road is a must.
Looking for a longer hike to get your steps in?
Consider a hike to Barker Dam to stretch your legs.
End your day at the Cholla Cactus Garden. Try to be there closer to sunset as the cactus light up when the sun is lower in the sky and look almost like they are glowing.
Afterward, you can start your drive back to Los Angeles.
6. Malibu
Recommended by Catrina of 24 Hours Layover
Located 48 km west of Los Angeles, Malibu makes for one of the best day trips from LA!
Not only that, but it's incredibly convenient to get there.
You can either drive to Malibu or take the bus from LA.
Parking in Malibu is expensive so the bus is a great option – plus it's really cheap ($1.75!). The bus number is 534 and it takes you from Santa Monica Pier to Malibu in 45 minutes.
Buses run from 6:45 am until 8:00 pm roughly every 40 minutes so you can spend a whole day here – just use your TAP card or cash and admire the coastal views the whole way!
Malibu has some of the best beaches in California so a day trip to Malibu is best spent enjoying the beaches.
Check out the long and wide Zuma Beach where you can rent a surfboard and hit the waves and El Matador Beach – a small, secluded beach known for its impressive rock formations.
You can also visit the Leo Carrillo Sea Cave at low tide – one of the best photo spots in Malibu! And head to Malibu Lagoon Beach to visit Malibu Pier at sunset – you definitely don't want to miss that!
7. Santa Barbara
Recommended by Nick of The World Overload
Santa Barbara is that perfect getaway from the city life of Los Angeles. Here you can just sit back and enjoy the ocean breeze and relaxed lifestyle the city is commonly known for.
It's easy to get there from L.A., taking a little over two hours by car and is a straight shot west on the 101 freeway. Once you are out of the immediate city it's quite a relaxing drive.
Arriving in the city, you will find plenty of things to do here that will be fun and exciting.
At Stearns Wharf, for example, you can enjoy watching the many fishing boats coming in and out as you walk along the boardwalk and pier.
Once you head deeper into downtown Santa Barbara you can go to the Museum of Natural History or Museum of Art.
Both locations have many exciting exhibits with new galleries for you to explore during your day here. If you prefer a more outdoor location the botanical garden is beautiful.
Whatever you decide to do, Santa Barbara is a great city to spend time in.
The whole atmosphere will want you to come back more and more for a relaxing staycation or on your travels through California.
Tours you might find interesting:
8. Long Beach
Recommended by Rasika of Bae Area And Beyond
Long Beach is another one of many great day trips from Los Angeles and it's just a short drive away.
It is also one of the most underrated cities in California, with a beautiful waterfront, tons of great restaurants and bars, and some awesome art institutions.
Long Beach is about 20 miles south of downtown LA, so it will take you about 30 minutes to an hour (depending on traffic) by car to get there.
You can also take public transit such as Long Beach Transit or Metro A Line (Blue), but it will take longer than driving.
There are so many things to do in Long Beach that you can spend from a day to a week in this city.
For example, visit the Queen Mary, a retired ocean liner that has been turned into a hotel and tourist attraction.
You can book a walking tour of its interior rooms or even stay overnight in one of its cabins if you want to experience it for yourself.
Before you head back to LA, grab a snack at a food truck. Long Beach has more than 60 different food trucks that make up its mobile restaurant scene.
9. Death Valley
Recommended by Sam of Find Love & Travel
If you want a break from the city life of LA, consider taking a day trip to Death Valley!
Death Valley National Park is one of California's most unique landmarks and offers incredible natural scenery.
Founded as a National Park in 1994, Death Valley is the largest US National park, the hottest and driest!
Death Valley has three entrances; however, when coming from LA, your best route will be the Route 190 entrance. It takes about three and a half hours to get there, so it is suggested to start your day early.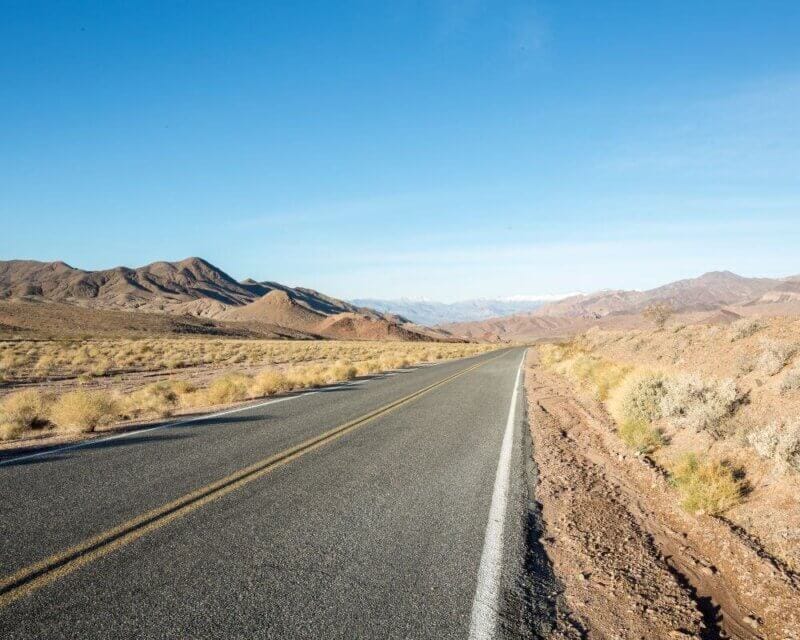 You can spend as little as one day in Death Valley and see some of the best attractions this National Park has to offer!
Start your journey at Mesquite Sand Dunes, which are spectacular. Then make stops at Zabriske Point, Devils Golf Course, Artist Palette, and the famous Badwater Basin Salt Flats.
If you are feeling up to it, there are several hiking trails to explore as well.
You can spend the night in Death Valley before heading back to Los Angeles or just drive back that night.
If you do decide to stay the night, Death Valley is also known to be incredible for star gazing!
Tours you might find interesting:
10. Catalina Island
Recommended by JJ Haglund of The Minivan Bucket List
One of the best day trips from Los Angeles is an island that looks more like something you'd see along the Amalfi Coast of Italy than something you'd expect to find in Los Angeles.
But that's exactly what you'll experience on Catalina Island.
To get there, just head to Long Beach and hop on the Catalina Express ferry.
Tickets cost $77 for adults and $61.50 for kids.
The ferry drops you in the town of Avalon, a charming seaside town with lots of quaint little shops and delicious restaurants all within walking distance of the ferry terminal.
There's a surprising variety of things to do on the island, whether you want to relax on the beach, go paddleboarding or sailing in the harbor, or try snorkeling or diving.
Part of the charm of the island is that the main mode of transportation is by golf cart.
You won't be able to rent a car, so plan on walking or renting a bike or golf cart, even if it's just to take a quick self-guided tour around Avalon and up to some scenic viewpoints.
Make sure to add Catalina Island to your California Bucket List!
11. Solvang
Recommended by Dhara of Roadtripping California
Solvang is one of the best day trips from Los Angeles you can take.
The charming Santa Ynez Valley town is known for its Danish architecture and vibrant little downtown.
Driving is the best way to get to Solvang from LA. In normal traffic, the drive takes about two hours and 10 minutes. Since LA traffic can slow you down, start early to maximize your time in Solvang.
Strolling the streets of downtown is one of the best things to do in Solvang.
Browse the many souvenir stores, admire the pretty architecture and don't forget to snap photos of the windmills!
Solvang is known for its many Danish bakeries, so if you have a sweet tooth, you'll want to step into some of them to sample the many pastries on offer.
Wine lovers will like the many tasting rooms in downtown Solvang, and foodies can enjoy many types of cuisine, including Danish.
If you like, you can also drive the back roads of the picturesque Santa Ynez Valley before you head home.
12. Palm Springs
Recommended by Jessica of Uprooted Traveler
Palm Springs is the perfect day trip from Los Angeles, just a two-hour drive east of the city.
Palm Springs was once the go-to getaway for the Hollywood elite, like Marilyn Monroe or Elizabeth Taylor.
The city maintains much of its vintage glamour; consider booking a walking tour to stroll around and view the mid-century modern design of Frank Sinatra's house or where Elvis and Priscilla honeymooned.
Beyond its architecture, there are plenty of antique and thrift stores with fabulous home furnishings and clothing from the '50s and '60s to browse around in the city's downtown area.
Alternatively, Palm Springs offers stunning desert scenery, surrounded seemingly on all sides by mountains.
Enjoy the great outdoors here by exploring the trails at Indian Canyons park, where you can find greenery and literally an oasis in the middle of the barren desert landscape.
There's plenty to keep you busy in Palm Springs, so if you're visiting as a day trip, you should plan on visiting for a full day to make the most of the four-hour round-trip drive.
If you can swing it, Palm Springs would be the perfect place to stay for a long weekend!
Tours you might find interesting:
13. Six Flags Magic Mountain
Recommended by Caleb of The Pazook Travel Journal
Six Flags Magic Moutain is one of the top-rated Six Flags locations in America, and it is an easy day trip from Los Angeles.
Most people need six to eight hours to see and do everything in the amusement park.
It is filled with thrilling roller coasters (such as Twisted Colossus, X2, and Full Throttle) and comic-themed rides (Lex Luther: Drop of Doom, The Riddler's Revenge, and Wonder Woman: Flight of Courage) so you won't get bored.
In addition to the rides and roller coasters, you can also enjoy a variety of games, shows, and dining options.
The best way to get from Los Angelos to Magic Mountain is by driving your personal car. It is 35 miles from the city center and takes about one hour by car (depending on traffic).
If you don't have a car, the best way to take this day trip is on the MetroLink (Antelope Valley Line).
The train from L.A. Union Station to Newhall costs $14 per person, and once travelers arrive in Newhall, it is a short 15-minute taxi to the park entrance!
This is a perfect day trip from Los Angelos for adventure enthusiasts and thrill-seekers!
14. Mission San Juan Capistrano
Recommended by Noel of Travel Photo Discovery
An easy day trip outside of LA and Southern California is Mission San Juan Capistrano, one of the most iconic missions and beautiful gardens in the mission trail.
Mission San Juan Capistrano is better known as the mission where every year, cliff swallows return to their immigration route to Argentina which is over 6,000 miles to the south.
The mission is named after Saint John of Capistrano and was founded in November 1776.
Its main mission was to persuade settlers and the indigenous Acjechemen Indians to believe in the Catholic religion and give up their beliefs and most of their own culture and traditions.
The mission also brought a lot of innovation, technology and ideas to farming, ranching and being self-sustaining in the California landscape while also trying to spread Christianity in this new territory.
Nowadays over 300,000 visitors come to visit the mission to learn more about the lifestyle, history and gorgeous gardens of this spectacular area and mission.
15. Ventura
Recommended by Laura of Go Travel California
Ventura, California, is an unexpected gem on the California coast, just an hour and a half north of Los Angeles.
With its stunning uncrowded beach, charming Main Street, and craft breweries, Ventura is an ideal day trip from LA.
To get to Ventura, you can take in the dramatic scenery along Route 1, which hugs the coastline, or you can take the slightly faster route along Highway 101.
Spend some time on the beach near the oldest pier in California.
Grab a beer from MadeWest and some tacos from Beach House Tacos, then walk to the pedestrian-only Main Street where you'll find dozens of boutique shops, thrift stores, antiques, great restaurants, breweries, cocktail spots, and coffee shops.
San Buenaventura Mission is a must-see spot, as are the more than 11 craft breweries that you can visit, such as Topa Topa Brewing Company, Seaward Brewing, and Rincon Brewing.
You might also visit Channel Islands National Park where you can rent a pontoon boat and float around the harbor.
16. Channel Islands National Park
Recommended by Cassie of Cassie's Compass
Channel Islands National Park is on the longer side of day trips from Los Angeles, but it is still doable if you plan correctly.
The only way to get to the islands is from the port in Ventura, which is one hour north of LA.
Although the islands themselves are only 80 miles from Los Angeles, it will take about four hours in total to reach them because you must catch the ferry.
Channel Islands National Park consists of five different islands.
Anacapa is the closest and smallest and is the easiest island to day trip.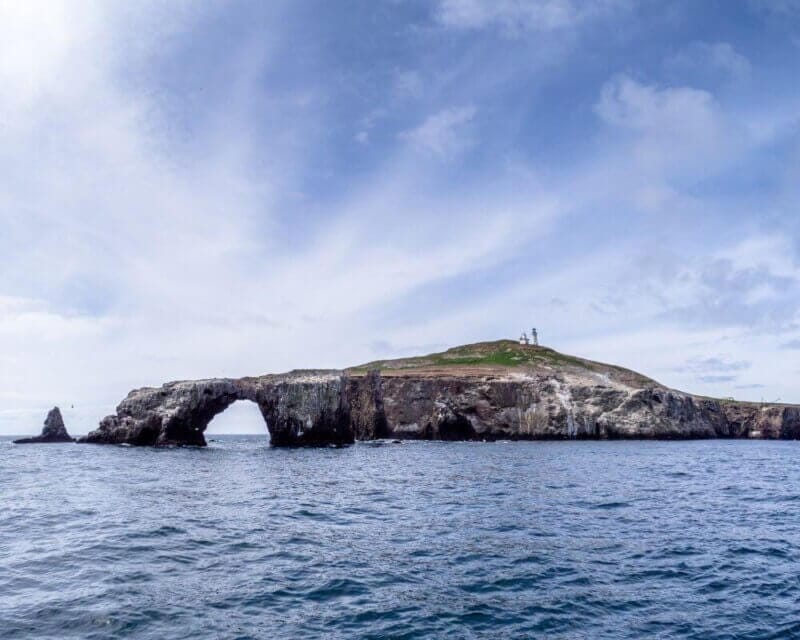 Wake up early to get to Ventura and catch the first ferry to Anacapa. Spend the day exploring Anacapa Island, then head back on the late afternoon ferry to make it back to Ventura.
If you do have more time, take a weekend trip and camp on Santa Cruz or San Miguel Island.
Aside from a small bathroom, there are no amenities on any of the islands, so be sure to pack in and pack out everything you need.
If you are looking for a unique and remote escape from LA, the Channel Islands are worth a visit.
17. Balboa Island
Recommended by Melissa of Los Angeles Traveler
One of the most classic day trips from Los Angeles is a visit to the seaside hamlet of Balboa Island.
Though it's just over an hour away (depending on traffic), you may feel like you've been transported to New England – with some California flair.
Park your car and enjoy a stroll through the shops along Marine Avenue, and of course, don't forget to stop for an iconic frozen banana!
You'll also want to walk at least part way around the tiny island's perimeter, with gorgeous cottages and beach houses on one side and docks on the other.
It's the perfect place to bask in the SoCal sunshine.
To complete your day, drive around to the Balboa Peninsula – or for a unique experience, take the Balboa Island ferry across!
The wide, sandy stretch of Balboa Beach is a great option among beaches in the region though the water is chilly outside of August and September (and even those months aren't especially warm).
There's plenty to explore along the peninsula, from the Balboa Pier to whale-watching expeditions.
Tours you might find interesting:
---
Like it? Pin it!
---
Do you want to travel like me?
Here are some of my favorite travel tips and resources:
Flights: I prefer using CheapOair or Skyscanner to book flights. The destination everywhere feature is perfect for finding some cheap deals!

Accommodation: Booking.com is my favorite site to find some great hotel deals. I do love staying at a local place as well, thus I book an Airbnb every now and then.

Travel Insurance: There are many reasons why travel insurance is important and I never travel without having one. I use the simple and flexible one from World Nomads to be protected against unforeseen events.

Tours: I love taking tours to explore destinations like a local. My favorite website to book them in advance is GetYourGuide.

Camera Gear: I use a Nikon D5300 camera with an 18-105 mm and a 10-20 mm wide-angle lens to take my photos.