How to Spend One Relaxed Day in San Diego, California
Maybe you know this scenario: You travel somewhere and have limited time so you end up rushing from one place to another, trying to tick off as much as possible from your list.
In this case, you get to see a lot, however, it can easily happen that you don't really enjoy your trip at all.
At least that's how it often is in my case.
When my sister and I visited Los Angeles a couple of years ago, we decided to also plan a day trip to San Diego.
Of course, we knew that one day in San Diego would never be enough to really get to know the city. We didn't even have a real plan of what we wanted to see and do exactly.
In the end, it turned out to be a truly nice, relaxed day trip from Los Angeles, yet we saw and did a lot – completely without all the stress and hecticness.
The following itinerary for one day in San Diego is for all those, who want to have a fun time and still get a small overview of the city.
Depending on your preferences and/or the weather, you can easily adjust it to your needs.
Most important: Don't stress yourself too much and enjoy your short time in America's Finest City!
(This post contains affiliate links, which means I receive a certain percentage of a sale if you purchase after clicking.)
Visit The Wonderful Balboa Park
The first place I recommend visiting is the almost 5 km² large Balboa Park.
This urban park is home to 17 different museums, arts venues and plenty of other cultural institutions.
Yes, there is so much to discover, that you could easily spend the entire day just here! If not several days to check out every single museum.
But, time is limited and you want to see more of San Diego than just the park, right? 😉
There's for sure one or two museums you find interesting or what about a casual stroll through Alcazar Garden or Palm Canyon when the weather is sunny?
They even offer a 60-90 minute tour including all the highlights visitors should see in the park and if you're looking for even more fun, try the 3-hour scavenger hunt tour.
Being part of such a tour is definitely among the best date ideas in San Diego!
You may even want to attend an event if one takes place at the time you're here. Lively musicals, magic ballet shows or weekly concerts are just some of the several performances happening on a regular basis.
Explore Some of San Diego's Lovely Neighborhoods
Just like most other major cities, San Diego consists of many different communities and neighborhoods.
Downtown alone is a collection of seven districts of which you should see at least 1-2 during your stay.
Gaslamp Quarter
The first and for sure the one you can't miss on one day in San Diego is the historic Gaslamp Quarter.
It's an exciting neighborhood offering hip places to eat, drink and just sit back and relax with a good cup of coffee.
Start your visit to this area at its southern end where you'll find Gaslamp Square, a brick-paved plaza with trees planted along its way.
Other places to check out include the Federal Government Parks, Martin Luther King Jr. Promenade and Horton Plaza. The latter is a wonderful park featuring a fountain, brick walkways and lovely gardens.
To make sure you won't miss any of these places, you can join a guided San Diego walking tour. It's also one of the best things to do when you're alone in San Diego!
Gaslamp Quarter is also known as the heart and soul of downtown San Diego since it's the place where there's always something going on.
Thanks to the numerous entertainment options such as traditional bars, rooftop bars, clubs and more, it never gets boring!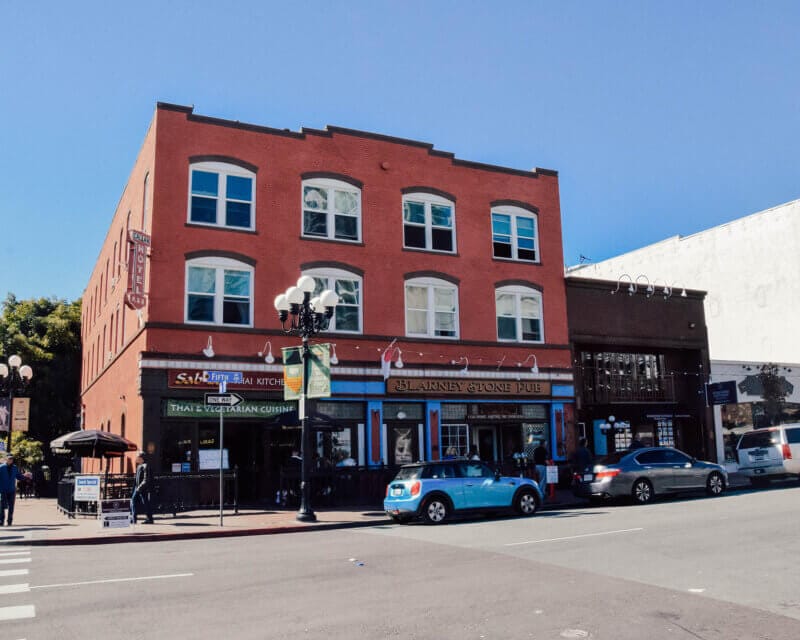 Little Italy
Another great neighborhood to explore is located in the northern part of downtown San Diego.
Once home to generations of Italian families, Little Italy is now a bustling urban district and popular with young and old.
Lovely Italian patio cafés and restaurants take you into the culinary world of Italy. Try locally brewed beer and ales in some of the shops & tasting rooms or if you prefer wine you can do wine tasting in a bunch of wine shops.
Right in the center of Little Italy is the famous Piazza della Famiglia. This European-style piazza is the heart of the neighborhood and a central gathering point.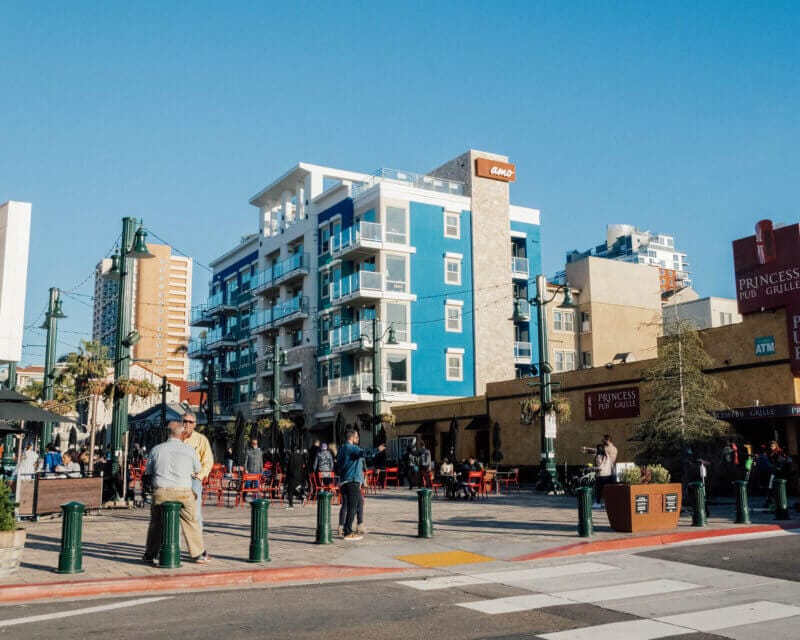 If you happen to visit San Diego on a Saturday or Wednesday, make sure to check out Little Italy Mercato Farmer's Market nearby.
Here you can savor the flavors of Italy at more than 150 market stalls.
Spend Some Time at The Harbor & Seaport Village
Last but not least, finish your exciting day trip to San Diego with a casual walk along the harbor and don't miss visiting the lovely Seaport Village.
Seaport Village is a wonderful waterfront shopping area and dining complex right at the city's bay. Besides shops, restaurants and cafés, this Spanish-style village features shaded courtyards, tiled fountains and even a small pond.
Make sure to visit a couple of quirky stores where you can rummage through old American books, or typical souvenirs such as magnets, t-shirts and hats.
Trust me, you won't leave empty-handed because every store has some unexpected delights that you can't resist!
There are even more activities to find along San Diego's waterfront area such as the USS Midway Museum or the Maritime Museum of San Diego.
If these places don't interest you, what about renting a bike or e-scooter and jetting along the beautiful promenade?
Tours you might find interesting:
Just make sure to stop for a moment to experience a stunning sunset over the harbor and watch the setting sun bathe the city in soft, orange light.
Can you imagine a better ending for one perfect day in San Diego?
---
Like it? Pin it!
---
Do you want to travel like me?
Here are some of my favorite travel tips and resources:
Flights: I prefer using CheapOair or Skyscanner to book flights. The destination everywhere feature is perfect for finding some cheap deals!

Accommodation: Booking.com is my favorite site to find some great hotel deals. I do love staying at a local place as well, thus I book an Airbnb every now and then.

Travel Insurance: There are many reasons why travel insurance is important and I never travel without having one. I use the simple and flexible one from World Nomads to be protected against unforeseen events.

Tours: I love taking tours to explore destinations like a local. My favorite website to book them in advance is GetYourGuide.

Camera Gear: I use a Nikon D5300 camera with an 18-105 mm and a 10-20 mm wide-angle lens to take my photos.