150 Best Sunset Quotes – The Ultimate Collection
Different Sunset Captions & Quotes to Rock Your Instagram Post!
Watching the sun disappear behind the horizon while turning the sky into a mix of pink, orange or red colors is definitely my favorite way to end the day. Not only on my travels!
Whether it's from the top of a skyscraper in Chicago, from a white sandy beach in Zanzibar, while sitting in a plane or just from the window of my apartment – sunsets always have something magical.
If you're a sunset lover like I am, maybe you know the struggle of finding the perfect sunset caption for your breathtaking sunset pic to post on Instagram. Well, welcome to the club!
Imagine you just returned from your unforgettable trip to Venice where you took this amazing sunset photo from Rialto Bridge. But now there just doesn't seem to be a single sunset quote that does justice to the picture.
Don't worry, in this post, I collected all the best sunset captions for Instagram including the most popular sunset quotes, romantic sunset captions, short sunset puns and many more.
So, here we go!
(This post contains affiliate links, which means I receive a certain percentage of a sale if you purchase after clicking.)
🤩 15 Most Popular Sunset Quotes & Captions
"Follow the sun wherever it leads."

– Unknown
"The trouble with sunsets is that they have to end."

– Unknown
"Nature is painting for us, day after day, pictures of infinite beauty if only we have the eyes to see them."

– John Ruskin
"No sun outlasts its sunset, but will rise again and bring the dawn."

– Maya Angelou
"Stop. Be still. And watch as the sunset paints the sky with its magic."

– Unknown
"Every sunset is also a sunrise; it all depends on where you stand."

– Karl Schmidt
"When the sun dips below the horizon, something in my soul awakens."

– Unknown
"Sunsets are so beautiful that they almost seem as if we were looking through the gates of Heaven."

– John Lubbock
"One thing's for sure. I need more sunsets in my life."

– Unknown
"Clouds come floating into my life, no longer to carry rain or usher storm, but to add colour to my sunset sky."

– Rabindranath Tagore
"You have to travel far and wide to see a lot of the world's wonders, but sunsets can be appreciated in every corner of the earth."

– Kimmie Conner
"People are just as wonderful as sunsets if you let them be. When I look at a sunset, I don't find myself saying, "Soften the orange a bit on the right hand corner." I don't try to control a sunset. I watch with awe as it unfolds."

– Carl Rogers
"We wanderers, ever seeking the lonelier way, begin no day where we have ended another day; and no sunrise finds us where sunset left us."

– Kahlil Gibran
"Age is irrelevant. Ask me how many sunsets I've seen, hearts I've loved, trips I've taken, or concerts I've been to. That's how old I am."

– Joelle
"Every moment of life is unique – a kiss, a sunset, a dance, a joke. None will ever recur in quite the same way. Each happens only once in the history of the universe."

– Stephen Nachmanovitch
👌 15 Short Sunset Captions For Instagram
Pure magic.
Sunset vibes and happy times.
Sunsets are like God's paintings in the sky.
A sunset that good doesn't need a filter.
The sun's saying goodnight again.
I never met a sunset I didn't like.
The only sunsets I don't like are the ones I miss.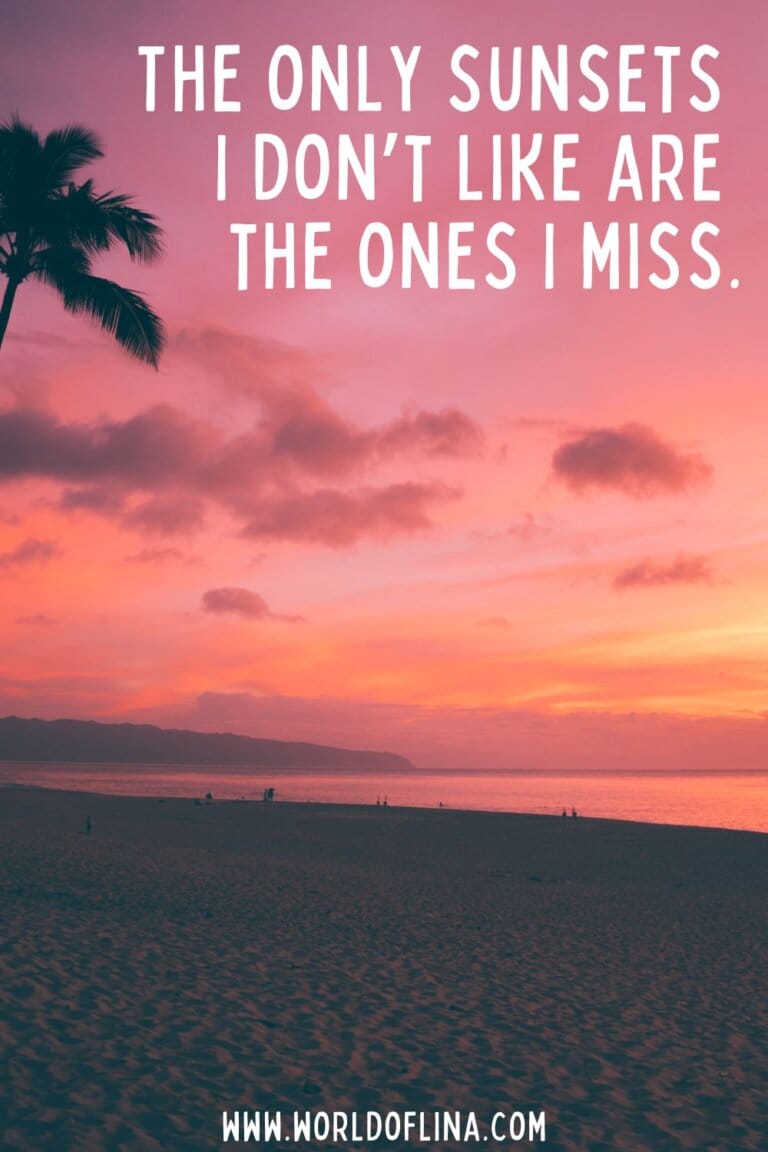 I was born to explore, have adventures, and watch sunsets!
Golden hour is my happy hour.
A promise of a new tomorrow.
A mind-boggling, awe-inspiring, spine-tingling sunset.
Even the most beautiful days eventually have their sunsets.
Proof that few things in life are as beautiful as a setting sun.
The sun goes down. The moon comes up. And life goes on.
If you can look at the sunset and smile, then you still have hope.
👍 10 Short Sunset Quotes
"Sunset is the opening music of the night."

– Mehmet Murat Ildan
"Every sunset brings the promise of a new dawn."

– Ralph Waldo Emerson
"The horizon changes but the sun does not."

– Joyce Rachelle
"Never go too long without watching a sunset."

– Atticus
"When the sun has set, no candle can replace it."

– George R.R. Martin
"Sunsets are loved because they vanish."

– Ray Bradbury
"A sunset is the sun's fiery kiss to the night."

– Crystal Woods
"Softly the evening came with the sunset."

– Henry Wadsworth Longfellow
"My joy is the golden sunset giving thanks for another day."

– Jonathan Lockwood
"A sunset will color your dreams."

– Anthony Hincks
❤️ 25 Romantic Sunset Captions For Instagram
Color-soaked skies and you at my side. Paradise.
You add colors to my sunset sky.
Kiss me like the glistening red sun kisses the sky.
A perfect end to a perfect day with a perfect you.
Your smile is like a sunset. One look at you and my walls go down.
I live for these golden evenings with you.
In this moment the sun wasn't shining on us. It was shining in us.
All that beauty, but I can't stop looking at you.
I want to see a whole world of different color-soaked skies with you.
The most beautiful sunsets are the ones we share.
Sunsets and soulmates.
This, right here, with you, is all I could ever need.
I love you to the sunset and back.
I want to spend the rest of my sunsets with you.
Live by the sun. Love by the moon.
The sun's going down now, but my love for you burns brighter than ever.
Here's to a lifetime of golden sunsets spent together.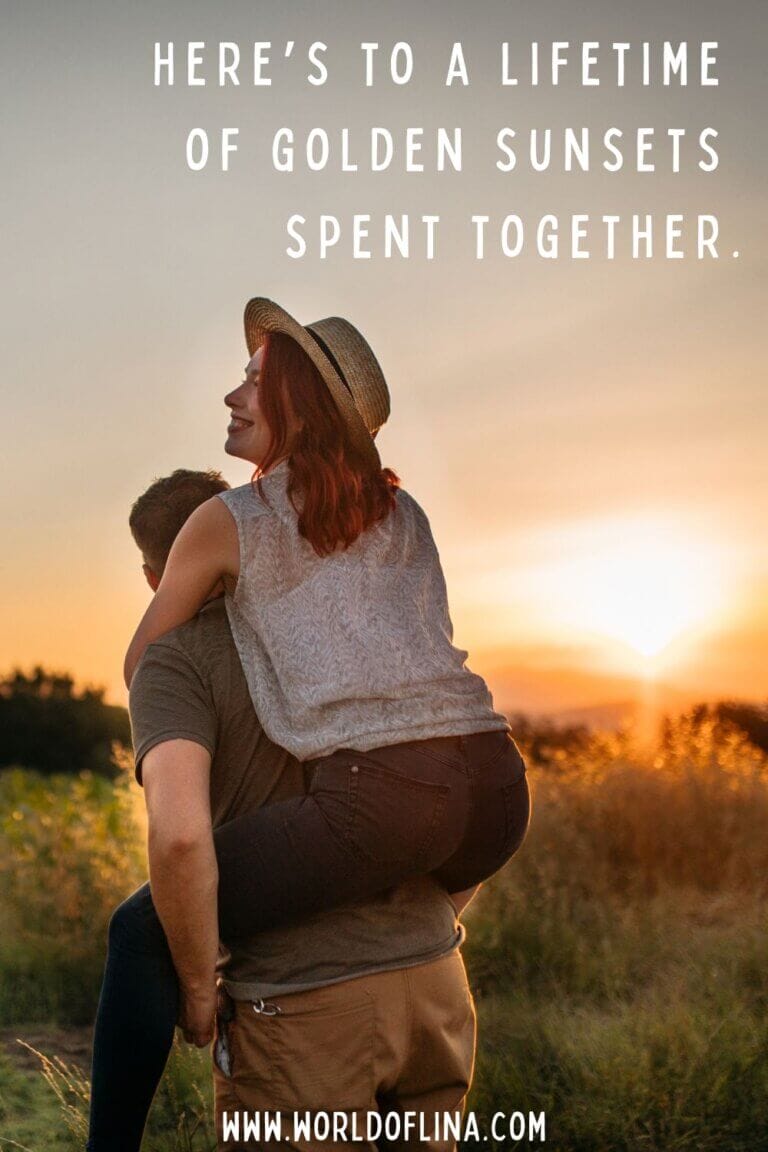 All you need is love and sunsets.
Toes tingle in the sand. Eyes glint under golden skies. And I know I love you.
I love spending every sunset right next to you.
Loving the sunset. Loving life. Loving you.
A view of the ocean, mountains, and the sunset. But yet, he was still looking at me.
I just need you and some sunsets.
I live for sunsets with you.
A magical, mesmerizing, mind-bending moment made better by having you at my side.
💋 15 Sunset Quotes For Couples
"The sky has changed from orange to a hundred shades of pink to a dark navy blue, and here I am still loving you."

– A.Y.
"The sun loves the moon so much that he dies every night to let her breathe."

– Jeffrey Fry
"In ten minutes things could look so different, like the color of a sunset and the world after meeting you."

– Unknown
"Some days, a beautiful sunset with your best friend can be one of the most peaceful and relaxing mediations of the day."

– Charles Schulz
"She was a sunset type of girl and he was a sunrise kind of guy. They lived on opposite ends of the day but together made up a whole sky."

– Unknown
"The first stab of love is like a sunset, a blaze of color — oranges, pearly pinks, vibrant purples."

– Anna Godbersen
"I want to see how sunset decorates your hair."

– Tyler Knott Gregson
"Someday, you will find the one who will watch every sunrise with you until the sunset of your life."

– Unknown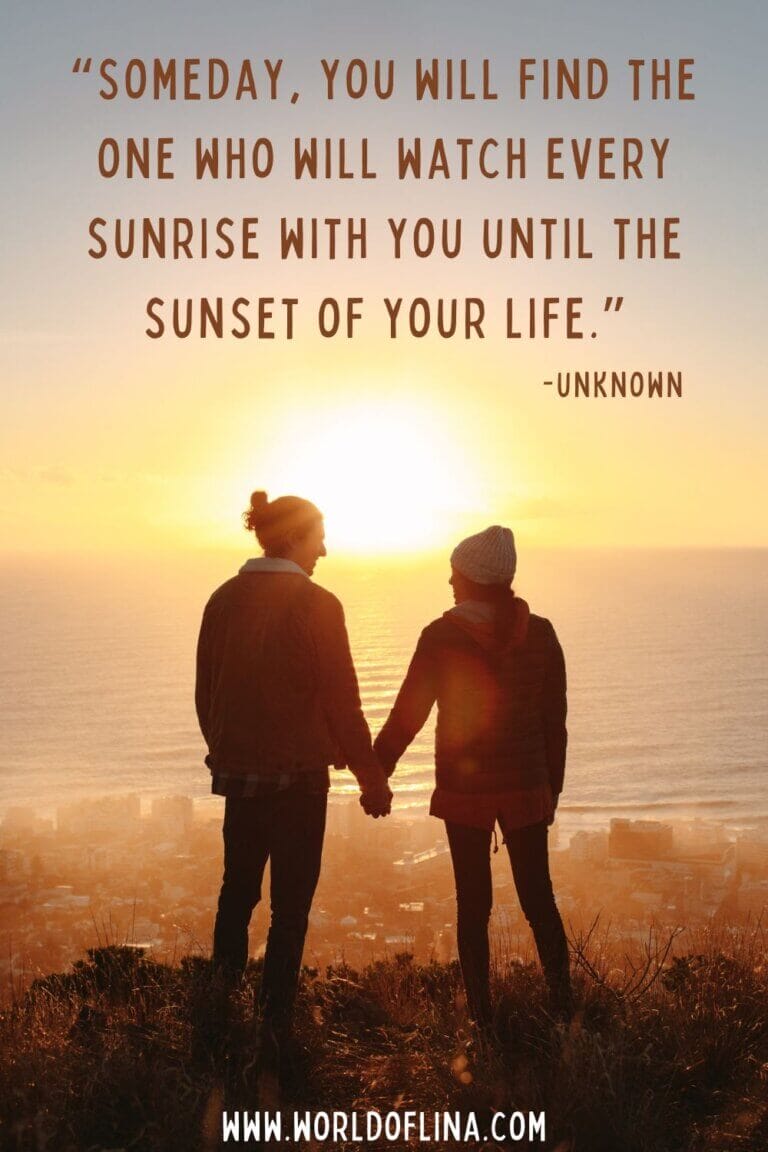 "All I ever wanted was to dream another sunset with you."

– Mayday Parade
"Weddings like golden hours. The romance of the moment. Marriage is the sea in which the red sun sets."

– Unknown
"As angry as the sky looks, it's still full of the colors of love."

– Anthony Hincks
"She was in love with the sunset. No one else ever even stood a chance."

– Unknown
"Pour me a sunset, kill the night, and I promise to drink with you forever."

– William C. Hannan
"The sun still lives his silent vows to the moon, by bowing to kiss her feet whenever she walks in the room."

– Curtis Tyrone Jones
"Whenever you want to see me, always look at the sunset; I will be there"

– Grace Ogot
😁 20 Funny Sunset Quotes
Watch the Sunset. Not Netflix.
Erm…okay, so who painted the sky?
I think this might be…Nope, yep- that's definitely it. That, right there, is paradise.
Fifty shades of…red, orange, pink, and purple?
When the sky turns pink, it's time for a drink.
Sunset is about the only thing I can afford to watch right now.
Am I dreaming? Or is the sun really setting fire to the sky right now?
Shout out to Mother Nature for putting on a show tonight.
Sunset is about the only thing I can afford to watch right now.
Keep calm and find pink skies.
Golden hour is my happy hour.
I thought watching a sunset would help but it left me more in the dark.
You don't need a beautiful sunset to be inspired, just Photoshop
Your chances of catching the sunset tonight are pretty dim.
"If I could lick the sunset, I'll bet it would taste like Neapolitan ice cream."

– Jarod Kintz
"Sometimes, the sunset is so beautiful that I think it might be the very last one."

– Nitya Prakash
"Not everyone has to ride off into the sunset with a man. Some of us just want a tan."

– Many Hale
"Perfect happiness is a beautiful sunset…Not the grand events. Joy comes in sips, not gulps."

– Sharon Draper
"Today I saw a red and yellow sunset and thought, how insignificant I am! Of course, I thought that yesterday too, and it rained."

– Woody Allen
"It's that time between day and night when the sky looks like it's on fire and mosquitoes are on the hunt."

– Angie Thomas
😂 15 Hilarious Sunset Puns For Instagram
The sun set sun-denly.
I tried to see the sunset but there was dusk in my eyes.
That crazy little sun of a beach.
Sun of a beach that's a nice sunset!
After the sunset I stayed up all night to think, and then it dawned on me.
Sunset at the beach- a time to shell-abrate like none other.
Sunsets and my sol-mates.
Sunset-tional
Race to the sunset? Bet I'll beach you there.
I wanted to see the sunset, but I mist it.
Life's a beach. Sunsets make it better.
Sundown is my kind of meltdown.
Girls just wanna have sun.
This sunset stole a pizza our hearts.
Shell-abrate good times and tan lines
👙 15 Sunset Beach Quotes & Captions
Sunset beers, beach-side cheers, and dreamy days.
Sunsets and oceans. It's what I do.
Beach bums and setting suns.
Just watching sun-kissed waves drift the day away.
Watching the sun's final rays ride the waves into tomorrow.
A setting sun setting fire to the sea and sand.
Can anything beat a sun-kissed ocean?
Happiness is the sun setting over a beach.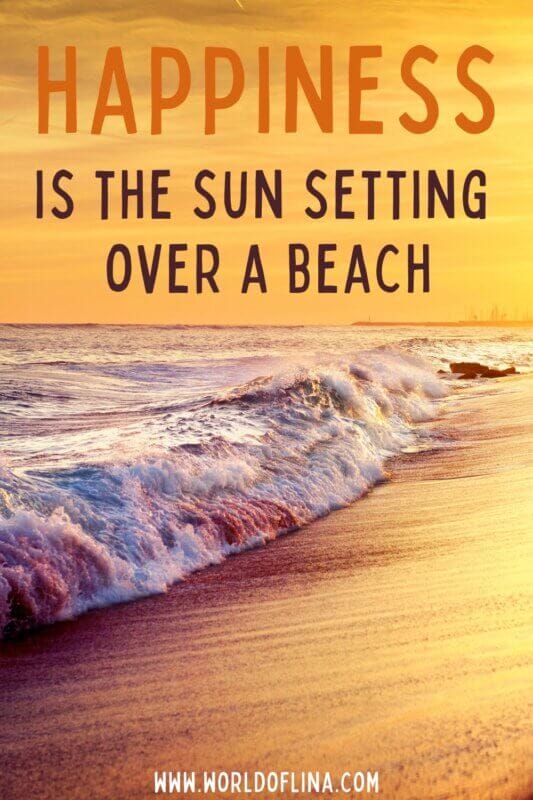 Dreams are made of sand and sunsets.
Let's go somewhere where the sun kisses the beach.
Sun kissing ocean. Beach touching bum.
"One day, all your worries will set like the sun does and deserved happiness will come gushing like waves at the beach do. All you need to make sure is that your trips to the beach never end."

– Jasleen Kaur Gumber
"The sun is setting in a burnt orange sky; the cliffs are black silhouettes; the sea, liquid silver."

– Laura Treacy Bentley
"Her heart was made of liquid sunsets."

– Virginia Woolf
"Sunset is so marvelous that even the sun itself watches it every day in the reflections of the infinite oceans."

– Mehmet Murat Ildan
✨ 10 Sunset Quotes About Life
"See the beauty of sunset to enjoy the passion of life."

– Debasish Mridha
"If you are in a beautiful place where you can enjoy sunrise and sunset, then you are living like a lord."

– Nathan Phillips
"We were made to enjoy music, to enjoy beautiful sunsets, to enjoy looking at the billows of the sea."

– Desmond Tutu
"I always say that the times in my life when I've been happiest are the times when I've seen, like, a sunset."

– Chris Evans
"Sunsets are my escape into the reality I want to continuously live."

– Rachel Roy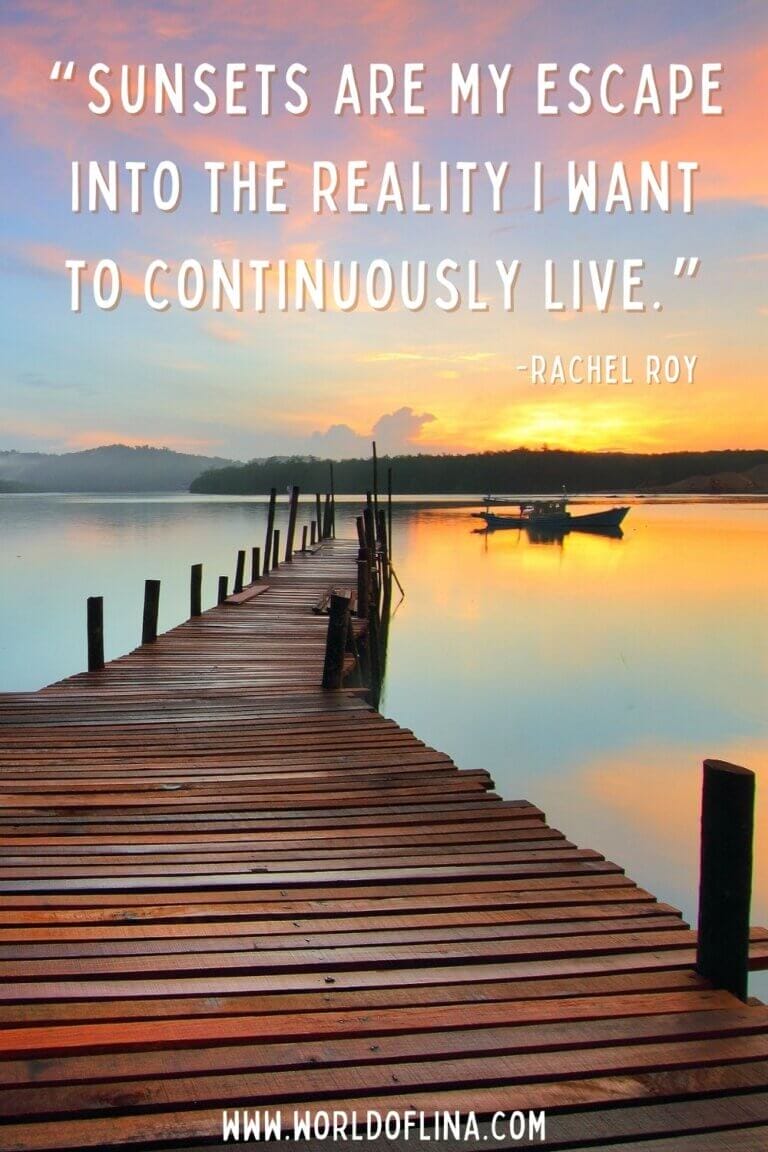 "Sunset shows that LIFE is too beautiful to hold on to the past so move on to the present."

– Jennifer Aquillo
"When your world moves too fast and you lose yourself in the chaos, introduce yourself to each color of the sunset."

– Christy Ann Martine
"Sunset on the water ought to be a quiet and easy time, but I guess some people can't stand a little silence."

– Carl Hiaasen
"As long as the sun does not set in your mind, darkness will be nothing but a weak shadow in your life!"

– Mehmet Murat Ildan
"If I can put one touch of rosy sunset into the life of any man or woman, I shall feel that I have worked with God."

– G.K. Chesterton
🥰 10 Inspirational Sunset Quotes For Instagram
"Every sunset is an opportunity to reset."

– Richie Norton
"Sunsets are proof that endings can often be beautiful too."

– Beau Taplin
"Watch the sunset. How does that make you feel? Does it make you feel big or tiny? Because there's something good about feeling both."

– Amy Grant
"Let the sea breeze blow your hair, let the sunset bring tranquillity to your heart, let the distant places you travel allow you to explore yourself."

– Somya Kedia
"Don't forget: beautiful sunsets need cloudy skies."

– Paulo Coelho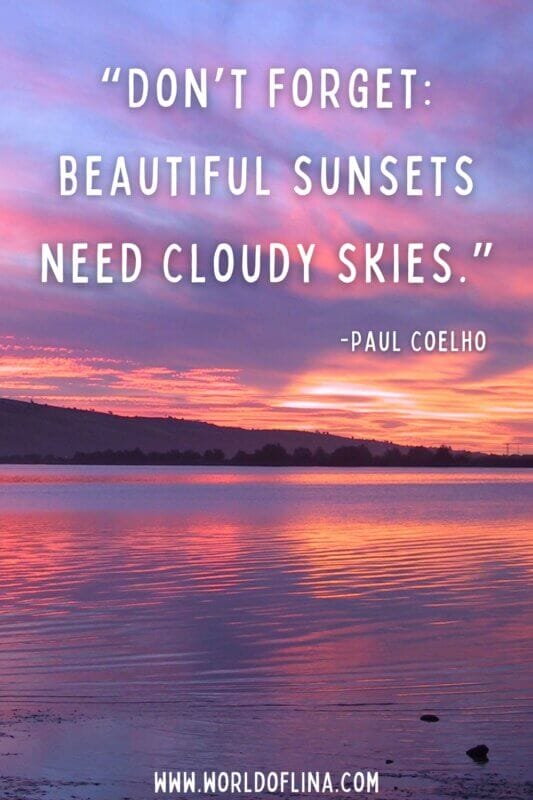 "There's too many things I haven't done yet. There's too many sunsets I haven't seen."

– Sara Bareilles
At every sunset, the sky is a different shade. No cloud is ever in the same place. Each day is a new masterpiece. A new wonder. A new memory."

– Sanober Khan
"The sky takes on shades of orange during sunrise and sunset, the colour that gives you hope that the sun will set only to rise again."

– Ram Charan
"The darkness that follows a sunset is never so dark that is can change the inevitability of a sunrise."

– Craig Lounsbrough
"I can count on my fingers the number of sunsets I have left, and I don't want to miss any of them."

– Suzanne Collins
That's a Wrap!
I really hope you enjoyed these 150 sunset captions for Instagram and found them as funny, uplifting and inspiring as I do.
It's a wonderful feeling to know there's always something beautiful at the end of every day and I hope these sunset quotes give you this special feeling!
I'm curious: What's your favorite one of all the sunset quotes listed above? Do you know some more I haven't featured here?
I would love to hear your opinion!
Check out:
– 50 Best Solo Travel Quotes
– 45 Best Travel With Friends Quotes
– 40 Romantic Couple Travel Quotes
---
Like it? Pin it!
---
Do you want to travel like me?
Here are some of my favorite travel tips and resources:
Flights: I prefer using CheapOair or Skyscanner to book flights. The destination everywhere feature is perfect for finding some cheap deals!

Accommodation: Booking.com is my favorite site to find some great hotel deals. I do love staying at a local place as well, thus I book an Airbnb every now and then.

Travel Insurance: There are many reasons why travel insurance is important and I never travel without having one. I use the simple and flexible one from World Nomads to be protected against unforeseen events.

Tours: I love taking tours to explore destinations like a local. My favorite website to book them in advance is GetYourGuide.

Camera Gear: I use a Nikon D5300 camera with an 18-105 mm and a 10-20 mm wide-angle lens to take my photos.