A Perfect Day Trip to Hallstatt & Gmunden
A week ago I did a day trip to Hallstatt and Gmunden.
I had an amazing time, even though it was my third time in Hallstatt.
The small town at the lake is one of the most famous places in Austria and it's really no wonder why. With its special charm and scenic landscape, it captivates me every single time I go there.
If you are traveling around Austria, Hallstatt is a place you definitely shouldn't miss. It's not really big and the amount of activities to do is limited but still, you can easily spend 3-4 hours there.
The best thing to do is to combine your day trip to Hallstatt with a short visit to the nearby and lesser-known city of Gmunden.
(This post contains affiliate links, which means I receive a certain percentage of a sale if you purchase after clicking.)
Before you can start planning your day in Hallstatt, it's important to know how to get there. Unlike many bigger cities such as Salzburg or Vienna, the small village is not that easy to reach.
How to Get to Hallstatt
Hallstatt is one of the best day trips from Salzburg because the city is very close. From there you can either take a bus or the train + a short ferry ride. Both ways take around 2.5 hours to reach the village.
I recommend using Omio to find the best connections.
The journey from Vienna takes much longer (around 4 hours by train) but it's still possible to go from there. Again, you can use Omio if you want to travel by public transport.
Another option is to rent a car. Not only will it give you more flexibility but it's also the best and easiest way to reach Gmunden if you want to go there as well.
You can rent a car in advance, for example, via rentalcars.com.
What to do on a Day Trip to Hallstatt
With a population of fewer than 800, Hallstatt is relatively small. Accordingly short is the walk from one side to the other.
But of course, you don't want to go to Hallstatt and only hustle straight through.
I promise, there's so much more you can do in this lovely town!
Stroll Along the Lakefront
Start exploring Hallstatt by taking a stroll along the beautiful lake promenade. I swear the village wouldn't even be half as stunning if there wasn't the lake with its surrounding mountains.
While walking, soak in the absolutely incredible, peaceful view and keep your eyes open. If you're lucky, you can spot some swans and ducks swimming on the lake.
There are also a couple of restaurants and cafés directly at the lake. Whether you're craving a hearty meal or just a good cup of coffee – I can assure you you'll get both!
Visit The Charnel Chapel & Cemetery
Apparently, Hallstatt is really special because although it's very small, the village has two churches.
One of these churches – the catholic parish church – plus the cemetery of Hallstatt can be found on a small hill above the center.
Besides the church and the cemetery, there's something else you should check out.
The charnel chapel (or "Bone House") is a small chapel right next to the church and is home to a pretty extraordinary tourist attraction.
Inside it, you can find more than 600 skulls (yes, real ones) and each of them is individually painted.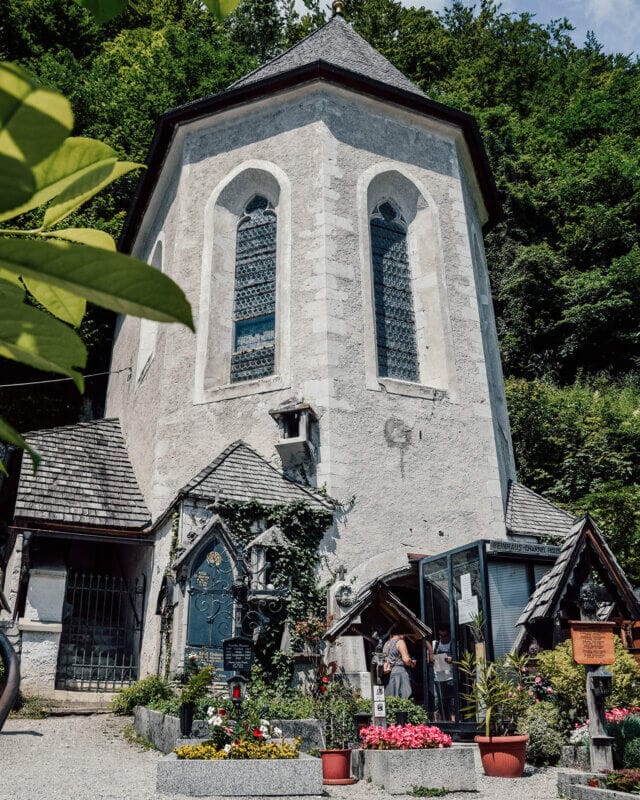 It's undoubtedly a bit macabre, but it's really interesting to see and learn more about the historical background behind it.
To enter the chapel, you need to pay a small entrance fee of €1.50 per person.
Click a Photo of The Most Iconic View
The majority of Hallstatt photos that you can find on the internet show the following perspective: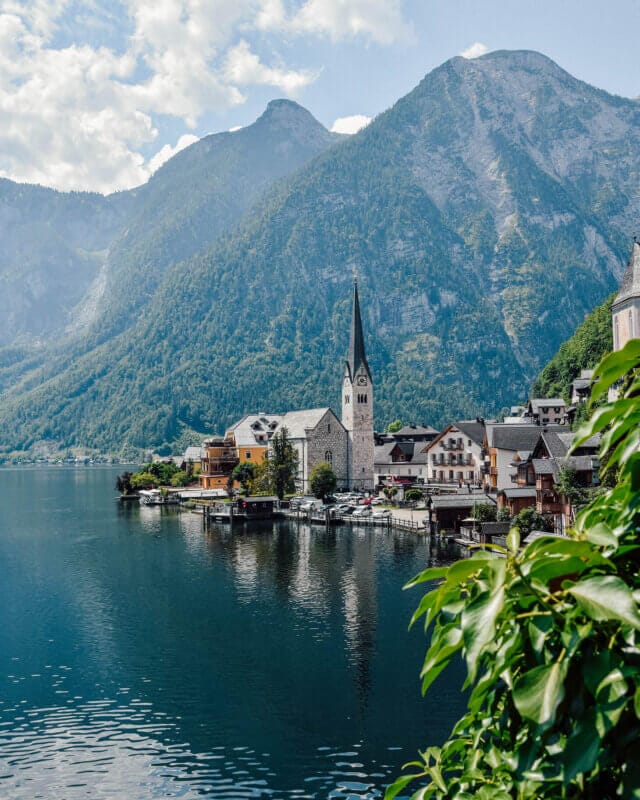 This is the most iconic view which pops up every time you google Hallstatt.
It's by far the best and most beautiful view of the lovely town and there's no complete day trip to Hallstatt without taking a photo from here! Just to have your very own one. 😉
To reach this viewpoint, simply follow the main road that leads through the village.
Explore The Gorgeous Market Square
Like almost every city or town, Hallstatt has its own central square. A fountain, cute cafés, restaurants with Austrian cuisine and gorgeous residential houses are some of the things you can find there.
Moreover, the most famous hotel – the Seehotel Grüner Baum – and some small souvenir shops are located there as well.
Speaking of souvenir shops, getting some traditional souvenirs is another thing you have to do on a day trip to Hallstatt!
Buy Some Traditional Souvenirs
Let me make something clear, buying Hallstatt air in cans is definitely not what I mean!
Now you probably wonder why the hell I'm talking about air – yes, just air – in cans but (not lying) there's a vending machine where you can buy that.
Just don't …
Rather get yourself something useful, for example, salt from the salt mines in Hallstatt. I can guarantee it's one of the most authentic and natural salts you've ever tried.
Besides salt, you can buy other things such as soaps from a soap factory right in Hallstatt, fruit liquor or traditional Austrian "Dirndl" dresses.
Take a Boat Ride (optional)
If you still have enough time and want to see Hallstatt from a different perspective, go and take a boat ride.
You can choose between standard rowing boats, modern electric boats, or even rent a pedal boat in the form of a swan.
For more information and where to find rental companies check out the official Hallstatt website.
After you spent enough time in Hallstatt and explored every corner of it, make your way to the beautiful city of Gmunden.
Gmunden
Thanks to its fantastic location at lake Traunsee, Gmunden is a very popular summer and health resort among Austrians. With a population of more than 13,000, it's a lot bigger than Hallstatt.
One of the many things Gmunden is known for is the Gmundner Keramik. Since 1492, this company produces the most beautiful high-quality ceramics.
There's probably no household in Austria that doesn't have at least one or two pieces of their handmade stuff.
The people of Gmunden are so proud of their ceramics that even the bells of the city's town hall are made of it!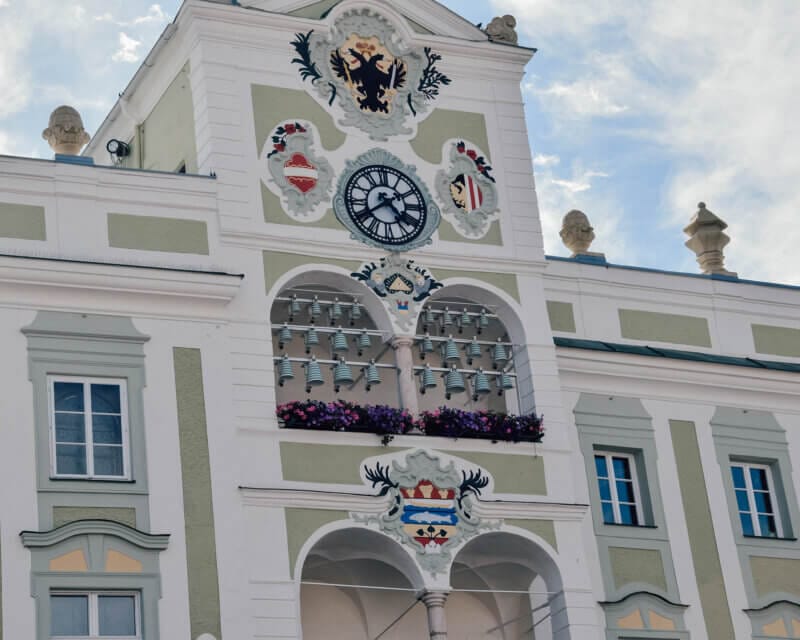 Take a walk along the promenade or enjoy a coffee with a stunning view of the lake.
If you're craving something sweet or refreshing on a hot day, visit some of the many ice cream parlors there. Some fruit flavors are only sorbets and thus even vegan!
From the promenade (and in the photo above) you can spot a place I highly recommend visiting.
Schloss Ort
Schloss Ort is a small castle in lake Traunsee that became famous thanks to the Austrian TV series "Schlosshotel Orth".
The castle is actually not a hotel as shown in the series but an event location for weddings, birthday parties, concerts and much more.
A wide wooden bridge connects the island with the mainland.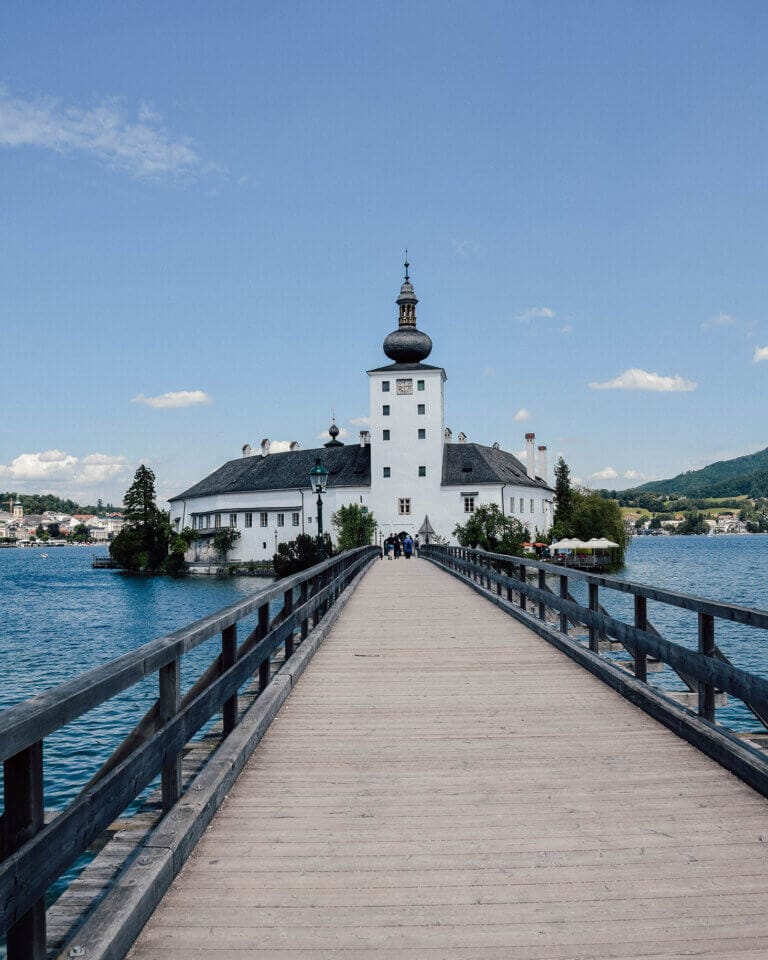 For an entrance fee of €8, you can join a tour inside the castle to visit some locations of the series. There's also a small café with a terrace right at the lake.
Sit down and enjoy a good glass of Hugo or sparkling wine to end a perfect day trip to Hallstatt and Gmunden!
Check out other lovely places in Austria:
– Mariazell
– Pielach Valley
– Burgenland
– Mendlingtal Valley
---
Like it? Pin it!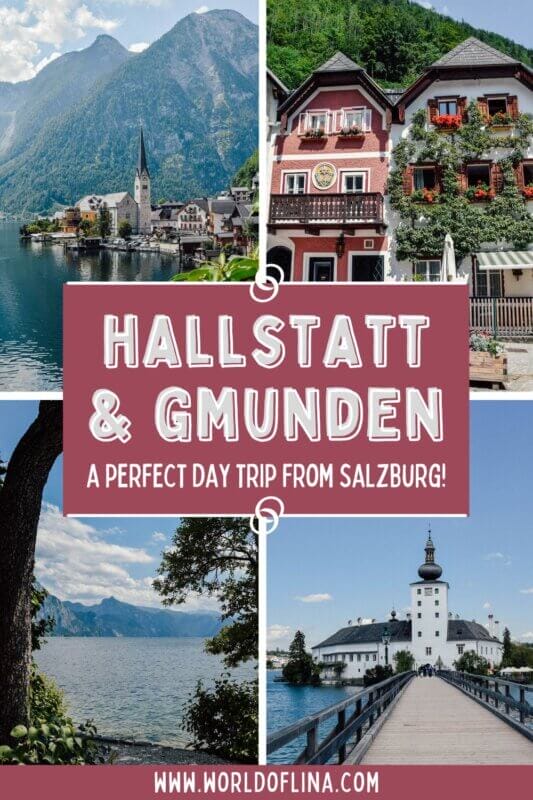 ---
Do you want to travel like me?
Here are some of my favorite travel tips and resources:
Flights: I prefer using CheapOair or Skyscanner to book flights. The destination everywhere feature is perfect for finding some cheap deals!

Accommodation: Booking.com is my favorite site to find some great hotel deals. I do love staying at a local place as well, thus I book an Airbnb every now and then.

Travel Insurance: There are many reasons why travel insurance is important and I never travel without having one. I use the simple and flexible one from World Nomads to be protected against unforeseen events.

Tours: I love taking tours to explore destinations like a local. My favorite website to book them in advance is GetYourGuide.

Camera Gear: I use a Nikon D5300 camera with an 18-105 mm and a 10-20 mm wide-angle lens to take my photos.