12 Coolest Things to do in Chicago For First-Timers
Best Things to do in Chicago For Your First Visit!
Traveling somewhere for the first time can be really overwhelming sometimes. Usually, there's just way too much to do and it's not possible to include everything in the itinerary.
Before my trip to Chicago, a vibrant city in the Midwest, I created a list of all the activities I wanted to do. Let's just say I was a bit too motivated and enthusiastic because it was enough for a 2-month stay (at least).
Fortunately, I had a friend of mine living in the city who made sure I had the best time there.
To help you plan your trip, I decided to write down the coolest things to do in Chicago for first-timers – compiled by my friend and me!
(This post contains affiliate links, which means I receive a certain percentage of a sale if you purchase after clicking.)
TIP: Chicago is well-connected to many other major US cities via train so if you want to travel in a sustainable way, book train tickets to Chicago instead of plane tickets!
TIP: To save up to 50% on all the top attractions in the city, make sure to buy a Chicago CityPASS!

12 Awesome Things to do in Chicago For Everyone!
1. Enjoy a 360 degrees view of Chicago
I don't know about you but one of the first things I love to do in a new city is to find a place high up from where I can enjoy a great view.
Whether that means climbing an old church like in Amsterdam or hiking up a fortress in Kotor, Montenegro.
In this case, it's taking an elevator up to the 94th floor of the John Hancock building, one of the tallest buildings of the Chicago skyline.
360 Chicago is an observation deck that enables a breathtaking 360 degrees view of the city. It even comes with its own bar where you can enjoy a drink while admiring the view.
If you fancy some more action, you can try the TILT – a platform made out of glass and steel.
As its name may already tell, the platform tilts outward, making you lean forward and get a downward-facing view of the Magnificent Mile 300 meters below.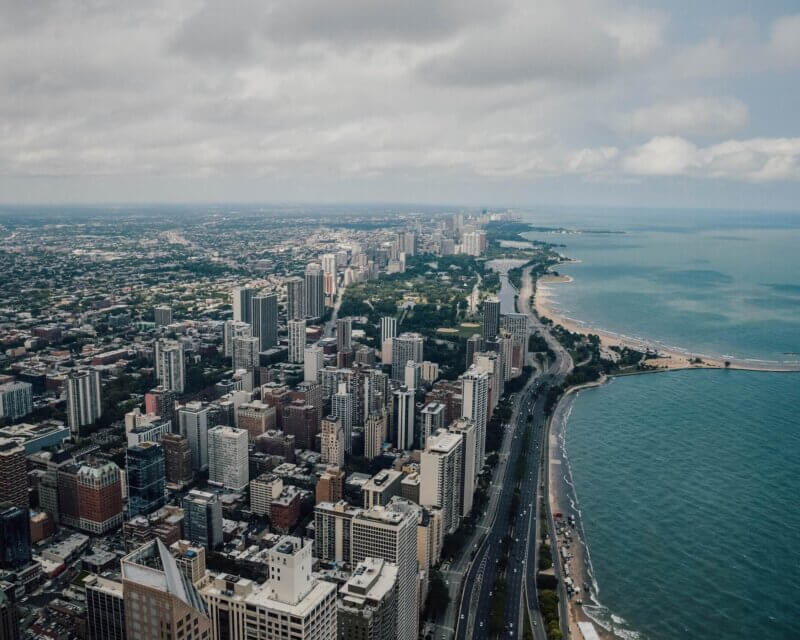 The tickets for the observation deck are a bit more than $30 for adults and if you want to try the TILT you have to pay more than $30 extra.
Paying another $30 for the ride is a bit too pricy in my opinion so you can skip it if you don't want to spend that much money.
I recommend buying the tickets in advance so you don't have to queue.
Tours you might find interesting:
2. Do Some Shopping at Magnificent Mile
Another one of the coolest things to do in Chicago is to walk around the city's most famous shopping area.
The Magnificent Mile is a section of Michigan Avenue and home to luxurious shops, fashion outlets, fancy restaurants, and posh hotels.
Along the avenue, you can spot some famous landmarks such as the Chicago Water Tower, the Wrigley Building, and of course the John Hancock Center.
It's also the perfect place to do some shopping at one of the three major shopping centers or enjoy some fun activities such as an escape room adventure at the nearby location of The Escape Game.
Fun fact: People living in this area have to dig deep into their pockets. Magnificent Mile is the eighth-most expensive place to live in the US, right behind Fifth Avenue in NYC and Rodeo Drive in Beverly Hills.
Something else you'll find along the Magnificent Mile and other parts of downtown Chicago is different painted dog sculptures.
All of these sculptures were created to honor police officers killed or injured. Keep your eyes open so you won't miss any of these lovely German Shepherd Dogs!
3. Have a Drink at LondonHouse Rooftop Bar
How does sipping a cocktail at a rooftop bar while watching the boats floating on the Chicago River sound to you?
If this is exactly your kind of thing to do then don't miss a visit to the rooftop bar of the city's best-located hotels.
The LondonHouse Chicago is a 4-star hotel in a 1920s building facing the iconic Riverwalk. From its tri-level rooftop bar, you can take in stunning views of the Chicago River, Magnificent Mile, and even Lake Michigan while sipping a delicious cocktail.
4. Escape The City Life in Millennium Park
During your first time in the Windy City, a stroll through Millenium Park is an absolute must!
This public park is one of the most popular free attractions, mostly because of the famous installation you can find there: Cloud Gate – also called "the Bean".
Besides the funny-shaped sculpture, Millennium Park is also a great place to escape busy city life.
It's a wonderful green oasis in the middle of downtown Chicago thanks to places like the beautifully made Lurie Garden.
Moreover, you can marvel at fascinating outdoor art at the Boeing Galleries or enjoy a free music festival at the Jay Pritzker Pavilion.
Even when there's no show at the pavilion, it's the perfect place to relax on a blanket, have a picnic, and watch the sun go down.
My friend also told me that Millennium Park is especially worth visiting during Christmas in Chicago. There'll be an ice rink, carousels, and many other fun attractions!
5. Take a Stroll Along The Chicago Riverwalk
Millennium Park isn't the only great place to enjoy a walk.
The iconic Chicago Riverwalk enables you to take a leisurely walk along the picturesque river floating through the city.
At first glance, it may appear as just a normal pedestrian waterfront but the Riverwalk is more than that. You can enjoy drinks in different cool outdoor bars or have lunch in one of the many restaurants along the waterfront.
Moreover, you can visit a museum dedicated to the Chicago River or find some pretty awesome outdoor art galleries throughout the trail.
If you're looking for some more adventurous experiences, do a Chicago River kayak tour or any other fun boat tour.
Tours you might find interesting:
Whether day or night, the Riverwalk is a unique and vibrant place you won't find anywhere else in Chicago. I can't even tell you how often I visited it during my time in the city.
The relaxing and fun vibe made me fall in love with this place so much and spending some time there is definitely one of the best things to do in Chicago!
6. Explore The Hip West Loop Neighborhood
The next place you should check out is probably a bit different than what you expect to find in the city.
Formerly an industrial zone, West Loop is now a popular neighborhood known for its great dining and nightlife scene. Thus it's one of the coolest neighborhoods to stay in Chicago!
Once warehouses, most of the buildings in West Loop are now home to some of Chicago's top restaurants. Especially Fulton Market is now a popular area for many locals thanks to its hip industrial vibe.
The range of restaurants or cafés is immense and one place I can highly recommend is Sawada Coffee.
This edgy coffee bar inside a graffitied building is the perfect address to get a good cup of your daily dose of caffeine. If you're not a coffee drinker, try their special Matcha Latte creation called "Military Latte" – you'll love it!
Tours you might find interesting:
7. Spend a Relaxing Evening at Noyane Rooftop Bar
Admittedly, it's really hard to beat the LondonHouse rooftop bar, and especially the view from up there. However, another awesome one you should visit is Noyane on the rooftop of Conrad Chicago.
It may not be able to keep up with the LondonHouse rooftop views, but the ambiance is at least as good – if not better.
You'll find modern furnishing, a cozy fire pit, and a large bar area where you can order almost any kind of drink you want.
If you get hungry, don't hesitate to try some of the high-class dishes of the Japanese-Peruvian restaurant.
8. Ride The Ferris Wheel at Navy Pier
For the next point on the list, it's time to leave the inner part of the city and head in the direction of Lake Michigan. There you can find Navy Pier, a 1-km-long pier on the shoreline of the lake.
You can easily spend an entire day at this pier because there are so many fun outdoor attractions.
A sensory maze experience, a botanical garden, a Musical carousel, and the Chicago Children's Museum are only some of them.
In the center of the pier and hard to oversee is the Chicago Ferris Wheel. This 60-meter-high construction offers some of the best skyline views while rotating at a gentle speed.
Tickets for single rides are $12 for children and $20 for adults. It's definitely not a cheap pleasure but it's a lot of fun and it's great to see the city skyline from the lake.
If you want to skip the line, you can buy online tickets in advance.
TIP: The best is to buy a Chicago CityPASS to save up to 50% on all the top attractions!
Tours you might find interesting:
9. Wander Around Old Town & Visit Its Most Beautiful Café
At least since I mentioned West Loop you know that Chicago doesn't only consist of skyscrapers.
There are so many other different areas besides downtown that are totally worth exploring and one of them is the gorgeous neighborhood of Old Town.
Thanks to its Victorian-era buildings, Old Town kind of looks like a town you could find somewhere in Britain. It's an area popular for its quaint streets, small shops, old-school pubs, and artisanal cafés.
One of these coffee shops, and also one of the best places for breakfast in Chicago, is the 3 Arts Club Café inside Restoration Hardware – a home furnishing company.
The first time I entered I was utterly speechless as I'd never seen such a beautiful café before.
Crystal chandeliers hanging from a glass ceiling, a fountain in the middle of the room, and plants in every corner made it look like a wedding venue.
Frankly, it wouldn't have surprised me if a coffee cost $20 but luckily it wasn't that expensive! 😀
Sitting beneath those mighty chandeliers with a good cup of coffee – or Chai Latte in my case – is definitely one of the coolest things to do in Chicago!
10. Look Down at The City From The Willis Tower Skydeck
The next activity is definitely not for the faint-hearted or people with a fear of heights.
Chicago has many tall skyscrapers such as the John Hancock Center and the Trump Tower. But the one that surpasses them all is the Willis Tower.
This more than 440-meter-high skyscraper was built in 1973 and after its completion, it was the tallest building in the world for almost 25 years.
On the 103rd floor, there's an observation deck called "the Skydeck". To get there you have to take an elevator that reaches the top within only 60 seconds.
During the ascent, you can literally feel the change in pressure which might be a bit frightening.
Once you reach the 103rd floor, you'll quickly find out why the Skydeck is one of Chicago's most famous attractions.
Of course, most people come here to admire the stunning view but there's something else to experience.
Since 2009, it's possible to see the city from a completely new perspective thanks to glass balconies extending more than one meter from the facade.
As soon as you step into the glass boxes, you'll be able to see cars driving in the streets right beneath your feet. It's a really crazy and a bit of a scary feeling to kind of "stand above" the city.
Also, don't forget to take some cool pictures there because the Skydeck is definitely one of the best Instagram spots in Chicago!
Tickets for the Skydeck start from $36 and it's best to buy them online in advance.
TIP: The best is to buy a Chicago CityPASS to save up to 50% on all the top attractions!
11. Eat Your Way Through Chinatown
You can find it in New York City, Los Angeles, San Francisco, and of course in Chicago as well. Yes, I'm speaking of Chinatown!
It's the third and last neighborhood whose visit needs to be included in my list of the coolest things to do in Chicago.
This neighborhood is probably the most dynamic and tasty one in the entire city.
You can eat your way through regional restaurants, small eateries, and dim sum spots, or have a soothing cup of hot tea at one of the many authentic teahouses.
If you've had enough food, it's time to dive a bit deeper into the heart of this neighborhood.
The best address for this is the American Museum of Chicago where you'll learn more about the experiences of Chinese immigrants.
Tours you might find interesting:
12. Admire The Skyline From North Avenue Beach
Last but not least, make your way to North Avenue Beach – one of my absolute favorite places in the Windy City.
North Avenue Beach is one of the city's most popular public beaches and is located in Lincoln Park. In summer, it's a hotspot for swimmers, sunbathers, and volleyball players.
Even during other seasons, its lakeshore path is usually filled with rollerbladers, bikers, or people enjoying a casual stroll.
My friend and I went there twice and every time I was overwhelmed by one thing: The breathtaking skyline view.
The first time we came here during the day and on my last evening, we decided to go back and watch the sunset.
I can still remember the moment it got dark and I sat there admiring the bright skyline reflection on the water.
I don't know how much time passed but suddenly a runner came by and stopped not far from me. First, he looked at the skyscrapers, then turned around and said: "Isn't it beautiful"?.
The only thing I could answer was yes because I was just so overwhelmed by my emotions. I felt so happy yet so sad as I had to leave this awesome city the next day.
This moment was definitely one of the most special ones I ever experienced in my life. It was the perfect ending to an amazing time in the city and I hope you'll find Chicago as great as I did!
---
Like it? Pin it!
---
Do you want to travel like me?
Here are some of my favorite travel tips and resources:
Flights: I prefer using CheapOair or Skyscanner to book flights. The destination everywhere feature is perfect for finding some cheap deals!

Accommodation: Booking.com is my favorite site to find some great hotel deals. I do love staying at a local place as well, thus I book an Airbnb every now and then.

Travel Insurance: There are many reasons why travel insurance is important and I never travel without having one. I use the simple and flexible one from World Nomads to be protected against unforeseen events.

Tours: I love taking tours to explore destinations like a local. My favorite website to book them in advance is GetYourGuide.

Camera Gear: I use a Nikon D5300 camera with an 18-105 mm and a 10-20 mm wide-angle lens to take my photos.