The 16 Coolest Day Trips From Vienna, Austria
Amazing & Unforgettable Day Trips From Vienna!
Thanks to its perfect location at the Danube and close to many other countries borders, Vienna offers an abundance of great places to explore.
Whether you choose to discover the surroundings of the city or even go abroad, there's almost no limit when it comes to finding the best day trips from Vienna.
Whether you drive by car or take public transport, the city makes a convenient base for trips to nearby towns and villages.
From the idyllic Austrian village Hallstatt to the Hungarian capital city Budapest, or the Czech quaint town Cesky Krumlov. The opportunities are endless!
Together with other travel bloggers, I compiled this list of the, in our opinion, best day trips from Vienna.
It features lovely old castles, breathtaking lakes, gorgeous wine villages, bustling cities and even a big spa complex.
That's enough detail already, now you need to find out the rest by yourself!
(This post contains affiliate links, which means I receive a certain percentage of a sale if you purchase after clicking.)
1. Hallstatt
Recommended by me
A quiet, deep blue lake with swans and wooden houses in a picturesque village located at the foot of impressive mountains – welcome to Hallstatt!
This scenic village is one of the most famous places in Austria and therefore a must on every itinerary.
Whether you decide to choose public transport or go by car, Hallstatt is easily reachable with both options. The journey takes around three hours for either of them.
In Hallstatt, the first thing you need to do is take a walk along the lake promenade. There are many lovely cafés side by side serving a good cup of coffee.
It's also possible to rent a pedal boat in form of a big swan or take a swim in the lake if the weather is good.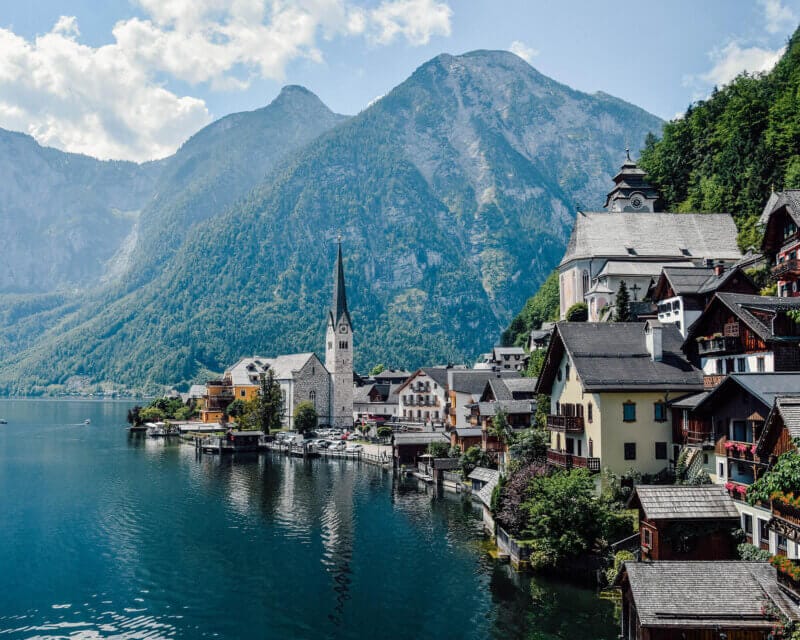 Moreover, don't miss out on visiting the world-famous charnel house ("Beinhaus") that can be found at the cemetery.
The tiny chapel dates back to the 12th century and is home to more than 600 spectacularly painted skulls.
Due to its popularity, Hallstatt is swamped by tourists every day, no matter what season. Thus it's recommended to go there as early as possible to avoid getting overrun and get a more authentic experience.
2. Graz
Recommended by me
Graz is Austria's second-largest city and the capital of the beautiful state of Styria.
With a car drive of only 2.5 hours, it's among the most popular and top-rated day trips from Vienna.
Those who prefer public transport can choose one of the many direct train and bus connections that are available a few times a day.
Once in Graz, the first thing you'll probably notice is the "Uhrturm" – the city's main sight and one of the most famous landmarks in Austria located on a small hill.
To get up there, you can either climb a few hundred steep stairs or take the less exhausting way: The cable car called "Schlossbergbahn".
Another place you shouldn't miss is the "Kunsthaus". It's a modern art museum housing different exhibitions of contemporary artists. Because of its weird look, locals also call it the "Friendly Alien".
For lunch or a hot cup of coffee, head to one of the numerous places near the city hall. Some good recommendations are Ginko Greenhouse, Café Sacher or Don Camillo.
If you have some time left, make your way to Schloss Eggenberg to take an extensive stroll in the big, beautiful surrounding park.
One day is more than enough to see all the main attractions without rushing through the city. However, it's easy to fall in love with the Styrian capital so you'll most likely want to come back again and again!
3. Ljubljana
Recommended by Džangir of Dr Jam Travels
Slovenia's capital, Ljubljana, is three and a half hours from Vienna and thus still able to visit as a day trip!
The city is not big at all, but its smaller size is exactly what makes the city so charming.
One place you shouldn't miss is the old town of Ljubljana where you can find many of the main attractions such as the town hall or the famous triple bridge.
Take an hour and walk slowly on the narrow and cobbled streets that were formed in medieval times on both sides of the river Ljubljanica.
Moreover, stop at a few baroque churches and palaces to admire the work of the famous architect Plečnik.
On the left bank of the river, you can find the remains of Emona, a city from ancient Rome.
For some stunning city views, make your way to Ljubljana castle on a hill. You can access it by walking many of the different paths or by funicular.
After walking, eat some local food in one of the many great restaurants and finish your visit with a leisure stroll in the green park Tivoli.
4. Bratislava
Recommended by Rachael of A City Girl Outside
Bratislava is the capital city of Slovakia and lies just across the border of Austria, making it one of the most perfect day trips from Vienna.
Bratislava is small for a capital city and therefore it's possible to see its main attractions within one day.
Getting to Bratislava from Vienna is relatively easy. You can either opt to take a guided tour which is great for convenience and learning about the area. Or you can take the train on a self-guided day trip.
The train to Bratislava departs from the Vienna Hauptbahnhof and getting tickets from the ticket machines is relatively easy with many languages available. The total journey time is just over an hour.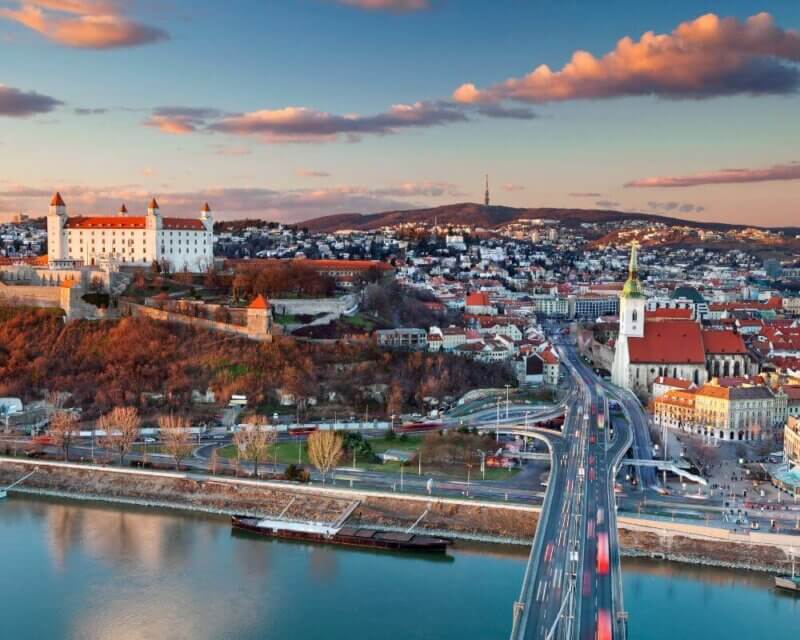 Once you arrive in the city center you are free to explore! The Bratislava Old Town is the most popular and picturesque part of the city.
Michael's Gate is quite possibly the biggest attraction in Bratislava. It was originally one of the four gates when Bratislava was a fortified city.
The Old Town Hall sits in a beautiful square filled with vibrant buildings and unique statues. This bright yellow building also houses the city's oldest museum, the Bratislava City Museum.
The entry also includes access to the viewing tower which showcases panoramic views of the square below.
There are many more things to do in Bratislava and most are within a short walking distance of each other.
A total of 8-10 hours is recommended for visiting Bratislava from Vienna, you won't want to rush through this beautiful city!
5. Cesky Krumlov
Recommended by Julia of The Cure for Curiosity
Take a day trip to Cesky Krumlov in the Czech Republic to explore one of the quaintest and most picturesque towns in Europe.
Its storybook-like charm is accentuated by its location nestled into the crook of the Vltava River, almost giving a moat appearance around the city.
Located just 2.5 hours away from Vienna, the best way to make the journey to Cesky Krumlov is to rent a car and drive yourself or take a direct shuttle bus.
Upon arrival, you'll be greeted with amazing views over the city and even more beautiful views as you meander through the cobblestone streets.
Spend the day wandering the historic Old Town, visiting the Cesky Krumlov Castle, and admiring Cloak Bridge and the views from it.
You'll also want to taste the traditional "trdelnik", a local pastry of grilled dough shaped in a cylinder and topped with various ingredients.
If you have more time, check out the handful of local museums to learn more about the city's history.
6. Budapest
Recommended by Anjali of Travel Melodies
Just about 2.5 hours away, Budapest makes for an easy day trip from Vienna.
Frankly, Budapest needs at least two to three days to explore though if you narrow down on the high points, you can cover Budapest in 24 hours.
Fisherman's Bastion, Matthias Church, Gellért Hill, Buda Castle, Hungarian Parliament, Szechenyi Thermal Baths, St. Stephen's Basilica, and Chain Bridge are some of the best things to do in Budapest.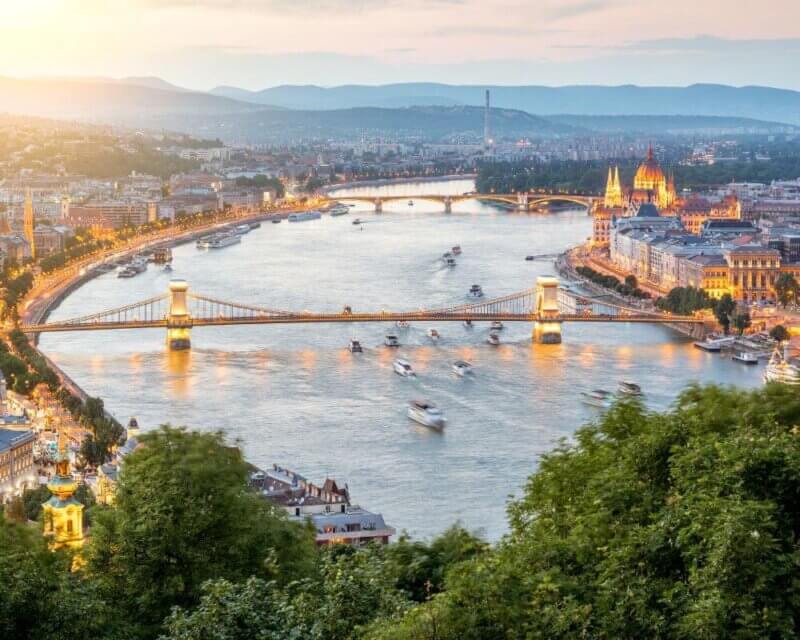 Another not-to-be-missed activity in Budapest is the Danube River Cruise. It's, in fact, one of the best ways to take in all the highlights of Budapest, right from the waters.
You should book the sunset cruise. This way, you can see the city in daylight and then see it again all lit up as the cruise returns to the starting point.
You can not leave Budapest before you have tried the Chimney Cake. The best place to taste the traditional Chimney Cake is Cafe Molnár's Kütrőskalács.
Getting to Budapest is relatively easy, there are many flights, trains and buses from Vienna to Budapest. Alternatively, you can join a guided Budapest day tour from Vienna.
7. Vienna Woods
Recommended by Kenny of Knycx Journeying
There is a lot to see and do in Vienna – and why wouldn't it? The City of Music is an enchanting travel destination filled with music, art, history, and culture.
Having said that, you will have a great experience going a little bit further to the city's outskirts.
Located just about 50 kilometers away from Vienna's city center, Vienna Woods is a place known for its wine gardens, vineyards, walking trails, and picturesque villages.
To get there, there are a number of trains and bus routes that take travelers to Vienna Woods within an hour.
Nevertheless, it would be wise to organize a day trip with a rental car, as you can get around town and explore the area at your own pace.
Begin your day with a wine tour and have a sip of some world-class wines, and if you are looking for something more active, go kayaking on the Danube or go on a scenic walk through the historic forest, which was a hunting ground of Viennese royalty.
In the afternoon, take it slow and have a walk in the town center.
Vienna Woods has no lack of historic sites including the Mayerling hunting lodge and Heiligenkreuz Abbey, which is one of the oldest Cistercian monasteries in the world.
8. Sopron
Recommended by Monique of Trip Anthropologist
Only 75 miles from Vienna, Sopron is just across the border in Hungary and is one of Europe's hidden gems.
Trains leave every hour from Vienna to Sopron but it is also a quick and easy driving destination. You just need to follow the A2 to the A3 and then take the Sopron city exit.
Sopron is surrounded by lakes and forests and its Old Town is built upon the ancient Roman city of Scarbantia. Parts of Scarbantia have been excavated and its walls and Forum are right next to the Old Town square.
The buildings and houses in the old part of town are a mix of baroque and medieval styles fronting cobbled streets and surrounding charming squares.
Every Sopron travel guide will tell you not to miss Sopron's central landmark, the 58-meter-high old fire tower, the Tűztorony. Wardens would once stand on the balcony and warn of fires in the forests surrounding the town.
A few hours wandering the Old Town, lunch in the main square, and a look through a museum can all be achieved in a day trip.
If you have more time, driving around the forests, wineries, and monasteries around Sopron makes for a lovely few days just across the border from Austria!
9. Wachau Valley
Recommended by Roxanne of Faraway Worlds
Only an hour out of the city, visiting the Wachau Valley makes for a wonderful day trip from Vienna. A UNESCO world heritage site, the Wachau Valley is renowned for its wine, castles and pretty towns.
Situated on the banks of the Danube, the valley is lined with terraced vineyards, primarily known for their dry white wines usually made from Riesling and Grüner Veltliner grapes.
The landscape is beautiful, with rolling countryside overlooking the river.
Of the towns dotted through the valley, Dürnstein and Melk are well worth a visit.
They both boast lovely town centers, beautiful Baroque architecture and nearby fortresses (it's technically an abbey in Melk, but it's still stunning).
Getting to the Wachau Valley from Vienna is very easy. There are direct trains to Melk and Krems and you can catch a bus to the smaller towns from there.
If you want to visit the wineries, you can also cycle through the valley. There are a few providers offering organized tours from Vienna (these usually still involve taking a train to Krems).
Of course, traveling by car would give you the most flexibility, allowing you to stop at any village, castle or winery that you choose.
10. Brno
Recommended by Adriana of Czech the World
Brno is the second-largest city in the Czech Republic, presenting a perfect combination of history and a modern city. You can find remarkable places, delicious food, beer, and wine here.
The Czech city is only 1,5 hours by train or two hours by bus from Vienna, which makes it a great destination for a day trip. A one-way ticket to Brno costs about €7.
It's also a beloved destination for Czech people because it's among the best day trips from Prague.
One day is already enough to see the best of Brno. Most of the important landmarks are within walking distance, located around the city center.
You can start by exploring the iconic Petrov Cathedral (St. Paul's and Peter's cathedral) as well as the Špilberk Castle, which is a massive baroque citadel with extensive casemates.
Another very interesting place that shouldn't be missed is the St. James Ossuary (Kostnice u Svatého Jakuba), which is the second-largest ossuary in Europe!
It's not very far from the main square – Náměstí Svobody, which is often a place of markets and festivals.
If you are a fan of modern architecture, you shouldn't miss Vila Tugendhat. It was built in the functionalist style and is listed among UNESCO World Heritage Sites.
Here, you can find also other places and cool things to do in Brno.
Once you are in Brno, don't forget to stop at a local pub for great and cheap Czech beer, which costs about €1.5–2 (for 0.5 l of draft beer).
11. Lake Bled
Recommended by Tom & Zi of Craving Adventure
Lake Bled is one of the most popular locations in Slovenia, and it is easy to see why.
A mesmerizingly blue lake surrounded by mountains, the most picture-perfect tiny island with a shining white church on it in the middle of the lake, and a medieval castle overlooking this magical scenery.
Your jaw is guaranteed to drop when you first lay your eyes on this wonder of nature.
Lake Bled is a great day trip from Vienna, although you might want to make that into a multi-day trip as it is an almost four-hour long drive by car. There is enough to do in Bled to keep you entertained for days!
Highly recommended is having dinner in the castle and doing a boat trip to Bled Island on a traditional Pletna boat.
They're a bit like the gondolas in Venice, except that Pletna boats are propelled with two oars instead of one.
If you're spending more than one day in Bled, then make sure to check out the Vintgar Gorge.
It's a 1.6-kilometer-long gorge with suspended boardwalks going alongside the emerald-colored water as it tumbles its way through rapids toward the Sum waterfall at the end.
12. Grinzing
Recommended by Samantha of The Wandering Wanderluster
Austria is a well-known wine destination, and Vienna boasts over 700 hectares of vineyards alone.
If you have ticked off all the top things to do in Vienna, then a trip out of the city to its wine villages and vineyards that hugs the slopes beneath the Vienna woods is a must.
One of the most popular wine villages is the small town of Grinzing which is easily reached by tram from the Schottentor U-Bahn Station.
Part of the charm of Grinzing is simply wandering its lanes and enjoying the charming village atmosphere that has attracted many famous people over the centuries including painters, writers and musicians including Beethoven and Schubert.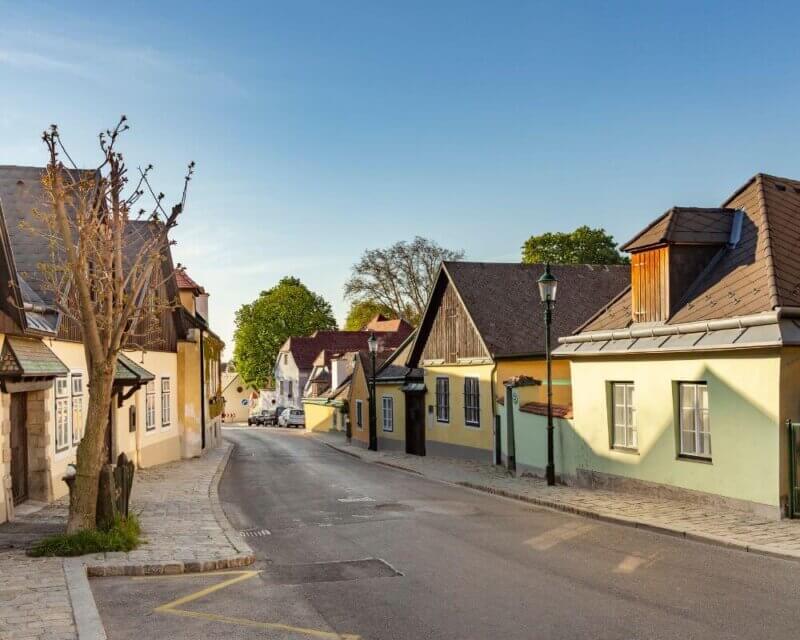 As you walk around you will find a plethora of Heurigen, traditional wine taverns serving local wines and traditional dishes.
Since most people come to Grinzing to enjoy the wine and food, for this reason, it is recommended to visit in the late afternoon or early evening.
During the summer you can eat and drink outdoors with grapevines hanging above your head and enjoy beautiful gardens and views of the slopes of the Vienna Woods.
If you visit earlier in the afternoon, you can even pair your visit with a stroll or bike ride around the local area before stopping and treating yourself to a glass of wine.
13. Devin Castle
Recommended by Alice of Adventures of Alice
Located just over an hour's drive away from the imperial city, Devin Castle is a great day trip from Vienna.
It's actually in Bratislava, one of Europe's hidden gems, but sits right against the border with Austria, making it a nice, easy journey.
The castle also sits at the meeting place of the Danube and Morava Rivers and you can actually see the places where the waters meet from the top of the castle.
The Slovakian Castle is pretty spectacular. Archaeologists suspect that it was occupied during the Neolithic period.
However, during the first century AD, Devin passed through the hands of the Celtics, then Germanic tribes, before the Romans arrived.
Walking around the castle, you'll find remains of various buildings, including a gatehouse, chapels, and even a graveyard. Little alcoves hold museum pieces encased in glass, and little plaques explaining their history.
Across a small bridge, in the main courtyard, you'll find the remnants of the Garay Palace and the Upper Castle, as well as beautiful views of the Maiden Tower where, according to legend, the King held his own daughter captive.
From here, and the other taller turrets, you'll be treated to beautiful views out across the Slovakian countryside and the two combining rivers on this fascinating and beautiful day trip.
14. Lutzmannsburg
Recommended by Carly of Fearless Female Travels
When you're ready to escape Vienna for a day of relaxation and rest, Lutzmannsburg is the perfect one-day getaway.
It's easiest to make the trip by car, with Lutzmannsburg about ninety minutes south of Vienna on the Austrian border, but it's also possible to make the trip by bus.
Depending on the day of the week it could take one or two transfers.
Once you arrive, head directly to Sonnentherme Lutzmannsburg, the massive spa complex on the edge of the town.
Here, you'll find a family-friendly indoor and outdoor waterpark for all ages, including waterslides (one of which is the world's longest virtual-reality slide), pools and diving towers.
There's a separate adults-only area called "Sauna World", where you can relax in seven different saunas (no swimwear allowed!).
Throughout the day, different skincare treatments are offered in the saunas, including body scrubs, lotions infused with local grape extracts and natural herbal fragrance treatments.
Treatments are normally complimentary, but registration is required to ensure there's room in the sauna for everyone. Plan to spend the whole day here… it's so relaxing that you'll never want to leave!
15. Salzburg
Recommended by Tegan & Alex of Why Not Walk Travel Guides
Thanks to the great train connection, Salzburg is one of the best day trips from Vienna and a must-visit during any trip to Austria.
The train ride, using Austrian ÖBB or WESTbahn trains, takes about 2.5 hours, and has beautiful scenery to admire on your journey.
Trains go between the two cities multiple times per hour, so no need to worry about scheduling if you decide to stay overnight, but Salzburg is an eminently doable day trip if your time is more limited.
While in Salzburg, be sure to visit the various sites from The Sound of Music, including the Mirabellgarten and Palace, Schloss Hellbrunn, Nonnberg Abbey, and Schloss Leopoldskron.
You will definitely recognize all of these places if you have seen the classic film!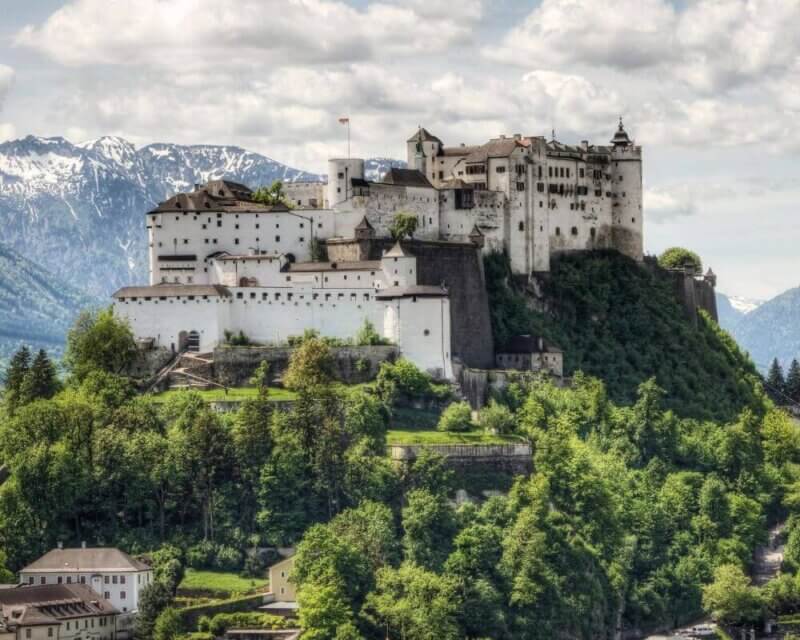 Salzburg is also the birthplace of the world-renowned composer Mozart, and you can visit the house where he was born in Altstadt, or the Old City, and enjoy window-shopping along the nearby Getreidegasse, which together form a UNESCO World Heritage site.
Another historic site to enjoy is the Hohensalzburg Fortress, a medieval fortification located atop Festungsberg Hill.
You can ride a vintage funicular up to the top and enjoy gorgeous views of the city from above, as well as a neat tour of the fortress.
Last but not least, make sure to discover the city's food scene by joining a Salzburg food tour!
16. Győr
Recommended by Nathalie of Bolet Worldwide
If you're looking for one of the best day trips from Vienna, you can easily head to Hungary and visit the beautiful city of Győr.
The trip takes only around an hour by train, starting from the main train station in Vienna Wien Hauptbahnhof to the main train station in Győr with the NT 347 BUCURESTI NORD.
There are many things you can do in Győr, for example, visiting the City town hall which is on the way from the train station.
The City town hall is a magnificent, big building overlooking a square with different fountains.
After this, start exploring the old town – a big and bright area, with colorful buildings including the Benedictine church of St. Ignatius of Loyola. At the main square, there is also the Carmelite church.
One spot you should not miss is the boatman sculpture. It was built in 1997 after the floods in the city and is said to bring good luck to those who touch it.
For lunch, you can visit any of the restaurants at the main square to enjoy a fabulous, traditional Hungarian meal.
Check out other posts about Austria:
– 16 Best & Most Famous Landmarks in Austria
– 50 Interesting Facts About Austria
---
Like it? Pin it!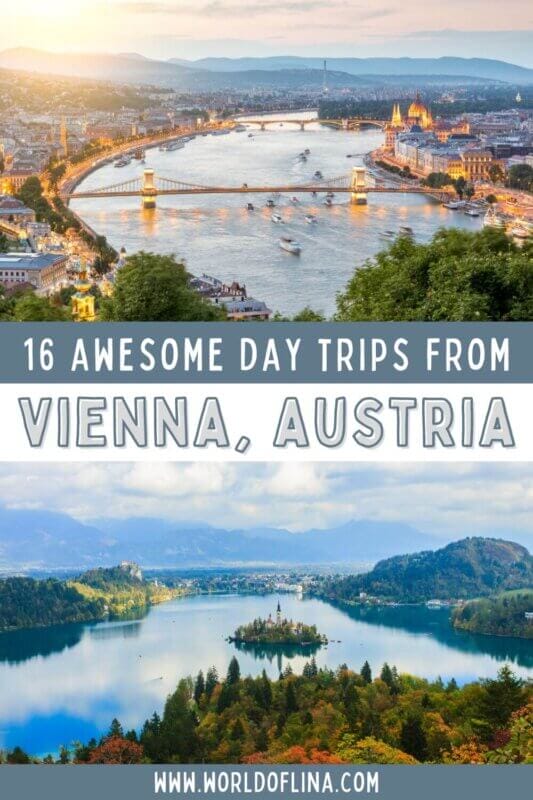 ---
Do you want to travel like me?
Here are some of my favorite travel tips and resources:
Flights: I prefer using CheapOair or Skyscanner to book flights. The destination everywhere feature is perfect for finding some cheap deals!

Accommodation: Booking.com is my favorite site to find some great hotel deals. I do love staying at a local place as well, thus I book an Airbnb every now and then.

Travel Insurance: There are many reasons why travel insurance is important and I never travel without having one. I use the simple and flexible one from World Nomads to be protected against unforeseen events.

Tours: I love taking tours to explore destinations like a local. My favorite website to book them in advance is GetYourGuide.

Camera Gear: I use a Nikon D5300 camera with an 18-105 mm and a 10-20 mm wide-angle lens to take my photos.