The Pielach Valley – Alpaca Trekking And More!
As much as I love to travel abroad, I really enjoy exploring my own home country as well. Thus I went to one of the most famous valleys in Lower Austria last weekend – The Pielach Valley.
There I went on a hike with Alpacas, had the most delicious vegan breakfast while taking a scenic train ride and attended the "Dirndlkirtag" which is a famous event that takes place every year.
Besides learning everything about the well-known "Dirndl" fruit, I had the fun of my life!
This blog post is written in cooperation with Mostviertel.
Vegan Breakfast on The "Mariazellerbahn"
Even though I live in Lower Austria, the journey to the Pielach Valley was quite far. I had to take several trains to get to my final destination.
One of them was the so-called "Mariazellerbahn" which is the longest narrow-gauge railway in Austria.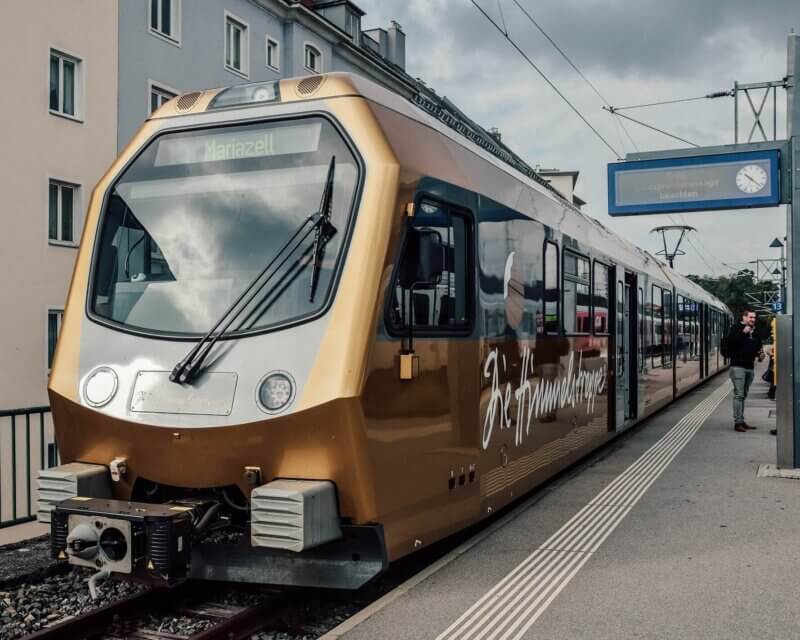 It connects the city St. Pölten and the lovely town of Mariazell. Usually, it runs every hour but because of the "Dirndlkirtag" in Hofstetten-Grünau, the train departed every 30 minutes to enable a car-free and eco-friendly arrival.
Right after I hopped on the train, I recognized the large windows offering great views on both sides of the train.
The friendly staff asked me what I wanted to drink and I ordered tea for me. A few minutes later the tea and the vegan breakfast were brought to my table.
I just started having breakfast when the train started to move and the journey to the Pielach Valley began!
Unfortunately, my next stop was only 30 minutes away so I had to kind of devour my breakfast. Nevertheless, I enjoyed my short time on the train thanks to the picturesque landscape passing by during the ride.
First Stop: Alpaca Trekking in The Pielach Valley!
Some may not understand the hype and think it's overrated but for me, Alpaca Trekking is SO MUCH FUN! Thus I was more than excited that I had the opportunity to go on a hike with those absolutely adorable animals.
Alpaca Trekking has been on my bucket list for a long time and I couldn't believe I would finally be able to tick it off!
Filled with anticipation I left the train at the station of Hofstetten-Grünau, where I got picked up from our guide. After a short drive, we arrived at a beautiful and very quaint farm.
And then I saw them: More than ten cute and super fluffy Alpacas running around and playing on a meadow. Three of them were still young ones and they looked like living teddy bears in my eyes!
As soon as we approached them, they became very curious and started to come closer.
The owners chose three Alpacas and two Lamas who went on a hike with us. After they got their halter we started our little hiking tour!
Despite the lousy weather – it was rainy, windy and super cold -, I enjoyed hiking with my new furry friends.
Alpaca Trekking is definitely a very unique experience and I recommend everyone to try it at least once. I guarantee you it is so much fun!
A Visit to The Dirndlkirtag
After the little Alpaca adventure, it was time to visit the most important event of the day: The "Dirndlkirtag".
As I already mentioned above, the Pielach Valley is well-known for its special fruit: The "Dirndl" or cornel cherry.
Once a year when the Dirndl is ready to be harvested, a very big event takes place in one of the municipalities of the valley.
Every year, thousands of people come to celebrate the special fruit and buy regional products made out of the Dirndl.
From jam to cake, liquor, and even jewelry – it was fascinating to see in how many different ways the fruit could be used!
Of course, I couldn't leave without buying something so I got myself a super yummy jam. Moreover, I tried the Dirndl liquor which wasn't really my taste tho.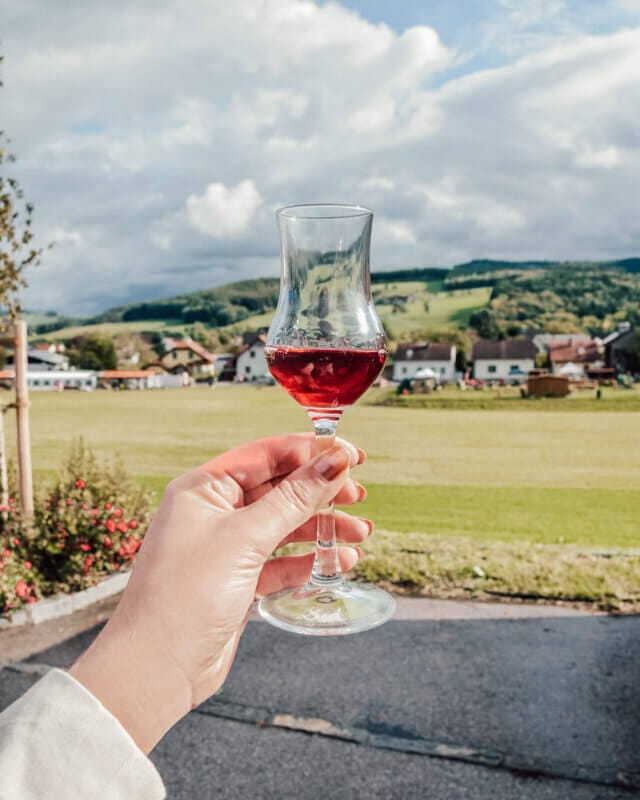 Even though the main focus is on the fruit, you can also get so many other things there like cheese, handcrafted decoration or clothes.
My highlight of the day was a fashion show of traditional Austrian costumes the so-called "Tracht". People presented the most beautiful dresses – called "Dirndl" like the fruit – and men wore traditional leather trousers.
In the course of the "Green Events Austria Gala", the Dirndlkirtag of the Pielach Valley was nominated as a so-called "Green Event".
This is something very special because the award means that the Dirndlkirtag is a great example of sustainability in many ways.
For example, a heavy focus is on waste avoidance (no plastic cutlery, plates, and cups), the use of regional resources and also eco-friendly arrival thanks to a better schedule of the train.
Staying at The Naturhotel Steinschalerhof
After I saw and tried everything I wanted to, I made my way back to the hotel I stayed in. The Naturhotel Steinschalerhof is a very traditional and cozy hotel run by an Austrian family.
Regionality plays a major role and you can see the attention to detail everywhere there.
I came back right in time for dinner and I was surprised to find quite many vegan dishes on their menu! Therefore it was hard to decide but I chose the salad with grilled chanterelle eventually.
Also, their breakfast buffet included tons of vegan options such as soy yogurt, oat milk, different spreads, and even sliced vegan cheese!
I was super surprised because I hadn't seen such a wide selection at a hotel before. I felt more than welcomed so no wonder I was really sad when I had to leave.
Staying at that hotel was the perfect end of my adventurous and fun time in the Pielach Valley!
---
Like it? Pin it!
---
Do you want to travel like me?
Here are some of my favorite travel tips and resources:
Flights: I prefer using CheapOair or Skyscanner to book flights. The destination everywhere feature is perfect for finding some cheap deals!

Accommodation: Booking.com is my favorite site to find some great hotel deals. I do love staying at a local place as well, thus I book an Airbnb every now and then.

Travel Insurance: There are many reasons why travel insurance is important and I never travel without having one. I use the simple and flexible one from World Nomads to be protected against unforeseen events.

Tours: I love taking tours to explore destinations like a local. My favorite website to book them in advance is GetYourGuide.

Camera Gear: I use a Nikon D5300 camera with an 18-105 mm and a 10-20 mm wide-angle lens to take my photos.