6 Simple Reasons Why Riga is Worth Visiting
Living in Austria, planning a spontaneous weekend trip to somewhere here in Europe is quite easy. A couple of months ago, it was once again time to escape everyday life, and together with my sister, I started planning a short trip.
So I did the usual: I opened Skyscanner, chose Vienna as the departure airport, and "Explore all places" as the destination to see what cheap flights are available from Vienna.
Among the first flights listed, I spotted a very cheap one to Riga, a city I never had on my radar. After looking at the other results that came into question, comparing all the prices, dates, etc. it quickly turned out that Riga was the best option to choose.
But, is Riga worth visiting? A question we asked ourselves since it wasn't really a city you normally count as one of the most popular European cities.
Nevertheless, we booked the flight because the price was just so good (I can't remember the exact amount but it was less than €100 for a round trip).
So it happened that just a few weeks later we were on our way to Latvia, excited about what would await us.
Well, what should I say: The city truly exceeded all my expectations. Seriously, it's been a long time since I was so positively surprised by a place as I was by Riga.
It's not that there's anything totally unusual or extraordinary about the city, no. There are actually very simple reasons why I think Riga is worth visiting.
And now it's time to share them with you so you can put Latvia's capital on your bucket list or even choose it as your next destination!
(This post contains affiliate links, which means I receive a certain percentage of a sale if you purchase after clicking.)
1. It's Affordable
Reason number one why Riga is worth visiting is its affordability. Unlike many other European capitals, Riga offers you a great experience – completely without breaking the bank.
First of all, you'll find many budget-friendly accommodation options. Even if you fancy some 4- or 5-star hotels, most of them are pretty affordable as well.
We stayed at the Wellton Riga Hotel & SPA directly in the heart of Old Town and for three nights, we paid around €115 each. For a wonderful 4-star hotel within walking distance of all of the major attractions, I think that's a great price!
Not only does the city offer inexpensive accommodations, but many reasonably priced dining options as well. Of course, it also depends on where you decide to eat because the city boasts a great range of local cafés to upscale restaurants.
On average, expect to pay around €10 to €20 euros for a dish at a mid-range restaurant, often including a main course, a drink, and sometimes even a starter or dessert!
As already mentioned, there are of course more expensive places. One time, I paid €18 for a main course alone but that was really the exception.
Even everyday expenses like groceries and public transportation are notably budget-friendly, allowing you to explore Riga without the worry of overspending!
2. It's Less Crowded
Another reason to visit the Latvian capital city is its serene and less crowded atmosphere, offering a refreshing break from the bustling crowds often found in major European cities.
Riga has managed to maintain its charm and authenticity by escaping mass tourism, allowing you to explore it at your own leisure.
You won't get the feeling of being overwhelmed by hordes of tourists which is, unfortunately, often the case in European capitals nowadays.
So say goodbye to long lines and crowded attractions – a visit to Riga is a relaxed and enjoyable experience!
Tours you might find interesting:
3. It Offers Stunning Architecture
Next on the list of reasons why Riga is worth visiting is the city's stunning architecture, particularly the enchanting Alberta Street.
This charming thoroughfare is lined by magnificent Art Nouveau buildings on both sides, each of their facades adorned with ornate details.
Every building on Alberta Street is a masterpiece in itself, and I couldn't stop myself gazing in awe while walking down the street.
However, Alberta Street isn't the only area that is a testament to the city's rich Art Nouveau heritage. While it is, of course, a must-visit you can find these architectural treasures dotted throughout the entire city center.
So when you explore all parts of Riga, keep an eye out for these stunning buildings, and you're sure to be treated to a visual feast of Art Nouveau design!
4. It Has Amazing Nightlife
Riga is a rather small city, but when it comes to nightlife, it can definitely compete with all the big ones! When the sun sets, the Baltic gem comes to life, offering a diverse range of entertainment options.
Whether you're into dancing the night away in trendy clubs, sipping craft cocktails in stylish lounges, or trying the iconic Black Balsam in local bars, Riga has something for everyone.
One of the best addresses, and my favorite bar in Riga, is the Black Magic bar. Open since 1752, it's believed to be the place where the original Riga Black Balsam was first created.
With its dimly lit, cozy corners and antique furniture, the bar's interior will transport you back to that exact time.
As its name already indicates, the bar specializes in drinks with Black Balsam as a main ingredient. From cocktails to shots and various other concoctions, you can try the herbal liquor in all of its forms.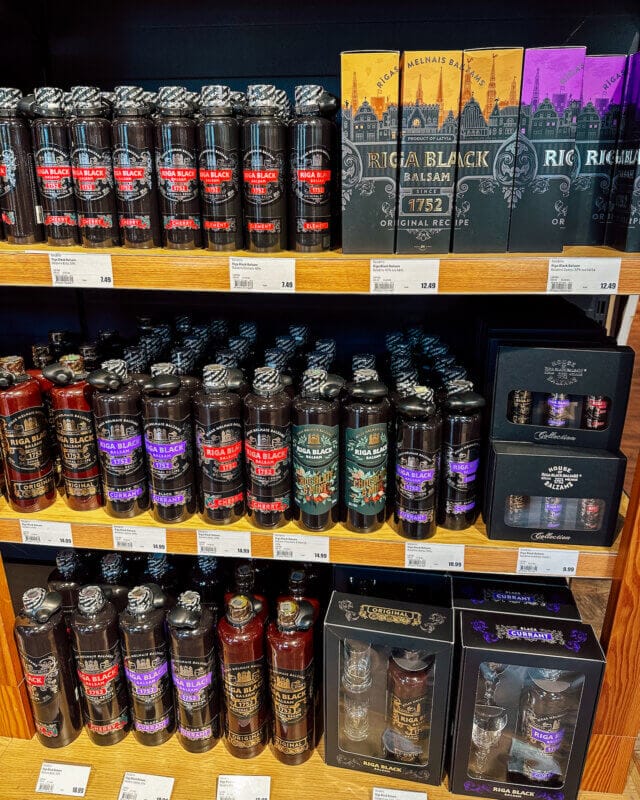 A cocktail bar I can recommend is Thirsty, located in the very heart of Old Riga and surrounded by the walls of St. Peter's Church. This hip place features a unique and modern interior on two floors and there's a DJ on weekends.
No matter if you're a night owl or simply looking to unwind after a full day of sightseeing, Riga's nightlife will satisfy your needs!
5. It Features Beautiful Parks & Green Spaces
Reason number five to visit Riga is its abundance of beautiful parks and green spaces. I've been to quite many green cities in Europe such as Ljubljana, or Stockholm, and in my opinion, Riga deserves to be called a "green city" as well.
The city features a vast amount of public parks, one being more beautiful than the other. My personal favorite is Bastejkalna Park.
This centrally located park, nestled between the City Canal and the River Daugava, is a tranquil oasis in the heart of Latvia's capital. Lush greenery, charming bridges, and scenic pathways await you there.
Plus, the fact you can take a scenic canal ride makes it even better!
Besides Bastejkalna Park there are lots of other wonderful parks spread throughout the city with other famous ones being Kronvalda Park and Vermanes Garden.
To see how green Riga really is, I recommend you climb to the top of St. Peter's Church to enjoy a great 360-degree view of the city and its greenery. Soaking in the stunning views from up there is one of the best things to do in Riga!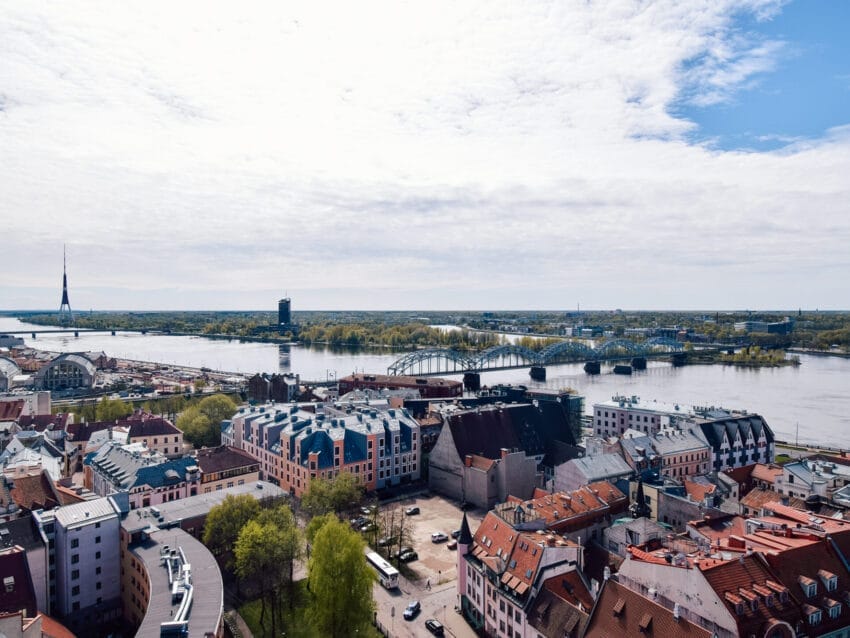 Tours you might find interesting:
6. It's Close to The Baltic Sea
Last but not least, another reason that makes Riga worth visiting is its convenient location to the Baltic Sea.
Just a short drive from the city, you can explore stunning coastal areas such as the picturesque seaside town of Jurmala. It beckons with sandy beaches, charming wooden architecture, and serene pine forests.
Take a walk along the serene beach or if you're brave enough, you can try your hand at water sports like windsurfing, kiteboarding, or sailing.
Jurmala is only one of the many gems on the coasts of the Baltic Sea. All along the coastline, you can find lovely lighthouses, rough limestone cliffs, and breathtaking nature parks that are great for birdwatching.
These are just some, but for me, the most important reasons, why I think Riga is worth visiting. I bet, if I thought any longer, this list would probably become endlessly long.
But I don't want to spoil the surprise for your visit!
So next time you're looking for a destination in Europe, why not consider Riga? I'm certain, you will love it just as much as I do. 🙂
Check out:
– 12 Best Things to do in Riga For First-Time Visitors
– A Perfect Day Trip to Jurmala From Riga
---
Like it? Pin it!
---
Do you want to travel like me?
Here are some of my favorite travel tips and resources:
Flights: I prefer using CheapOair or Skyscanner to book flights. The destination everywhere feature is perfect for finding some cheap deals!

Accommodation: Booking.com is my favorite site to find some great hotel deals. I do love staying at a local place as well, thus I book an Airbnb every now and then.

Travel Insurance: There are many reasons why travel insurance is important and I never travel without having one. I use the simple and flexible one from World Nomads to be protected against unforeseen events.

Tours: I love taking tours to explore destinations like a local. My favorite website to book them in advance is GetYourGuide.

Camera Gear: I use a Nikon D5300 camera with an 18-105 mm and a 10-20 mm wide-angle lens to take my photos.