18 Most Beautiful & Famous Landmarks in Belgium
All The Best Landmarks in Belgium You Need to See!
Compared to its neighboring countries Germany or France, or other European countries like Italy or Spain, Belgium is often considered a less-touristy destination.
However, the country offers a unique blend of history, culture, architecture, and culinary delights, making it an appealing destination for travelers of all kinds.
Accordingly diverse is the range of landmarks in Belgium that are all absolutely worth seeing. From charming medieval towns to world-class museums and historical castles, the country boasts many wonderful places to explore.
Since there is so much to see and I haven't discovered all of Belgium's beauty on my own yet, I asked other travel experts to share their favorite Belgian landmarks to help me compile this comprehensive list.
From Brussels to Ghent, Antwerp, Bruges, and other parts of Belgium, it includes all the best the country has to offer!
(This post contains affiliate links, which means I receive a certain percentage of a sale if you purchase after clicking.)
Famous Landmarks in Brussels
1. Grand Place
Recommended by me
On the list of the most famous landmarks in Belgium, of course, the Grand Place in Brussels can't be missing.
Ranking among the world's most remarkable squares, visiting the Grand Place is one of the best things to do in Brussels. Initially a bustling marketplace for traders, its roots trace back to the 10th century.
Today, the buildings surrounding the Grand Place showcase a mix of Gothic, Baroque, and Louis XIV architectural styles, highlighting the rich heritage of Brussels.
Every two years in August, the square is covered in more than 500,000 begonias and dahlias to make a stunning flowery design, known as the "Flower Carpet". If you want to be part of this unique occasion, make sure to plan your visit accordingly.
Otherwise, the best time to visit Brussels' Grand Place is during the warmer months of late spring (May to June) and early autumn (September to October).
Additionally, the Grand Place is beautifully decorated and lit up during the winter holiday season, making it one of the best places to visit in Europe in December.
2. Atomium
Recommended by Kelly of The Girl With The Passport
The Atomium is without doubt another one of the famous landmarks in Belgium.
It is located in Heysel and is a great place to visit if you have two or more days in Brussels. The only issue is that it is a bit of a ride from the city but one that is worth the hassle.
The Atomium is 102 meters tall and quite literally towers over the spectators. It is really a giant atom and the interesting part is that it isn't just any atom structure that is on display. This structure depicts an iron atom in its traditional crystal lattice.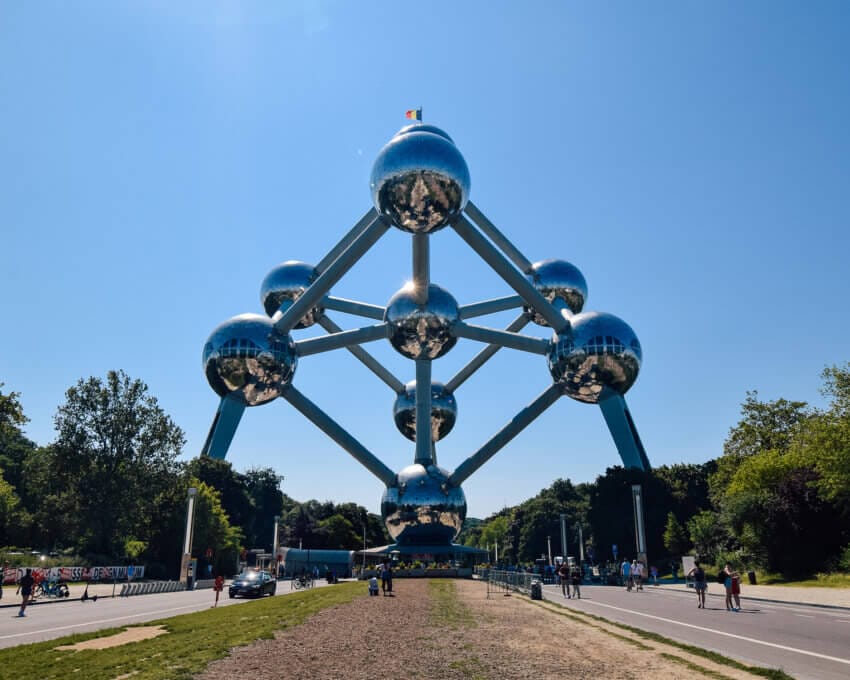 Many would be curious about why there is a giant atom in Belgium in the first place. The structure is not useful after all.
The Atomium was constructed in 1958 as a symbol of progress post World War II. This was as part of the 1958's World Fair. It has stood tall and proud ever since and has become one of the most famous landmarks in the country.
The entrance fee is €17 for adults, so not necessarily a bargain, but with many exciting exhibitions inside and a stunning city view from its top, visiting the Atomium is still one of the best things to do in Brussels!
Tours you might find interesting:
3. Basilica of Koekelberg
Recommended by Laura of Laure Wanders
The enormous National Basilica of the Sacred Heart in Koekelberg is one of the most famous monuments in Brussels and the largest church in Belgium.
It was built at the demand of King Leopold II and its construction started at the beginning of the 20th century.
However, the church was only completed in 1970 due to the two world wars and the king never saw the finished product, as he died a couple of years after the construction began.
At the time of its construction, this church was the 5th largest church in the world and it remains one of the largest Art Déco buildings today.
The Basilica of Koekelberg is open every day from 8:00 am to 5:00 pm and it's free to visit. If you want to access its upper floors and see a panorama of Brussels, however, you will have to pay €8.
4. Mont des Arts (Kunstberg)
Recommended by Annelies of Travelers & Dreamers
De Kunstberg, or Mont des Arts in French, is one of the most popular cultural sites in Brussels. It's an urban complex and historic site that boasts a wide array of sights and activities like museums, institutions, gardens, and architectural finds.
The main highlight of this site is the Mont des Arts Garden. This is a terraced garden offering a panoramic view of the historic downtown of Brussels.
Around the viewpoint, you can find fountains, sculptures, and staircases, making it a favorite spot for tourists in Brussels as well as in the whole of Belgium.
The area is also rich in museums, including the Magritte Museum, which houses the world's largest collection of works by the surrealist artist René Magritte, and MIM, the Musical Instruments Museum, which is housed in a magnificent Art Nouveau building.
Mont des Arts is centrally located in Brussels. You can find it right next to Brussels Central Station and only 500 meters from La Grand Place, making it a must-visit landmark for tourists in Belgium.
After visiting, make your way to Fin de Siècle, a traditional Belgian restaurant, or try one of the amazing vegan restaurants in Brussels if you are a plant-based foodie!
5. Mannekin Pis
Recommended by Lavina of Continent Hop
Located in the center of Brussels, Mannekin Pis is one of the most iconic landmarks in Belgium. The bronze statue of a boy urinating in a fountain is also known as the "pissing boy" statue.
It is one of the most popular sights to see in Brussels and symbolizes the spirit of the city. It is a reminder of the city's rich history and the evolution it has gone through.
What's pretty cool about this statue is that it's dressed up in costumes on various occasions, a tradition that started in the 18th century and continues today. You can visit the Garment Museum to view some of these interesting outfits.
Mannekin Pis is located outdoors and is accessible to everyone at all times. There is no entry fee and you can visit whenever you wish to.
You can spend about 15 to 20 minutes here. This will be enough for you to see the statue and read about its history while clicking some quirky pictures.
The atmosphere surrounding the statue is quite fun so it is definitely worth stopping by it once.
Tours you might find interesting:
6. Royal Palace of Brussels
Recommended by Charlotte of The Geo Room
The Royal Palace of Brussels is a fantastic landmark in the capital city of Belgium. The palace was constructed in 1820 and is the King's administrative residence and workplace.
You can find the palace at the front of Brussels Park, separated by huge and wonderfully cared-for gardens. While the building looks spectacular from the outside, there is an even better way to explore it.
The palace is one of the only available residences that guests are allowed to visit inside. As a tradition – started in 1965, Brussels Palace is open to the public after the National Holiday from 21st July until September each year.
The palace doors are open from 10:30 am until 3:45 pm each day with admitted guests free to explore until 5:00 pm. A visit will take around 2-3 hours.
Visitors are allowed into many of the palace's most grand rooms, including The Mirror Room and Large Gallery. One of the best things about a visit to the palace is that entrance is free!
So, if you're ever in Brussels during the summer you must ensure you get inside The Royal Palace of Brussels – even if you're only visiting Brussels for one day.
Famous Landmarks in Ghent
7. Saint Bavo's Cathedral
Recommended by Jo of World Wild Schooling
If you're looking for a mix of history and art in Ghent, Belgium, you will enjoy St Bavo Cathedral. This amazing cathedral is special for its old Gothic style and has seen many years go by since it was first built in the 10th century.
The most famous of these treasures is "The Adoration of the Mystic Lamb," a 15th-century painting by the van Eyck brothers, known all over the world for its small details and interesting history.
You'll also get an augmented-reality tour, which makes the visit even more interesting!
Going into the cathedral is free. However, to see the famous Ghent Altarpiece, you need to buy a ticket, usually priced at €16. It's usually open from 10:00 am to 5:00 pm Monday to Saturday and 1:00 pm to 5:00 pm on Sunday.
It's a good idea to check the official website or call ahead because times can change for church events.
Planning a short visit of 1-2 hours will let you see the site's rich history, though those who love art may want to stay longer.
8. Belfry of Ghent
Recommended by Julie of Toronto to Anywhere
Ghent is a city full of enchantment and rich history, with the Belfry standing tall as one of its many stunning architectural gems.
Located in the heart of the city, this medieval bell tower is 91 meters tall and was first built in the 14th century.
At the very top of the Belfry, a fiery dragon overlooks the city, serving as a symbol and mascot for Ghent. And if you are in Ghent at the right time of year, you might even get to see fire shoot out of the dragon's mouth during special events!
The tower is open throughout the year. Opening times vary by season, and the cost of a basic ticket is €11. Children under 12 are free.
You'll have the option to climb over 300 steep stairs or take the elevator to the top, where you will be rewarded with a breathtaking panoramic view of the city.
On average, it takes about 30 minutes to climb up and explore the Belfry, but you will likely want to allocate more time to admire the artifacts throughout the tower, read about the history, take photos, and admire the view.
The Belfry's stunning views and European UNESCO World Heritage Site status make it a must-see landmark for anyone visiting Ghent.
9. Castle of The Counts
Recommended by Babs of Next Stop Belgium
Located in the very heart of Ghent, the Castle of the Counts (known in Dutch as Gravensteen) is a medieval fortress that should be high up your Belgian landmarks list.
The castle has a long and turbulent history evolving from a simple wooden keep to a notorious place of torture and eventually turning into a cotton factory.
Since 1907, the castle has functioned as a museum and became one of the must-sees in Ghent. You're able to visit the gatehouse, ramparts, keep, count's residence, and stables.
As you wander around, you'll be transported back to a time of knights, counts, and intriguing medieval lore. Make sure you don't miss out on the impressive collection of medieval torture equipment either.
The castle is open every day from 10:00 am to 6:00 pm (last admission at 4.40 pm). Entrance fees are €13 for adults, €8 for students, €2.70 for kids aged 13-18 and it's free for children under 12.
Don't miss out on the hilarious free audioguide by comedian Wouter Deprez (available in Dutch, French, English, German, and Spanish). It takes about 1.5 hours to visit the Castle of the Counts.
Tours you might find interesting:
Famous Landmarks in Bruges
10. Grote Markt
Recommended by Amber of Get Lost in Wanderlust
Grote Markt is located in the historical center of Bruges. This central square features beautiful Flemish-style architecture, historical monuments, and several cafes and restaurants.
In fact, the number of things to do in and around Grote Markt is one of the reasons why it is easy to spend 2 days in Bruges.
In the center of Grote Markt is a large statue of Jan Breydel and Pieter de Coninck. These two men once fought against French nobility for the rights of everyday Flemish citizens in Bruges during the Middle Ages.
Today, the statue is a tribute to the Flemish patriots.
It is free to visit the Grote Markt and it is a must-see site in Bruges. Grote Markt is a great location for pictures or to enjoy some delicious Belgium food at one of the cafés.
On the sides of Grote Markt, there are several museums and attractions such as the Historium Brugge, the Belfry, and the Bruges Beer Experience that are also worth checking out.
11. Church of Our Lady
Recommended by Amber of Get Lost in Wanderlust
The Church of Our Lady is a stunning structure of the Bruges skyline, dating back to the 13th and 14th centuries.

From the outside, you can admire the intricate Gothic architecture and the impressive tower of the church. Seeing the beautiful Church of Our Lady is one of the many reasons why Bruges is worth visiting
On the inside, you can visit the Church of Our Lady Museum which features various paintings and artwork from the medieval ages, as well as the 15th- and 16th-century tombs of Mary of Burgundy and Charles the Bold.
However, the most famous attraction in the museum is Michelangelo's Madonna and Child, sculpted out of marble.

The Church of Our Lady Museum is open from 9:30 am to 5:00 pm, and on Sunday from 1:30 pm to 5:00 pm. Admission is only €8 per adult.

12. Belfry of Bruges
Recommended by Sam of Find Love & Travel
One of the most famous landmarks in Belgium is the Belfort Brugge also known as the Belfry Tower in Bruges.
This is an 83-meter tower that was built in the 13th century and was recognized as a European UNESCO World Heritage Site in 1999.
You can either simply admire the incredible medieval architecture of the tower from the outside or choose to climb the 366 stairs to the top. In doing so, you will find incredible views of Bruges.
The Belfry is located right in the center of Bruges in Grote Markt, so you can't miss it. To climb the tower, you'll need to book tickets online. You could get them in person, however, there is usually a long queue.
Ticket prices are €15 for adults, however, if you get the Bruges pass, it is included. You can expect to spend about an hour at the Belfry if you choose to climb the tower.
During the summer season, the tower is open daily from 9:00 am to 8:00 pm. During the winter season, the tower is open during the week from 10:00 am to 6:00 pm and on Sundays from 9:00 am to 8:00 pm.
You can visit Bruges as a day trip, however, spending 3 days in Bruges will really allow you to enjoy the charm this city has to offer once all the day trip tourists leave.
There are plenty of other attractions, restaurants, and scenic areas to enjoy while here!
Tours you might find interesting:
Famous Landmarks in Antwerp
13. Steen Castle
Recommended by Sinjana of Backpack & Explore
Historic, yet non-touristy, Antwerp is one of the best cities to visit in Belgium. It's such a walkable city where you can explore so much – even if you spend only one day in Antwerp!
The Steen Castle is the most extraordinary landmark of Antwerp. It's a historic cornerstone standing since the 9th century along the Scheldt River.
Getting there is hassle-free. You can get there easily by a 30-minute leisurely walk from Antwerp's central station, or a quick 10-minute tram ride.
The castle has a storied past: Once a fortress, then a prison until 1823, and later serving as a residence, a sawmill, and a fish warehouse.
Expanded and fortified over time, it saw significant renovations, including a neo-Gothic wing in the late 19th century. At its gate stands a big Semini statue, which was a fertility symbol in the past.
After a tour of the castle, you can walk along the Antwerp Harbour. Nearby, you'll find an underpass leading to a panoramic viewpoint of the city.
Steen Castle is open from 10:00 am to 5:00 pm from Tuesday through Sunday. To get inside, you need to pay a small entrance fee of €6, kids under 12 are free.
14. Plantin-Moretus Museum
Recommended by Michael of Time Travel Turtle
One of modern history's biggest societal changes was the invention of the printing press when information was able to be distributed easily and quickly to a much wider audience.
And it was the Plantin-Moretus Workshops in Antwerp that played a big role in this distribution.
Founded in 1555 and originally known just as the Plantin Press, it was one of the largest printing houses in Europe, producing about 1,000 copies of a new book each week.
Finally closing in 1867, it was preserved and you can now visit the Plantin-Moretus Museum to see this history for yourself.
As well as exhibitions about the process and the works made here, there are original printing presses and insights into the lives of the owners and the workers. It's so significant that it's even been named as a World Heritage Site.
The Plantin-Moretus Museum is open all day from Tuesday to Sunday, with standard admission costing €12 and a concession €8. You can preorder tickets on the museum's official website.
It takes at least an hour to see everything and there are often workshops or other hands-on events taking place.
15. Antwerp Central Station
Recommended by Ann of The Road Is Life
The incredible Antwerp Central Station or "Antwerpen-Centraal," is a masterpiece of architecture known as one of the world's most beautiful train stations.
Whether you arrive in the city by train or not, Antwerp Central Station is the perfect place to begin your explorations in Antwerp.
The train station first opened in the year 1905 after taking over a decade to be completed. Today, it is one of the most well-known and loved landmarks of Antwerp.
Its grandeur is admired by visitors from all over the world who stop by to marvel at the station's majestic interiors.
When you first enter Antwerp Central Station, you will immediately notice the huge domed ceiling which is similar to a cathedral. The grand staircase, intricate stone carvings, and impressive facade are truly a work of art and make for a beautiful photo opportunity.
Antwerp Central Station is located in the heart of the city and it's open to visitors at all times of the day without an entry fee required.
It is an absolute must-see on your Belgium itinerary and a quick stop to admire the building and snap a few photos is all you need.
Other Famous Landmarks in Belgium
16. Dinant Citadel
Recommended by Jackie of Jou Jou Travels
The Citadel in Dinant is one of Belgium's most famous landmarks and a great day trip from Brussels.
The Citadel includes 14 immersive stops, providing insights into significant battles, including the town's defense against the German invasion en route to France.
Perched high atop a hill, it offers breathtaking views of the town below. Inside, the central courtyard showcases casements where guns once roared during World War I.
An audio experience mimics the sounds of battle, and you can explore a collapsed shelter from 1914 designed to evade enemy fire. Just note, that its slanted terrain can make you a bit dizzy!
Entry to the citadel is €11 and you will need to take around three hours if you want to take photos and go through the whole experience. It is open daily from 10:00 am to 6:00 pm in peak season.
There are two different ways to reach the citadel. Either you climb a steep staircase of 408 stairs or enjoy a more leisurely cable car ride from Place Reine Astrid. This cable car journey is a mere 2-minute ride and provides panoramic views along the way.
17. Menin Gate
Recommended by Trijit of Budget Travel Buff
The Menin Gate, located in the charming Belgian town of Ypres, is one of the most iconic and poignant landmarks in Belgium.
This majestic memorial, dedicated to the memory of British and Commonwealth soldiers who lost their lives during World War I, stands as a solemn reminder of the sacrifices made during the Great War.
Visitors to the Menin Gate can explore this remarkable structure at no cost, as entrance is free of charge.
The gate is open to the public throughout the year, offering an opportunity to pay respects and witness the moving Last Post ceremony, which takes place daily at 8:00 pm.
While in Ypres, visitors can also explore the town's charming streets, indulge in delectable Belgian chocolates, and savor the unique blend of history and culture that this region offers.
A visit to the Menin Gate and Ypres is a profound and educational experience that typically requires about 1-2 hours, but the memories and understanding gained are priceless, making it a must-visit landmark in Belgium for anyone interested in history and commemoration.
18. Château de Vêves
Recommended by Penny of Globetrove
Château de Vêves is one of the coolest landmarks in Belgium. Located in Namur, this castle is a short distance away from Namur city and a little longer drive away from Brussels.
It's a lesser-visited castle by tourists but you will find that it is popular with the local people.
Ideally speaking, Château de Vêves is best visited during spring and summer. That doesn't mean that it isn't really cool in winter either. The gardens around the castle are small and you will spend most of your time indoors.
The inside of Château de Vêves retains its original furnishings. You can see how the food was cooked, the original beds, the original kitchen, and more.
The castle is open on Saturday and Sunday only from 10:00 am to 5:00 pm. Tickets for adults cost €9 and for children €6. Exploring the whole castle will take about an hour.
---
Like it? Pin it!
---
Do you want to travel like me?
Here are some of my favorite travel tips and resources:
Flights: I prefer using CheapOair or Skyscanner to book flights. The destination everywhere feature is perfect for finding some cheap deals!

Accommodation: Booking.com is my favorite site to find some great hotel deals. I do love staying at a local place as well, thus I book an Airbnb every now and then.

Travel Insurance: There are many reasons why travel insurance is important and I never travel without having one. I use the simple and flexible one from World Nomads to be protected against unforeseen events.

Tours: I love taking tours to explore destinations like a local. My favorite website to book them in advance is GetYourGuide.

Camera Gear: I use a Nikon D5300 camera with an 18-105 mm and a 10-20 mm wide-angle lens to take my photos.