10 Best European Cities to Visit in November
As the summer sun disappears, autumn winds bring lower temperatures, fall colors, and freshness to some of Europe's top tourist destinations.
Although many wouldn't think of autumn as the perfect time to travel to Europe's cities, the colder weather in November does have its perks.
Whether you're traveling to Spain, Austria, or Slovenia, it's a great time to visit Europe and enjoy a cooler, less crowded adventure.
You're not sure where to go? I've rounded up a list of the 10 best European cities to visit in November that'll take you from the Iberian Peninsula through the Swiss Alps and over to the Baltics.
So, pack your bags and let the beauty of the fall colors in Europe amaze you!
(This post contains affiliate links, which means I receive a certain percentage of a sale if you purchase after clicking.)
1. Madrid, Spain
Madrid is a beautiful city year-round, but come autumn, it's easily one of the most beautiful European cities to visit in November.
The leaves change color towards the end of October, meaning a trip to Madrid in November will have you walking through orange and golden-hued landscapes no matter where you go.
The area around Retiro Park is one of the best areas to stay in Madrid in the fall, as it's right next to the Paseo del Prado and the Golden Triangle of Art.
Wake up, grab a cup of coffee, and explore the neighborhood and nearby famous Spanish landmarks under the bright, vivid hues of autumn.
After visiting the museums, plan a night out at a jazz bar or catch a flamenco show. Even in the shoulder season, Madrid puts on plenty of live shows and other fun events, including the annual Autumn Festival.
Tours you might find interesting:
2. Florence, Italy
Ah, Florence — the home of some of the Italian Renaissance's greatest minds, including Leonardo da Vinci, Michelangelo, Donatello, and Botticelli.
To witness the wonder of their works of art, visit in November when there are fewer crowds and cooler temperatures.
While the city's nearby Tuscan landscapes are beautiful year-round, they look even finer in the fall, with autumn leaves turning the city into a golden paradise. The colors of the Arno River reflect the surrounding hills, giving the city a warm and inviting glow.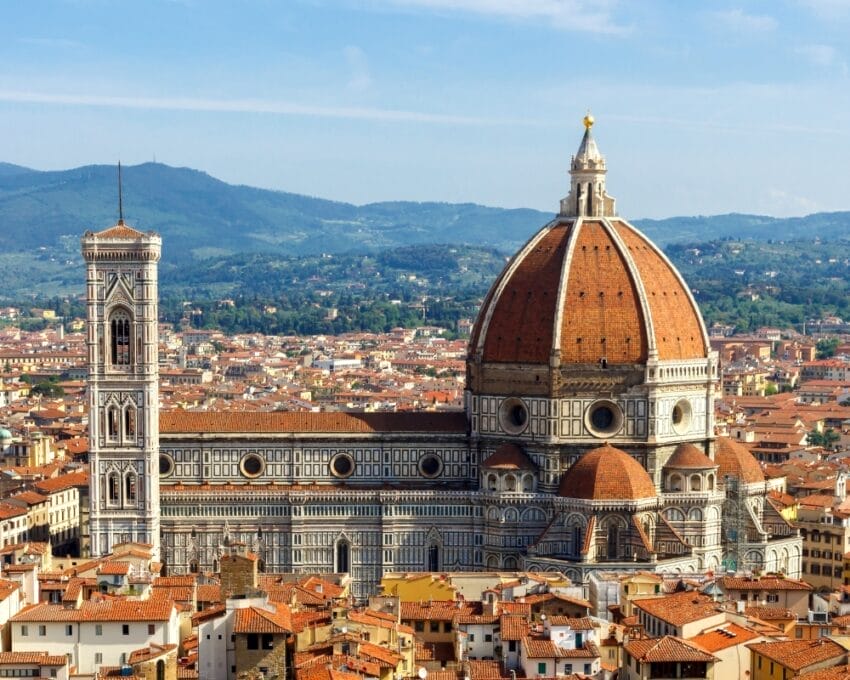 The average temperature in Florence in November hovers around 13°C, making it ideal for a leisurely stroll through outdoor attractions like Boboli Gardens or Palazzo Pitti.
Or, if you have more time, the weather's usually great for day trips to nearby towns like Siena or San Gimignano.
If it gets too chilly outside, warm up inside at one of Italy's most famous landmarks. The Uffizi Gallery isn't as crowded in November as it is in the summer months, making it easier to catch a view of all the great artworks.
Tours you might find interesting:
3. Edinburgh, Scotland
Does the idea of misty mornings, leaf-covered cobblestones, and cozy Scottish pubs sound like an ideal setting to you? If so, plan a trip to Edinburgh in November.
From the Harry Potter-esque Edinburgh Castle to the city's Gothic Old Town, you'll find it's one of the best European cities to visit in November for the quintessential fall aesthetic.
Start your trip with a stroll along the Royal Mile, which stretches from the city's Old Town all the way through to Edinburgh Castle.
Then, if the weather's not too cold, spend some time sprawled out and people-watching on the lawn at Princes Street Gardens.
If you're spending more than two or three days in Edinburgh, rent a car and explore the nearby Scottish countryside.
While Loch Ness might be too far for a day trip (just getting to Inverness takes about four hours by train), Cairngorms National Park is one of the best European national parks and perfect for hiking.
After, head back to Edinburgh to enjoy the lively pub scene and a pint of beer. If you're a whisky lover, definitely book a ticket for the Scotch Whisky Experience.
Tours you might find interesting:
4. Porto, Portugal
If you're looking for a memorable European city break in November that's not too cold, Porto should be at the top of your list. The city offers the perfect blend of Gothic architecture, Portuguese culture, and contemporary attractions.
One of the highlights of any trip to Porto in November is exploring the nearby Douro Valley, known for picturesque vineyards and world-class wineries.
Book a full-day tour to visit local quintas to sample a range of exceptional, sweet port wines. On the drive out there and back (which takes about an hour each way) you can soak up the spectacular scenery.
For a more relaxed trip that doesn't take up too much time, consider a boat ride along the Douro River. Or, if you prefer to stay landside, Porto's easily walkable on foot.
Take a stroll through the charming streets of the Ribeira district or visit the grand Palácio da Bolsa, a historical landmark in Portugal you can't miss if you love photography.
Tours you might find interesting:
5. Kraków, Poland
While slightly colder than the other options offered above, Kraków is one of the best European cities to visit in November if you love Renaissance, Baroque, and Gothic architecture and world-class museums.
Escape the chilly air by heading indoors and visiting the Oskar Schindler's Factory or the Rynek Underground Museum.
Or, if you're looking to extend spooky season into November, visit the Lost Souls Alley for one of the most terrifying haunted house experiences in all of Europe!
If the weather's nice, head out for peaceful walks along the Vistula River. Beyond Kraków, there are several nearby natural wonders to discover — from the Tatras Mountains to Ojców National Park, home to limestone gorges and sprawling forests to explore.
6. Valencia, Spain
Are you looking for a warmer escape this November? Plan a getaway to Valencia, Spain! With an average temperature of 18°C, Valencia is worth visiting for its mild climate alone.
You won't likely be able to swim in the Mediterranean waters come November, but the beaches are still pretty on a sunny day. Take a stroll along the boardwalk before heading inwards towards the city.
Walk through the nine kilometers of Valencia's Turia Garden, and you'll inevitably stumble upon several Valencia hotspots.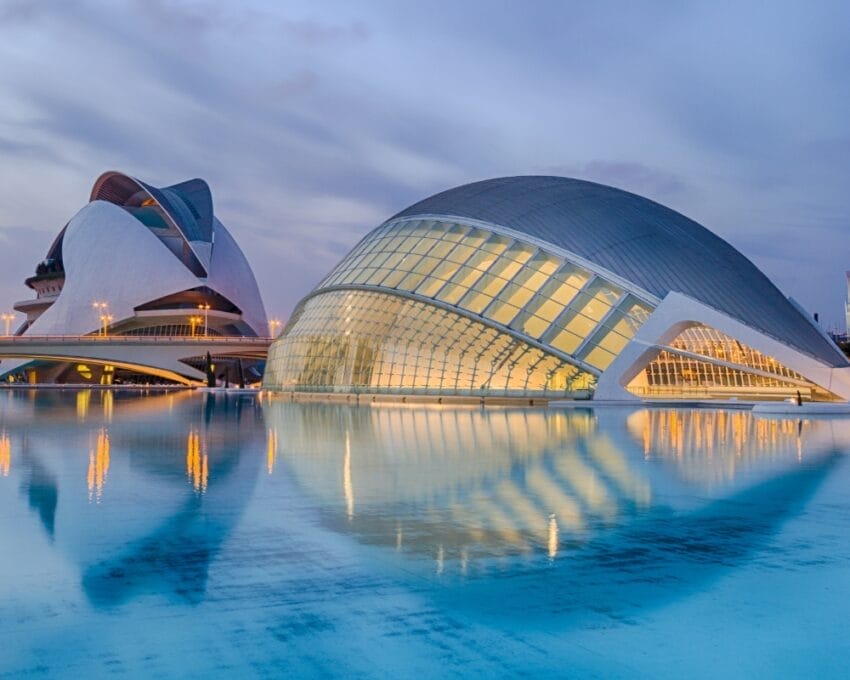 You don't have to get sandy to enjoy the sights of this Spanish city, though.
If you've seen photos of Valencia, you're likely familiar with the city's stunning architecture, such as the City of Arts and Sciences and the 15th-century Lonja de la Seda.
If you're visiting the very first week of November, you might catch the All Saint's Day celebrations on November 1st.
Unlike Halloween, November 1st is a public holiday in Spain, so shops might be closed, but you can find a pastry shop and try some huesos de santo — dried marzipan filled with pastry cream.
Tours you might find interesting:
7. Ljubljana, Slovenia
There's something special about the Slovenian capital that makes it a must-visit in autumn.
Maybe it's the panoramic views of the Ljubljana Castle perched atop a hill in the distance. Or perhaps it's the cozy cafés tucked away on every street corner, filled with locals sipping hot drinks and watching the leaves fall.
Whatever it is, Ljubljana is the perfect destination for those looking for a less-crowded and laid-back autumn break. From the city, you can explore so many of Slovenia's diverse landscapes, too.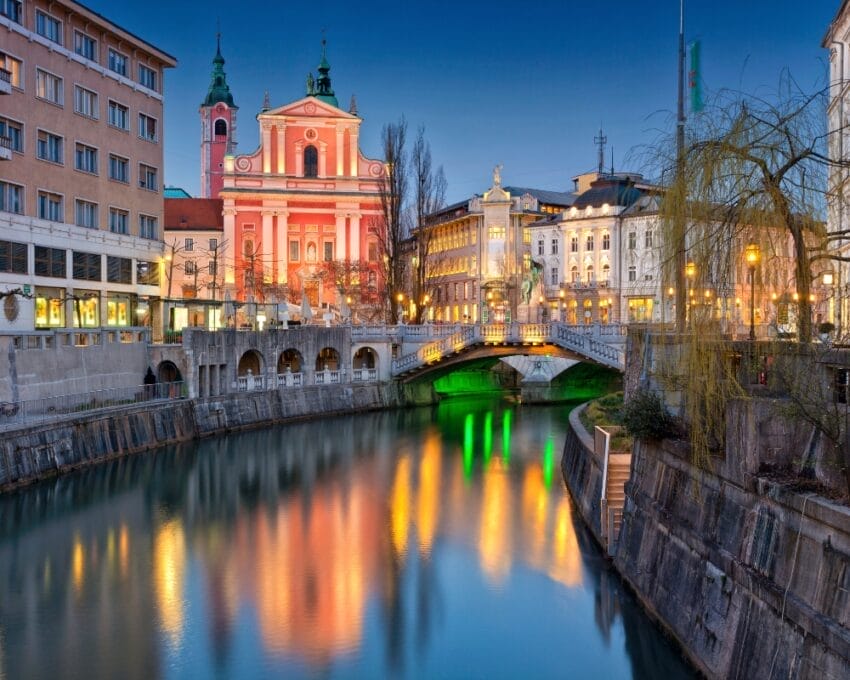 Rent a car and drive out to the Julian Alps to ski or trek. Or follow the whispers of the water towards the coast to witness the crystal-clear waters of the Adriatic Sea.
Whatever you do, don't miss the chance to visit the city's famous Christmas market, held from late November through early January.
Sip on hot mulled wine and sample local snacks as you browse the rows of charming wooden cabins filled with handmade crafts and festive treats. It's truly one of the best things to do in Ljubljana!
Tours you might find interesting:
8. Vienna, Austria
Vienna gets a lot of attention for its Christmas market (and rightfully so), but the city is just as enchanting in November at the peak of fall, too.
One of the main draws of visiting Vienna in November is the slower pace at which you can explore the city's Royal palaces and museums.
Visit Schönbrunn Palace, one of Austria's most iconic landmarks and the magnificent winter residence of the Habsburg emperors, and tour the beautiful gardens and breathtaking Imperial apartments.
The Belvedere Palace is also an absolute must, boasting Baroque architecture and a unique art collection.
Apart from its grand palaces, Vienna is also widely known for its distinguished café culture, which is great for the crisp, cool air of the autumn months.
Cafés, such as Café Central and Sacher, are perfect for indulging in a cup of Viennese coffee. Pair it with a slice of traditional apple strudel, and you'll find yourself in fall foodie heaven.
Tours you might find interesting:
9. Zurich, Switzerland
When most people think of Switzerland, they immediately think of extreme cold and snow-capped mountains.
And while Zurich is a bit colder in November than some of the other cities on this list (expect daily averages around 5°C), it's still a great place to visit in the fall.
The cool, cozy November weather complements the natural beauty of the city, especially in the areas surrounding Lake Zurich.
And while it's a somewhat tranquil, sleepy destination in November, Zurich is definitely not without plenty of things to do.
Walk down Bahnhofstrasse, Zurich's main shopping street, and you'll be surrounded by luxury stores and a great culinary scene.
If you're an art enthusiast, visit the Kunsthaus Zurich Museum to check out works by Monet, Picasso, and Chagall.
After, warm up with a sweet treat. Zurich's full of places where you can get handmade chocolate or sip a steaming cup of mulled wine as you explore the Old Town.
Tours you might find interesting:
10. Dubrovnik, Croatia
Last but not least, Dubrovnik deserves a mention on this list of European cities to visit in November as well.
If you've seen photos or videos from Dubrovnik during summer, then you'll know just how crowded this top destination can get during peak tourist season.
While many summer tourists are drawn to Dubrovnik for its proximity to the water, visiting during November allows you to explore its historic walls and nearby natural splendors at a slower pace.
The historic walls surrounding the city date back to the Middle Ages and provide a touch of fairytale magic that ignites during autumn. Walk along the walls and gaze out over the sparkling sea as you admire the colorful rooftops of the Old Town.
Not a fan of historic walls and architecture? There are several impressive islands nearby that are easily accessible, as well as stunning hiking trails and vineyards ideal for a fall-themed getaway.
Tours you might find interesting:
As you see, regardless of which destination you choose, visiting Europe in November is ideal for those interested in lower temperatures, fewer crowds, and lower prices.
Plus, seeing some of the world's top destinations lit up under the fall foliage is truly magical!
Check out:
– 22 Best Places to Visit in Europe in December
---
Like it? Pin it!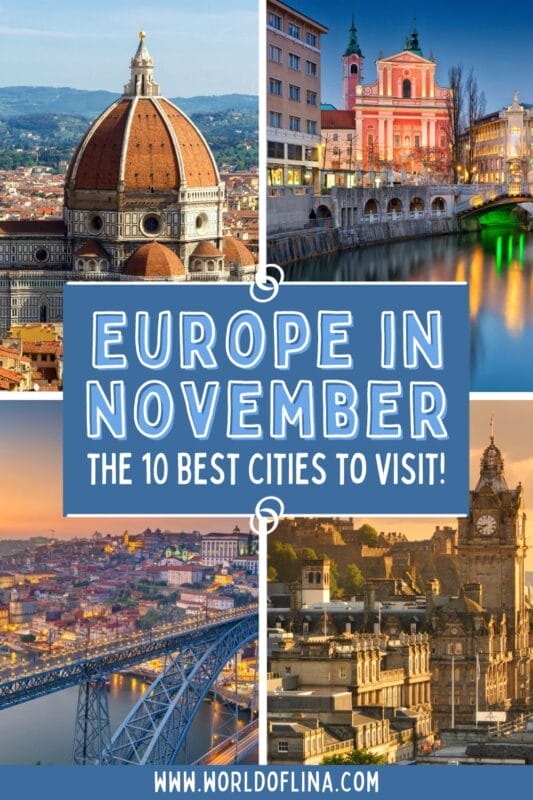 ---
Do you want to travel like me?
Here are some of my favorite travel tips and resources:
Flights: I prefer using CheapOair or Skyscanner to book flights. The destination everywhere feature is perfect for finding some cheap deals!

Accommodation: Booking.com is my favorite site to find some great hotel deals. I do love staying at a local place as well, thus I book an Airbnb every now and then.

Travel Insurance: There are many reasons why travel insurance is important and I never travel without having one. I use the simple and flexible one from World Nomads to be protected against unforeseen events.

Tours: I love taking tours to explore destinations like a local. My favorite website to book them in advance is GetYourGuide.

Camera Gear: I use a Nikon D5300 camera with an 18-105 mm and a 10-20 mm wide-angle lens to take my photos.