Where to Find The Best Rooftop Bars in Berlin
Hooray! Hooray! Summer is just around the corner! Honestly, I really can't wait for the time when it's still warm and sunny at 9:00 pm.
One of my absolute favorite things to do on these beautiful summer evenings is slurping a cocktail and watching the sunset. Moreover, it's even more perfect if you can enjoy these things while sitting in a hip and cool rooftop bar!
Last summer I spent 2 days in Berlin and got to chill at some really awesome rooftop bars there. Some were more expensive, some had better sunset views than others.
However, all of them offered a really nice, relaxing atmosphere to end a great day of exploring. Here are my absolute favorite rooftop bars in Berlin that you shouldn't miss!
(This post contains affiliate links, which means I receive a certain percentage of a sale if you purchase after clicking.)
Rooftop Bar at The Hotel De Rome in Berlin
The Hotel de Rome in Berlin is an extra-class 5-star hotel located at the Bebelplatz in the central Mitte district of the city. It's one of the most expensive hotels in Berlin. Thus you really need to spend a fortune if you want to stay there.
Due to its great location, all the main attractions and sights are easily reachable. Moreover, its rooftop terrace should have the best view of the entire city! No wonder I was really curious and wanted to see it for myself.
Even though I wasn't staying at the hotel – I think my entire trip didn't cost as much as staying one night at that hotel would lol – I was able to go to the rooftop bar as it's open to the public.
Frankly, I felt a little bit uncomfortable entering that grand and luxurious hotel but the staff there was really helpful and friendly.
When I asked them about the rooftop bar, the lovely staff from the reception accompanied me to the elevators, up to the terrace. Apparently, you're not allowed to go there on your own.
The rooftop bar was filled with people already, waiting for the sunset and enjoying some drinks but luckily I got a free seat. Just in time, because only a few minutes later the sun disappeared behind the horizon!
Drinks and Prices
First of all, I didn't expect the prices to be cheap. But when I got the menu card I was a little bit shocked. Cocktails cost around €20 to €25 and even non-alcoholic drinks were around €8.
Thus I decided to not have dinner there and just have a Lillet for around €14. I guess the incredible view was included in the price as well.
However, after sitting there for a while and enjoying the great view and drinking, I need to admit that despite the high prices, it was really worth going there.
The view was as good as they promised and I saw the most beautiful sunset from that rooftop bar in Berlin! Plus I got some different sorts of nuts as a snack hehe.
Tours you might find interesting:
Rooftop Bar "G&T" at The Hotel Zoe
The second rooftop bar I visited was a bar called "G&T" – which stands for Gin & Tonic – on top of the Hotel Zoe.
It's a very chic and modern boutique hotel located at the Hackeschen Markt. Therefore it's just a few minutes away from the Berliner TV tower and the Pergamonmuseum.
Compared to the Hotel de Rome, this one was smaller and also quieter. When I took the elevator up to the terrace, hardly anyone was there.
Nonetheless, the rooftop bar was really stylish and offered an amazing view of the Berliner TV tower, one of Germany's most famous landmarks.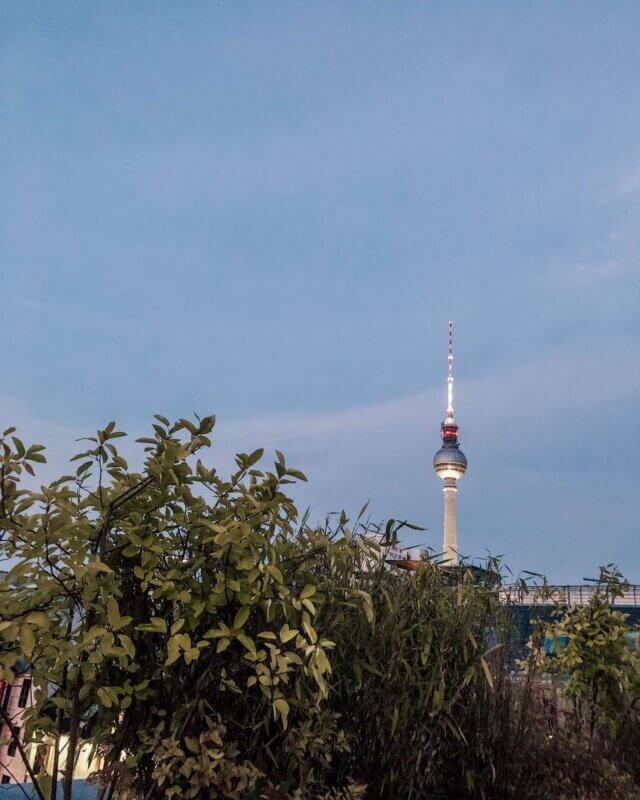 Drinks and Prices
Since the bar is called "Gin & Tonic", I had to order one for myself of course. Moreover, I've never seen so many different kinds of gin at a bar before!
You can choose between more than 10 different types of gin for your perfect drink.
I can honestly say, the one I got was a really good one and the prices were more inexpensive. Besides gin, they had a lot more drinks on their cards such as cocktails, long drinks, beer, wine, and more.
Additionally, they played some really cool and relaxing music too!
Sitting there, having my Gin & Tonic, listening to awesome music, and watching the sunset helped me never forget that moment above the roofs of Berlin!
Rooftop Bar at The Monbijou Hotel Berlin
Last but not least, another one of the rooftop bars I visited in Berlin was the one from Monbijou Hotel. Actually, I hadn't planned to go there initially as I wanted to visit one of the other two again.
Unfortunately, both of them were really packed with people so I had no chance to get a free seat. Since the Monbijou Hotel is located right opposite Hotel Zoe, I decided to give this one a go.
Although the rooftop terrace of this boutique hotel wasn't located as high as the others were, the view was still incredibly awesome. It offered a 360-degree view right over the Dome, Museum Island and the TV tower.
There were some really comfortable seats and couches on the terrace, perfect for a relaxing evening. Moreover, a DJ played some really nice music too.
Drinks and Prices
Since it was my last evening in Berlin, I went for my absolute favorite drink, a Hugo. The prices were comparable to the ones at Hotel Zoe so really not expensive at all.
Additionally, the very friendly waiter gave me some snacks as well and even refilled them when I ate them all! 😀
Comparing these three rooftop bars in Berlin, I must say that I liked the atmosphere of this one the best!
I really, really miss chilling at rooftop bars and slurping cocktails while watching the sun go down.
For me, hanging out at these rooftop bars was definitely some of my highlights during my trip to Berlin. It was just the perfect way to end a day full of exploration!
Do you like chilling at rooftop bars as much as I do?
Where was your favorite one so far? 🙂
---
Do you want to travel like me?
Here are some of my favorite travel tips and resources:
Flights: I prefer using CheapOair or Skyscanner to book flights. The destination everywhere feature is perfect for finding some cheap deals!

Accommodation: Booking.com is my favorite site to find some great hotel deals. I do love staying at a local place as well, thus I book an Airbnb every now and then.

Travel Insurance: There are many reasons why travel insurance is important and I never travel without having one. I use the simple and flexible one from World Nomads to be protected against unforeseen events.

Tours: I love taking tours to explore destinations like a local. My favorite website to book them in advance is GetYourGuide.

Camera Gear: I use a Nikon D5300 camera with an 18-105 mm and a 10-20 mm wide-angle lens to take my photos.