A Visit to The Palais Niederösterreich in Vienna
On October 26 – the Austrian National Day – I went to the capital city of my country. Needless to say, it was crowded as hell everywhere in Vienna!
Mostly because there were a few special attractions such as a military parade or open house at some political institutions.
Like many other people, I took the opportunity and took part on a tour inside the Palais Niederösterreich – one of the most classical things to do in Vienna.
(This post contains affiliate links, which means I receive a certain percentage of a sale if you purchase after clicking.)
What is The Palais Niederösterreich?
The Palais Niederösterreich – also known as the Niederösterreichisches Landhaus (Estates House of Lower Austria) – is one of the many Viennese Palaces in the first district of Vienna.
Until 1848, it housed the estates general of Lower Austria – the state I live in.
From 1848 – 1997, state government ministries occupied it because Vienna used to be the capital city of Lower Austria in that period.
In 1997 tho, St. Pölten became the new capital city of Lower Austria. Since then, the Palais Niederösterreich is only used for exhibitions and private functions or events.
For example, every year at the end of November there's a Christmas market inside the building. In my opinion, one of the coolest Christmas markets in Vienna no one should miss!
Inside the Palais Niederösterreich in Vienna
Rooms filled with a rich history and fascinating decoration with attention to detail everywhere you look – that's what awaits you inside the old residence.
On the day I went to Vienna they offered tours every 1.5 hours. I chose to take the tour at 11:30 am and almost didn't make it in time! It already started when I arrived but luckily I could still join them.
Our first stop was an old chapel and our tour guide told us everything about its foundation and history. It was a rather small one but still very pretty with a lot of small ornaments.
I wish I could show you how it looked inside but the light was really bad and I didn't have a lot of time to take photos there.
The Main Foyer
After we left the chapel we came to the main foyer with a wide staircase leading to the first floor. The stairs were covered with red velvet rugs and modern lamps lightened the foyer.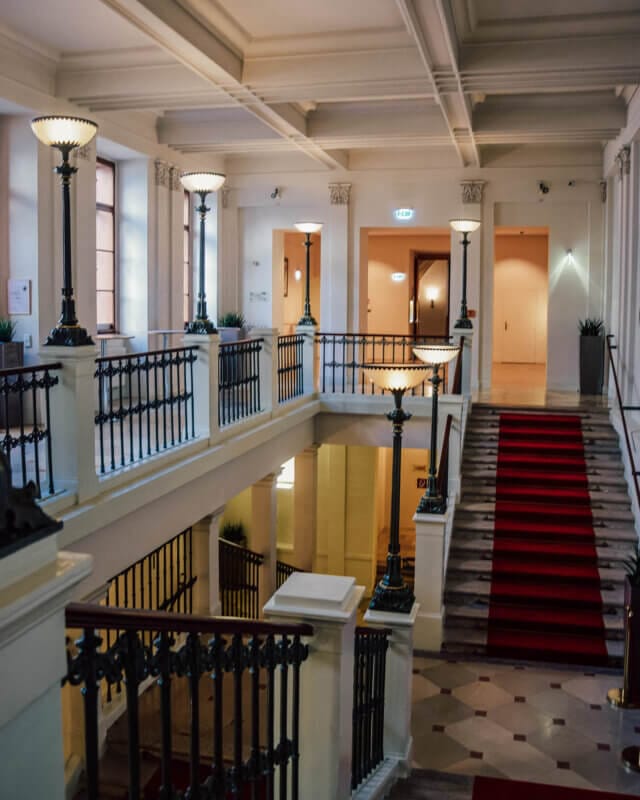 Before we all went to the first floor, our tour guide stopped in the middle of the staircase and pointed on something special hanging there: Arms of all 66 districts in Lower Austria.
It was very interesting to see and I heard some of those districts for the first time!
On the upper floor, you can find three grand rooms: The Rittersaal, Herrenrsaal and Landtagssaal.
Rittersaal
The first room we visited was the so-called Rittersaal which was built between 1573 and 1574 by an architect called Hans Saphoy.
Even though its main usage was as a conference room for the knighthood, it wasn't seldomly used as a meeting room or ballroom as well.
Besides all the interior decoration and furnishing, they installed a masterpiece of Baroque art: The "Justice Throne".
Our tour guide told us a bit more about the history and then we moved on to the second room.
Herrensaal
The Herrensaal was built between 1572 and 1573 by the same architect the Rittersaal was.
It was mainly used by the lords as a conference room, for committee sessions of the Parliament of Lower Austria, as a ballroom or meeting room.
The interior decoration and furniture you can see nowadays date back to the year 1845 and are made by the Austrian architect Leopold Ernst. Whereas the detailed carvings on the walls and doors are made by the sculptor Christian Schneider.
Landtagssaal
Last but not least, we visited the third grand room of the Palais Niederösterreich. Hands down, it was my absolute favourite one!
The Landtagssaal – also built by Hans Saphoy – was used as the assembly hall of the Lower Austrian Parliament from the 16th to the 20th century.
However, because of the fact that the Parliament moved to St. Pölten, people mainly use it as a ballroom or concert hall these days.
This renaissance ceases with its stunning barrel vaults, but there's one even more impressive attraction in the room.
A truly incredible baroque ceiling fresco showing the magnitude of the "House of Austria" – the Habsburg dynasty – is the specialty of this hall.
It was painted by Antonio Beduzzi and is the largest of its kind in Austria!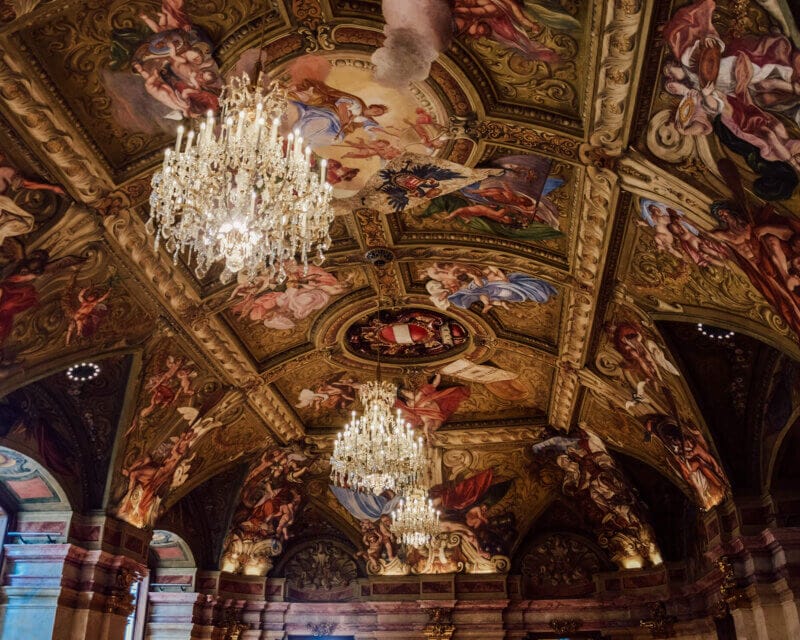 A "Hidden" Room
After our tour guide showed us the main three halls, we went upstairs to visit another room which is actually not open for visitors. It was another very old and beautiful room which is used as a meeting room for different associations.
We entered the room through a massive and fascinating-looking portal. On each side of the portal were to antique statues that reminded me of old Egypt.
The funniest part tho was the fact that the portal could be opened from the right and left side! They used special door hinges to enable that function.
The entire tour took a bit more than an hour and it was very interesting to see the old estates house of Lower Austria – one of the hidden gems in Vienna.
I guess politicians at that time were super happy to work in such amazing halls. However, I don't know if it was easy for them to concentrate on work as they were always surrounded by an amazing piece of art in each room! 😀
---
Like it? Pin it!
---
Do you want to travel like me?
Here are some of my favorite travel tips and resources:
Flights: I prefer using CheapOair or Skyscanner to book flights. The destination everywhere feature is perfect for finding some cheap deals!

Accommodation: Booking.com is my favorite site to find some great hotel deals. I do love staying at a local place as well, thus I book an Airbnb every now and then.

Travel Insurance: There are many reasons why travel insurance is important and I never travel without having one. I use the simple and flexible one from World Nomads to be protected against unforeseen events.

Tours: I love taking tours to explore destinations like a local. My favorite website to book them in advance is GetYourGuide.

Camera Gear: I use a Nikon D5300 camera with an 18-105 mm and a 10-20 mm wide-angle lens to take my photos.