10 Best Vegan Restaurants in London (By a Local)
This guest post about the best vegan restaurants in London is written by Lauren of The Planet Edit. She's a backpacking and adventure travel blogger, writing about responsible travel, wildlife and the great outdoors.
Just a few years ago, this list of good vegan restaurants in London would have been painfully short.
Traditional British food is sadly very meat-heavy: steak and kidney pie, bangers and mash, fish and chips and Sunday roast are just a few classic British dishes.
(This post contains affiliate links, which means I receive a certain percentage of a sale if you purchase after clicking.)
However, this is changing fast, as more than half a million people in the UK are now vegan – a rise of 360% over the last 10 years!
This means that the vegan scene has exploded in England's capital, making living in London really enjoyable as a vegan.
It's now rather difficult to narrow down the best of the bunch, with over 150 vegan-friendly restaurants scattered across the city. There are also great restaurants with views of London among them!
As someone who has lived in London their entire life, I'm pleased to be able to bring you this list of the 10 best vegan restaurants in London – as recommended by a local.
1. Temple of Seitan
Price: $$
Location: Camden and Hackney
Many people seem to think that vegans are only about eating healthy, but Temple of Seitan proves otherwise, offering up a range of vegan fast food options.
Well known as a vegan fried chicken shop, they serve "chick'n" wings, burgers, wraps and fillets, as well as "beef" patty burgers.
Try their signature Temple Burger, which comprises chick'n fillet, ranch mayo, fake bacon, fake cheese, lettuce and pickles. Delicious.
The first branch, Temple of Hackney, opened in January 2017 and quickly became renowned for its long queues. It's no surprise that the restaurant won UK Restaurant of the Year at VegFest!
2. Unity Diner
Price: $$
Location: Spitalfields
You may have heard of British vegan activist Earthling Ed, whose calm and collected approach to educating people on the realities of animal agriculture has helped to spread awareness to hundreds of thousands of people.
Unity Diner is his restaurant, and in true Earthling Ed fashion, all profits at Unity Diner are put towards animal rights campaign work.
Unity Diner is a great place to be, with beautiful decor in the form of greenery and fairy lights to set the scene.
The menu is also quite extensive as the restaurant is London's biggest 100% vegan diner and cocktail bar!
The battered "prawnz" are simply divine, and you must try one of their signature cocktails – "Piers Morgan's Tears" is a winner, if not for the name alone.
3. Cookdaily
Price: $
Location: Shoreditch
Cookdaily is somewhat legendary in the London vegan food scene.
Launched at BOXPARK Shoreditch in 2015, Laotian chef-owner, King Cook, opened Cookdaily to bring a refreshing and unique twist to vegan food.
Here, you can create your own vegan food bowl, choosing a combination of tofu, mock meat, sauces, vegetables, rice, noodles and more. Perhaps you'll have a Thai green curry, a sesame stir-fry or sweet and sour tofu?
For those who love Southeast Asian street food – like me – Cookdaily is the place to go.
4. Mildreds
Price: $$$
Location: Soho, King's Cross, Camden and Dalston
Mildreds is a bit of a classic, having served vegetarian meals in Soho since 1988.
It now caters to vegans too, offering up flavors from Asia, South and Central America and the Middle East, alongside British classics and Mildreds' famous burgers.
I highly recommend the Sri Lankan sweet potato curry, and the shimeji mushroom gyoza dumplings are delicious, too.
The original location is at Lexington Street in Soho, one of the most trendy places in London, but it can get very busy, so you may need to queue.
There are also now branches in Camden, King's Cross and Dalston, which are usually a little quieter.
5. Neat Burger
Price: $$
Location: Camden and Mayfair
Backed by Formula 1 world champion Lewis Hamilton in 2019, Neat Burger has quickly cut its way to being one of the best vegan restaurants in London.
Another example of how vegans can absolutely enjoy fast food, Neat Burger serves patty-style burgers, chicken-style burgers, tater tots, and fries, as well as milkshakes, beers, and sodas.
Neat Burger works in association with Beyond Meat, a plant-based meat substitute producer from LA, who works to create realistic mock meats.
Neat Burger uses the Beyond Burger for its patties, which taste and feel surprisingly like meat – without cruelty!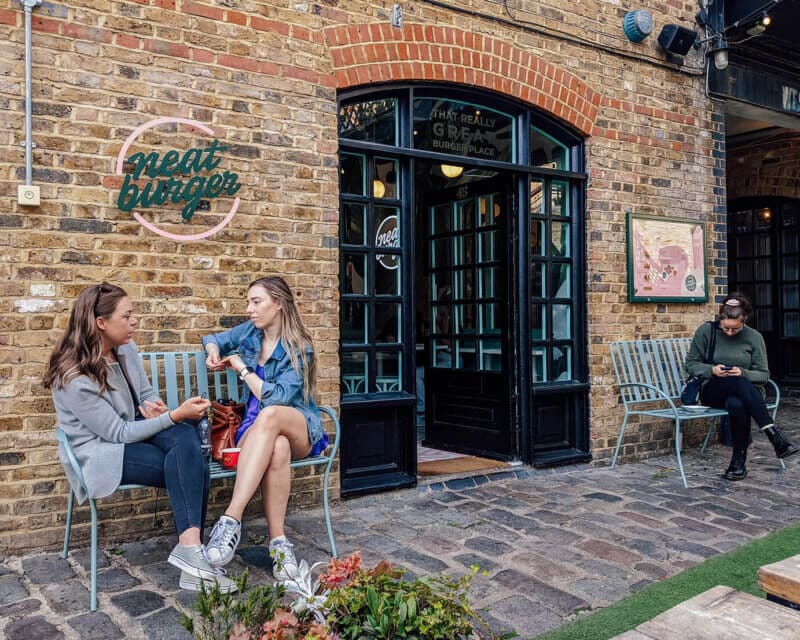 6. Wulf and Lamb
Price: $$
Location: Chelsea and Marylebone
For those looking for a sophisticated or upmarket dining option, Wulf and Lamb is the place to go.
This posh vegan cafe-restaurant is chic and modern, but don't let this fool you, as the food served here is simply good, honest and decent.
Their breakfast menu features American pancakes, avocado on toast, healthy buddha bowls, and a range of pastries to enjoy, while you can dine on mac'n'cheese, green coconut curry, chili non-carne, veggie burgers and more for lunch or dinner.
7. Club Mexicana
Price: $
Location: Shoreditch, Covent Garden and Homerton
Vegans who love Mexican food will love Club Mexicana!
Since 2013, this restaurant has been serving up delicious vegan tacos, burritos, nachos and burgers filled with the likes of jackfruit carnitas, beer-battered tofish and more.
This Mexican street food favorite is now in three locations across London – a stall in Shoreditch's Dinerama, a mini restaurant at Seven Dials Market near Covent Garden, and a kitchen residency at The Spread Eagle pub in Homerton.
8. Rudy's Dirty Vegan Diner
Price: $
Location: Camden
As their slogan, "Eat Dirty, Vegan Style" would suggest, Rudy's Dirty Vegan Diner serves up American-style comfort food, such as burgers, hotdogs, buffalo wings, sandwiches, mac n cheese, fries and more!
The Reuben sandwich and the mozzarella sticks are firm fan favorites.
Not only this but they're also known for their incredible vegan milkshakes; think chocolate peanut butter, banana biscoff and chocolate peppermint cream.
Located in the heart of Camden Market, one of the most famous landmarks in London, the atmosphere at Rudy's is great.
Choose to eat in to enjoy the diner-style decor, or sit outside surrounded by the buzz of one of London's most famous markets.
You won't find it hard to spot Rudy's, as just outside the restaurant, you'll see a huge statue of a cow with a sign that reads "not your mum, not your milk" around its neck!
9. Lele's
Price: $$
Location: Hackney
Okay, Lele's is more of a cafe than a restaurant, but I had to include it in this list of the 10 best vegan restaurants in London!
It's a cute and cozy place to be, with very friendly staff – perfect for meeting up with friends for a chat.
They take their coffee seriously, and several reviews claim that they serve the best cruelty-free coffee in London. I'm inclined to agree – their flat whites are perfectly balanced.
Alongside the coffee, Lele's also serves the best breakfast in London including French toast, summer fruit compotes, pancakes, fry ups and incredible superfood bowls.
There's also a vegan afternoon tea one Sunday a month that I highly recommend making a reservation for!
10. Farmacy
Price: $$$
Location: Notting Hill
Inspired by her visits to vegan joints in LA and New York, owner Camilla Fayed opened Farmacy in 2016 in a bid to offer up nutritious and delicious organic dishes.
What I particularly love about this restaurant is that all of their ingredients are grown on their very own farm, or sourced from local and sustainable suppliers.
Farmacy champions the belief that 'food is medicine' and supports local, organic farming.
There is also a decent cocktail selection – think Espresso Martini with vanilla vodka or zingy Matcha Caipiroska – so you may enjoy some after-dinner drinks.
Not only this, but Farmacy also serves a high tea, with vegan twists on high tea classics, such as smoked tofu sandwiches, poppy seed scones and pumpkin cakes.
And there we have it – 10 of the very best vegan restaurants in London. Of course, this list is by no means exhaustive as it would be impossible for anyone to try every restaurant! If you plan to spend 3 or 4 days in London, at least you'll have enough time to try all 10 of this list!
I would like to give some other honorable mentions, though, and they are The Gate, Redemption Bar, Stem + Glory, Thenga Cafe and Tibits.
Check out: Vegan Restaurants in Budapest
---
Like it? Pin it!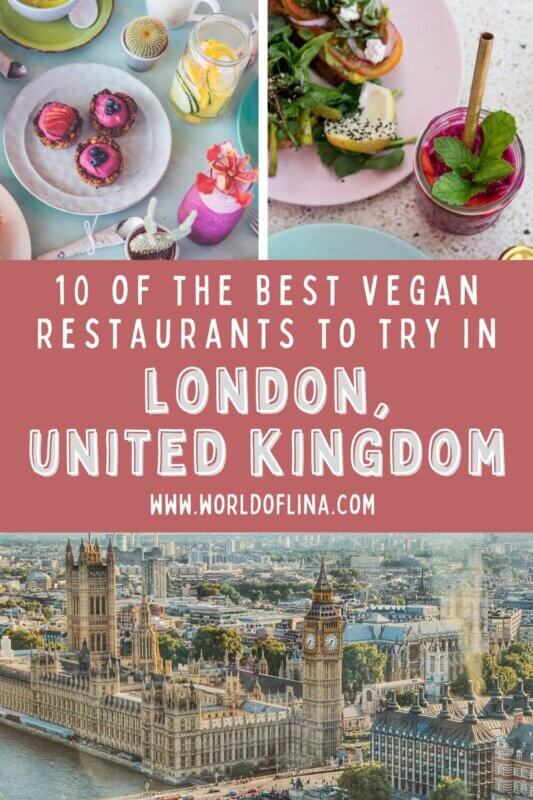 ---
Do you want to travel like me?
Here are some of my favorite travel tips and resources:
Flights: I prefer using CheapOair or Skyscanner to book flights. The destination everywhere feature is perfect for finding some cheap deals!

Accommodation: Booking.com is my favorite site to find some great hotel deals. I do love staying at a local place as well, thus I book an Airbnb every now and then.

Travel Insurance: There are many reasons why travel insurance is important and I never travel without having one. I use the simple and flexible one from World Nomads to be protected against unforeseen events.

Tours: I love taking tours to explore destinations like a local. My favorite website to book them in advance is GetYourGuide.

Camera Gear: I use a Nikon D5300 camera with an 18-105 mm and a 10-20 mm wide-angle lens to take my photos.