The 8 Best Vegan Restaurants in Bali You Must Visit
This guest post about the best vegan restaurants in Bali is written by Abbie Gatherum from One World Wanderer. She's a 20-something Aussie traveler in the midst of a never-ending love affair with the world.
Top 8 Vegan Restaurants in Bali With The Best Plant-Based Food!
Once upon a time, traveling the world as a vegan meant settling for green salads, a plate of alfalfa, and capsicum. Or even being told that there was nothing available for you.
Thankfully, the last few years of booming tourism and research into the health benefits of a plant-based diet have led to more vegan options being available in popular travel destinations.
When it comes to delicious vegan food, there's no place like Bali.
Amidst the rolling rice terraces, the beaches swarming with party-goers – there are some really amazing beach clubs in Bali – and surfing fanatics, and the warm and welcoming culture of the Balinese, you'll find an abundance of cafes and restaurants swimming with tourists, digital nomads, and locals all looking to dine on fresh vegan cuisine.
And trust me when I say, they do not disappoint.
It's not just healthy salads and smoothie bowls anymore. When you visit Bali, you can find everything from vegan fast food to vegan fine dining.
And the best part?
No matter which area you visit, there are so many places to choose from!
The delicious and nutritious plant-based restaurants are changing the way the world understands dining.
Even the meatiest of meat lovers have been heard to be taking the leap toward a greener, more sustainable diet.
So, without further ado, here's my guide to the best vegan restaurants in Bali, Indonesia.
(This post contains affiliate links, which means I receive a certain percentage of a sale if you purchase after clicking.)
1. Earth Café
When it comes to the best vegan restaurants in Bali, no place compares to the deliciousness of the Earth Café.
Their extensive menu is 100% plant-based, healthy, and organic!
The Earth Café is located in both Ubud and Seminyak and prides its business on supporting local farming.
This means that all the food they produce is locally sourced, doesn't cost the Earth, and works to inspire people to adopt a vegan lifestyle.
They work closely with the local communities to help educate them on ways in which they too can adopt a greener, naturally-grown diet.
With enjoyable, fresh food that doesn't cost the Earth, it's almost too hard to choose from their menu.
Recommended to try: Tofu Basil Spring Rolls & Chickpea Burger
2. Nalu Bowls
Aloha from Bali!
For all the smoothie bowl lovers out there (and let's be real, who doesn't adore a smoothie bowl?) Nalu Bowls will curb your craving for a healthy, sweet and refreshing snack.
Located in the heart of Seminyak, but also available in Canggu and Jakarta too, Nalu Bowls combines Hawaii's love for delicious fruity flavors and Bali's inventory of exotic fruits and creativity.
All the ingredients used at Nalu Bowls are fresh and made from locally sourced fruits. Think of delicious combinations of mango, banana, papaya, rambutan, mangosteen, and coconut.
Having a tropical Nalu Bowl is the best way to cool down on a hot day, refuel after an intense session of Yoga in Bali or enjoy for breakfast before a long day of adventure!
Recommended to try: The Uluwatu vegan smoothie bowl
3. Mad Pops
Everyone's seen the dreamy pink ice cream parlor that gets plastered over social media whenever a friend or influencer you follow visits Bali.
There's the neon sign, the funky-colored ice cream, and the decorations piled on top.
Plus, the fact that they're fun and entirely vegan makes dining at Mad Pops an absolute must when visiting Seminyak or Canggu.
It's ice cream heaven for anyone that lives a vegan lifestyle or loves a twist on a traditional sorbet.
Mad Pops is Bali's wild and wacky vegan ice cream parlor, and it's like taking a step back to the 80s.
You'll find neon signs, silly murals, disco vibes, and technicolor vegan sprinkles for every cone of deliciousness.
Plus, you get a pick from new and exotic flavors or the traditional flavors of ice cream you've always loved.
Recommended to try: All of the flavors! With the climate in Bali being warm year-round it's the perfect condition for daily ice cream!
4. Kynd Community
It's one of the most popular vegan restaurants in Bali, and one that people from all corners of the world have heard of.
And believe me, the Kynd Community lives up to its name.
In my five trips to Bali, I have visited the Kynd Community a grand total of twelve times – each time trying different meals, acai bowls, and coffees- and loving every one of them.
The Kynd Community is bustling from when the doors open for early morning coffee goers, to lunch, where many come in to try foods like the 'Kynd Big Mac' and snap Insta-worthy pictures on the way out because it's one of the best Instagram spots in Bali.
The restaurant is also open at dinner and is full of everything from delicious plant-based meals like pizza and burritos to cocktails, and scoops of vegan ice cream for dessert.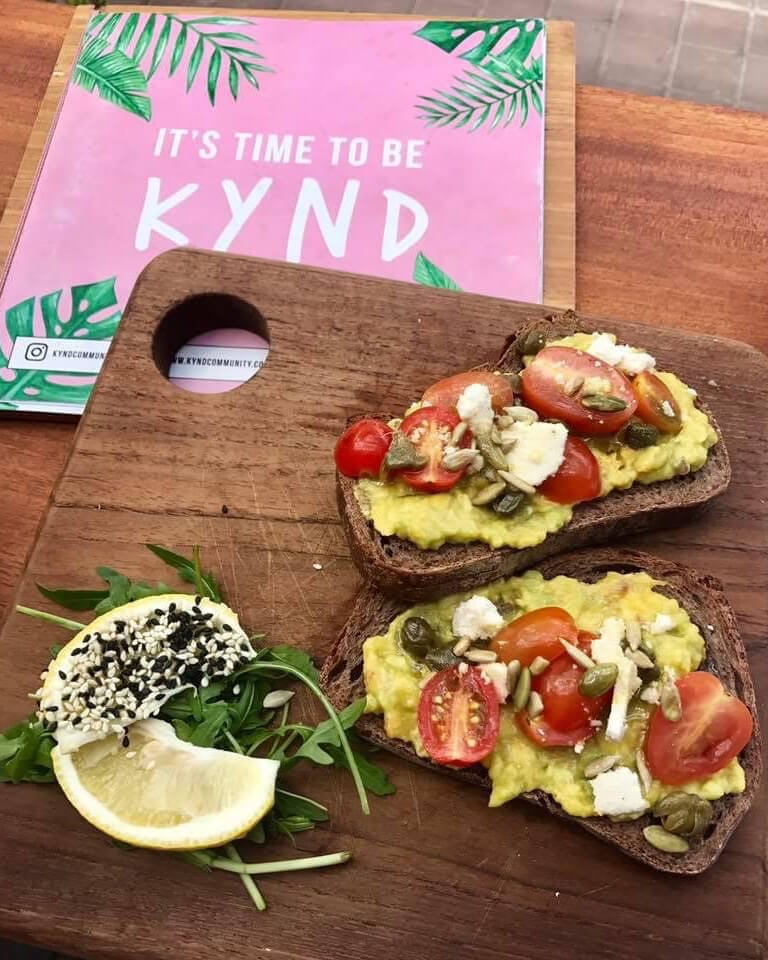 However, it's not just the food that brings people to the Kynd Community, it's the uplifting community of people from all around the world that want to make a difference.
It's an experience worth being a part of and thus a must-stop to add to your Bali itinerary.
Recommended to try: The avocado on toast and berry tropical smoothie bowl
5. I am Vegan Babe
If there's one thing we know vegans love, it's telling people they're vegan… Just kidding!
But in all seriousness, being vegan is something to be proud of. And what better way to enjoy that than visiting a vegan restaurant that says it loud and proud?
I am Vegan Babe is one of the best vegan restaurants in Bali, Indonesia. Not only in terms of food, but also in décor, service, and the variety of available plant-based food.
It's vegan heaven!
Like many vegan restaurants in Bali, I am Vegan Babe focuses on a healthy and higher conscious way of living, aiming to promote the ease (and deliciousness) in which plant-based living can be.
They focus on creating all the traditional meals we grew up loving, with the simple switch from meat and dairy products to plant-based ones.
Think burgers, fish and chips, schnitzels, sandwiches, egg breakfasts, nachos, waffles, and cakes!
With such a great atmosphere, I am Vegan Babe is a great place to come for breakfast or lunch or to stop by for a coffee and cake (equally as delicious as the food).
6. Falafel Temple Canggu
When it comes to vegan food, no cuisine does it better than the Mediterranean. Think hummus, fresh falafel, pita bread, and flavor, flavor, flavor. Did I mention the flavor?
The Falafel Temple in Bali answers all your pita prayers, bringing authentic, home-cooked Middle Eastern cuisine to your table.
The food is inspired by the flavors of Morocco, Turkey, and Egypt, and every bite is authentic and delicious.
The Falafel temple is 100% plant-based, with a menu full of nutritious, locally sourced produce that focuses on organic dining.
The Falafel Temple is located in North Kuta, not far from Canggu beach and is worth checking out as often as possible when there.
Recommended to try: Pita Pocket- The Herb Falafel
7. Café Organic
Café Organic was one of the first plant-based restaurants in Bali and still stands as one of the most renowned and popular.
With a means to improve Bali's biodiversity and encourage sustainable practices amongst the locals and the tourists, Café Organic is a restaurant not to be missed.
By focusing on a positive environmental change and the knowledge that shifting to a more sustainable plant-based lifestyle rests between the plate and the fork, Café Organic hopes to inspire visitors to bring back a connection with Mother Nature and fall in love with vegan food.
Café Organic is a laid-back, relaxing atmosphere that draws you in and makes you want to keep returning. And with such an extensive menu available, why not do just that?
There's everything from nourishing salad bowls, decadent toasts, your favorite breakfast meals, burgers, and desserts!
Café Organic is located in both Canggu and Seminyak and is open for breakfast and lunch, with a delicious array of nibbles also available if you're just visiting for morning tea!
Recommended to try: The troppo chia cup and salad bowl
8. Plant Cartel Canggu
When you think of fast food, your thoughts probably go to greasy fries, meat-filled burgers, and thick shakes.
For the non-vegan food lover, you're probably frothing at the mouth. But for vegans, you might be wondering if you can get these options without meat and dairy.
Well, you can.
Plant Cartel, located in Canggu, is Bali's best vegan takeaway restaurant, with a fully plant-based menu.
Plant Cartel prides itself on making vegan fast food that hits the spot.
Think of the most delicious patties packed with flavor, tacos filled to the brim, shakes made extra thick, and all of it 100% plant-based.
Sustainability is a key to their menu, focusing on the reduction of animal agriculture, and more sustainable products.
Some of their incentives include the source of local ingredients and the use of environmentally friendly materials for packaging.
Plant Cartel is the best and most affordable vegan fast food you'll find in Bali and is worth trying out as many menu items as possible.
Recommended to try: Pleeseburger (vegan double cheeseburger) and cauliflower buffalo wings
Other Great Vegan Restaurants in Bali
Peloton Super shop
GIVE Café (delicious vegan Indonesian food)
Sakti Dining Room (for a fine dining vegan experience)
The Elephant (for vegan dining with a view)
Swasti Beloved Café (for the best jackfruit taco ever)
While these are my recommendations for the best vegan restaurants in Bali, Indonesia, there are countless others out there.
I recommend starting with the vegan restaurants recommended in this list, and then if you have time, visiting others.
Check out:
– 10 Best Vegan Restaurants in London
– Best Vegan Restaurants in Budapest
– 10 Best Vegan Restaurants in Cairo
– Vegan Food Guide For Los Angeles
---
Like it? Pin it!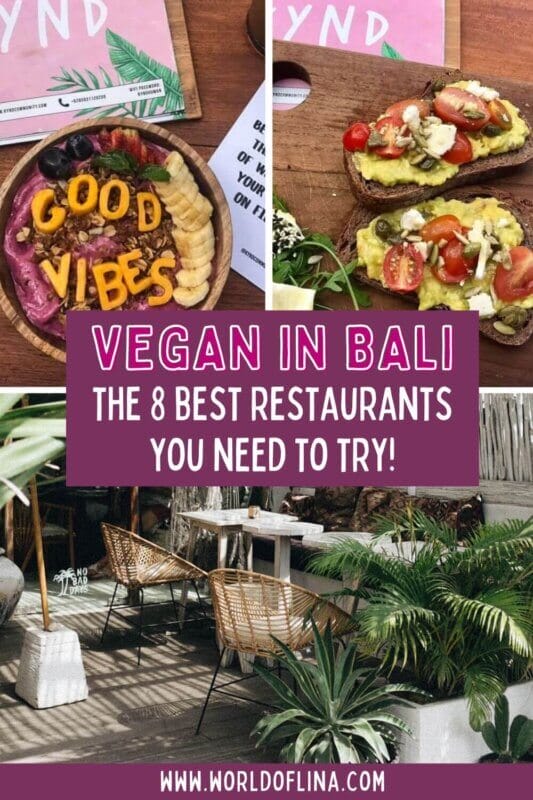 ---
Do you want to travel like me?
Here are some of my favorite travel tips and resources:
Flights: I prefer using CheapOair or Skyscanner to book flights. The destination everywhere feature is perfect for finding some cheap deals!

Accommodation: Booking.com is my favorite site to find some great hotel deals. I do love staying at a local place as well, thus I book an Airbnb every now and then.

Travel Insurance: There are many reasons why travel insurance is important and I never travel without having one. I use the simple and flexible one from World Nomads to be protected against unforeseen events.

Tours: I love taking tours to explore destinations like a local. My favorite website to book them in advance is GetYourGuide.

Camera Gear: I use a Nikon D5300 camera with an 18-105 mm and a 10-20 mm wide-angle lens to take my photos.