How to Travel Sustainably – 7 Tips For Eco-Friendly Travel
This guest post on how to travel sustainably is written by Lucile Hernandez Rodriguez. She's a registered Yoga Teacher, Blogger and Mindful Business Advisor. She shares actionable advice on Mindfulness, Yoga and Travel on her blog Lucile HR.
Traveling, although it provides the opportunity to experience different cultures around the world, can have a negative impact on the environment.
In 2018, air travel accounts for 2.4% of total carbon dioxide emissions, and this number is predicted to rise as people find traveling a lot easier these days.
If you totally care for the environment, does that mean you have to say goodbye to your travel plans altogether?
Not quite. The answer?
Choose sustainability.
(This post contains affiliate links, which means I receive a certain percentage of a sale if you purchase after clicking.)
What Does Sustainable Travel Really Mean?
To put it in simple terms, sustainable travel is traveling to different places without leaving a negative impact on the planet.
It also means finding ways of making conscious decisions that can help preserve natural and cultural environments.
Sustainable Travel is For Everyone
Anyone who has frequent travel on their to-do list should choose to travel sustainably.
It's not only for digital nomads or tree huggers who are passionate about the environment.
It's not just for people who are highly knowledgeable about the various flora and fauna in a particular location and are dedicated to saving them.
And it's certainly not just for travelers who can afford luxurious glamping and eco-retreats.
Sustainable travel is for everyone.
Whatever your travel budget is or whatever your purpose for visiting countries, you always have the choice to do it responsibly.
7 Eco-Friendly Tips to Travel Sustainably
Traveling responsibly is one of the ways you can carry on a sustainable lifestyle.
By making smart decisions and choices and incorporating mindfulness when planning your trips, you can do so much in reducing your carbon footprint.
The following ideas should help you to travel more sustainably in order to reduce the negative impact traveling has on our environment.
1. Book Eco-Conscious Accommodations
Staying in posh eco-luxury hotels is not the only way to travel sustainably. There are many ways hotels (and accommodations) can be eco-friendly.
Check if your chosen hotel has a no-plastic policy. You might find hotels that pledge to plant trees for every booking.
It's easy to stumble upon a hotel that uses greenwashing to attract more customers. So before you go on your trip, do some diligent research on a hotel and its eco-credentials.
While there are hotels that do have an eco-certification, others that don't have but are clearly observing sustainable practices are still a good choice.
2. Explore the Area Using Sustainable Modes of Transportation
If a particular area can be reached by walking or biking, do it instead of riding/driving a car.
It's a great experience to explore the city by cycling, or by walking as you are more immersed in your surroundings.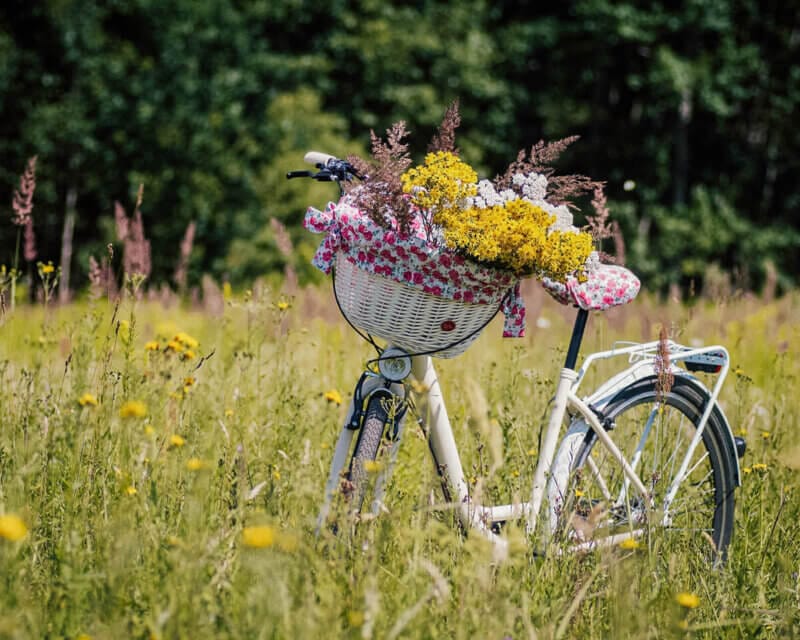 Not only that, walking or biking around is a great form of exercise and it might just be what you need to do to stay healthy while traveling.
For longer distances, try to use electric-powered transport like trains or ride buses that run on biogas.
3. Say No to Plastic – Yes to Zero Waste Essentials
Plastic is everywhere, especially during travel. You ride on a plane and they serve you meals or beverages in plastic containers.
When you visit a restaurant and decide to order to go, your meals are also placed in plastic takeaway boxes.
It's understandable that going green can be a real challenge, but it's easier than you might think. It's all about being mindful of your choices and the things that you want to use.
Soon enough, it will become a habit.
Here's a list of zero-waste swaps that you can easily make – and they're perfect for work, home use, and even for travel.
4. Eat at Vegan Restaurants
Opting for a vegan or plant-based diet is an excellent way to travel sustainably.
The meat industry has a huge impact on the environment, with livestock farming contributing about 18% of greenhouse gas emissions and environmental damage.
The good news is that more and more restaurants around the world are embracing a plant-based diet.
However, there may be challenges when you travel as a vegan, especially in countries that do not have a good understanding of veganism.
That said, one tip is to learn a few words in the local language so it will be easier for you to explain your diet. 
Check out: 8 Simple & Useful Vegan Travel Tips For Vegan Travelers
There's also the option of turning to other travelers for recommendations.
Couchsurfing is an excellent tool for that. There are vegan communities that can give you some tips and suggestions on where you can eat.
That said, it's always best to plan ahead and do your research, before traveling, especially to destinations with a high language barrier.
5. Go For a Staycation
You don't have to travel far to enjoy beautiful sights and taste great food. There may be other beautiful locations to visit that are close to your home.
This means saving money and less pollution – and of course, you're avoiding the crowded, touristy areas that may have already damaged the environment.
Going on a staycation is also considered a mindful practice as it encourages you to live in the present and become more aware of your surroundings.
There are several ways you can enjoy quality time with yourself or your loved one without leaving far.
6. Travel For Longer Periods of Time
This practice is often referred to as slow tourism. It is one way to travel sustainably for several reasons.
For one, the less you hop from one destination to another, the less waste you'll be producing.
Staying in one place for longer periods also lets you relax for real and make the most of your time in a specific location.
You're savoring each moment as you get to know more about the destination instead of hurrying to the next one.
Also, think about how slow tourism can be good for the local economy. When you stay in one country for months, you're most likely to book rental homes instead of expensive hotels.
Usually, these rental homes are close to local markets – where you can do your shopping. You get fresh produce, plus you get to mingle with the locals.
7. Think Before You Buy
When in a whole new place, it's tempting to shop too much. However, it's best to think before you buy: is it something useful to you? Are these souvenirs made from sustainable materials?
If you do want to buy souvenirs, visit small local shops or communities that make them. This way, you're supporting small businesses.
Also, avoid souvenirs sourced from animals. Buying them means you're also supporting their exploitation. Most travelers unknowingly buy cute crafts made from animal products.
The bottom line is to be mindful of your purchases. Or better yet, take a lot of photos instead.
I hope you find these tips helpful.
Remember, it doesn't matter where you're going – you always have a choice to be sustainable and reduce your carbon footprint.
Even the tiniest mindful act can go a long way in increasing sustainability!
---
Like it? Pin it!
---
Do you want to travel like me?
Here are some of my favorite travel tips and resources:
Flights: I prefer using CheapOair or Skyscanner to book flights. The destination everywhere feature is perfect for finding some cheap deals!

Accommodation: Booking.com is my favorite site to find some great hotel deals. I do love staying at a local place as well, thus I book an Airbnb every now and then.

Travel Insurance: There are many reasons why travel insurance is important and I never travel without having one. I use the simple and flexible one from World Nomads to be protected against unforeseen events.

Tours: I love taking tours to explore destinations like a local. My favorite website to book them in advance is GetYourGuide.

Camera Gear: I use a Nikon D5300 camera with an 18-105 mm and a 10-20 mm wide-angle lens to take my photos.