8 Simple & Useful Vegan Travel Tips for Vegan Travelers
Easy Vegan Travel Tips For Vegans On The Road!
Being vegan can be really hard sometimes – especially when you're on the road.
While in many countries the term "vegan" is nothing new anymore, in some places people still don't know what it really means.
As a frequent vegan traveler, I had to face a lot of difficulties during my travels already.
To help you be prepared and make your trips more enjoyable, I want to share 8 simple yet useful vegan travel tips with you!
(This post contains affiliate links, which means I receive a certain percentage of a sale if you purchase after clicking.)
1. Find The Right Accommodation
The right accommodation depends on what type of traveler you are.
If you prefer staying at hostels or Airbnb, always try to find one with access to a kitchen. It'll make it way easier for you to prepare your own food if you don't want to eat out all the time.
Eating out is great, especially if there are a lot of vegan restaurants nearby, but it can get very expensive.
If you prefer staying at a nice hotel with breakfast and/or other meals included, have a look at veggie-hotels.com.
With the help of this website, you can find great vegetarian/vegan hotels in many countries all over the world.
Don't worry tho, if you can't find one in the place you'll be staying at. Simply have a look if hotels offer a breakfast buffet or continental breakfast.
If it's a buffet, you'll definitely find some vegan options such as fruits, vegetables, grilled vegetables, bread, jam, and sometimes they even have soy milk.
On the contrary, a continental breakfast mostly doesn't have vegan options (it depends on which country you're in of course).
I'd recommend calling them and asking for possible plant-based options. If you're lucky, they do have some and if not, you can either eat out or look for another place to stay.
2. Request Vegan Food on Planes
If you travel by plane, don't hesitate to request vegan food. I've done this the last couple of times and I always got tasty plant-based meals.
You can either do it on the airline's website if you manage your booking or by calling them.
However, pack at least 2-3 vegan snacks before you board the plane – just to be on the safe side. The best is if you buy them before you head to the airport.
As we all know, airport food is ridiculously expensive and vegan options are often very limited.
3. Look For Vegan Food Options in Advance
Another one of my vegan travel tips is to look for vegan food options before arriving at your destination.
What I find the most useful is HappyCow. You can find every single vegan/vegetarian restaurant or café plus reviews from customers.
A second good source to find great vegan places are blog posts from fellow vegan travelers. To find these, I usually use Pinterest or simply google "best vegan restaurants in …".
What I prefer is that those blog posts are mostly very detailed and include honest opinions.
If you want to, you can check out my vegan food guides for Budapest and Los Angeles.
4. Pack or Buy Enough Snacks
For me, there's nothing worse while being on the road than when my stomach starts to growl and I feel my energy level drop.
Therefore I have always some snacks in my bag for a "hunger emergency" – as I call it.
Having some vegan snacks with you can really help you through the day. Especially when you're on the road or on a plane for a longer time.
Whenever I pack my bags to go on a trip, I usually put a few vegan protein bars in them. At the destination itself, I love to grab some stuff at local supermarkets.
Seasonal fruits, oat cookies or healthy crisps are my favorites to go. If you're lucky, you can even find some vegan bars in some places.
When I was in the city of Budva in Montenegro, I went into a random supermarket and found some really yummy vegan chocolate protein bars! I was so happy I bought so many of them. 😀
Keep your eyes open and don't hesitate to grab different things and read their ingredients (if possible). Trust me, many snacks are vegan by accident!
5. Connect With Other Vegan Travelers or Locals
Isn't it so much easier to be vegan together than alone?
Another point on my list of vegan travel tips is to connect with other vegan travelers or locals.
Mostly they are more than happy to show you where to get delicious plant-based food or tell you what local dishes you can eat.
Regarding this, I found Facebook groups such as "Vegan Travel" or "vegan reisen | vegan traveling" to be really useful.
Whether you ask for food recommendations or vegan-friendly accommodation – people love to help in any possible way!
6. Learn Useful Phrases in Different Languages
Trust me, telling someone you're vegan if that person can't understand your language is simply impossible.
Even though English is such a widespread language, there are still people who can't speak/understand a single word of it.
I know that every traveler (usually) tries to learn basic words such as "hello", "thank you" and "goodbye" in a foreign language.
As a vegan tho, you should extend your vocabulary with a few more phrases.
"I'm vegan", "I don't eat animal products", "I don't eat meat or fish" and "I don't eat eggs, milk, butter or cheese" are just a few of the crucial ones you should know.
Trust me, it makes it so much easier for you and the people at a restaurant if you can communicate in their own language.
Check out: How to Say I am Vegan in 100 Different Languages
However, if you're not sure how to pronounce something and don't want to embarrass yourself, download the free V Cards app.
It contains many useful phrases in more than 100 languages!
Simply choose the right language, show them the phrases on your phone and the problem's solved. Unless they don't have anything vegan to eat …
7. Request Changes at Restaurants
I'm the kind of person who doesn't like getting a lot of attention. However, as a vegan, I usually get it more often than I would like.
Especially in non-vegan restaurants, I feel really uncomfortable when I ask for vegan options.
I experienced a few times when people reacted really harshly and unfriendly. Whereas in other restaurants, the staff was really helpful and tried to change non-vegan dishes into 100% plant-based ones.
Trust me, even if you feel uncomfortable doing it – always ask for changes at restaurants. Mostly they just have to leave the butter or cheese on top and you have a suitable meal for you in no time at all.
Sometimes you don't even have to specifically mention you're vegan. If you're not sure what's in the dish, simply ask for the ingredients and let them know what they should leave.
You can also say that you have food allergies and most people will understand.
8. Don't Worry and Have Fun!
Last but not least, the most important one of my vegan travel tips:
Don't worry, have fun and enjoy the adventure!
I know how difficult it can be as a vegan on the road, especially if you're an introvert as I am.
But trust me, if you use these 8 vegan travel tips, you're perfectly prepared for any adventure abroad. So stop worrying, grab a few vegan protein bars and get on that plane/train/bus or whatever!
You'll quickly find out that being vegan is really easy.
And don't forget to have a look at the Facebook groups I recommended or contact me if you have any questions! 🙂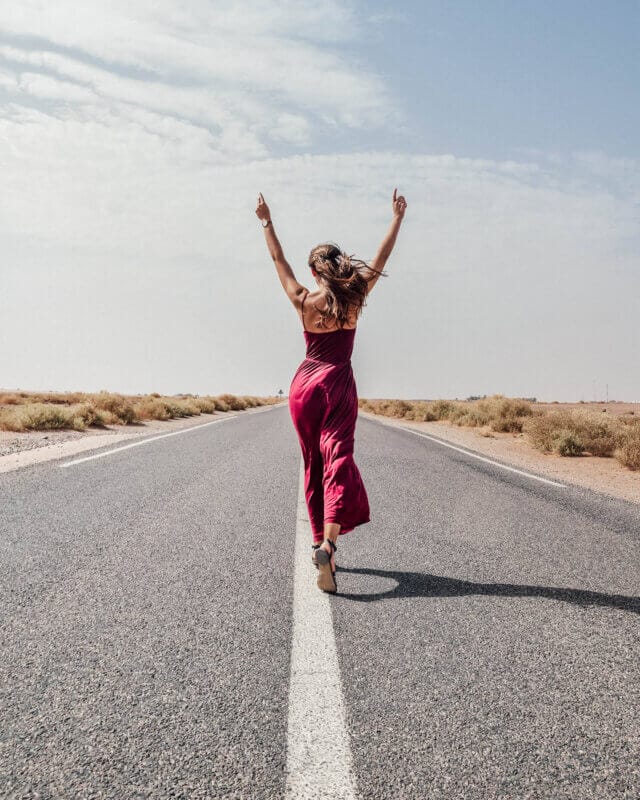 ---
Like it? Pin it!
---
Do you want to travel like me?
Here are some of my favorite travel tips and resources:
Flights: I prefer using CheapOair or Skyscanner to book flights. The destination everywhere feature is perfect for finding some cheap deals!

Accommodation: Booking.com is my favorite site to find some great hotel deals. I do love staying at a local place as well, thus I book an Airbnb every now and then.

Travel Insurance: There are many reasons why travel insurance is important and I never travel without having one. I use the simple and flexible one from World Nomads to be protected against unforeseen events.

Tours: I love taking tours to explore destinations like a local. My favorite website to book them in advance is GetYourGuide.

Camera Gear: I use a Nikon D5300 camera with an 18-105 mm and a 10-20 mm wide-angle lens to take my photos.