Vegan Restaurants in Budapest – The Perfect Food Guide!
I really had my doubts about finding good vegan food in Budapest. The typical Hungarian cuisine is known for its meat dishes so my expectations were accordingly low.
But when I did some research I found out that there are more than 30 100% vegan restaurants in Budapest!
Unfortunately, my time in the city was too short so I couldn't visit all of them. This vegan food guide includes all the restaurants I went to.

Spoiler: They were all AMAZING!
(This post contains affiliate links, which means I receive a certain percentage of a sale if you purchase after clicking.)
1. Veganeria
The Veganeria is a bistro-style restaurant close to the Nyugati train station.
It's mostly Italian cuisine with different kinds of pasta, salads and a wide selection of pizza. Besides typical Italian cuisine, a lot of dishes were made using seitan as the main ingredient.
Another very special thing was the wine card with various different vegan wines you can choose from!
We both decided to have a glass because it's really difficult to find 100% vegan wine in restaurants.
I went for a glass of Chardonnay whereas my sister decided to try the Hungarian version of Grüner Veltliner.
The menu card was a bit overwhelming because everything sounded super delicious and I don't like making decisions. 😀
After a while, I decided to try pasta with garlic and spinach pesto topped with vegan cheese. My sister chose fried Seitan with potatoes, grilled vegetables, and vegan cheese.
The pasta was really delicious and the pesto was very well-seasoned. Of course, I also tried the other dish which was great too.
Veganeria has some vegan desserts on its menu too but we both were really full we couldn't eat more. 😀
2. Napfényes Étterem
Hands down, Napfenyes restaurant was one of the most recommended vegan restaurants in Budapest. With more than 2,000 Google reviews and a rating of 4.6 stars, it simply had to be on my list!
We weren't quite sure if we should reserve a table or not and decided to try without it. Luckily, we got a free one because we went there quite soon after they opened.
However, I recommend you reserve a table because it was the only not-reserved table we got and after an hour the restaurant was completely full!
On their menu card, you can find many traditional Hungarian dishes in a vegan version, for example, Goulash soup.
Besides Hungarian dishes, they offer various international dishes such as fried Asian rice noodles, Thai coconut soup, or Italian pizza. Moreover, you can even have gluten-free or raw meals.
Probably their most famous dish tho is the Napfényes Lavish Platter for 2. We saw so many people ordering it so we decided to give it a try as well – and we didn't regret it!
The plate was full of delicious goods including seitan cutlet, different sorts of fried vegan cheese, grilled tofu, oat fritters, mashed potatoes, vegetable salad, and more.
It was such a hearty and cheesy platter but really tasty.
If you're still hungry after the main dish – trust me, you won't if you order that platter – you can find some great vegan desserts on the menu.
Or if you leave the restaurant you'll find a huge selection of vegan cakes because they have a café in the same building. Check out their full menu card on their official website.
3. 827 Speciality Kitchen
The third one of the vegan restaurants I visited in Budapest is 827 Speciality Kitchen.
As the name already says, this restaurant is a bit special and different than the others.
Instead of ordering from a menu card, you grab a tray, a plate, and choose from a large buffet with numerous vegan dishes. You can choose anything you want because you pay for the weight of the plate.
The range of dishes was enormous and I chose whatever looked good or interesting to me. Moreover, they offer many different sorts of fruit juices, teas, or coconut juice to drink.
I paid around 2000 HUF ( ~ €7) for my plate and apple juice so it was really cheap.
4. Fruccola
Whether you want to have breakfast, lunch, an afternoon snack, or dinner: Fruccola is the place to go!
Even though it's not a 100% vegan restaurant (they have dishes with meat and other animal products) they offer a wide selection of plant-based stuff.
You can easily spot them because they're marked with VN.
We went there for breakfast and some of the vegan options were avocado toast, pancakes, waffles, and a dish called "vegan cooked breakfast".
I didn't know what it was so I asked the staff who told me it was vegan sausage with mashed potatoes and vegetables.
I always have to eat something sweet in the morning so I chose a waffle with strawberries and cashew cream.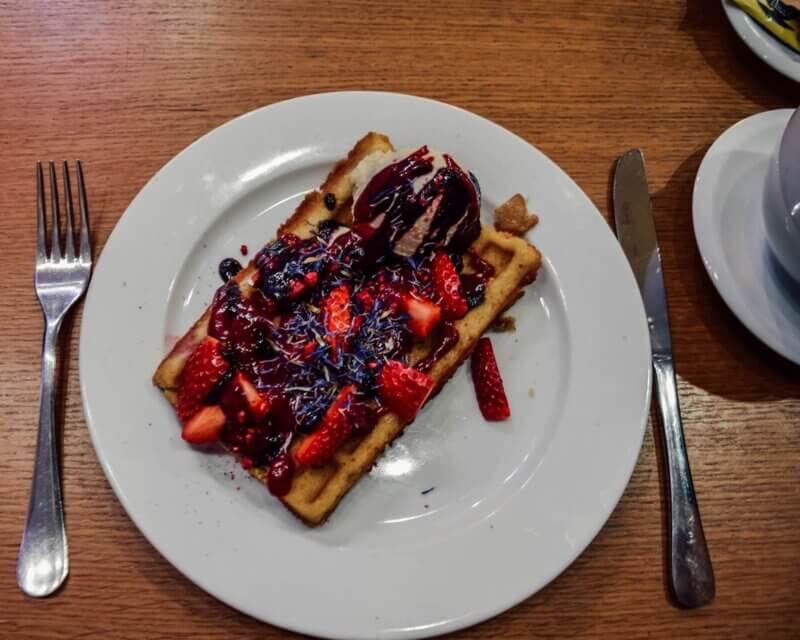 Seriously, this was the BEST waffle I've ever eaten! Every bite made me fall in love with it more and more. I was in real waffle heaven.
The cashew cream had a perfect consistency, I could taste the freshness of the strawberries and …
Oh sorry. Almost got lost while reminiscing about this perfection of waffle.
Trust me, I don't exaggerate. Just go there, give it a try and thank me later. 😉
You can find the full menu on the Fruccola website.
5. Kozmosz Vegán Étterem
When it comes to the best ambiance of vegan restaurants in Budapest, Kozmosz definitely wins.
It's located in a kind of cellar vault so you have to climb downstairs to reach the entrance. Darker than most places but super cozy, this place makes you never wanna leave.
On the menu, you can find different soups, burgers, pasta, quesadilla, and many dishes with seitan. I was torn between having a burger or a BBQ seitan and went for the latter one.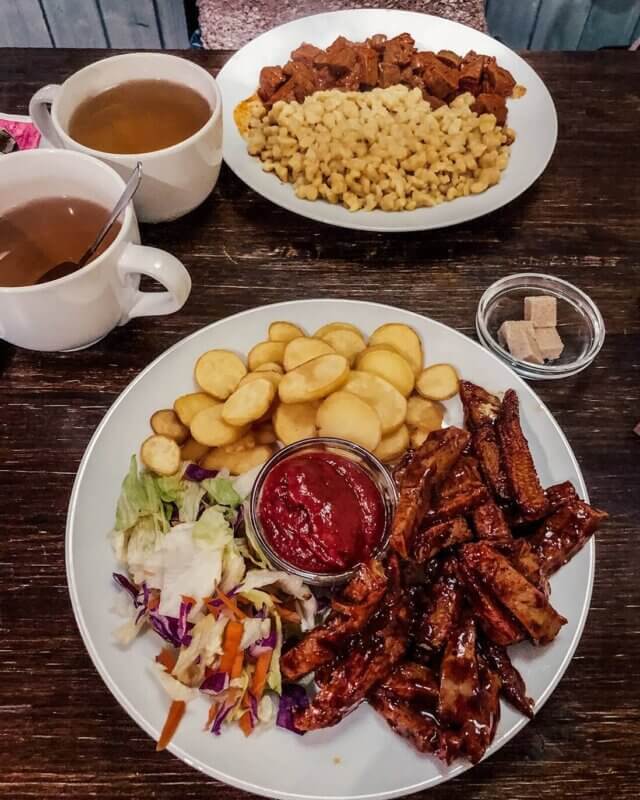 6. Naspolya Nassolda
This place is actually no restaurant but a raw food café. It's a very small but cozy place offering raw sweet and salty snacks made from organic ingredients.
Besides some snacks, you can choose from a few different types of coffee, hot chocolate and a large selection of organic teas.
I ordered a lemon ginger tea and an orange chocolate mousse which literally melted in my mouth. My sister went for a small chocolate cake with a filling that tasted like cheesecake and a glass of hot chocolate.
Btw, this place gets a bonus point for its interior design. There's a tree trunk swing hanging from the ceiling and their toilet doors are next level haha! 😀
Tours you might find interesting:
7. Govinda
On our last evening, we were craving some Indian food because we really missed it from Bangalore.
Fortunately, there was a vegetarian & vegan Indian restaurant nearby. Govinda is another buffet-style restaurant offering typical Indian dishes.
Even though it's a vegetarian restaurant, more than half of the dishes are vegan. You simply tell the staff behind the counter what you want and the food is priced by weight.
I didn't know what was vegan so I asked the friendly staff who showed me my options then.
The food was really good and cheap, I didn't even pay 2000 HUF for my plate. I was surprised by how much delicious vegan food you can get in Budapest on a budget!
Govinda was the only place that wasn't on my list of all the vegan restaurants I wanted to try in Budapest. However, I was really happy we found it and I can totally recommend it!
Where to Find The Vegan Restaurants in Budapest
More Vegan Restaurants in Budapest
My time in Budapest was way too short and I didn't even make it to half of the places I'd written down before. Well, I guess it means I have to go back and stuff myself with more plant-based deliciousness!
Nevertheless, I want to share with you other places I found during my research. Hopefully, you'll be able to check them out and I'd love to hear your opinion about them!
– Mennyorszag Szive (went there but it was closed during Christmas)
– Las Vegan's
– Edeni Vegan
– Istvanffi Veggie Burger
– Madal Cafe
– Plantmilkyway (bakery)
– Fill Good
– Great Bistro
– Vegan Love
– Vega City
---
Like it? Pin it!
---
Do you want to travel like me?
Here are some of my favorite travel tips and resources:
Flights: I prefer using CheapOair or Skyscanner to book flights. The destination everywhere feature is perfect for finding some cheap deals!

Accommodation: Booking.com is my favorite site to find some great hotel deals. I do love staying at a local place as well, thus I book an Airbnb every now and then.

Travel Insurance: There are many reasons why travel insurance is important and I never travel without having one. I use the simple and flexible one from World Nomads to be protected against unforeseen events.

Tours: I love taking tours to explore destinations like a local. My favorite website to book them in advance is GetYourGuide.

Camera Gear: I use a Nikon D5300 camera with an 18-105 mm and a 10-20 mm wide-angle lens to take my photos.