Holidays on Tinos – A Quiet & Authentic Greek Island
Welcome to The Wonderful Island of Tinos!
When people plan their perfect Greek holidays, they usually want to spend it on an island rather than on the mainland.
Then, it's mostly only the more famous islands like Santorini, Mykonos, Crete or Zakynthos that make it onto the shortlist.
It's a pity because the country of Greece includes more than 6,000 islands that are worth discovering.
One of them is Tinos, which is among the most beautiful places in Greece. At least in my opinion. 😉
(This post contains affiliate links, which means I receive a certain percentage of a sale if you purchase after clicking.)
Before my sister and I planned our trip to Greece, we agreed on one thing: We wanted to travel to a lesser-known Greek island.
While doing some research, my sister discovered the gorgeous hotel Big Blue Tinos and it was rated as one of the best places to stay in Tinos.
Neither of us had ever heard about this island before but we were so impressed by the hotel that we couldn't resist making a booking.
And so it happened that less than a week later, we both sat on a plane, ready to spend five great days on an – for us – unknown island.
Where to Find Tinos & How to Get There
Tinos is located in the Cyclades archipelago close to the islands Andros, Mykonos, and Delos.
With a land area of almost 200 square kilometers, it's the third-largest Cyclades island after Andros and Naxos.
The island doesn't have its own airport so the only way to get there is by taking a ferry. The best ferry connection is without a doubt from Athens but Tinos is also easily reachable from other islands.
From Athens
To get to the island you can choose one of the two city harbors as the point of departure. Piraeus port is closer to the city center whereas the port of Rafina is near the airport.
The ride from Piraeus takes around 4.5 hours. From Rafina, it takes less than 4 hours but the port is more difficult to reach. Unlike Piraeus, Rafina isn't connected to the city center via the metro.
My sister and I booked a ferry ride from Piraeus for two reasons.
First, thanks to the metro connection it was very easy to get there. Second, we probably would have needed a taxi to Rafina so we saved some money by choosing the metro.
Check out Go Ferry for the ferry schedules, prices, and other useful information.
From Mykonos
Mykonos is only 18 km from Tinos and therefore the ferry ride takes only around 30 minutes. In summer the ferries run up to four or five times a day while in winter it's less frequent.
You can find the exact times, prices, and more on Go Ferry as well.
From Santorini
Even from the most famous Greek island Santorini, it's easily possible to reach Tinos. That's why many people love to include Tinos on their Cyclades island hopping route!
With a distance of more than 170 km, Santorini is as far away as Athens. Thus the ferry ride also takes between 3-5 hours depending on the ferry company.
There are only two weekly ferry crossings in high season so it's better to plan ahead before you start your Greek island-hopping adventure.
For more information, ticket costs & schedules visit Ferry Hopper.
Discover Tinos: All The Places You Should See
Empty sandy beaches, picturesque villages, and the most friendly and warm-hearted people ever.
Welcome to Tinos!
As I already mentioned at the beginning of this blog post, Tinos is one of the less touristy and quieter Greek islands. However, this doesn't mean there's nothing great to do!
Quite the contrary: The island is full of interesting places waiting to be discovered by adventurers and Greek lovers like you.
It's not a party island like Mykonos, but it can still be attractive for younger people thanks to the hip beach & cocktail bars.
The perfect address to spend the night out is the capital Tinos Town (Chora).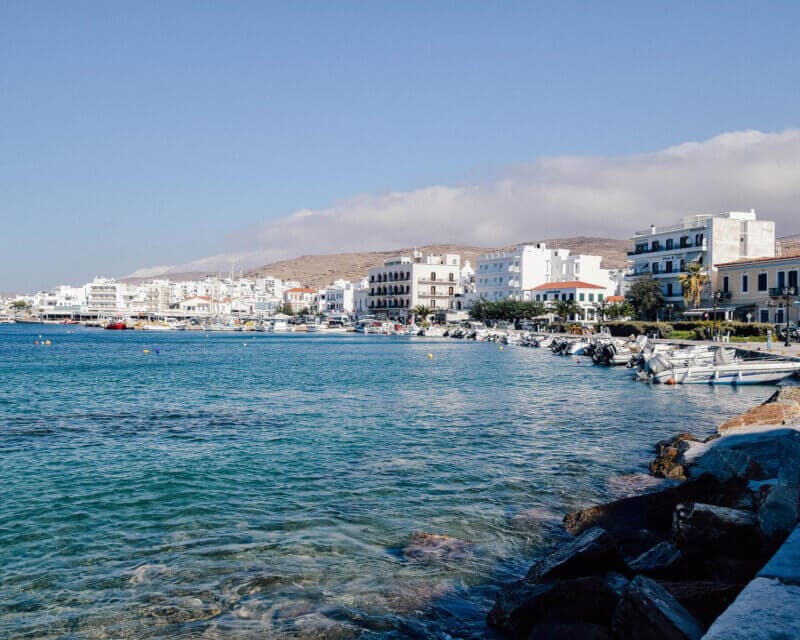 Tinos Town (Chora)
Being home to the island's main harbor, Tinos Town is the first place visitors will see after their arrival.
Along the waterfront are lounge bars to chill, a lot of souvenir shops and, of course, restaurants with Greek and international cuisine.
One restaurant I can highly recommend is To Koutouki tis Elenis.
The name is quite a tongue-twister but the food and service are outstanding! It also deserves a plus point for its colorful furniture and decoration.
We loved this place so much that we came here twice.
Their range of traditional Greek dishes that were vegan by nature was exceptional and it was hard to make a decision. Vegetable rice, baked eggplants with tomatoes and grilled mushrooms – only to name a few.
Away from the main tourist route, you'll find the typical white houses with blue windows and the bright pink or purple flowers you can admire all over Greece!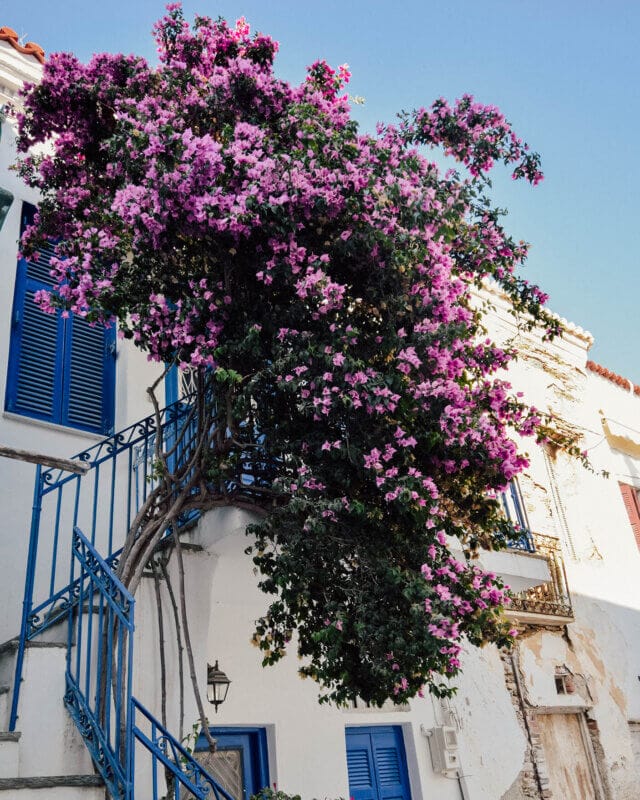 As previously mentioned, Tinos Town is a hotspot for people – no matter if locals or tourists – who love to party.
There are a lot of nice bars and pubs where you can listen to great music while drinking cold beer, fruity cocktails or non-alcoholic drinks.
One bar I recommend is Koursaros Bar which is apparently the oldest bar of the Cyclades. It's open every day from 10:00 am to 4:00 am and even serves coffee, smoothies and breakfast.
The great music and good drinks – they have the best Sangria I ever tried – made us come back three times. It was always in the evening and therefore I couldn't have a look at their breakfast selection.
Tinos Town is not only attractive for party people, but also for pilgrims.
Yes, you heard right!
The town is home to the "Our Lady of Tinos" church which is the major Marian shrine in the entire country of Greece. Each year, thousands of pilgrims from all around the world come to visit this important pilgrimage center.
Panormos Bay
Less than 30 kilometers from Tinos Town and in the northeastern part of the island is Panormos Bay.
A small harbor with fishing boats, cozy taverns and cafés along the promenade and – again – the beautiful white houses with blue doors and window frames.
That's the wonderful charm of Panormos Bay.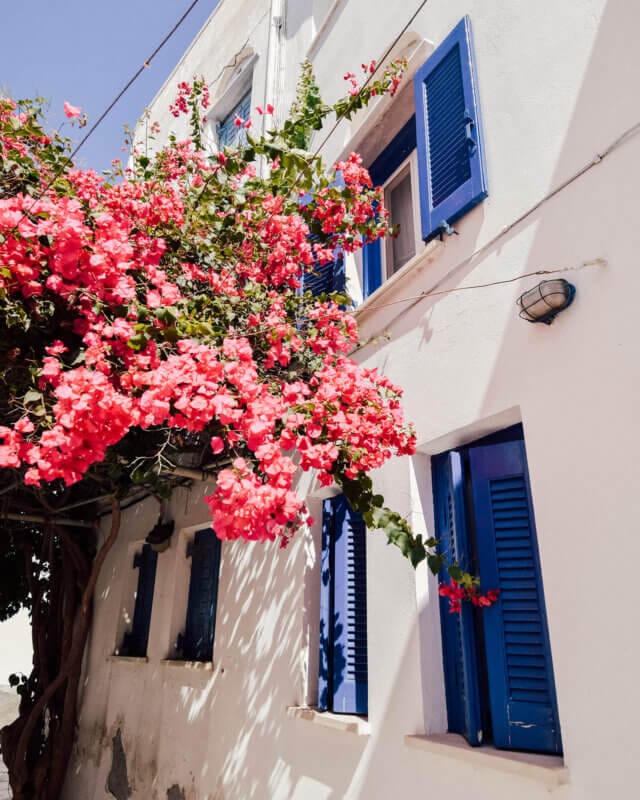 One very special thing you'll spot immediately after your arrival is an islet opposite the village.
It carries the strange name "Planitis" (planet). There's also a beach but the entire area is very swampy and thus not really inviting.
If you want to relax on a nice beach, head to Rochari beach which is only a 10-minute walk from Panormos Bay.
Pyrgos (Panormos)
Another place not to miss on the Greek island Tinos is one of the largest and most beautiful villages of the Cyclades. The talk is of Pyrgos (or Panormos)
Built in the heart of a verdant site, Pyrgos beckons with its marble streets, arches, churches and other monuments. It seems that marble can be found everywhere and in any imaginable form.
It's no wonder Pyrgos has its own museum dedicated to significant marble sculptors: The Tinian Artists Museum.
While wandering along the narrow alleys you'll discover the true beauty of Pyrgos. Colorful flowers decorate the houses' facades and balconies.
Groups of locals chatting while enjoying a cup of coffee in the many lovely cafés.
Radiant white and completely marble-made buildings.
In my opinion, Pyrgos definitely deserves to be among the most beautiful villages of the Cyclades.
Don't you agree?
Isternia
The next on the list of Tinos' villages – yes the island has A LOT – is Isternia.
This picturesque village sits on the slopes of Mount Meroviglia, overlooking the eponymous bay. Like Pyrgos, Isternia is characterized by marble buildings and arches.
We didn't explore Isternia that much because we mainly came here to visit the MAYOU bar. You probably wonder what's so special about this bar. Well, let me show it to you:
MAYOU bar offers a breathtaking view of the neighboring island Syros and the Aegean Sea.
Especially at sunset when the sky turns red or orange, sipping a cocktail while enjoying the view is a truly magical experience.
An old, winding marble-paved road connects the village with Isternia Bay.
There you'll find a beautiful sandy beach with crystal clear water which is listed as one of the best beaches in Tinos. A visit should be therefore worth thinking about.
Tarampados Valley
While driving around the island, you'll probably recognize an unusual type of house every now and then. These mostly white or brown small buildings with geometric patterns are the iconic dovecotes of Tinos.
More than 600 such dovecotes are spread all over the island but the majority can be found in Tarampados Valley.
Dovecotes are a characteristic feature of a few of the Cyclades islands but neither of them has as many as Tinos.
They may seem like luxurious two-floor palaces for doves but the animals only inhabit half of the building. The doves live only on the upper floor whereas the first floor is used to store tools and equipment.
The breeding of doves first started in 1204 when the Venetians introduced it to the Greek people.
Ever since then, the pretty dovecotes are a fixed component of Tinos' landscape and the island wouldn't be the same without them.
*no dove got harmed for the photo above*
If you want to capture some doves you have to be very patient and still. First, they're really fast and second, they fly away as soon as they see something suspicious moving.
Unfortunately, my photo mission was unsuccessful so I hope you'll be doing better!
Volax
The next place you need to add to your Tinos itinerary may seem strange and almost other-worldly at first glance.
While approaching the tiny village of Volax, the landscape suddenly changes and you find yourself between huge granite boulder formations.
It almost awakens the impression as if a volcanic eruption happened here thousands of years ago.
Each of these monoliths has a different size and shape. From less than half a meter in diameter to more than three meters high giants, there's everything you can imagine.
My favorite was by no doubt the biggest one which I gave the very fitting name "big potato."
The strange-looking landscape might be the main reason people go to Volax but the village itself is also nice to see.
An incredible amount of 50 people live in this tiny place consisting of only very few lovely whitewashed houses.
Most of them work as basket weavers and it's possible to visit their workshops. The finished baskets are available to buy and make a unique and useful souvenir.
Mirsini
Initially, Mirsini wasn't on our list of places to visit in Tinos. We discovered this village on our way back from Volax to Tinos Town and decided spontaneously to make a stop here.
Mirsini isn't a tourist magnet at all. Rather, it is a quaint, peaceful and authentic place far away from the main tourist routes.
It was quite obvious my sister and I were the only foreigners roaming around the tiny streets of the village. But to be honest, we didn't mind it at all.
On the contrary, we were actually super glad about this unique opportunity to experience real local life in Tinos.
Pachia Ammos
Smooth sand, clear water and hardly any people – welcome to the unspoiled beach Pachia Ammos! It's located in the southeastern part of the island and less than 10 km from Tinos Town.
Getting to Pachia Ammos is not an easy undertaking. At least in our experience. Despite signs every now and then, it often happened that we were a bit confused about which direction to follow.
We ended up following the directions of Google Maps which led us to a power plant near the beach.
From there we had to walk to Pachia Ammos whereby the last part of the way was a steep slope to climb down.
Map of Tinos
The following map includes all the must-see places on Tinos and should help you plan your trip.
Best Place to Stay in Tinos
For me, it's usually the destination itself that makes a trip special. However, this time it was also the accommodation that contributed a lot to a perfect stay.
Seriously, I couldn't have imagined a better hotel than Big Blue Tinos.
This 3-star hotel close to Tinos Town offers 11 rustic-chic apartments with sea views, an outdoor pool and even a dog!
We paid a total of less than €500 for five nights in a split-level suite with breakfast.
I'm not going to tell you every single detail about my stay as I already wrote an entire blog post about it.
The last thing I want to mention is that I've never felt so heartily welcomed and comfortable at a hotel before.
Check out: Big Blue Tinos – A Home Away From Home
And here it is, the end of my ode to Tinos.
This island surprised me in such a good way that I don't want anything else than just go back as soon as possible.
I really hope you'll get the opportunity to explore this wonderful and authentic island on your own. I'm certain, you'll love it as much as I did.
---
Like it? Pin it!
---
Do you want to travel like me?
Here are some of my favorite travel tips and resources:
Flights: I prefer using CheapOair or Skyscanner to book flights. The destination everywhere feature is perfect for finding some cheap deals!

Accommodation: Booking.com is my favorite site to find some great hotel deals. I do love staying at a local place as well, thus I book an Airbnb every now and then.

Travel Insurance: There are many reasons why travel insurance is important and I never travel without having one. I use the simple and flexible one from World Nomads to be protected against unforeseen events.

Tours: I love taking tours to explore destinations like a local. My favorite website to book them in advance is GetYourGuide.

Camera Gear: I use a Nikon D5300 camera with an 18-105 mm and a 10-20 mm wide-angle lens to take my photos.