Your Perfect Guide to Visiting The Bastei Bridge From Dresden
Sometimes you see places in photos that are so beautiful, they don't even seem to be real.
For me, the Bastei Bridge in Saxon Switzerland is one of them.
Only 50 kilometers east of the German city of Dresden, you can find this masterpiece of a bridge spanning over breathtaking rock formations. No matter if summer or winter, this place is definitely one of the best day trips from Dresden.
So if you make your way to the charming city, don't forget to visit the Bastei Bridge and the area around it as well!
Oh and if you don't know how much time you'll need: We had 24 hours in Dresden (which was enough, in my opinion) and another full day for the Bastei Bridge and the national park.
(This post contains affiliate links, which means I receive a certain percentage of a sale if you purchase after clicking.)
To make sure you have the best experience, I put together all the useful and interesting information such as history, location, arrival, etc.
Plus I have some really awesome recommendations about great places nearby so let's start!
Oh btw, before we're going to dive into the history of this awesome place, I want to tell you the one most important thing if you visit the Bastei Bridge:
GO. THERE. EARLY.
And with early, I mean around 8:00 am. I know it can be hard getting up so soon on the weekend, BUT trust me, you want to soak in all the peaceful settings before the tourist masses arrive after 10:00 am.
Moreover, it's very likely there's still some early-morning fog covering the place and giving it a mystic touch.
We arrived at 8:00 am and watched the fog disappear above the treetops, uncovering all the stunning rock formations!
History of The Bastei Bridge
In my opinion, it's crucial to learn a bit more about the history of the places I go to. It gives you more understanding of why and how something is like it is. If you aren't interested in history at all, just skip the following part.
For the past 200 years, the Bastei Bridge in the Saxon Switzerland National Park has been an attraction for many people.
However, the area itself is already over a million years old – when water erosion created the stunning rock formations also called "Bastei". Rising more than 200 meters above the Elbe River, it's a truly unique sight created by mother nature.
The first man-made bridge ever built was a wooden one constructed in 1824 to make it easier for visitors to see the Bastei rocks. 27 years later, it was replaced by the Bastei Bridge made of sandstone that we can admire nowadays.
If you cross the Bastei Bridge you come to Neurathen Castle – a former rock castle and now an open-air museum. It's the only place at the Bastei which is not free because you have to pay an inexpensive entrance fee of € 2.
It's really not much money and it's worth paying. Not only because of the open-air museum but you'll reach some great viewpoints, for example, the one where you can spot the statue from the photo above.
Location of The Bastei Bridge
As already mentioned above, the Bastei Bridge is only about 50 kilometers away from Dresden.
It's also very close to the Czech border and is thus a popular day trip destination for Czech people as well. The two closest villages are named Lohmen and Rathen.
Here's a map showing the exact location of the bridge. Moreover, I marked all the places mentioned in this blog post so you have them all at a glance!
How to Get to The Bastei Bridge
You can choose between a couple of different ways to reach the Bastei Bridge.
Undoubtedly, the easiest and most convenient option is a rental car. First, it's by far the fastest way to get there and second, you can be really flexible and visit the Bastei Bridge for sunrise or sunset.
Rental Car
The easiest way to get a car is if you book it in advance for example via rentalcars.com.
It depends on which part of Dresden you decide to stay but the drive to the Bastei Bridge will be between 50 and 60 minutes. We left a bit after 7:00 am and arrived there at exactly 8:00 am.
Where to Park
There are two available, public parking spots close to the Bastei Bridge.
One of them is a bit further away behind a petrol station. It's the beginning of the so-called "Basteistraße" and you have to walk 3.5 kilometers to reach the bridge.
This parking lot is mostly used if the other one closer to the Bastei is full.
Then the only option for you is to leave your car at this parking lot and either walk or take the shuttle bus that runs between this and the other parking lot. A single fare costs €1 and a round trip €1.50.
If you visit the Bastei Bridge in the morning, there's usually enough free space at the second parking lot. Simply follow the "Basteistraße" until you see the parking lot on your left side.
I also marked it for you on the map above or just enter "Bastei Bridge Parking" in your navigation system.
Unfortunately, parking isn't free at either of the parking lots. You have to pay €3 for up to three hours of parking and €5.50 if you park your car for more than three hours.
Payment needs to be done before you leave the parking lot and you can use either cash or a card.
Tours you might find interesting:
Public Transport
Another option to reach the Bastei Bridge is by using public transport. The easiest way is if you take the regional train S1 towards Schöna or Bad Schanau which leaves every 30 minutes from Dresden's main train station.
Exit the train at the station called "Kurort Rathen" and take a short ferry ride across the river Elbe. From there you then need to hike up the Bastei to reach the Bastei Bridge.
Keep in mind that this journey will take you at least twice as long as if you rent a car. The hike up to the Bastei is pretty steep and takes around 30 minutes.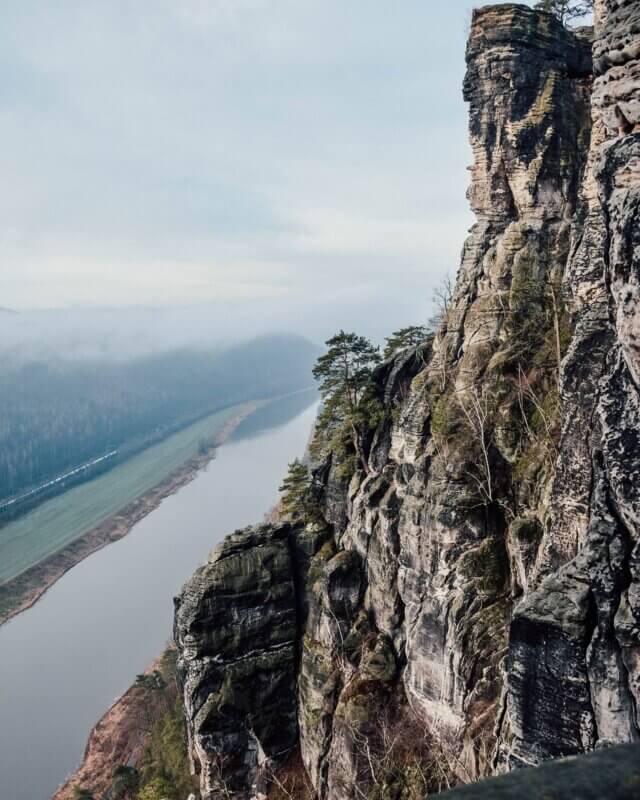 Opening Times & Entrance Fee
Good news: There are no opening or closing times for the Bastei Bridge and there's no fence around the area. It's possible to visit the Bastei at any time of the year, day or night.
Only if you want to visit Neurathen Castle, you have to pay the small entrance fee that I mentioned above already.
What to See & Do Near The Bastei Bridge
As soon as you enter the National Park area, you'll quickly find out there's more to see and do besides the Bastei Bridge. Undoubtedly, it's the most famous sight but Saxon Switzerland is more than just the bridge.
Viewpoint "Bastei Bridge"
To get the most perfect view of the bridge and the landscape of Saxon Switzerland, climb up to the Bastei Bridge viewpoint. Simply follow the signs and if you spot the bridge in front of you, make a turn to the left.
The viewpoint is on a rock with stairs carved into the stones leading to the top.
In my opinion, it offers the most stunning view of the Bastei Bridge!
Neurathen Castle
Cross the bridge and you'll find the last remains of Neurathen Castle. Once the largest rock castle in this area is now an open-air museum where you can admire rooms carved out of rocks, old passages, a cistern and more.
It's really fascinating to see how people managed to live on these rock formations centuries ago.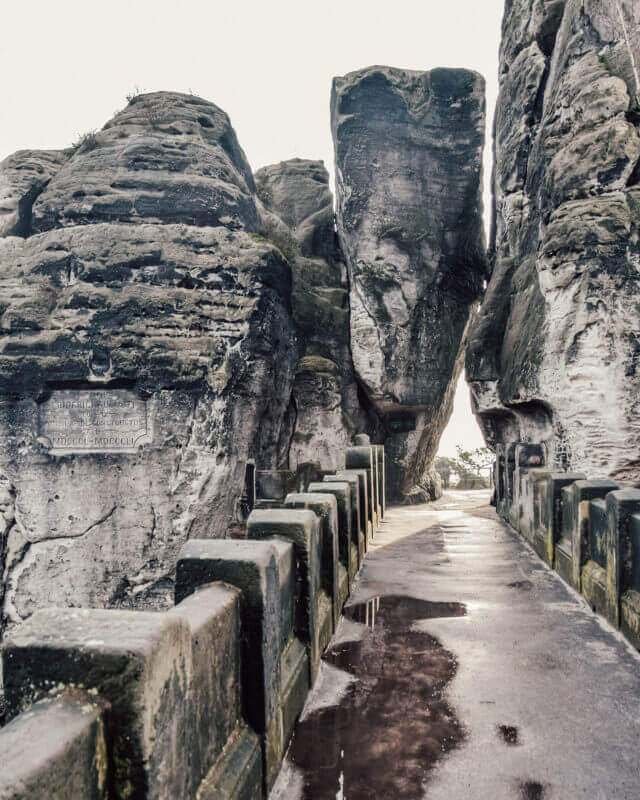 Lunch at Panoramarestaurant Bastei
If you want to treat yourself and splurge on accommodation, you can choose to stay at the Berghotel Bastei right next to the bridge.
This 4-star hotel built on the rock formations offers majestic views of Saxon Switzerland, a relaxing wellness oasis and has its own private parking lot.
However, if you want to save some money but still admire the amazing view while having lunch or enjoying a cup of coffee, check out the Panorama restaurant Bastei.
This restaurant belongs to the Berghotel Bastei and has enough seats for everyone. Here's the menu if you want to check out the different dining options.
Viewpoint "Wehlstein"
The "Wehlstein Rock" is another pretty cool rock formation you can find before even reaching the hotel and the bridge. So if you leave the bridge and go back to the parking lot you'll spot a sign pointing to the "Wehlstein" viewpoint on your right.
Schwedenlöcher
Another place you shouldn't miss if you visit the Bastei Bridge is a hiking area called "Schwedenlöcher". It's a small gorge-like valley with a path leading through a fairy tale forest.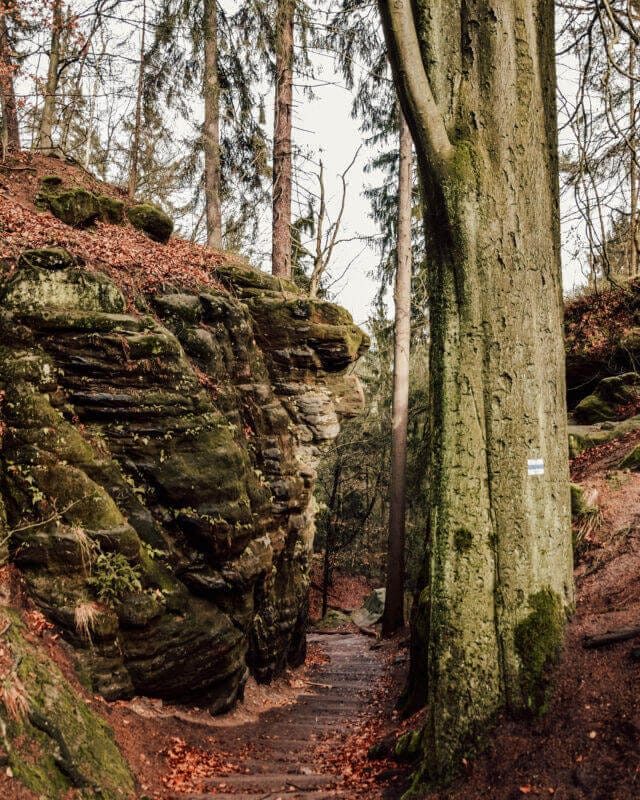 TIP: If you want to explore some other, stunning areas of the Saxon Switzerland National Park, I recommend you to visit a famous rock arch named "Kuhstall".
It's a 30-minute drive from the Bastei Bridge and is located in another beautiful hiking area.
At the Kuhstall you can find a scary and unusual attraction called "Himmelsleiter" (Heaven's ladder). It's basically a VERY narrow ladder between rocks leading on top of the rock arch.
The view from the rock is breathtaking but the climb is not for the faint-hearted.
If you're looking for a less adventurous place to explore nearby head to Königstein Fortress. It's one of the prettiest fairytale castles in Germany!
I really hope you find this guide to visiting the Bastei Bridge helpful and I wish you happy exploring!
---
Like it? Pin it!
---
Do you want to travel like me?
Here are some of my favorite travel tips and resources:
Flights: I prefer using CheapOair or Skyscanner to book flights. The destination everywhere feature is perfect for finding some cheap deals!

Accommodation: Booking.com is my favorite site to find some great hotel deals. I do love staying at a local place as well, thus I book an Airbnb every now and then.

Travel Insurance: There are many reasons why travel insurance is important and I never travel without having one. I use the simple and flexible one from World Nomads to be protected against unforeseen events.

Tours: I love taking tours to explore destinations like a local. My favorite website to book them in advance is GetYourGuide.

Camera Gear: I use a Nikon D5300 camera with an 18-105 mm and a 10-20 mm wide-angle lens to take my photos.