14 Quiet Greek Islands For a Relaxing Summer Holiday
The country of Greece is one of the most popular summer holiday destinations in Europe. Famous islands like Santorini or Mykonos are usually among the preferred choices but there are so many other, quiet Greek islands that are worth visiting.
I had the chance to travel to six of the 6,000 islands – Santorini, Corfu, Thassos, Tinos, Skopelos, and Skiathos.
All of them were really beautiful in their own way but especially the latter four have captured my heart.
Untouched nature, empty beaches, and authentic local life are only some of the reasons for that. Not only these four islands but numerous others are still spared by mass tourism.
So, if you're looking for a relaxing, off-the-beaten-track summer destination, you should consider one of the following 14 quiet Greek islands – each of them explored and recommended by travel bloggers.
Best Quiet Greek Islands to Escape The Crowds
(This post contains affiliate links, which means I receive a certain percentage of a sale if you purchase after clicking.)
1. Tinos
Recommended by me
Tinos is an underrated yet beautiful island between the two Cycladic islands Andros and Mykonos.
Despite its picturesque landscape, enchanting villages, and pristine beaches, Tinos is one of the rather non-touristy and quiet Greek islands.
Once on the island, you'll quickly find out why it should be on everyone's Greece bucket list.
If you want to have a relaxing day, you can choose from a great number of rocky and sandy beaches to chill at.
However, to experience real local life, head to some of the many villages on the island.
The largest – and most definitely prettiest – one is Pyrgos (Panormos) in the northern part of the island.
Another village not to miss is Volax.
People usually go there because of the otherworldly-looking surrounding landscape. Big granite rocks in different shapes make it seem as if a volcanic eruption happened here.
A very typical thing of Tinos is the great number of dovecotes located all over the island.
These white buildings with geometrical patterns can be found on a few other Cyclades islands but neither of them has as many as Tinos.
Check out: FULL Travel Guide to Tinos Island
2. Paxos
Recommended by Bex of Life Beyond Borders
Paxos is located in the Ionian chain of Greek islands on the mainland's west coast.
Due to its small size and lack of an airport, the island doesn't really attract package holiday crowds and is still among the hidden gems in Europe.
Reaching the islands entails a flight to Corfu and then an hour's ferry ride.
With plenty of connecting flights to Corfu from the mainland and European destinations, Paxos is more accessible than you'd think – and well worth the visit to escape the crowds.
The Ionian islands, in general, are nicknamed 'The Caribbean of Europe' due to their azure waters. Paxos does not disappoint in this respect.
Sandy Lakka Beach is located in the fishing port of the same name. Go and take a dip before choosing one of the several waterside tavernas for lunch.
As well as offering a beach, the small harbor of Longos also has an old Olive Oil factory. This factory is now used as an exhibition space for contemporary artists that frequent the island due to its class and style of visitors.
Gaios is the main port of the island and is a bustling small town with boutique shops, traditional tavernas, and a general Greek laid-back cool vibe.
The best way to see the island is by boat trip – usually starting from Gaios.
Head out to the tiny Anti-Paxos for a swim, round to the lighthouse and the imposing Tripitos Arch – like something out of 'Game of Thrones'.
Paxos also attracts A-listers. Morgan Freeman and his entourage have been spotted keeping a low-key on the beach island of Mogonissi.
Whether it's time to relax on a beach or visit the small traditional villages, for a getaway from it Greek island, you can't go wrong with Paxos.
3. Lemnos
Recommended by Chrysoula of Travel Passionate
Another one of the many quiet Greek islands is Lemnos (Limnos) in the north-eastern Aegean.
It's a lovely, relaxing island with more than 30 sandy beaches, mountainous terrain, and crystal-clear waters. Its distance from Athens has ensured that it has escaped mass tourism.

Myrina, its main town, stretches across two bays and is full of character with its Venetian Castro perched on a volcanic outcrop, neoclassical mansions, and winding streets.
There are traditional tavernas, modern cocktail bars, and shops for all tastes.
The island's beaches are beautiful and unspoiled. Platy, Thanos, Evgatis (Nevgatis), and Aghios Ioannis are all 'blue flag' beaches, whilst Keros is popular with surfers.
At Falakro in the north, there are volcanic rock formations, whilst Pachies Ammoudies ('thick sands') is an area of sand dunes near Katalakkos.
Lemnos has two lakes; Limni Aliki – a salt lake where flamingos overwinter- and Lake Chortarolimni where many other bird species can be seen.

Lemnos makes its own wine – two varieties – Muscat of Alexandria and Limnio – and Moschatos Limnos is its popular local sweet dessert liqueur.

The easiest way to travel to Limnos is by ferry from Lavrion in Attica (nine hours). There are also flights from Athens to Hephaestus International Airport on the island.
Spending a week is the perfect length of time in Lemnos.
4. Folegandros
Recommended by Dean & Laynni of Routinely Nomadic
Located in the Cyclades chain of islands, tiny Folegandros is a stop along the busy ferry line between Milos and Santorini.
You can also get there from Naxos or Paros with a connection through Ios.
Compared to many of the larger, more popular islands in the area, spectacular Folegandros is a breath of fresh air, with just one main road and very few tourists.
Cute little Chora is the main town, featuring all the usual Greek highlights – narrow streets, whitewashed buildings, outdoor terraces – just without the cruise ship crowds.
In many ways, with its quiet streets and friendly locals, Folegandros has less in common with frenetic Greek party islands than it does with some of the undiscovered Balkan gems found to the north.
Folegandros is also a great place for hikers as it is filled with accessible trails. Most of them run along the high spine of the island and offer tremendous scenery.
It is possible to walk the entire length of the island on a single, relaxed day hike, or you can choose one of several cross trails that lead to steep cliffs and hidden beaches.
The most popular trail is the short, steep climb up to the Church of Panagia, boasting a dominating location high above Chora with a superb view down the entire oddly shaped island.
Or, if you are looking for something a little more relaxing, check out gorgeous little Angali Beach. It has scenic cliffs, a calm swimming area, and excellent food and drink options.
Folegandros is small enough to see everything in just a couple of days but you could easily spend four or five checking out all the best viewpoints and soaking up the relaxed ambiance.
5. Kimolos
Recommended by Elena of Passion for Hospitality
The small but picturesque island of Kimolos is truly a hidden gem in the Cyclades island group.
Offering an unforgettable experience to those who wish to discover one of the lesser-known, quiet Greek islands.
In contrast with its neighboring islands of Paros, Mykonos or Santorini, the luxury of this island is not concentrated on 5* hotels and VIP parties.
In Kimolos instead, you will discover the essence of true luxury.
The one of simplicity, the crystal clear waters, the paradisiac off-roads beaches, the humble hospitality, the wild nature, and the magnificent peacefulness of this island.
Kimolos Island has been described as "the island which looks like a painting".
The main "town" of the island is Horio, situated on a hill above the island's port. It is in this small village where half of the island's population, which sums up to 400 people, lives.
The small size of the village allows you to wander around the town's alleys and blossomed yards of the white & blue houses, to explore the impressive Orthodox churches and the medieval castle.
During the night the Horio opens their few little restaurants and atmospheric cafe-bars welcoming the island's guests to relax and enjoy some local food, good wine, and occasionally some live music.
Kimolos is home to some of the most breathtaking pristine beaches.
Whether you are looking to spend the day lounging on a sunbed or hopping and exploring beach to beach or diving in the crystal clear waters.
The only way to get to the island is by ferry, which you will either need to take from the Port of Piraeus in Athens or from Milos Island, the journey takes 30 minutes.
6. Sikinos
Recommended by Dave of Dave's Travel Pages
For anyone looking for an island destination to get away from it all, Sikinos certainly fits the bill.
Located in the Cyclades chain of Greek islands, Sikinos might be the most immediate neighbor of the more famous 'party island' of Ios, but it feels a million miles away.
Life doesn't get simpler than on Sikinos. There are three beaches to choose from, a handful of places to eat, and only a couple of 'must-do' activities.
It's often thought of as the Greek island you spend time on in order to catch up on reading a few good books.
Visitors to Sikinos, with its population of barely 300, would find that hard to argue against!
Sikinos can be reached either by ferry from Athens, or from some of the other Cyclades islands such as Ios, Santorini, and Folegandros.
As with most port towns on the Greek islands, there is accommodation in Alopronia in Sikinos. Although Chora may be the better choice for sunset views.
Speaking of which – enjoying the sunsets and then the star-filled skies at night are definitely some of the best things to do in Sikinos.
One suggestion is to go for an evening sunset wine tasting and a meal at the only winery on the island – Manali's winery.
An unforgettable setting that rivals anything the more well-known Santorini can offer!
7. Antiparos
Recommended by Paulina of Paulina on the Road
Antiparos is a tiny and less-traveled Greek island located next to Paros. It is a marvelous destination for day trips from Paros, tourists can reach there by taking a short ferry ride from Paros.
The island is a great destination for spending calming holidays.
It remains a great island to visit because the place is still untouched by tourists as not many people are aware of this jewel. You can experience Greek culture, their hospitality, and the acceptance of tourists.
Within a tiny island of 57 kilometers, you can find a lot of fun things to do including incredible beaches. The island offers exposure to historical castles like the Antiparos Kastro.
The castle, built in the mid-15th century, is located in the center of Antiparos town. You can spot the centuries-old castle while exploring the island.
Apart from that, the island offers a great shopping experience through its shops on the streets.
If you want to spot the most beautiful attraction of Antiparos, you must see the Cave of Agios Ioannis church.
It is located 8 km from the town of Antiparos – Chora and is the biggest vertical cave in Europe. Inside is the oldest stalactite in Europe which is estimated to be 45 million years old.
However, the other sea caves on the island are no less and visitors must experience them on their expedition.
To experience all of it and also visit some of the best beaches on Antiparos, plan at least a week on the island.
In the middle of all these, if you're wondering where to stay in Paros, Katerina Mare is one of the fine suggestions. You can take daily rides to Antiparos from the hotel.
8. Sifnos
Recommended by Derek & Mike of Robe Trotting
One of the most serene and quiet Greek islands is the enchanting destination of Sifnos, Greece.
This hidden gem in the Cyclades island chain is a nice quiet respite and a wonderful contrast from some of the party islands and overrun tourist islands in the region.
Any island hopping trip should carve out at least three nights on the island for a laid-back island break.
Also, don't worry if you don't know where to stay in Sifnos, there are a lot of great hotels, B&B, and Airbnbs on the island!
Getting to Sifnos is easy and it's about a three-hour trip on the high-speed ferry from Athens. The ferry will drop you in Kamares, the island's largest port.
It's still a low-key village in Sifnos with a beautiful beach of golden sands and simple beachfront restaurants that serve drinks on the beach for anyone who rents a sun chair.
There's also a bus stop in Kamares which can help you navigate the island in case you don't rent a car.
The beaches of Sifnos are incredible, and besides Kamares, Vathy Beach is a must-see destination.
Inside this protected cove, you'll find a remote stretch of sand and turquoise water. Linger in the afternoon and enjoy a late lunch at any of the coastal tavernas along the water's edge.
If you want a bit of nightlife, most restaurant bars stay open after dinner in Kamares or you can venture to Apollonia, the largest city on the island.
It sits on the highest point of Sifnos and has rooftop bars and more tavernas that are open later. However, don't expect the party atmosphere of Mykonos or Santorini.
If outdoor activities are interesting to you, go for a hike on Sifnos Trails, a network of 100 km of hiking routes around the island with scenic overlooks and stunning natural attractions along the way.
9. Agistri
Recommended by Cathy of Mummy Travels
Agistri is one of those quiet Greek Islands you have never heard of (and the Greeks prefer to keep it that way).
Surprisingly, this island is located only a one-hour ferry ride from Piraeus Port in Athens but it feels like a world away.
Agistri is a small island, but what it lacks in size is more than makes up for in beautiful scenery.
There are plenty of stunning beaches, all of them beautiful, and when visiting in shoulder season often completely deserted.
Dragonera Beach is one of the nicest beaches in Agistri.
There are a small kiosk and a few sun loungers and of course the alluring green-blue ocean with a comfortable temperature throughout most of the year.
The villages of Skala and Megalochori are charming and very photogenic.
There are several small shops, restaurants, and cafes as well as a couple of tour companies offering activities such as kayaking and diving.
Limenaria town is not much more than a speck on the map, with just a couple of houses and a taverna, but it's a lovely place to spend an afternoon.
Altogether it's all too easy to lose track of time on Agistri.
Before you know it, those three days you planned to spend on this little gem have passed and you find yourself extending your stay for a couple more days.
10. Spetses
Recommended by Megan of Megan & Aram
One of the best quiet Greek Islands to escape to is the gorgeous island of Spetses, located rather close to the Saronic Gulf.
The island is only accessible by ferry from Athens and it takes a few hours to get out there. Nevertheless, it is so worth the journey if you're looking for a break from the noise and chaos of the capital city.
Spetses does not permit tourists to bring their cars (only locals can have them there). Thus it has far less traffic and noise than other islands in Greece.
You can rent mopeds and quads once there if you need to get around, but the atmosphere is perfect for relaxing and not doing too much at all.
Once you arrive, you will realize that there are many things to do in Spetses.
The main town is divided into two parts. Around the old harbor, you will find several delicious Greek restaurants there and a fish market as well.
Mourayo is one of the best and has fantastic views that you can watch the sunset from.
Another reason to head to Spetses is to take advantage of its beaches!
The island has several remarkable spots to relax and get lost in your own thoughts but perhaps none are as fantastic as Kaiki Beach.
Spetses is a small island but it has a lot to offer if you're looking for a romantic, peaceful place in a gorgeous natural setting!
11. Samothraki
Recommended by Anda of Travel for a while
If you're looking for a quiet holiday, away from the crowds, Samothraki might be the place you're looking for.
It is a small island in the Northern Aegean, but the tallest in the area with Saos Mountain, over 1,600 meters high.
You can get to Samothraki by ferry from Alexandroupoli, close to the Turkish border.
What you'll love about this quiet island is how diverse it is and the many things to do in Samothraki.
You can spend time on the beach, explore the traditional villages inland, hike on Mt. Saos, or find the waterfalls in the northern part of the island.
Another thing you shouldn't miss is the Sanctuary of the Great Gods, a very important temple complex in ancient times.
One other attraction is the great local cuisine. Aside from the fresh seafood, you should also try some of the many different local specialties there.
You should spend at least four or five days on Samothraki. If you didn't bring a car on the ferry you can rent one in Kamariotissa to explore the whole island.
12. Hydra
Recommended by Elina of Empnefsys & Travel
Hydra (also spelled Ydra or Idra) is a small island in the Argolic Gulf of the Aegean Sea. It is part of the Saronic Islands and near Athens.
To get there, you can take one of the daily direct ferries from Piraeus to the island. The journey usually lasts between 1.5 and 2 hours.
Its proximity to the Greek capital makes it a great day trip destination (on its own or as part of a multi-island cruise), but you can choose to stay longer and enjoy the beauty of the island.
Most accommodation and dining options can be found around the port of Hydra, which is also the main town of the island.
The best part about Hydra is that it is a car-free island, which means that you can really unwind from the craziness of the city and the larger islands.
To move around you can walk or use one of the boats or water taxis that service the island's beaches.
The island is surrounded by beautiful beaches such as Vlychos Beach, St Nikolaos Beach, Limnioniza Beach, and Mandraki Beach.
Latter is the only sandy beach on the island and the only one with toilets and changing rooms.
Apart from swimming, you can visit some of the many churches and chapels around the island.
One of the most picturesque churches is that of Saint Ioannikios on the east side of the island, which is built on a rock. On the other hand, the church of Agia Triada offers great views of the island.
13. Milos
Recommended by Dymphe of Dymabroad
Milos can not be missed on the list of the best quiet Greek islands to visit.
It's located in the Aegean Sea and is one of the Cyclades islands. Furthermore, it is a bit to the north of Crete.
You can easily reach the island because there are good connections. The island has a small airport that only serves domestic flights.
Going by airplane is the fastest way to reach the mainland of Greece.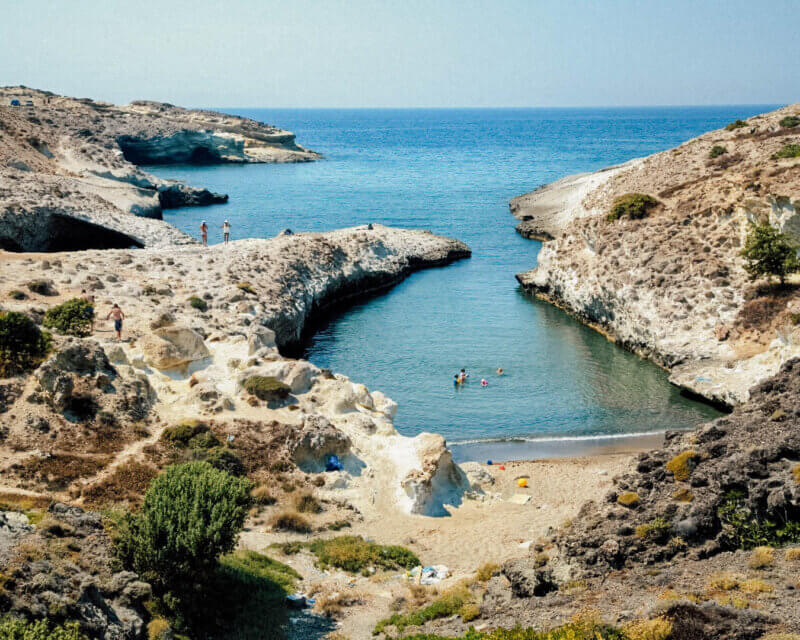 Alternatively, you can go to the island by ferry from the mainland of Greece and various other islands, such as Santorini.
The island is known for its beautiful beaches, viewpoints, and lovely small villages with white-washed houses.
One of the best things to do in Milos is to go to Sarakiniko Beach. This is a unique beach with white volcanic rocks and blue water that looks spectacular.
Another great thing on the island is visiting the capital city Plaka. The typical Greek houses here look amazing and there are all kinds of beautiful flowers.
Furthermore, there are no cars allowed in the center of Plaka which adds to the experience of the place!

One day on Milos is enough if you only want to see the town of Plaka and Sarakiniko Beach. However, if you want to see more of the island, try to add one or two extra days.
14. Aegina
Recommended by Monique of Trip Anthropologist
When tourists descend on Piraeus, the port of Athens, they are mostly jumping on ferries to the most popular Aegean Islands such as Mykonos and Santorini.
But only an hour from Athens is the much lesser-known Saronic island of Aegina.
It's possible to visit Aegina on a day trip to Athens and there is one particular reason to do so: a temple.
But not just any temple.
The Temple of Aphaea is one of the very best ancient ruins in Greece. It is the best-preserved and most complete of all the ancient sites.
The island of Aegina is home to the Sanctuary of Aphaea, known as the mother goddess. There are several wonderful ancient sites to see on this Aegina including the Temple of Apollo.
However, the Temple of Aphaea is special because of its perfect proportions but also because 25 of its 32 Doric limestone columns are still standing.
Aegina is only 17 miles (27 kilometers) from Athens and is a popular spot for Athenians to own holiday homes. There are spectacular beaches and archaeological & folklore museums.
The ferry takes an hour from Athens but the hydrofoil ferry takes only 40 minutes.
Have you been to any of these 14 quiet Greek islands, and if so, which one?
---
Like it? Pin it!
---
Do you want to travel like me?
Here are some of my favorite travel tips and resources:
Flights: I prefer using CheapOair or Skyscanner to book flights. The destination everywhere feature is perfect for finding some cheap deals!

Accommodation: Booking.com is my favorite site to find some great hotel deals. I do love staying at a local place as well, thus I book an Airbnb every now and then.

Travel Insurance: There are many reasons why travel insurance is important and I never travel without having one. I use the simple and flexible one from World Nomads to be protected against unforeseen events.

Tours: I love taking tours to explore destinations like a local. My favorite website to book them in advance is GetYourGuide.

Camera Gear: I use a Nikon D5300 camera with an 18-105 mm and a 10-20 mm wide-angle lens to take my photos.