A Sustainable Travel Guide to Lapland in Finland
This sustainable travel guide to Lapland is a guest post from Finnish outdoor enthusiasts at Out in the Nature.
Out in the Nature encourages everyone to enjoy nature and to protect it for the future. It is an informative and fun platform for reading and sharing your experiences of Finnish nature.
(This post contains affiliate links, which means I receive a certain percentage of a sale if you purchase after clicking.)
Sustainability is a cultural cornerstone in Finland and an important part of the Finnish lifestyle.
Environmental education forms an integral part of the school curriculum, recycling is the obvious thing to do, and many Finnish companies are at the forefront of sustainable circular economy innovations.
In tourism, sustainability means that you get to travel and explore while also having a positive impact on the environment, economy, and culture of your destination.
The Perfect Sustainable Travel Guide to Lapland
Let's dive into this topic and see how you can make your travel to the North of Finland, to Lapland, more sustainable.
There are plenty of good choices you can make when visiting Finland as a tourist.
Getting to Lapland
Traveling by plane is one of the worst things you can do to the environment. However, if you don't reside in Finland, you probably have to hop on a plane to get to Lapland.
We would recommend direct flights to Lapland's main airports Rovaniemi, Kittilä, or Ivalo.
In Finland, you have the possibility to carbon offset your flights for example with Compensate but your airline may already provide that option.
You will be pleased to know that all Finavia airports are carbon-neutral in their operations.
If flying to Helsinki airport is a better option for you, we recommend taking an overnight train with VR from Helsinki to Rovaniemi or Kolari.
The distance from Helsinki to Rovaniemi is about 850 kilometers, and Kolari is located about 200 kilometers north of Rovaniemi.
On the train, you can book a cabin bed or a whole cabin for a proper rest. You can even take your car with you if you are planning to drive. Cars can be loaded onto Lapland trains in Helsinki (Pasila station) or Tampere.
Trains can be a bit pricey in Finland, so make sure you book them in advance for the best deals. The railway network in Lapland is limited to only Rovaniemi and Kolari.
Take that into consideration when planning your travels. 
Long-distance buses such as Onnibus are also quite a good way to travel to Lapland.
Especially during ski season, they are also more affordable than the train. Plus, you can also get directly to ski centers with them.
The main ski centers in Finnish Lapland are Levi in Kittilä, Ylläs in Kolari, Saariselkä in Inari, Pyhä in Pelkosenniemi, and Ruka in Kuusamo. These same locations provide excellent hiking opportunities in summer.
Staying in Lapland
Many tourists fly to Lapland only for a few days and then try to run around with a busy schedule within those few days.
We have always been into nature travel and for us, a few days in Lapland is simply not enough to enjoy all the wonders it has to offer. It is also more sustainable to stay in your destination for longer.
So, instead of a few days, we recommend thinking about spending at least a few weeks in Lapland.
When selecting accommodation you can look for certifications for eco-friendly accommodation such as ECEAT, Green Key Finland, and the Nordic Eco-label.
The Finnish tourism office 'Visit Finland' has created a Sustainable Travel Finland -certificate for travel operators. Thanks to this, recognizing sustainable companies is now easier for travelers like you.
We would also encourage you to consider renting a cottage from local families.
Sites like Airbnb, Booking.com, and Lomarengas are typical platforms where regular people rent out their cottages.
Cottages in Finland vary from really basic log cabins (no electricity or running water) all the way to luxury chalets.
Location is one of the most important factors you need to consider when booking accommodation as the public transportation network is very limited in Lapland.
While near ski centers, you will be able to manage without a car, especially during the on-season and its shuttle buses. But if you are into exploring nature or wilderness areas, a private car may be necessary.
If you own or want to rent an electric car, remember that even though there are enough charging points in Lapland, you will have to plan your routes based on them.
Respect Sámi Culture
The Sámi are the only indigenous people within the European Union area.
The region the Sámi inhabit crosses four countries, covering the northern parts of Finland, north of Sweden and Norway, as well as parts of the Kola Peninsula in Russia.
There are three Sámi languages spoken in Finland: North Sámi, Inari Sámi, and Skolt Sámi. Traditional livelihoods of the Sámi are fishing, gathering, handicrafts, hunting, and reindeer herding.
There are a few things you can do to make sure you respect the Sámi culture.
First, do not wear the traditional Sámi outfit, and always remember to ask for permission in advance if you wish to take a picture of someone.
Second, always respect nature and leave no trace of your visits.
This means that you should leave moss and lichen untouched, but also do not cut down or damage any trees, and do not build any rock piles along nature trails.
What About Reindeer & Other Animals?
Animals are part of the magic of nature in Lapland. You should respect all animals you encounter.
Even if you see reindeer outside of your hotel or cottage, please do not approach or startle them. Also, do not try to pet them.
If you have a dog, keep your dog on the leash at all times, so it doesn't run after the freely roaming reindeer.
Animal tourism in Lapland is mainly focused on reindeers, huskies, and horses, but there are also a few zoos as well as some wild animal spotting and photography available.
If you feel you must participate in some of these activities, please do your research properly beforehand.
Caring for animals is a big part of the culture of Finland. Nevertheless, there may always be individuals who do not respect the animals or treat them with the highest standards.
Therefore, it is your responsibility to do your research before booking anything.
For example, Hetta Huskies in Enontekiö are famous for how well they care for their dogs.
Reindeer husbandry is a centuries-old tradition, which is still the main livelihood of many families in Lapland, including the Sámi people.
Reindeers roam the wilderness freely, thus making their meat and other products made from them a pretty sustainable choice when in Finland.
The same applies to deer and moose, which are responsibly hunted in order to maintain healthy quotas and prevent car-moose accidents.
Fishing in Finland is also limited by quotas. Lapland is known for its free-flowing rivers, so opting for local fish for dinner is definitely not the worst choice you can make if you are non-vegan.
Remember to Shop Sustainably
The first thing to keep in mind is that you can rent all the winter gear you may need when in Lapland.
This way you won't need to buy a lot of new clothing or equipment which you may only use once, especially if you are traveling to Lapland during the winter months.
In Finland, you can drink tap water everywhere without any concerns. Therefore you don't need to waste money or natural resources on plastic water bottles.
A great way to shop sustainably is to buy locally-made souvenirs.
Arctic forests provide lovely berries such as bilberries, cloudberries and lingonberries, and berry products are among the most sustainable souvenirs from Finland.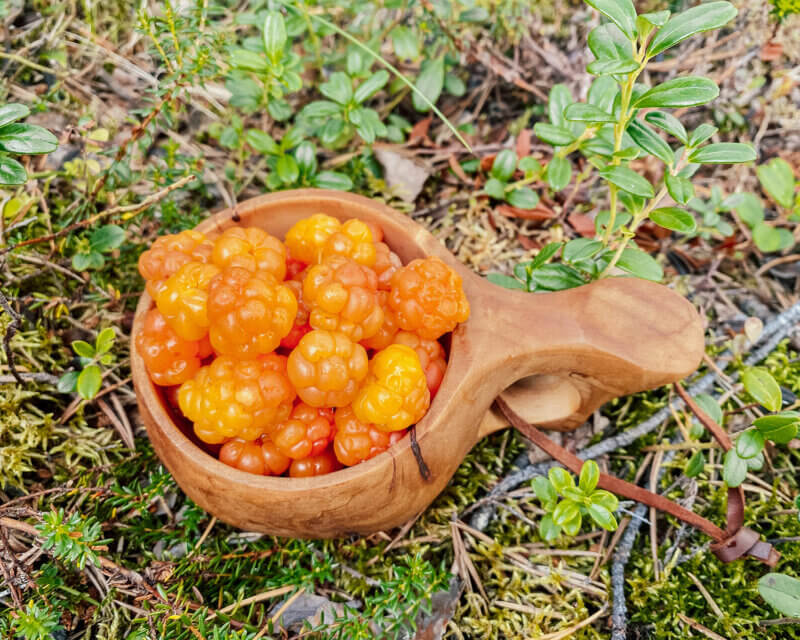 Moreover, kuksa coffee mugs made of birch are highly popular mementos of your time in Lapland, and sustainable, too.
Note that in Lapland, products with the Sámi Duodji certificate are guaranteed to represent authentic Sámi craftsmanship.
The local Lappish cuisine links directly to pristine nature and consists mainly of reindeer, game meat, fish, root vegetables, and berries. Mushrooms are also very popular in Finnish cuisine.
It will be easy for you to find restaurants that pride themselves by using traditional and seasonal ingredients outsourced from local suppliers.
Enjoy Clean Finnish Nature
Finland is the number one destination for any nature lover simply because it has the cleanest air in the world and four amazing seasons.
On top of incredibly clean air, the forests, lakes and drinking water of Finland are exceptionally clean by global standards.
Finland is Europe's greenest country and is known as the land of thousand lakes. Finnish Lapland is therefore much more than just snow, reindeers, and Santa Claus.
You will never run out of things to do in nature when in Finland.
For example, you can go hiking or cycling on nature trails in the summer. Berry picking and mushroom foraging can be done freely anywhere as explained in the famous Finnish Everyman's rights.
You can enjoy amazing autumn foliage and all the photography opportunities it provides in September.
During the winter months, go explore the Finnish forests and bogs by cross-country skiing or snowshoeing.
Most importantly, try to experience the amazing Aurora Borealis in the winter darkness.
It's not without reason that Finish Lapland is among the best places to see the northern lights! There are plenty of northern lights tours in Rovaniemi.
Also, remember that you don't need to book a snowmobiling tour to be able to spot aurora borealis – you can check our tips on when and where to see them!
If you liked this sustainable travel guide to Lapland, visit our website or give us a follow on Facebook for more ideas and nature destinations.
Check out: A Sustainable Travel Guide to Goa, India
---
Like it? Pin it!
---
Do you want to travel like me?
Here are some of my favorite travel tips and resources:
Flights: I prefer using CheapOair or Skyscanner to book flights. The destination everywhere feature is perfect for finding some cheap deals!

Accommodation: Booking.com is my favorite site to find some great hotel deals. I do love staying at a local place as well, thus I book an Airbnb every now and then.

Travel Insurance: There are many reasons why travel insurance is important and I never travel without having one. I use the simple and flexible one from World Nomads to be protected against unforeseen events.

Tours: I love taking tours to explore destinations like a local. My favorite website to book them in advance is GetYourGuide.

Camera Gear: I use a Nikon D5300 camera with an 18-105 mm and a 10-20 mm wide-angle lens to take my photos.