A Boat Tour on Lake Neusiedl in Burgenland, Austria
The eastern part of Austria is known for many things including wine, dry climate, and flat landscape. However, what most people don't know is that Burgenland is also home to Europe's largest endorheic lake: Lake Neusiedl.
During my weekend in Burgenland, I wanted to explore it a little bit more and decided to do so by taking a boat tour on the lake.
(This post contains affiliate links, which means I receive a certain percentage of a sale if you purchase after clicking.)
Before I'm going to start telling you all about my boat ride with the company Drescher Lines, I want to give you some information about Lake Neusiedl in general.
Facts You Need to Know About Lake Neusiedl
Lake Neusiedl is located in Burgenland which is the most eastern part of Austria. 75% of the lake is in Austria whereas 25% is already on Hungarian territory.
The entire lake is around 36km long and its deepest point is not more than 1.8 m deep. Of course, it depends on the weather as well.
During summer, Lake Neusiedl isn't deeper than 1.6 m sometimes so you can basically walk from one side to the other! 😉
Thanks to its low water level, it heats up quite well and thus water temperatures rise really quickly in summer.
Lake Neusiedl is not only one of the shallowest lakes in Austria but probably the dirtiest as well. On many days, the watercolor gets a light-brown and mud-like tone due to specific algae in the lake.
Nevertheless, its water is of very high quality.
Due to its dirty appearance, the water doesn't look very inviting at all, however, Lake Neusiedl offers a great opportunity for a swim!
What I experienced during my time in Podersdorf am See is that Lake Neusiedl is also a perfect place for any kind of watersports. Especially windsurfing is a very common sport as it's always super windy at the lake.
Unfortunately, I haven't tried it yet. I need to admit that I'm a little bit afraid to be blown away by that strong wind! 😀
Alright, enough details about Burgenland's lake. Let's come to the actual topic of this blog post: My pretty awesome boat tour on Lake Neusiedl!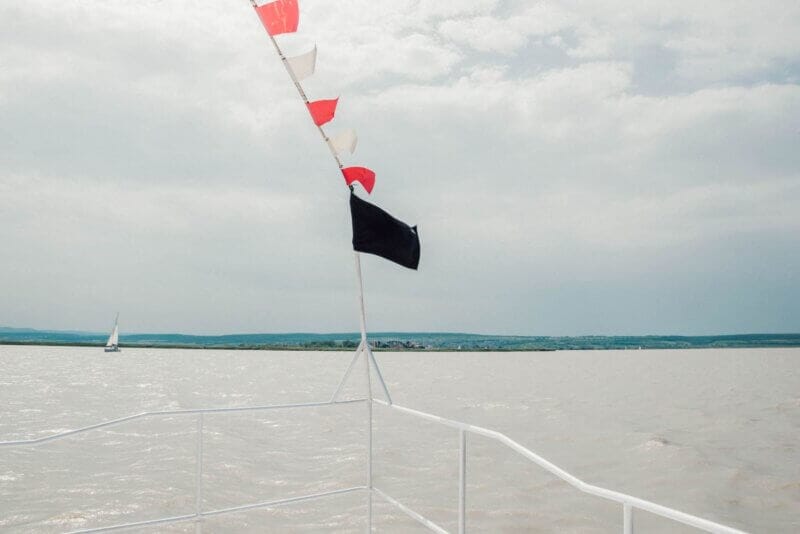 A Boat Tour on Lake Neusiedl With Drescher Lines
It is possible to take a boat tour from many places in Burgenland like Illmitz, Podersdorf, Rust, or Mörbisch – just to mention a few of them.
I did a boat tour with the company Drescher Lines starting from Mörbisch. With more than 14 ships and four ports of departure, it's the biggest shipping company at the lake.
Every year from April to October, you can do a boat tour at 10:00 am, 12:00 pm, 2:00 pm, or 4:00 pm. The entire tour takes around an hour and the price is €10 for adults and €5 for children (6-14 years).
Boarding The Boat
After I bought my ticket at the counter in Mörbisch, it was time to board the excursion boat. Of all the 14 ships of their fleet, ours was the so-called Mörbisch 4. It was a relatively big one that had two floors and fit more than 200 people.
On the lower deck, you could only sit inside but on the upper deck, you could choose as half of it was open and the other half was covered with a roof.
I went upstairs and took a seat inside the covered part as the sun was very strong.
On the boat, there were two bars and waiters offering cold, fresh drinks such as wine (of course), beer, and non-alcoholic beverages. In addition, you could choose to buy some small snacks as well.
As soon as we all finished boarding, a man started playing harmonica for a while and then the boat started to move.
Leaving Mörbisch Harbor
When we left the harbor, the ship took a right turn and passed the open-air stage of Mörbisch. It's the place where the famous Seefestspiele takes place and with more than 150,000 visitors every year, it's the biggest Operetta music festival worldwide.
The boat continued its way through a man-made canal that was surrounded by reed on both sides. We also passed the lakeside swimming pool where people can take a swim in the lake or have fun in one of their experience pools.
At The Lake
Shortly after we left the canal, the captain of the boat told us the exact route where we were going. Our journey basically led us to the other side of the lake where we made a short stop in Illmitz.
On the way there, he told us some very interesting and worth-knowing facts about the lake itself. For example, I learned about the different animal species that live hidden in the reed or about the Neusiedler See-Seewinkel National Park in detail.
After around half an hour, we came to a very special place.
There was a small island in the middle of the lake that marked the border between Austria and Hungary. There were ropes stretched to prevent people from crossing the border by boat.
Shortly after, we arrived at Illmitz harbor where many people left the boat. However, the captain told us that it was not the usual case. Normally the boat continues its journey without stopping somewhere.
Our Way Back to Mörbisch Harbor
Leaving Illmitz, we made our way back to Mörbisch. On the way, I saw people windsurfing and tons of seagulls flying by.
The trip back didn't take as long as before since the boat took a direct route. I spent the remaining time downstairs at the railing and watched the boat approaching Mörbisch.
I can definitely say that the boat tour with Drescher Lines was one of the highlights of my trip to Burgenland. It was such a great experience and I loved learning more about the lake.
That's why I would recommend you take a boat tour on Lake Neusiedl as well! 🙂
---
Do you want to travel like me?
Here are some of my favorite travel tips and resources:
Flights: I prefer using CheapOair or Skyscanner to book flights. The destination everywhere feature is perfect for finding some cheap deals!

Accommodation: Booking.com is my favorite site to find some great hotel deals. I do love staying at a local place as well, thus I book an Airbnb every now and then.

Travel Insurance: There are many reasons why travel insurance is important and I never travel without having one. I use the simple and flexible one from World Nomads to be protected against unforeseen events.

Tours: I love taking tours to explore destinations like a local. My favorite website to book them in advance is GetYourGuide.

Camera Gear: I use a Nikon D5300 camera with an 18-105 mm and a 10-20 mm wide-angle lens to take my photos.