13 Best Vegan Restaurants in Rotterdam, The Netherlands
This guest post about the best vegan restaurants in Rotterdam is written by Frans, April and Angelie from Ask The Dutch Guy, your go-to guide when it comes to The Netherlands. The goal of Ask The Dutch Guy is to showcase the beauty of The Netherlands and to inspire others to explore the country.
In Rotterdam and you're looking for somewhere healthy to eat? Fret not; there are many vegan and vegetarian restaurants you can visit in the city.
Many people are switching to a plant-based diet, and due to that, the demand for healthier foods is higher than ever.
This paved the way for restaurants and professionals in the food industry to develop more nutritious menus but at the same time, remain delicious. 
You might be surprised that aside from the beautiful architecture Rotterdam is known for, it is also a hotspot for vegan and vegetarian food.
Indeed, the city has a fantastic restaurant scene that includes the best vegan and vegetarian restaurants in the country. That's also one reason why it's among the most popular day trips from Amsterdam!
Before you get confused, though – vegan and vegetarian are completely two different diets.
Vegans don't eat any animal products at all, while vegetarians don't eat meat also but they can eat products that come from meat, such as dairy and eggs. 
In this post, we have listed some of the best vegetarian & vegan restaurants in Rotterdam that you can try while you're here!
(This post contains affiliate links, which means I receive a certain percentage of a sale if you purchase after clicking.)
1. Jack Bean
Right across the Rotterdam central station is Jack Bean, one of the best vegan restaurants in the city. The restaurant is named after Jack and the Beanstalk where Jack traded his cow in exchange for beans.
The restaurant provides vegan fast food, such as burgers paired with homemade sodas that will make you feel like you're eating the real, sinful ones.
Here you can guarantee everything is plant-based and delicious, and all ingredients are sourced locally. 
2. Rozey
Rozey is the first-ever restaurant in Rotterdam that offers unlimited vegan and vegetarian dishes for a fixed price. They have an extensive menu with over 50 dishes and all of them are tasty!
When it comes to freshness, you can guarantee all of the vegetables are fresh, as well as the meat substitutes.
You can find meals for starters, cold and hot main courses, fried dishes and desserts, and many more.
They also serve alcoholic drinks, which means you can have a good night with your loved ones here as well.
3. Vegan Junk Food Bar
Are you craving junk food but don't want to sink your teeth into sinful dishes? Don't worry; here at Vegan Junk Food Bar, you can eat all the junk foods that you like with no guilt at all.
The restaurant imitates junk foods so well that you could mistake them for the real thing. This is the best place to go if you are trying to convince someone to try vegan food or go vegan. 
Watch out, though: they have large portions, which is why you need to bring your appetite. Otherwise, you can share some meals for two.
The dipping sauces here are amazing. Oh, and don't forget to try out the unicorn bread – blue bread with pink aioli.
4. SLA
Craving delicious salad? SLA is an organic salad bar where you can find a wide range of salads you can choose from.
There are many delicious combinations of ingredients that are combined in salads. You can choose from salads that are already prepared from the menu or you can make your own. 
Aside from the salads, there are seasonal juices, as well as different kinds of sweets.
This is where you should go if you're craving something light and healthy. Everything in the restaurant is green, delicious, and super tasty.
Oh and before we forget, SLA in Dutch means salad.
5. Healthful (reopening soon)
Another one of the best vegan restaurants in Rotterdam where you can enjoy tasty food without feeling guilty at all is Healthful.
All their dishes are freshly made. Enjoy vegan smoothie bowls, sandwiches, and even pizzas! They also offer healthy juices as well. 
6. Backyard
Located in the heart of the city, Backyard serves plant-based, vegan-friendly dishes all day long.
It is also a great place to go if you're not a full vegan yet, or you have some friends who are still not into it. This is because the restaurant offers add-ons, like salmon, cheese, eggs, and chicken. 
Aside from their delicious healthy foods, they have a beautiful interior, which is one of the reasons people visit the place. It's one of the most instagrammable hotspots in the city.
7. The Harvest
The Harvest operates a kitchen that is Fast Flexitarian, which means you still have the option to add meat to your meals.
Nevertheless, they still have a lot of plant-based ingredients. The restaurant also uses local, seasonal products to craft delicious meals. Here you can create your own vegan or vegetarian bowl. 
The restaurant is also close to Rotterdam station. They have a simple menu and you surely won't regret it.
8. Bertmans
Bertmans is one of the go-to places for vegans and vegetarians in the city.
It was only just a small restaurant back then, but they have moved to a bigger one in the city center due to the high demand and popularity. 
Not everything here is vegan or vegetarian, though; which means you can bring your non-vegan friends here. The restaurant offers breakfast, lunch, and dinner.
You can even have drinks here as well.
9. Spirit
Spirit offers 100% natural and 100% vegetarian meals. With that, not everything here is vegan; however, don't worry because there are many options for you to enjoy healthy food.
It's also a great place for you to be if you hate waiting. All you need is to grab a plate and help yourself because the food here is already served when you enter the restaurant. 
Here you will find vegetable stew, seitan burgers, delicious sauces, fresh salads, and even a selection of pastries.
You can also head outdoors on the spacious terrace on the first or second floor if you want to breathe fresh air while you eat your tasty, plant-based meals.
10. Gare Du Nord
Located in a train compartment, eating at Gare Du Nord is truly an experience. You can guarantee that all the meals here are natural, healthy and sustainably grown.
Aside from that, its unique location will give you an experience you won't have anywhere else.
So, if you want to try eating inside a train wagon, then this is where you should definitely go to!
11. The Martkhal
The Market Hall (Markthal) isn't one whole restaurant, but they offer a variety of fresh stuff here. So, if you want more food options, you can't go wrong here at The Markthal.
You will find many restaurants here where you can enjoy delicious and healthy foods, such as Firma Pickles, Le Souq, and Jamie's Italian.
These are definitely the best places in the market hall where you can have delicious vegan food!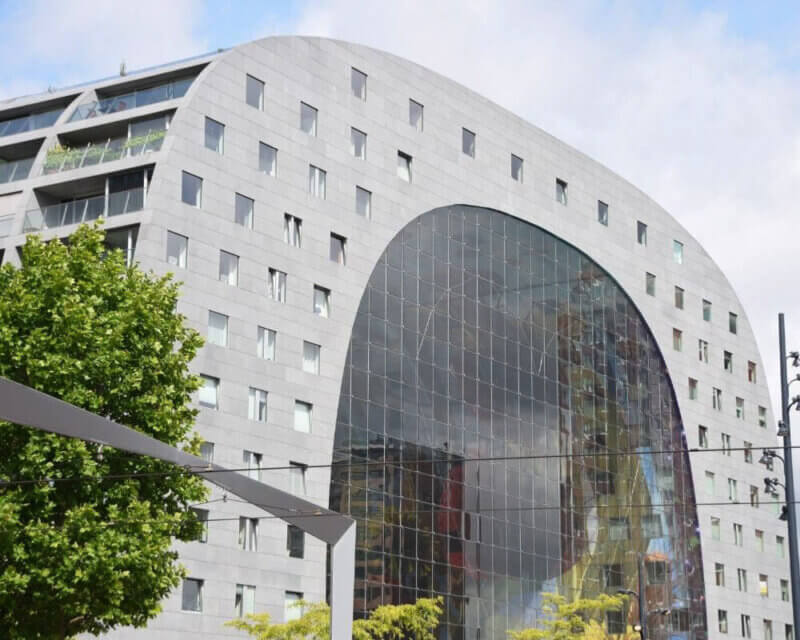 12. Burgertrut
Craving for delicious yet healthy burgers in Rotterdam, you should definitely check out Burgertrut.
Although they don't have a full vegan or vegetarian menu, you will still appreciate and like some of the plant-based meals here. Don't miss the fast food dish kapsalon or the vegan pulled pork, for example.
There are many delicious and healthy foods you can eat here, which makes it one of the best vegan & vegetarian spots in the city.
13. Bazar
Although they don't have a full-on plant-based menu at Bazar, you should definitely include this on your list when you're in the city. Here you can enjoy delicious North African and Middle Eastern cuisine.
Check out the Bizar Bazar with mushroom skewers and a stew of beans and plums, falafel, and grilled artichoke.
You can either come here for breakfast, lunch, and dinner. And don't worry about the price, all of the meals here are affordable.
It's a Wrap!
These are only some of the best vegan restaurants in Rotterdam.
Even if you have loved ones who are meat-eaters, you can definitely take them to some of the restaurants we listed above because they have other options that can satisfy your friends who haven't gone vegan yet.
Who knows? You might just be able to convince them to switch their diet. 
Fortunately, vegan and vegetarian meals have come a long way. Now, restaurants and chefs have become even more creative in delivering tastier meals that will make you feel like you're not eating vegan food at all.
Are you ready to start eating healthy? Rotterdam won't disappoint! There are so many restaurants here that serve vegan & vegetarian meals that will make you feel less guilty!
Check out the following posts to find some more excellent vegan restaurants all around the world:
– Best Vegan Restaurants in Budapest
– 10 Best Vegan Restaurants in London
– Best Vegan Restaurants in Cairo, Egypt
– The 8 Best Vegan Restaurants in Bali
– Vegan in Los Angeles – The Perfect Vegan Food Guide
---
Like it? Pin it!
---
Do you want to travel like me?
Here are some of my favorite travel tips and resources:
Flights: I prefer using CheapOair or Skyscanner to book flights. The destination everywhere feature is perfect for finding some cheap deals!

Accommodation: Booking.com is my favorite site to find some great hotel deals. I do love staying at a local place as well, thus I book an Airbnb every now and then.

Travel Insurance: There are many reasons why travel insurance is important and I never travel without having one. I use the simple and flexible one from World Nomads to be protected against unforeseen events.

Tours: I love taking tours to explore destinations like a local. My favorite website to book them in advance is GetYourGuide.

Camera Gear: I use a Nikon D5300 camera with an 18-105 mm and a 10-20 mm wide-angle lens to take my photos.