Bucket List Experience: Scuba Diving in Zanzibar
Last year I went to Sardinia and decided to try scuba diving for the very first time. After some initial difficulties and slight panic attacks, which eventually ended in clutching the instructor underwater (sorry for that), I discovered my love for diving.
I quickly knew this wasn't my last time and the thought of getting my own certification grew in me.
So when I flew to Zanzibar for two weeks this year, I took the opportunity and signed up for a two-day Scuba Diver course. In hindsight, a somewhat ill-considered decision because it takes so much more to get the certificate than just being in the water for around an hour and following your diving instructor blindly.
But that's another story, which I'll get to later.
Anyway, scuba diving in Zanzibar – whether just to try or enroll in a proper course – is an absolutely incredible experience! In my opinion, it shouldn't be missed on any bucket list.
However, if you're still uncertain if scuba diving is something for you or if you're struggling to find the right diving school, don't worry. This post covers everything you need to know about scuba diving in Zanzibar, my own experience and helpful tips!
(This post contains affiliate links, which means I receive a certain percentage of a sale if you purchase after clicking.)
Scuba Diving in Zanzibar – Finding The Right Diving School
Finding the right diving school in Zanzibar isn't that difficult, it just depends on a few things.
First of all, you need to decide where you want to go and what you want to see.
Near Stone Town, for example, you can go wreck diving. The south of the island is good for dolphin spotting, whereas the area surrounding Mnemba Atoll offers picturesque reefs and many different species of tropical fish.
The latter is also considered the best diving area in Zanzibar.
It also depends on the area you're staying in and if there are diving schools nearby. In my case, I chose a diving school in Matemwe on the west coast of Zanzibar where I had a four-night stay.
Matemwe is just opposite Mnemba Atoll, hence it's a popular place for diving trips and you can find numerous diving schools.
Last but not least, make sure you enroll at a school that's part of PADI (only if you want to get a certification). PADI is an association for recreational diver training and it's the world's most popular scuba diving curriculum.
Basically, it means that your PADI certification card will be accepted no matter where you choose to dive.
Scuba Diver, Open Water or Just Trying?
Maybe you did scuba diving before like me and are now ready to take it a step further. Or it's your first time ever exploring the underwater world in such an exciting way.
Either way, it's up to you what kind of experience you want to make.
Most diving schools offer all possible courses, from Discover Scuba to Open Water Diver and even more. Finding the right course is also a question of time and money since they can take up to 4 days and cost quite a bit.
Of course, the cheapest option is Discover Scuba Diving without any certification. It usually costs around $150 and takes two to four hours.
Sometimes the theory session and the dive are split over two days – the theory in the afternoon and the dive in the morning the next day.
Next comes the Scuba Diver certification that I did. It's a limited certification that allows you to dive to a maximum depth of 12 meters in the company of a PADI instructor or divemaster.
The price for this two-day course is around $350 and includes theory sessions, pool training, and two open-water dives.
Last but not least, the Open Water Diver is the full certification that allows you to dive down to 18 meters without a divemaster or instructor. Depending on whether you do the theory via e-learning or in the classroom, the costs vary between $370-500 and the duration is between three and four days.
Now that you've found the perfect school and the course you want to take, it's time for you to get ready for scuba diving in Zanzibar! But before, I would like to tell you about my personal experience and why I will never forget this breathtaking adventure.
Scuba Diving in Zanzibar – My Personal Experience
My preparation for the scuba diving course started at home already when I did some research to find a good diving school.
It didn't take that long until I found a suitable one: The One Ocean Diving Center. I chose this one simply because firstly it was right next to my hotel in Matemwe and secondly the reviews from other divers sounded very promising.
For the booking, I just had to choose the course I wanted, fill in my details, choose the date and pay. That was it, nothing else stood in the way of my scuba diving course in Zanzibar!
Day 1: Theory & Pool Training
I have to admit I was pretty nervous when the first day of my course began. Even though it was just theory and pool training, I didn't really know what to expect.
After a small breakfast, I walked the few steps to the diving school next door where I was told to get in one of their cars right away. Well, ok? I thought there was a mix-up, after all, I was there to do the diving course and not for an excursion.
I guess they saw my super confused face because they immediately explained the situation to me. The theory session as well as the pool training took place at a resort 20 minutes away, hence the car.
Well, that made sense and I relaxed a bit.
After a short car ride, we arrived at the Blue Bay Resort – a splendid 5-star resort in Kiwengwa Beach. Not a bad place to spend the day I thought. The driver accompanied me to the right place where I was warmly welcomed by Maria, my personal diving instructor.
After a short conversation, we started to go through some mandatory documents. Most of them were about whether my physical health is good enough to dive and that the diving school doesn't take legal responsibility if something happens to me.
Just the basic stuff they have to clarify.
Theory Lessons & … a Test?!
Then, the theoretical part of the course began. For the Scuba Diver, I had to do only three of five theory chapters in the form of short films.
So basically, for the rest of the morning, I sat in a room, stared at the TV and filled out questionnaires with questions about the content. All in all, it took almost two hours.
Once finished, Maria and I went through the questionnaires and discussed all the answers. Most of them were quite simple but some were pretty difficult and not well-explained in the movies.
Luckily, I didn't have too many wrong answers so I was super happy and thought that was it with the theory part.
Well, wrong thought.
There was another test I needed to complete. However, this time it was without the help of videos or similar. Thanks to Maria, who answered all my open questions and explained the more complicated parts of the theory, I also passed this one.
Now I had finally made it and it was time for a lunch break before the pool training in the afternoon.
Grab Your Gear & Let's Go!
While I sat at the hotel's restaurant and ate lunch, Maria prepared the diving equipment already. So when I came back, it was time to learn how to use it!
First, Maria showed and explained all the essential parts of the gear including the BCD (buoyancy compensation device), scuba tank, dive weights, regulator, fins, and scuba mask.
Step by step, I learned how to prepare the entire gear for diving, and in the end, I had to do the whole process on my own.
It was a bit complicated and a lot to remember in the beginning, but after a while, I figured it out. When I felt confident enough, I put on my wet suit and the BCD and grabbed the rest of the stuff to follow Maria to the pool.
It was time for underwater training.
I will never make it …
I had no idea how pool training worked but thought it would be super easy and wouldn't take that long. Well, of course, I was totally wrong about that.
You need to know that I've never really been a fan of any kind of water activities. It was a tough fight for me to get my swimming badge in school. I have trouble opening my eyes underwater and if I don't hold my nose, I'm sure to drown.
Well, a person like me insisted on doing the Scuba Diver certification.
Bravo!
It took me three hours, including a short break, to complete all the mandatory exercises for the certification. Here are just a few examples of exercises the pool training included:
Let the diving mask fill up with water and then blow it out
Same again but with putting the mask off and on again – underwater!
Float underwater using the BCD
Use an AAS (alternate air source) to help the diving buddy
Remove the regulator, exhale, and use the regulator again
Change from snorkel to AAS overwater
and many, many more!
While some of them were a piece of cake, some I thought I could never do. I was already so desperate, demotivated, and close to giving up but Maria encouraged me to keep going. Eventually, the impossible became possible and I mastered all exercises. What a day!
Exhausted but very proud of myself, I went back to Matemwe, ready for another exciting diving day ahead.
Day 2: Training Dives in The Ocean
The next morning, I was even more nervous than the day before. After all, it was about time to explore the underwater world!
Unlike the first day, we didn't have to go somewhere else but started our boat trip from the diving school in Matemwe. Maria had already packed all the equipment in bags so we just needed to grab and load them onto the boat.
Together with a couple of other people from the diving school and divers from Germany and France, we made our way to Mnemba Atoll.
During the 45-minute boat ride, Maria informed me about the planned schedule of the day.
First, we would do the first dive, practice some exercises from the pool training and then dive down to 12 meters to observe the maritime life. Then have a short break on the boat before we would go down again to repeat the former, just with different exercises.
She also showed me different types of fish we might spot and common marine life hand signals to describe them.
When we were only 10 minutes away from Mnemba Atoll, all of us started to put on the diving equipment and get ready to jump off the boat. One after another they all disappeared underwater, until only Maria and I were left.
After a quick buddy check, we were also ready to jump. One hand on the front of the mask, the other hand on the back, a backward roll off the boat – and I was in the water.
Slowly but steadily, I followed Maria down to 5 meters where we repeated a few of the exercises from the day before. Luckily, everything went smoothly and we could soon move on to the best part of the dive: Watching fish!
Hi Nemo!
What I then experienced was truly mindblowing and something I'd never seen before.
Swarms of thousands of fish surrounded us. I couldn't identify all of them on my own but Maria helped me by using diving fish signs.
Fish species I encountered include clownfish, false clownfish, trumpetfish, boxfish, zebrafish, butterflyfish, unicornfish, blackspot emperor, and even a tiny lionfish!
Moreover, I saw two spotted snake eels and a white moray eel whose presence I couldn't really enjoy since I have a snake phobia.
What I did like tho were the yellow and blue colored starfish and the numerous beautiful corals.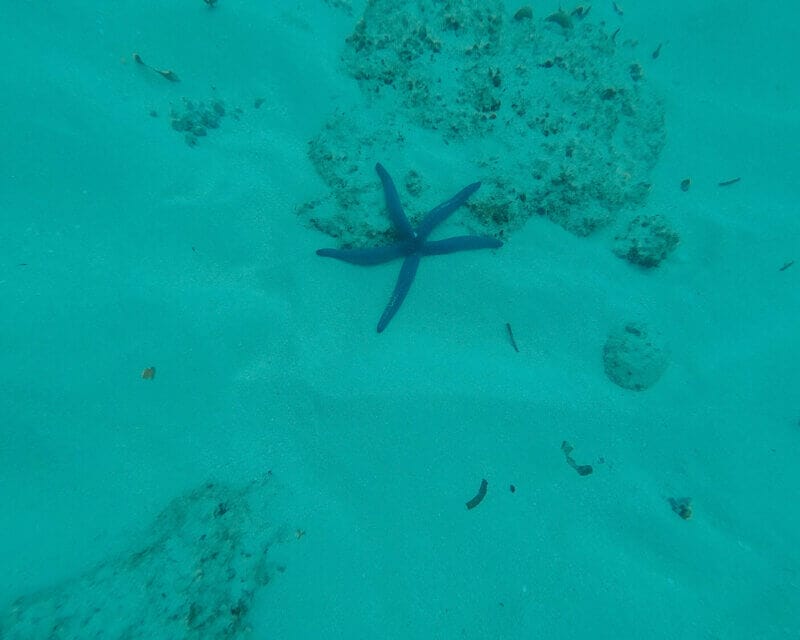 Altogether, the dive took around 45 minutes and we dove down to a depth of 12 meters.
After this exciting first underwater adventure, we swam back to the surface and climbed onto the boat. It was time for a short break to eat some bread and fruit and review the dive. Then we headed back into the water to do the second training dive.
Like the first dive, it was just as incredibly great and I saw even more marine life.
Having done the two training dives in the ocean, we headed back to the mainland. There, I took off my gear, washed it, and stowed away the rest.
Then it was time to get my very own log book to document the past and future dives and – drum roll please – my Scuba Diver certification!
I'm a Certified Scuba Diver!
For the certification, it was necessary to take a photo of me. Now imagine what that photo looked like: No make-up, wet hair, and completely exhausted. Definitely none of my best ones.
But at that moment I didn't care.
All I could think of was: I did scuba diving in Zanzibar and I got my own certificate! And what an indescribably, unforgettably adventurous experience that was.
Proud and happy but also very tired I went back to the hotel where I spent the rest of the day relaxing and reflecting on the last two days.
I really hope you get the chance to tick off this amazing bucket list experience as well.
If you have some questions about scuba diving in Zanzibar or need some tips, please don't hesitate to contact me! I will be very happy to chat with you. 🙂
---
Like it? Pin it!
---
Do you want to travel like me?
Here are some of my favorite travel tips and resources:
Flights: I prefer using CheapOair or Skyscanner to book flights. The destination everywhere feature is perfect for finding some cheap deals!

Accommodation: Booking.com is my favorite site to find some great hotel deals. I do love staying at a local place as well, thus I book an Airbnb every now and then.

Travel Insurance: There are many reasons why travel insurance is important and I never travel without having one. I use the simple and flexible one from World Nomads to be protected against unforeseen events.

Tours: I love taking tours to explore destinations like a local. My favorite website to book them in advance is GetYourGuide.

Camera Gear: I use a Nikon D5300 camera with an 18-105 mm and a 10-20 mm wide-angle lens to take my photos.