A Sustainable Travel Guide to Sonoma County, California
This sustainable travel guide to Sonoma County is a guest post written by Rasika from Bae Area and Beyond. She is from the Bay Area and her blog covers various California destinations. With her blog, she hopes that her readers will fall in love with California, just like she did.
Sustainability is a growing trend in travel. And with good reason: It's good for the planet and good for you.
But what is sustainable travel?
Sustainable travel refers to exploring and experiencing destinations in ways that respect the environment, local cultures and economies, and your own health and well-being.
The goal of sustainable travel is to minimize your impact on the environment while maximizing your enjoyment of the experience.
Some destinations are better than others when it comes to sustainable travel but one of the best is Sonoma County, California, which is also among the most popular places for mother-daughter trips in the US.
(This post contains affiliate links, which means I receive a certain percentage of a sale if you purchase after clicking.)
Sustainable Travel Guide to Sonoma County
Located in Northern California, Sonoma County is not only known for its beautiful landscapes and rich history but its efforts to promote sustainability through travel, dining, and shopping.
The city of Sonoma is known to be the first sustainable wine region and the entire Sonoma County has taken several steps to ensure that locals and tourists take part in reducing their carbon footprint while exploring this gorgeous county.
In this guide, we're taking a look at sustainable travel in Sonoma County. It includes tips to travel and shop sustainably and the best places to dine.
6 Tips to Travel Sustainably in Sonoma County
1. Follow the Leave No Trace Principles
Wherever you travel, make sure to follow the 7 Leave No Trace Principles.
Before traveling to Sonoma County, plan ahead and be aware of the current weather conditions. There are many amazing hiking trails in Sonoma County but make sure you're only using the designated paths and following the trail signs.
Straying away from the path leads to unnecessary footprints and might destroy plants. If you're carrying any trash, throw it only in trash cans.
Make sure you leave the newly explored place as you first saw it.
2. Use Public Transport or Carpool
Take public transportation instead of driving around the area. Sonoma County uses Golden Gate Transit, which has buses running throughout the county as well as connecting it with other counties such as Marin County, Contra Costa County and also the city of San Francisco.
The Sonoma County Transit system also offers buses and shuttles throughout the county, including routes to San Francisco International Airport via Sonoma County Airport Express.
Carpooling is another great way to travel more sustainably. It reduces your carbon footprint and helps cut down on traffic congestion, which is good for the environment and other drivers.
3. Bike Around Sonoma County
Rent a bike instead of driving or taking a taxi whenever possible. Bicycling is a great option for getting around, especially if you're staying at one of Sonoma's many B&Bs. Many of them provide bikes for guests' use while they're there.
Biking can be a lot of fun and convenient if you live close enough to your destination.
Plus, it's also good exercise!
4. Rent an Electric Car
If you want to rent a car during your stay, look for a rental car company that offers electric cars or hybrids. You can rent cars at the nearest airport, Sonoma County Airport located in Santa Rosa.
In this case, you won't miss out on a scenic drive through Sonoma County!
5. Bring Reusable or Refillable Water Bottles
Reusable water bottles are a great way to reduce the amount of plastic you produce and bring with you when traveling. You can fill up at any water fountain or fresh drinking water source, so there's no need to purchase bottled water.
If you don't want to carry a reusable bottle around with you, consider bringing one from home. If they're not already empty when you arrive, find a local shop that will refill them for a small fee.
Look for accommodations that offer filtered tap water or refillable bottles in the room. This can help cut down on the number of plastic bottles that end up in landfills after your trip is over.
6. Eat Local Food Sources Whenever Possible
Eat local food, whether it's in a restaurant or from a farmer's market. That's the best way to travel sustainably because it reduces the amount of fuel used to transport food from far away.
If you're going to eat meat, buy free-range, grass-fed, and organic whenever possible. That way, you're helping to support small farmers who care about sustainability and animal welfare, rather than large factory farms that don't.
Eating locally grown foods is especially important when traveling abroad because it helps preserve traditional food cultures.
When you buy imported foods from other countries, those products often have higher transportation costs (and therefore higher emissions) than their locally-grown counterparts.
Tips To Shop Sustainably In Sonoma County
When you're in Sonoma County, you've probably noticed the growing number of people shopping at farmers' markets and co-ops, buying grass-fed beef and organic products.
Organic food is grown without pesticides, synthetic fertilizers or genetically modified organisms (GMOs). By supporting organic agriculture, you're supporting farmers who care about the environment and their community. But there's more to sustainability than shopping for locally grown food.
Here are some tips to help you shop sustainably in Sonoma County:
Know your farmer.
When you buy from local farmers, you're helping to support small businesses and communities. You can also ask about how they grow their crops and whether they use pesticides or fertilizers.
Buy recycled products.
Many local businesses offer recycled or refilled products that save energy and reduce pollution by using fewer raw materials. Look for glass jars and bottles made from recycled glass and paper products made from 100 percent post-consumer waste (like toilet paper).
Buy used clothes.
Shop secondhand or vintage clothing and accessories from thrift stores instead of buying new items from mainstream retailers that have been shipped from overseas factories.
Shop with reusable bags.
Bring your own bags from home to use for purchases. Stores in California charge 10 cents per bag so that's more of an incentive to not use the store's plastic bags. This also helps the environment by recycling already-produced bags and reducing reliance on fossil fuels.
Where to Shop & Dine Sustainably in Sonoma County
So with these tips to shop sustainably, where should you shop and dine in Sonoma County?
Here are the best places!
Farmer's Markets
There are many farmer markets around the county in Santa Rosa, Sonoma, Bodega Bay and other towns. While most markets are open from summer to fall, others are open throughout the year. There's also live music played by local musicians at these markets.
Here's a list of Farmers' Markets in Sonoma County.
Breweries
Rather than getting imported beers at bars, go on brewery tours to learn more about how beers were produced and enjoy local handcrafted drinks.
Check out North Bay Brewery Tours, On Tap Beer Tours, Bike 'n Brew Tour with Ace It Bike Tours.
Wineries
Take self-guided tours around wineries and vineyards to learn more about the history of the wine.
Some of the most popular wineries include Mauritson Wines, Amista Vineyards, St. Francis Winery & Vineyards, Balletto Vineyards, Schug Carneros Estate Winery, La Crema Estate at Saralee's Vineyard, and Matanzas Creek Winery.
Local Stores & Galleries
If you're looking for artwork, crafts, clothing and more from local artists, you'll find many great places in Sonoma County. Stop by Artisans Co-Op in Bodega Bay, Made Local Marketplace in Santa Rosa or The Barlow in Sebastopol.
Final Thoughts
As individuals, these actions toward sustainability might not seem to make much of a difference — but taken often and together, they add up to major environmental progress. And that's why it's so important to travel sustainably as often as possible.
Luckily, it can be easy to make sustainable travel plans when the area you're traveling to – Sonoma County – promotes efforts toward sustainability.
---
Like it? Pin it!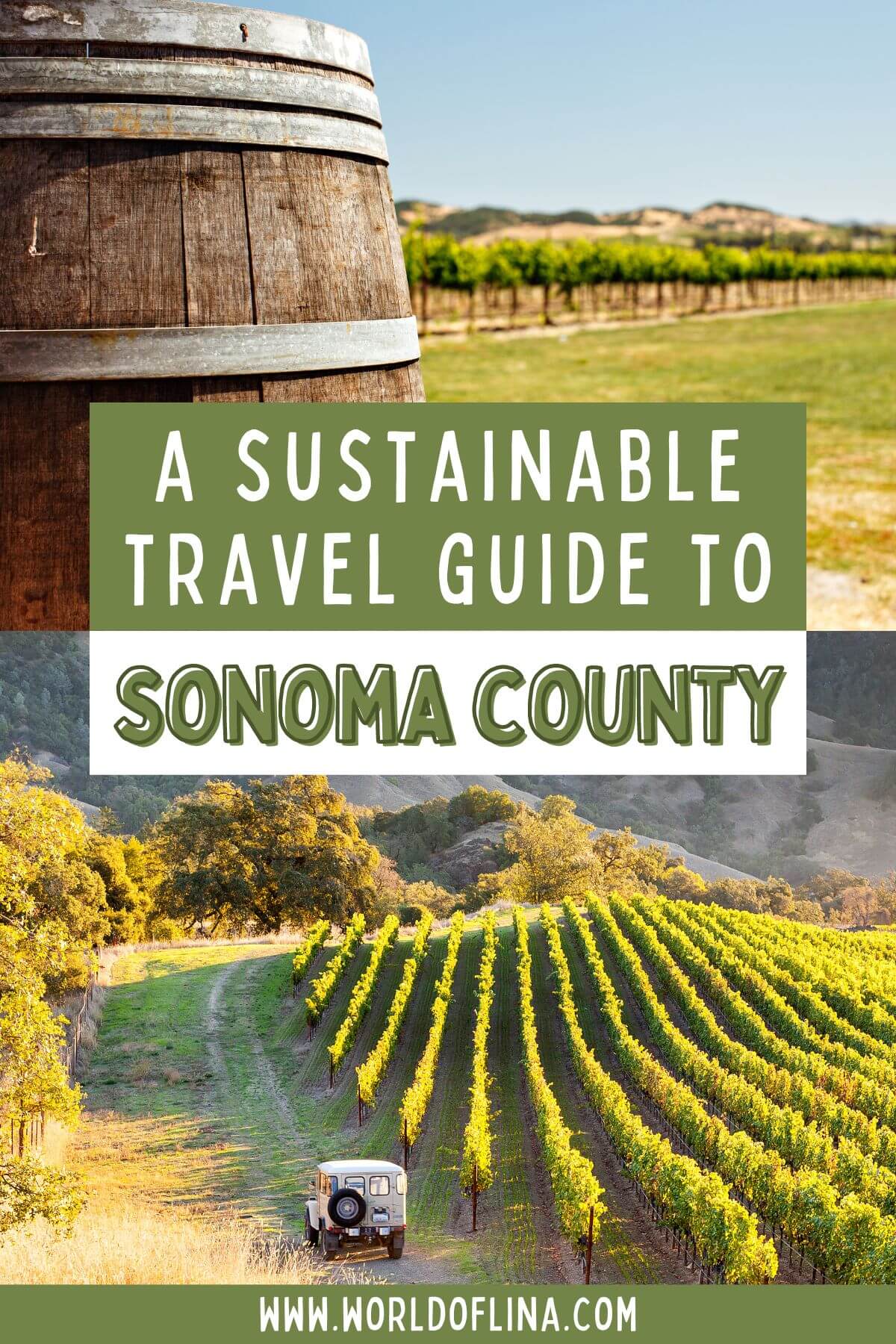 ---
Do you want to travel like me?
Here are some of my favorite travel tips and resources:
Flights: I prefer using CheapOair or Skyscanner to book flights. The destination everywhere feature is perfect for finding some cheap deals!

Accommodation: Booking.com is my favorite site to find some great hotel deals. I do love staying at a local place as well, thus I book an Airbnb every now and then.

Travel Insurance: There are many reasons why travel insurance is important and I never travel without having one. I use the simple and flexible one from World Nomads to be protected against unforeseen events.

Tours: I love taking tours to explore destinations like a local. My favorite website to book them in advance is GetYourGuide.

Camera Gear: I use a Nikon D5300 camera with an 18-105 mm and a 10-20 mm wide-angle lens to take my photos.