3 Days in Barcelona – The Perfect Itinerary For First-Timers
The first time I went to Barcelona was in the course of a family trip almost 10 years ago. Back then, I was already fascinated by this bustling city and knew I would come back one day.
This year was finally the right time and together with my sister, I spent 3 days in Barcelona to discover new and rediscover already familiar places.
Because it's been quite a while since my first stay, I could only vaguely remember most things. Plus, a lot has changed in the meantime – not the Sagrada Família tho – so it almost felt like my first time in the city.
If you're traveling to the Catalan capital for the first time and have only 72 hours to spend, you can use this 3-day itinerary to help you plan your stay.
It includes all the must-see spots you shouldn't miss on one of the best city breaks in Spain without having to rush from one place to another.
Of course, 3 days in Barcelona are not enough to get to know all the city's different facets but it includes just enough that you will fall in love with it. I promise!
(This post contains affiliate links, which means I receive a certain percentage of a sale if you purchase after clicking.)
Day 1
Start your first day with a hearty breakfast at your hotel or visit one of the numerous lovely cafés in Barcelona.
After a good cup of coffee and Churros con Chocolate, you're ready to explore one of the most famous landmarks in Spain and the most iconic building in Barcelona!
Sagrada Família
Designed by the famous Spanish architect Antonio Gaudí, the Sagrada Família is a still unfinished cathedral from the year 1882.
The colossal building remains incomplete today, although various successors have been trying to complete the monumental cathedral for more than a century. Despite the continuous work it's not expected to be completed soon.
Nevertheless, the church is already now a true masterpiece that needs to be on everyone's Barcelona bucket list.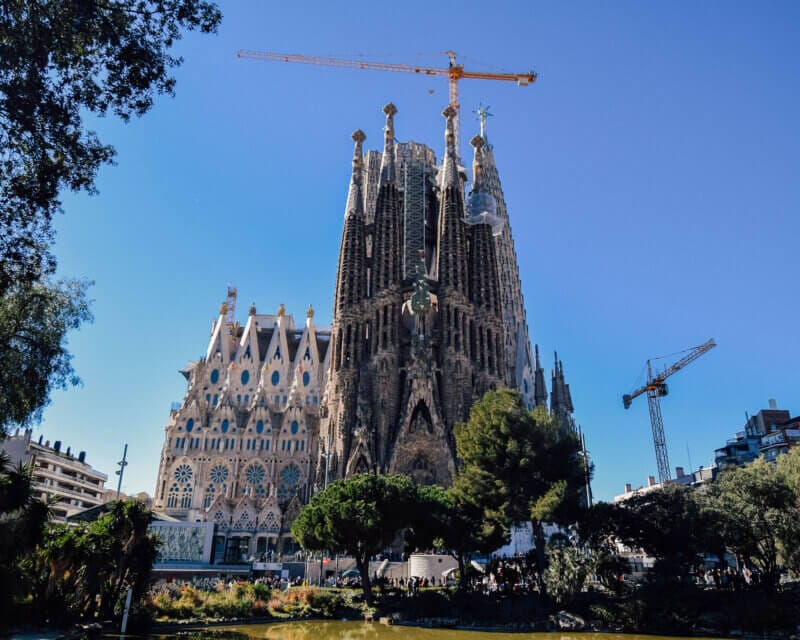 At first glance, the Sagrada Família looks a bit bleak, very monotonous, basically the complete opposite of what you call a colorful, vibrant building.
However, if you take a closer look at its facades, you discover all the small details and figures that were designed to represent different phases in the life of Jesus.
Because Gaudí was a great fan of God, he incorporated religion into the interior as well. Moreover, when you enter the basilica, you'll probably recognize there are no straight lines.
Instead, Gaudí tried to make the inside look like a forest using different columns and stained windows to imitate mother nature.
There's also a museum below the basilica displaying drawings and models related to the construction history of the Sagrada Família. Admission to it is already included in the entrance ticket.
Due to its popularity, the Sagrada Família is usually very crowded. If you want to avoid long waiting times at the entrance, I recommend you buy an online ticket.
We did that and were therefore within 10 minutes through the entrance gate and security check.
The cathedral is open from 9:00 am to 8:00 pm every day and a regular entrance ticket costs around €32.
Tours you might find interesting:
Park Güell
After your visit to the impressive cathedral, it's time to head to another one of Antoni Gaudí's great artistic works in Barcelona.
The privatized Park Güell is a large green space with more than 17 hectares and is located on Carmel Hill overlooking the city. Designed by Gaudí, the park features various artistic highlights and is listed as a UNESCO World Heritage Site.
Undoubtedly the most famous landmark of the park is the dragon at the main entrance which is decorated with colorful broken pottery. It's the unofficial symbol of Park Güell and is often seen on postcards.
Of course, the dragon is not the only exceptional piece of art.
Just right behind it is the giant so-called 'market hall' with impressive columns similar to the forest-inspired ones in the Sagrada Família. The ceiling is decorated with different patterns of mosaics.
Just right on top of the market hall is a huge terrace surrounded by a balustrade with a bench. And not just any bench but a world-famous one.
Decorated with colorful mosaics, it winds in snake lines around the entire terrace from which you can enjoy a fantastic view of the city.
Make sure to not only look for the special installations in the park but also explore the rest of it. Park Güell offers enough green spaces to relax and slow down. There's also a wonderful lookout point with three crosses at the highest part of Park Güell from where you can see most of Barcelona.
Besides the main entrance, there are two others you can use depending on what direction you come from. Because it's a private park, there's an entrance fee of €10 for adults and €7 for children from 7 to 12.
You can buy tickets at each entrance or online in advance to avoid long waiting times. The park is open from 9:30 am to 7:30 pm.
Tours you might find interesting:
Barceloneta Beach
Now that you've already seen two of the most famous landmarks in Barcelona, it's time to spend the rest of the first day a bit more relaxed. Of course, the best place to do exactly this is Barceloneta Beach.
The 1.1km long La Barceloneta actually consists of four different beaches but the most popular and at the same time the main beach is Barceloneta.
In summer when the weather is great and especially on weekends, Barceloneta Beach can get very crowded. Tourists, as well as locals, flock to the beach to chill with friends, enjoy refreshing drinks or take a swim in the ocean.
But also in winter, you'll see plenty of people at the beach as there's always a lot to do.
For example, you can take a walk along the promenade, sit down in one of the many cafés and restaurants or play some beach volleyball.
Dinner at BarCeloneta Sangria Bar (optional)
It's totally up to you how you want to end your first day in Barcelona, however, there's a restaurant close to the beach I can HIGHLY recommend.
BarCeloneta Sangria Bar is an all-vegan restaurant serving vegan tapas, paellas, and more. It's a cozy place with bright, colorful decor and their specially created, homemade Sangrias are simply awesome!
My sister and I shared the vegan paella which was truly yummy and indulged in tiramisu and strawberry whipped cream.
The 100% plant-based restaurant is not only a great place for vegans but for everyone wanting to try something new and special – whether it's food or drinks!
Day 2
Just like the first, the second day is fully packed with tons of great things to experience in Barcelona. The main focus hereby is to explore the area of the Gothic Quarter and – how could it be any different – visit some more of Gaudí's astonishing works.
Catedral de Barcelona
Something you shouldn't miss seeing during 3 days in Barcelona is the impressive Cathedral of Barcelona. This 500-year-old Gothic cathedral with beautiful stained glass windows sits right in the heart of the Gothic Quarter. It's one of the most famous and largest churches in Catalonia.
Although it is often overshadowed by its 'bigger sister' Sagrada Família, it's an important landmark for a lot of reasons. In the 12th century, the place where the cathedral stands today was a Roman temple back then.
Furthermore, it's the seat of the Archbishop of Barcelona and thus an important house of worship.
The cathedral is open from 10:30 am to 6:30 pm during the week and from 10:30 am to 5:00 pm on Saturday. On Sunday, it's closed for cultural and tourist visits.
Plan at least 30 to 60 minutes to fully explore the entire cathedral.
Unfortunately, the entrance is not free but it's worth paying the small fee of €9. The ticket includes the chapter hall as well as access to the choir and the rooftop.
La Rambla
Just like Paris has its Champs-Élysées and London its Oxford Street, Barcelona has its own famous street.
La Rambla is a 1.2 km long tree-lined pedestrian boulevard connecting the Plaça de Catalunya in the north with the Christopher Columbus Monument at the port. On both sides, the road is surrounded by cafés with terraces, artistic shows, souvenir stands and flower stalls.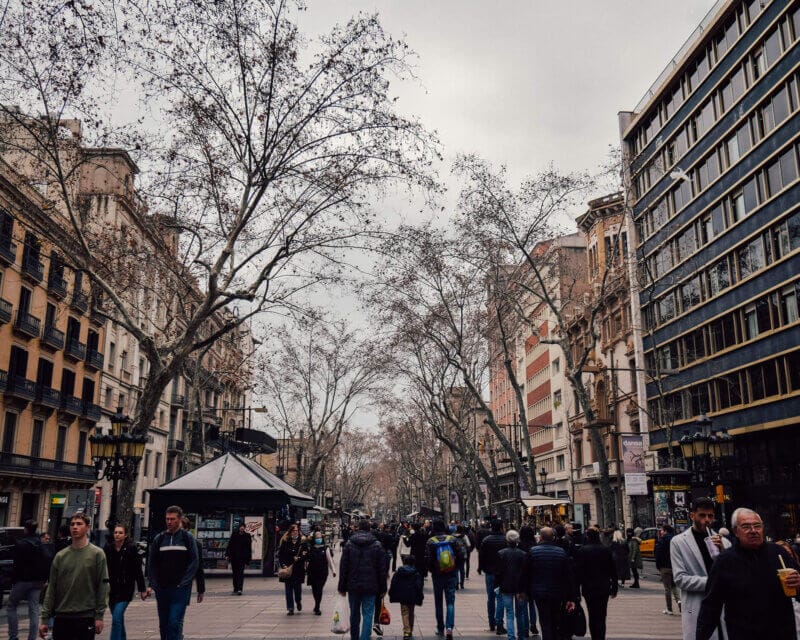 While there's nothing particularly special to do at La Rambla, it's a great place to stroll around, admire the architectural delights or do some people-watching.
However, make sure to always keep an eye on your belongings. La Rambla is known for its high number of pickpockets.
So while you're walking down the boulevard, be careful not to get your bag stolen or fall into one of the many tourist traps. The best examples are tourist-first restaurants serving mediocre food for way too expensive prices.
If you want to try authentic Spanish cuisine, plan a visit to Mercat de la Boquerìa – a huge food market right on La Rambla. It's considered one of the best gourmet markets in Europe!
Mercat de la Boquerìa
If you follow the boulevard from the north to the south, you'll find the entrance to the market on the right side. It's open from Monday to Saturday from 8:30 am to 7:30 pm and admission is free.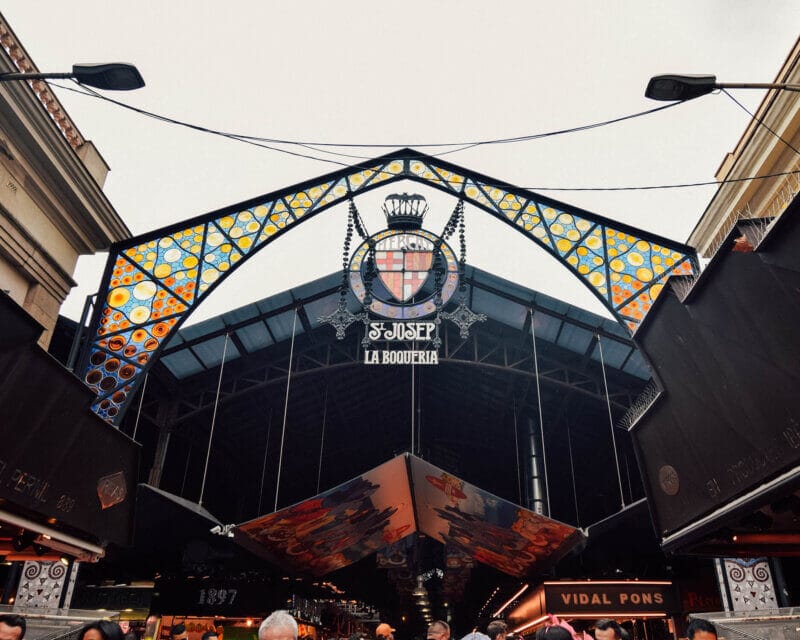 Mercat de la Boquerìa offers almost everything your heart may desire. From fresh local and exotic fruits and vegetables, cheese, olives, oil, sweets, meat and seafood to way more.
On every corner, you can try, taste, admire and smell the most amazing culinary goods. It's even possible to order lunch at some of the numerous booths.
Make sure to come here hungry and pack enough money.
Trust me, you'll want to stuff yourself with as many of the incredibly appealing and mouthwatering products as possible! It can easily happen that you're full for the rest of the day afterward so don't make too many plans for dinner. 😉
Anyway, before talking about dinner, there's still another place – or actually two – left on your second of 3 days in Barcelona. Of course, how could it be any different, they have something to do with Antoni Gaudí.
Casa Batlló & Casa Milà
Casa Batlló and Casa Milà are two of the most famous houses designed by Gaudí located on Passeig de Gràcia, the city's most luxurious avenue. Both of them are truly extraordinary in their own way and attract hundreds of thousands of visitors every year.
No wonder they're also among the most instagrammable spots in Barcelona!
Casa Batlló
The colorful facade of Casa Batlló with its bone-like balconies and eye-catching tiles is hard to oversee. It's actually not 100 percent Gaudí's work alone but a remodel of a previously built house.
The interior is no less fascinating than the outer part so it's worth paying the rather expensive ticket price.
Although you can buy tickets directly at the entrance, it's better to buy them online beforehand. First, they're cheaper and second, you save yourself the queue. An entry ticket with an audioguide tour costs €35 per person.
Yes, the price is not quite cheap but I guess you plan to visit it only once or at most twice in your lifetime. For me, the experience inside was worth it.
The tour takes you through all parts of the building where you will learn more about the history of the Batlló family and the ideas behind Gaudí's extraordinary architectural creations.
At the end of the tour, you get to travel into Gaudí's mind through an epic 360 ° experience. It's a true light and sound spectacle so probably not suitable for people reacting sensitively to it. For my part, I found it super fascinating and stayed inside the room to watch it a second time.
Casa Milà
In contrast to Casa Batlló, Casa Milà was completely designed by Gaudí. Even though the apartment block lacks a bit of color, it's a very unique and original building you either like or not.
Also for Casa Milà, the tickets are anything but inexpensive. For a skip-the-line audioguide tour, you need to pay €25 per person, which makes it at least cheaper than Casa Batlló.
Depending on your time schedule and how much money you want to spend, you can choose to see only one from the inside. That's what we did too.
During our research, we found Casa Batlló to sound more interesting and decided to explore this house via a tour and see Casa Milá only from the outside.
Maybe you get the chance to visit both, then let me know which one was your favorite!
Day 3
Hard to believe but unfortunately, we're already on the last of 3 days in Barcelona. Of course, this day is also full of exciting activities so you won't leave the city without the feeling you missed something.
Mount Tibidabo
Start your day with a visit to Mount Tibidabo, a hill overlooking Barcelona. At 500 meters you have a magnificent view of the entire city and the coastline.
If you know how to get there, it's quite easy. However, in our case, we had no clue and tried in vain to find the correct public transport connection.
Pretty much every site on the internet said something different so we ended up using a cab. On the way back we then used public transport.
So here's how to get to Tibidabo:
Take either the S1 or S2 of the commuter rail system (Barcelona – Vallès Line) and get off at the station 'Peu del Funicular'. There you'll find the lower terminus of the Funicular de Vallvidrera, which takes you up to the neighborhood of Vallvidrera.
Get off the funicular and hop in bus number 111 which runs directly to Tibidabo.
Sounds easy when you know it, right?
The first thing you'll probably notice once you reach the end station is the huge church that sits enthroned right at the peak of Mount Tibidabo. It's officially named the Temple of the Sacred Heart of Jesus and was built between 1902 and 1961.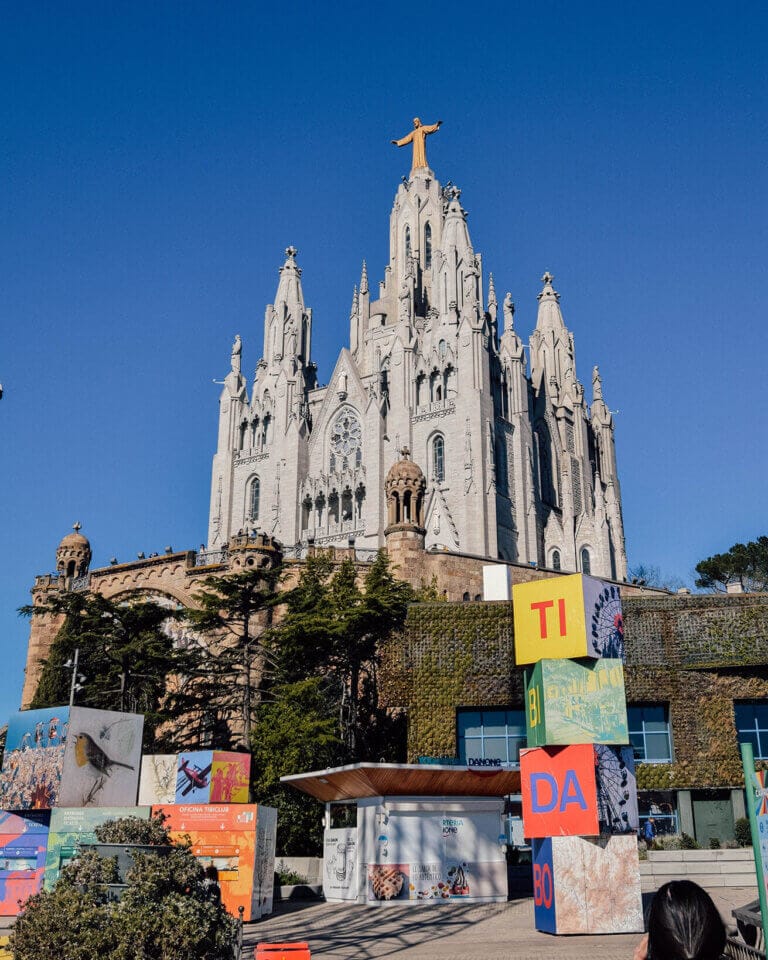 Thanks to its enormous size and the statue of Jesus on top, it's an iconic part of Barcelona's skyline. Plus, it can be seen from most areas of the city.
Something else to find besides the church is the Tibidabo Amusement Park. It is among the oldest, still functioning amusement parks in the world and features roller coasters, a Ferris wheel and many other fun attractions.
It's open only on weekends and public holidays from 11:00 am to 9:00 pm.
Tickets can be bought directly at the counter and cost €35 for adults and €14 for children with a height of 90-120 cm. Additionally, they include the Tibidabo Funicular and the shuttle bus.
Plan to spend a couple of hours if you want to enjoy the view and try one or another ride if you dare. Then head back to the city center – you know the way now.
Plaça d'Espanya
Of the many Plaças in Barcelona, there's one important lying at the intersection of the city's most significant streets: Plaça d'Espanya. It's also the gateway to Montjuïc with Palau Nacional, the Magic Fountain and more.
You can recognize the Plaça immediately by its two Venetian towers. Unusual for a Spanish city, they were built to mark the entrance to the enclosure of the World Fair in 1929.
The Magic Fountain, situated right in front of Palau Nacional and designed by Carles Buigas, was one of the most popular attractions of the exhibition. It's known for its spectacular show combining light, water and sound for an unforgettable experience.
You can watch the shows from Wednesday to Sunday from 9:30 to 10:30 pm.
Unfortunately, our time management wasn't the best so we missed it but if you don't have any other plans after dinner it's best to come back again!
Arc de Triomf & Parc de la Ciutadella
Last but not least, don't miss out on the best place to experience the everyday life of locals. It's here where people come to step together, dance Bachata, sit around and play guitar or play some ball games.
I'm talking about Parc de la Ciutadella, the city's greenest oasis.
It's the perfect place to relax, recharge your batteries and go for long walks. There are also several attractions such as the zoo, the Catalan parliament and a monumental fountain created by Gaudí.
The park is free to visit and it's open every day from 10:00 am to 10:30 pm.
Just right next to the Parc de la Ciutadella you'll find another giant monument: The Arc de Triomf. It marks the entrance to the promenade Passeig de Lluís Companys and was used as the main access gate for the World Fair in 1888.
With its fire-red bricks, it really stands out among all the green areas surrounding it.
Dinner at Mimo's Born (optional)
One last dinner recommendation I'd like to give you is a place called 'Mimo's Born'. It's a cozy restaurant located in the heart of Barcelona, close to the Gothic Quarter.
They offer typical Spanish dishes and tapas even with vegan options. Their Sangrias are true works of art because they serve them with burning cinnamon sticks, plenty of fruits and other extras.
A feast not only for the mouth but for the eyes as well.
The food is great, the drinks are great and the staff is great – the perfect place to end 3 days in Barcelona!
---
Like it? Pin it!
---
Do you want to travel like me?
Here are some of my favorite travel tips and resources:
Flights: I prefer using CheapOair or Skyscanner to book flights. The destination everywhere feature is perfect for finding some cheap deals!

Accommodation: Booking.com is my favorite site to find some great hotel deals. I do love staying at a local place as well, thus I book an Airbnb every now and then.

Travel Insurance: There are many reasons why travel insurance is important and I never travel without having one. I use the simple and flexible one from World Nomads to be protected against unforeseen events.

Tours: I love taking tours to explore destinations like a local. My favorite website to book them in advance is GetYourGuide.

Camera Gear: I use a Nikon D5300 camera with an 18-105 mm and a 10-20 mm wide-angle lens to take my photos.