A Perfect Guide to Visiting Sheikh Zayed Grand Mosque
What was the last place you visited that left you completely in awe?
For me, it was the Sheikh Zayed Grand Mosque in Abu Dhabi.
Right after my boyfriend and I booked our flights to the United Arab Emirates, I knew one thing: I wanted to see the iconic Sheikh Zayed Grand Mosque at any rate!
I'd seen tons of photos of this large and impressive building from people living in Abu Dhabi so my curiosity was accordingly high.
Needless to say, I was beyond excited when the moment finally arrived and we packed our bags to make our way to the Middle East.
And, without giving away too much, I was not disappointed at all. Instead, it was even more fantastic than I could have ever imagined!
Undoubtedly, the mosque became a popular and thus pretty crowded tourist sight over the last few years but it's still a great and extraordinary place to experience Islamic architecture and culture.
Therefore a visit is an unmissable thing to do in Abu Dhabi!
This comprehensive guide includes everything you need to know for your first time at the mosque including its history, location, opening times, entrance fees, dress code, useful tips and last but not least, my personal opinion.
Let's start!
(This post contains affiliate links, which means I receive a certain percentage of a sale if you purchase after clicking.)
History of Sheikh Zayed Grand Mosque
It was the first president of the UAE, Sheikh Zayed bin Sultan, who was the driving force behind the big project of building the mosque. Hence its name.
His main intention was to build his own final resting place, which it eventually became and his body now resides in the courtyard of the mosque.
Construction of the building started in 1996 and it took 12 years to complete this architectural masterpiece.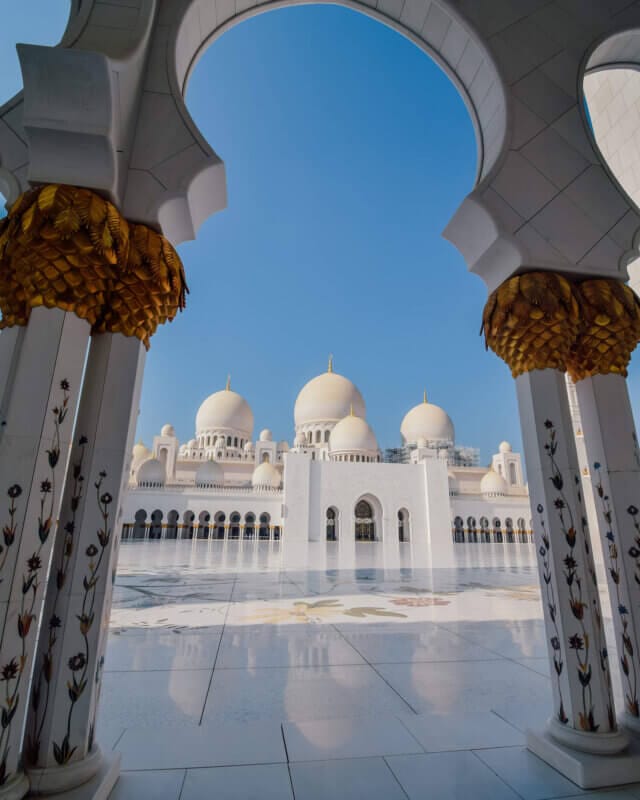 The project was a collaboration between construction companies from all around the world. Italians, Germans, Egyptians, Indians, Chinese and many other nationalities came together to create something outstanding.
Today, the mosque is an enormous place of worship, having enough space to accommodate more than 40,000 people. It's the largest mosque in the UAE and is located in a complex of over 22,400 square meters.
How to Reach The Mosque
The mosque is situated at the entrance to Abu Dhabi Island between Musaffah Bridge and Maqta Bridge.
Hands down the fastest and easiest way to get to the mosque is by taking a taxi. We almost only used taxis to travel from one place to another as they're quite inexpensive compared to many other countries – especially in Europe.
If you have a rental car, you can also take this. There are enough parking lots available.
The third option is taking the public bus but it's more complicated, takes longer and you're not as flexible as with a car or taxi.
Depending on where you're staying, you might need to go to the central bus station first and from there take a bus to the mosque. You can use Rome2rio to find good connections.
Last but not least, there are many great options for guided tours to the mosque.
Tours you might find interesting:
Opening Times & Entry Fees
In general, the mosque's doors are always open to everyone. Visitor hours are from 9:00 am to 10:00 pm every day except Friday when you can visit it only from 4:30 pm to 10:00 pm.
It's possible to enter the building 30 minutes before the closure time. To discover everything the place has to offer, allow at least 1.5-2 hours so plan your visit accordingly.
Now let's come to the best part: there's no entrance fee to enter the mosque.
Yes, you read right: You don't have to pay a single penny to enjoy this beautiful monument! Isn't that great?!
To avoid queuing to get your entrance ticket, I recommend you pre-book an Online Access Pass in advance.
Dress Code
While dressing respectfully is something you should generally do while visiting the UAE, you need to pay more attention to your clothing and also behavior when visiting the mosque.
For women, it's necessary to wear attire that covers the body completely, more precisely, up to the wrists and ankles. This means your arms and legs must be entirely covered.
Furthermore, as a woman, you need to fully cover your hair. You can either bring your own scarf or borrow a Shayla from the changing room at the mosque.
Don't worry if you don't know how to adjust it properly, the staff will happily show you how to do it!
When done dressing, your face, hands and feet should be the only parts left to be seen.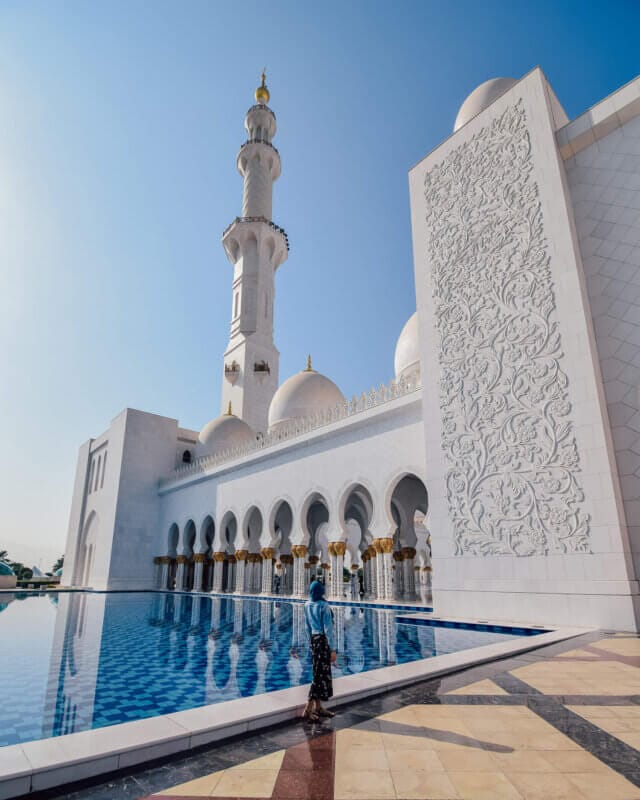 Men should also cover up and avoid wearing shorts. The best is to wear long, fully-covered pants and thin shirts with sleeves at elbow length, at least.
Usually, most tourists aren't dressed appropriately, but of course, there's a solution so they can visit the mosque anyway.
As mentioned above, you can rent clothes – for both, women and men – from the changing room in the visitor center. It's completely free and there's a return desk before the exit of the mosque.
TIP: On the way to the entrance of the mosque you'll find a few shops selling Abaya and Shayla. The staff in front of the shops will approach you and try to sell their clothes by telling you that your outfit isn't appropriate.
Just ignore them and keep walking towards the entrance. Most likely, you're properly dressed and if not, the staff at the entrance will let you know and guide you to the changing room.
They tried the same thing on me, however, I knew I was wearing the right clothes. It's a nasty tourist trap and I'm pretty sure there are enough people who fall into it, unfortunately.
What to See at Sheikh Zayed Grand Mosque
Once inside the mosque, I guarantee, you'll quickly notice why this place is such a popular sight in Abu Dhabi.
Not only is it one of the world's largest mosques but a true architectural work of art featuring 82 domes, 1,000 columns, 24-carat-gold gilded chandeliers and the world's largest hand-knotted carpet.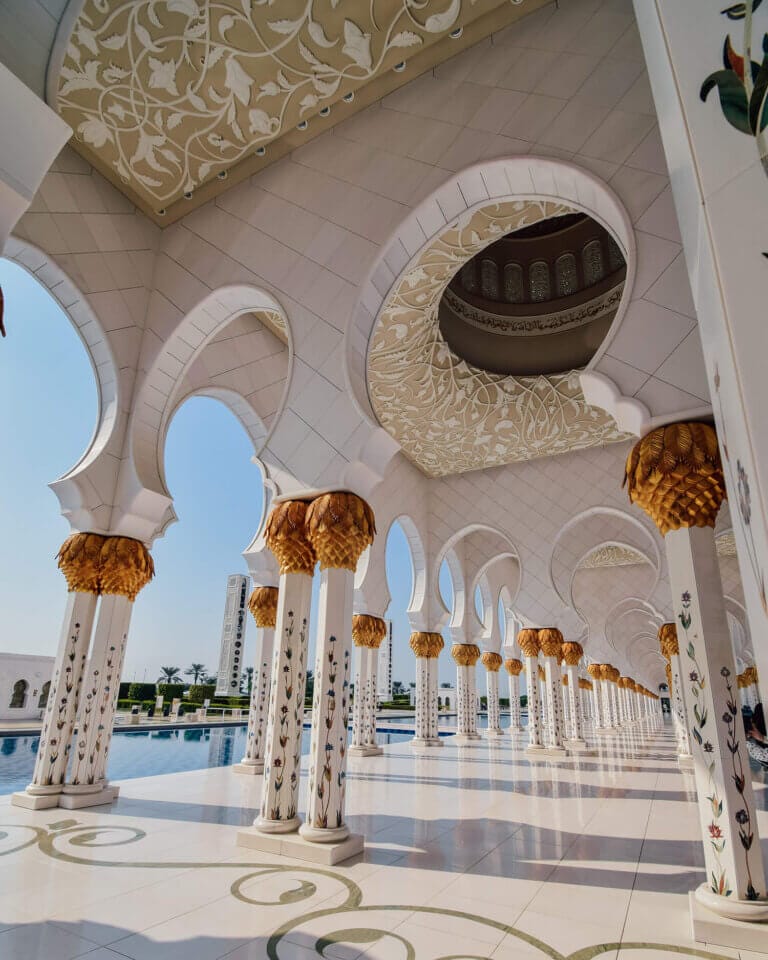 It is made of wool and has an incredible size of 5,700 square meters. It's clearly no wonder why the total project took more than two years to be completed!
Inside the main prayer hall, you also find one of the world's largest chandeliers hanging from the ceiling. It is 10 meters across, 15 meters tall and weighs 12 tonnes.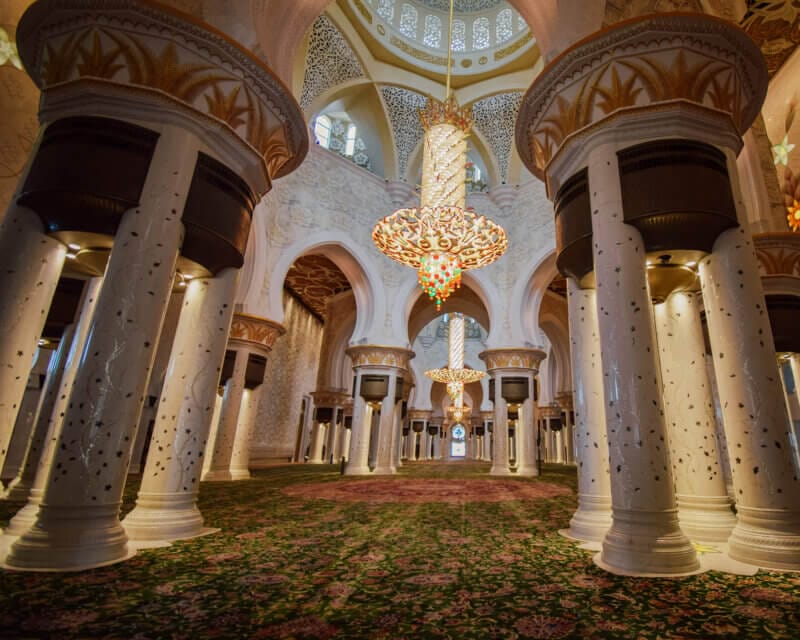 As mentioned above, the mosque has a total of 82 domes, the largest being above the main prayer hall. They all feature white marble cladding and 'crowns' in the shape of onions.
The mosque's four sky-piercing minarets are each around 106 meters tall and designed in a combination of Mameluke, Ottoman and Moroccan styles.
Something else that will immediately catch your eye while touring the mosque is the stunning glasswork of the windows. Colorful mosaics of carved and sand-blasted glass create truly remarkable works of art.
Other Useful Information
While the mosque is normally packed with tourists, you should not forget it's also a holy place of worship. Therefore, it's important to behave accordingly.
Inside the mosque and the inner courtyard, it's strictly forbidden to smoke and eat. You should also pay attention to never taking pictures of people without their consent.
Make sure you turn your phone's silent mode on and refrain from putting on music. In general, try to avoid loud noises and talk quietly.
You might notice people greet you with Asa'lam Aleikum (Peace be Upon You). It's an extremely revered greeting and they really take it to heart when you reciprocate it.
Final Thoughts
All in all, I highly recommend a visit to the Sheikh Zayed Grand Mosque when you're in Abu Dhabi.
Even if you're actually not interested in religious buildings, this mosque will definitely blow you away. I can't remember any other place I've been to that made me feel so humble and small.
Yes, its enormous size and splendor almost feel intimidating. But in a good way.
Try to reserve at least 2-3 hours so you can really soak in all its beauty. Because who knows when you will have the opportunity to experience such a wonderful place again?
---
Like it? Pin it!
---
Do you want to travel like me?
Here are some of my favorite travel tips and resources:
Flights: I prefer using CheapOair or Skyscanner to book flights. The destination everywhere feature is perfect for finding some cheap deals!

Accommodation: Booking.com is my favorite site to find some great hotel deals. I do love staying at a local place as well, thus I book an Airbnb every now and then.

Travel Insurance: There are many reasons why travel insurance is important and I never travel without having one. I use the simple and flexible one from World Nomads to be protected against unforeseen events.

Tours: I love taking tours to explore destinations like a local. My favorite website to book them in advance is GetYourGuide.

Camera Gear: I use a Nikon D5300 camera with an 18-105 mm and a 10-20 mm wide-angle lens to take my photos.