13 Best & Most Famous Landmarks in Abu Dhabi
Most Stunning Landmarks in Abu Dhabi Recommended by Travel Bloggers!
Abu Dhabi – the city of magnificent palaces, high-rising skyscrapers and probably the most stunning mosque in the world.
The capital of the United Arab Emirates is a bit more traditional than the sparkling city of Dubai, but that doesn't mean it won't capture you with its very own magic!
In fact, I even liked Abu Dhabi a bit more than Dubai.
This list of Abu Dhabi landmarks is a mix of cultural heritage sites, modern architecture and natural gems and even includes a theme park.
Whether you prefer traveling back in time at historic sites or admiring contemporary art, all of them are well worth a visit and should be high up on your Abu Dhabi bucket list!
(This post contains affiliate links, which means I receive a certain percentage of a sale if you purchase after clicking.)
13 Beautiful Landmarks in Abu Dhabi You Need to See!
1. Sheikh Zayed Grand Mosque
Recommended by me
Undoubtedly, one of the most famous landmarks in Abu Dhabi, or better THE most popular one, is Sheikh Zayed Grand Mosque.
It was the first president of the UAE, Sheikh Zayed bin Sultan, who initiated the project of building the mosque.
With enough space to accommodate more than 40,000 people, it's among the largest mosques in the world and the biggest one in the UAE.
This architectural masterpiece of art features 82 domes, 1,000 columns, 24-carat-gold gilded chandeliers and the world's largest hand-knotted carpet.
Generally, the mosque is always open to everyone. Visitor hours are from 9:00 am to 10:00 pm every day except Friday when you can visit it only from 4:30 pm to 10:00 pm.
Entrance is free but to avoid queuing to get your ticket, it's better to pre-book an Online Access Pass in advance.
Allow at least 2-3 hours so you can really soak in all its beauty and make sure to dress appropriately!
Check out: A Perfect Guide to Visiting Sheikh Zayed Grand Mosque
Tours you might find interesting:
2. The Louvre
Recommended by me
Another iconic landmark is The Louvre Museum located on Saadiyat Island. A visit there is one of the best things to do in Abu Dhabi, especially if you're an art lover!
The Louvre was opened in 2017 and features a permanent collection of more than 700 masterpieces and approximately 300 works that are loans from partner museums such as The Louvre in Paris.
Through a chronological and theme-based display, you can travel through different cultures and periods of time, from prehistoric times to the present.
It's true that the museum is mainly a tourist magnet because of its fantastic exhibition including paintings by Leonardo da Vinci and Picasso but its architecture is an eyecatcher as well!
Even though it was constructed based on ancient traditional Islamic architecture, contemporary materials were used to give the museum a modern touch.
The Louvre Abu Dhabi is open from Tuesday to Friday from 10:00 am to 6:30 pm and on Saturday and Sunday from 10:00 am to 8:30 pm.
Because it's such a popular sight, it's usually always crowded so make sure to buy tickets online in advance to avoid queuing.
Tours you might find interesting:
3. Qasr Al Watan
Recommended by me
Located in the center of the city and at the end of the famous Corniche Road, you find another great sight in Abu Dhabi: Qasr Al Watan.
Qasr Al Watan is the official presidential palace of the United Arab Emirates and was opened to the public in 2019.
With its facade of white granite and limestone, the grand palace might stun you from the outside already, but wait until you get inside!
Inside you find a highly decorative interior featuring beautifully ornated tile-work on every wall and Islamic architectural patterns on the arches and domes.
Plus, it's home to a giant chandelier with around 350,000 pieces of crystal!
Qasr Al Watan is open every day from 10:00 am to 6:00 pm a ticket costs AED 65 for adults and AED 30 for children.
You can buy them at the counter, but it's advisable to book tickets in advance to avoid long waiting times. If you prefer, you can also join a guided tour that includes the presidential palace.
4. Etihad Towers
Recommended by me
The Etihad Towers can't be missed on the list of famous landmarks in Abu Dhabi. After all, they shape the cityscape like nothing else!
The Etihad Towers is a building complex featuring five skyscrapers with the highest being 305 meters.
Of the five towers, three are residential towers, one is a business tower, and one is home to the five-star Conrad at Etihad Towers Hotel.
From the Observation Deck at 300 which is located on level 74 of the Conrad Hotel, you can enjoy uninterrupted views of the city and click photos of the city skyline, Corniche Road and the Arabian Gulf.
Make sure to also visit The Avenue which is home to some of the world's most exclusive boutique stores.
It's a good occasion to do some window shopping, however, if you want to buy something without spending thousands of dollars, you better head to one of the many malls nearby!
5. Emirates Palace
Recommended by me
Directly opposite the Etihad Towers on the other side of the main street, you spot another one of the most famous landmarks in Abu Dhabi.
The grand and iconic 7-star luxury hotel Emirates Palace is among the most exclusive resorts around the world. Overlooking its own private beach, it's the place where celebrities reside during their time in Abu Dhabi.
Although staying there is often not an option for many travelers, it's possible to visit Emirates Palace as a visitor – completely free of charge.
There are 394 rooms and suites, the most expensive one being the 7,320-square-foot, three-bedroom palace suite with a price of almost $12,000 per night!
You can't visit the rooms as a visitor, unfortunately, but what you can do is stop at the popular Le Café to try their renowned signature 23K gold-flaked Palace Cappuccino.
It's incredibly glamorous and luxurious, plus it's featured on all lists of "Best Café in Abu Dhabi" and "Best Afternoon Tea in Abu Dhabi". You almost get the feeling of being a celebrity yourself!
6. Ferrari World
Recommended by Sara of In Africa and Beyond
A visit to Ferrari World is a must for both thrill-seekers and car enthusiasts when visiting Abu Dhabi. Located on Yas Island, it is the first Ferrari-branded theme park and one of the largest indoor theme parks in the world.
The park features various rides, attractions, and shows that showcase the history and culture of Ferrari.
It is also home to Formula Rossa, the world's fastest roller coaster, which reaches a top speed of 240 km/h in just 4.9 seconds. Other popular rides include the Flying Aces, Turbo Track, and Fiorano GT Challenge.
Simulators, such as the Scuderia Challenge, give visitors an immersive experience of being a part of the Ferrari team, while the 4D experiences will transport one to other worlds. One can even test-drive a real Ferrari!
The park is open daily from 12:00 pm to 7:00 pm. On special days, it opens from 11:00 am to 8:00 pm. Ticket prices start at AED 325 for adults and AED 250 for children.
Family and combo tickets are also available. Spend the full day there to get the most out of your experience.
Tours you might find interesting:
7. Saadiyat Island
Recommended by Kenny of Knycx Journeying
Located on a low-lying island off the coast of the U.A.E.'s capital, Saadiyat Island is a cultural development with a mix of commercial and sightseeing spots that share its modern and historical values with the world from a unique perspective.
The highlight of the island is the Saadiyat Cultural District which consists of seven world-class Museums.
The Museums cover exhibitions from art to history, including Louvre Abu Dhabi, an art museum housing over 35,000 pieces of artwork in different genres.
While the district is still in progress, the island will eventually feature a collection of modern architecture designed by notable Pritzker Prize Winners. From the Guggenheim Abu Dhabi by Frank Gehry and the Sheikh Zayed National Museum by Foster Architects to the Abu Dhabi Performing arts center by the late Zaha Hadid.
Today, you can take a walk by the beach, admire the stunning developments and enjoy a range of different cuisines at the restaurants.
8. Yas Marina Circuit
Recommended by Catrina of 24 Hours Layover
The Yas Marina Circuit is a Formula One race track located on Yas Island, and is one of the most famous landmarks in Abu Dhabi.
The circuit is home to the Abu Dhabi Grand Prix: the final race of the Formula One season. It also hosts other events throughout the year, including concerts and sporting events.
Ticket prices vary depending on the event. For the Abu Dhabi Grand Prix, tickets can range from $150 to over $1,000!
The circuit is also open to the public when an event isn't on, so you are free to come for a couple of hours and walk or cycle around the track from 9:00 am until midnight.
In addition, Yas Marina next door is a beautiful marina with plenty of restaurants and shops that is definitely worth exploring as well.
The marina is free to visit and is open 24 hours a day. You can spend a few hours or an entire day here – there are lots of shops and restaurants here and it is a popular party spot for people living in Abu Dhabi.
Tours you might find interesting:
9. Wahat Al Karama
Recommended by Keri of Abu Dhabi Travel Planner
You can capture some of the most stunning views of the Sheikh Zayed Grand Mosque from Wahat Al Karama, which is in itself an important Abu Dhabi landmark.
Translated as "Oasis of Dignity", this is a war memorial for the UAE's martyred soldiers and Emiratis who have sacrificed their lives whilst serving their nation.
Inaugurated in 2016, the memorial consists of 31 massive aluminum-clad slabs, each leaning on one other, symbolizing unity, solidarity and mutual support.
There is also a semi-circle-shaped plaza that is used for military ceremonies, in particular Commemoration Day, held annually on December 1st.
It is free to visit the Wahat Al Karama Memorial and Plaza 24 hours a day, while the small exhibition in the attached Visitors Centre is open 9:00 am to 10:45 pm. Only tour groups need to book ahead.
Visitors need to take note that whilst photography is permitted at Wahat Al Karama, you must continue to respect the fact this is a memorial and appropriate dress and behavior for the UAE are expected.
10. The Founder's Memorial
Recommended by Trisha of Try Wandering More
The Founder's Memorial at Al Ras Al Akhdar in Abu Dhabi is an awe-inspiring tribute to Sheikh Zayed bin Sultan Al Nahyan, the founding father of the UAE.
Here can learn more about Sheikh Zayed's life, values, and legacy through nature, art, and multimedia.
The highlight of the memorial is the monumental centerpiece called The Constellation.
It is a dynamic three-dimensional portrait of Sheikh Zayed made of 1,327 geometric shapes suspended on 1,110 cables. At night, these geometrical shapes shine like stars.
The memorial is open from 9:00 am – 12:00 am and usually takes about 30 minutes or so to visit. Entry is free and you can also opt for a complimentary guided tour to learn more.
Make sure to visit this memorial around sunset to enjoy a peaceful stroll in the walkway and gardens. Think chirping birds, rustling trees and less heat.
See the Constellation against the backdrop of Abu Dhabi's skyscrapers in the evening and stay till dark to see it light up and shine. It is mesmerizing!
11. Qasr Al Hosn
Recommended by Emma of BonjourSunset
Located in the heart of the city, Qasr Al Hosn is one of the most famous landmarks in Abu Dhabi and a must-visit destination in the UAE.
Built in the late 18th century, the palace was the residence of the ruling family, the seat of government and served as the political and cultural center of the Emirate for over 200 years.
Qasr Al Hosn has been carefully restored to its original grandeur and today you can explore the fort, admire its stunning architecture and visit the museum to learn about the fascinating history of Abu Dhabi and the UAE, from pre-oil days to present times.
To fully appreciate the palace's history and significance, consider spending at least a couple of hours there.
Qasr Al Hosn is open Saturday to Thursday from 10:00 am to 3:00 pm and 7:00 pm to 12:00 am. On Friday, the palace is open from 7:00 pm to 12:00 am. The general admission fee is AED 30 ($8) for adults.
Qasr Al Hosn is one of the best places to visit in Abu Dhabi for anyone interested in the history and culture of the UAE.
With its rich history and beautiful architecture, you will be transported back in time to experience the grandeur and legacy of the Emirate's ruling family.
12. Al Jahili Fort
Recommended by De Wet & Jin of Museum of Wander
Many will say that Abu Dhabi is all bling and no history or culture is left. Those people should come to Al Ain to see the Al Jahili Fort.
Al Jahili Fort is one of the oldest buildings in Al Ain, dating back to 1891. It was built to protect the city and its palm groves and played a crucial role in the region's defense during the 20th century.
The traditional Emirati architecture features round watchtowers, a central courtyard, and thick walls made of mud. Its design reflects the style and showcases the region's cultural heritage.
Besides the striking earthen architecture, the fort houses several cultural and art exhibitions. The section on the restoration of the fort using only traditional methods and materials is very insightful.
Entrance to Al Jahili Fort is free of charge, and it's open from 9:00 am to 7:00 pm daily. Free parking is available. Plan to spend 1-2 hours seeing the fort and the exhibits.
Al Ain is about 90 minutes drive south of downtown Abu Dhabi and the city and its attractions are a popular day trip or weekend getaway from the capital.
13. Al Ain Oasis
One of the most remarkable landmarks in Abu Dhabi is Al Ain Oasis, located in the 4,000-year-old historical city center of Al Ain.
Al Ain Oasis is the UAE's largest oasis and the UAE's first curated UNESCO World Heritage Site.
Also called the "Green City" of Al Ain, the 1,200 hectares oasis offers shaded respite from the harsh Middle Eastern sun and the fast-paced city life.
You can follow the maze of pathways under the lush palm trees, which count to 147,000, and also appreciate the falaj – a traditional ancient irrigation system that feeds the oasis.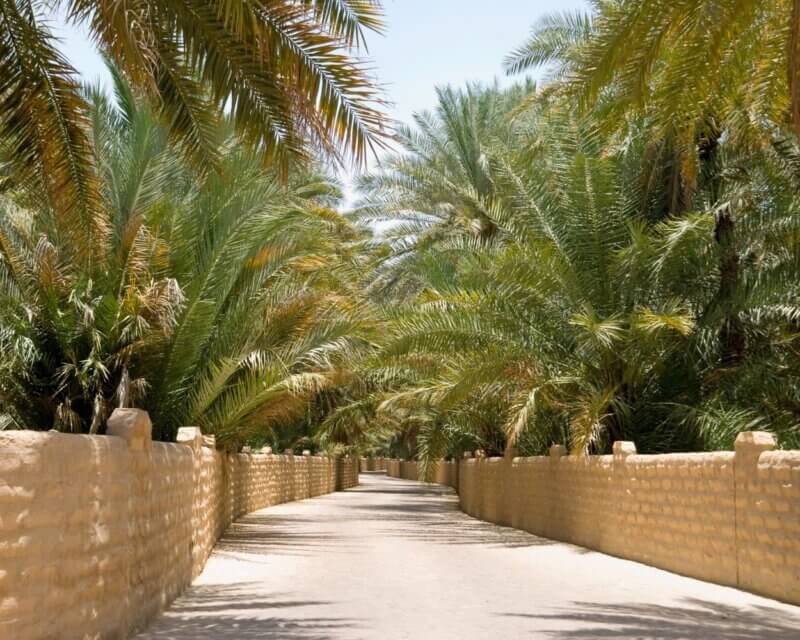 Al Ain Oasis is free to visit and is open daily from 9:00 am to 5:30 pm. It also has a cozy little café at the entrance where you can try local Arabic treats such as "luqaimat".
Al Ain Oasis makes a wonderful day trip to add to your Dubai itinerary and see a completely different side of the UAE far from glittering skyscrapers.
The best way to get to Al Ain Oasis is by driving. It takes around 1.5 hours from Dubai or Abu Dhabi to reach the oasis.
Check out:
– 10 Unmissable Things to do in Abu Dhabi
– Where to Stay in Abu Dhabi: Fairmont Bab Al Bahr
– A Perfect Guide to Visiting Sheikh Zayed Grand Mosque
---
Like it? Pin it!
---
Do you want to travel like me?
Here are some of my favorite travel tips and resources:
Flights: I prefer using CheapOair or Skyscanner to book flights. The destination everywhere feature is perfect for finding some cheap deals!

Accommodation: Booking.com is my favorite site to find some great hotel deals. I do love staying at a local place as well, thus I book an Airbnb every now and then.

Travel Insurance: There are many reasons why travel insurance is important and I never travel without having one. I use the simple and flexible one from World Nomads to be protected against unforeseen events.

Tours: I love taking tours to explore destinations like a local. My favorite website to book them in advance is GetYourGuide.

Camera Gear: I use a Nikon D5300 camera with an 18-105 mm and a 10-20 mm wide-angle lens to take my photos.