100 Best Inspirational Hiking Quotes & Captions
Hiking is a truly wonderful activity that anyone can enjoy. It doesn't matter if you're young or old, experienced or just starting out, there's a trail out there waiting for you to be explored.
To get you even more excited about hiking, I've gathered some inspirational hiking quotes and captions that will remind you just how amazing it is to explore our incredible world.
If you already love hiking, you probably appreciate the beauty of nature, and many of these quotes capture that feeling. They'll make you think about the stunning landscapes you've seen and the ones you're yet to discover.
I hope you find these hiking quotes and captions inspiring and uplifting for your adventures. Feel free to use them for your Instagram posts and share your memorable moments with fellow adventurers!
(This post contains affiliate links, which means I receive a certain percentage of a sale if you purchase after clicking.)
🥾⛰️ Amazing Hiking Quotes & Captions For Adventurers!
"The mountains are calling, and I must go."

– John Muir
"In every walk with nature, one receives far more than he seeks."

– John Muir
"Hiking is a bit like life: The journey only requires you to put one foot in front of the other…again and again and again. And if you allow yourself the opportunity to be present throughout the entirety of the trek, you will witness beauty every step of the way, not just at the summit."

– Unknown
"The best view comes after the hardest climb."

– Unknown
"I took a walk in the woods and came out taller than the trees."

– Henry David Thoreau
"Hiking is not just exercise; it's therapy for the soul."

– Unknown
"The world reveals itself to those who travel on foot."

– Werner Herzog
"In nature, nothing is perfect and everything is perfect. Trees can be contorted, bent in weird ways, and they're still beautiful."

– Alice Walker
"Wilderness is not a luxury but a necessity of the human spirit."

– Edward Abbey
"Hike more, worry less."

– Unknown
"Hiking is the answer. Who cares what the question is?"

– Unknown
"Walking is man's best medicine."

– Hippocrates
"Mountains have a way of dealing with overconfidence."

– Hermann Buhl
"Hiking: the ability to turn an excuse into an accomplishment."

– Unknown
"The best journeys in life are those that answer questions you never thought to ask."

– Rich Ridgeway
"Every mountain top is within reach if you just keep climbing."

– Barry Finlay
"Adopt the pace of nature: her secret is patience."

– Ralph Waldo Emerson
"There are no shortcuts to any place worth going."

– Beverly Sills
"The greatest pleasure in life is doing what people say you cannot do."

– Walter Bagehot
"Life is better in hiking boots."

– Unknown
"When you're hiking, there's no room for anything but the task at hand."

– Bill Bryson
"Hiking is not escapism; it's realism. The people who choose to spend time outdoors are not running away from anything; we are returning to where we belong."

– Jennifer Pharr Davis
"I took the one less traveled by, and that has made all the difference."

– Robert Frost
"Hiking is a way of falling in love with the world again."

– Unknown
"Of all the paths you take in life, make sure a few of them are dirt."

– John Muir
"Walking: the most ancient exercise and still the best modern exercise."

– Carrie Latet
"In the mountains, there you feel free."

– T.S. Eliot
"Climb the mountains and get their good tidings."

– John Muir
"The only limit to your impact is your imagination and commitment."

– Tony Robbins
"Hiking and happiness go hand in hand or foot in boot."

– Diane Spicer
"Life is better when you're hiking."

– Unknown
"I am happy out here. Messy hair, dirty feet, and wild water on my skin. Out here with the wild things; this is where I belong."

– Brooke Hampton
"After a day's walk, everything has twice its usual value."

– George Macauley Trevelyan
"The journey of a thousand miles begins with a single step."

– Lao Tzu
"Hiking is not for everyone. Notice the wilderness is mostly empty."

– Sonja Yoerg
"Hiking: the best way to see the world and escape from reality at the same time."

– Unknown
"Life is better on the trails."

– Unknown
"Hiking is a way of life. It's something you do because it makes you feel alive."

– Unknown
"I walk slowly, but I never walk backward."

– Abraham Lincoln
"It's not the mountain we conquer but ourselves."

– Sir Edmund Hillary
"Hiking: the art of slowly walking uphill while being simultaneously happy and miserable."

– Unknown
"Mountains are not stadiums where I satisfy my ambition to achieve, they are the cathedrals where I practice my religion."

– Anatoli Boukreev
"Not all who wander are lost."

– J.R.R. Tolkien
"The best hikes can't be planned; they just happen."

– Unknown
"Nature is not a place to visit. It is home."

– Gary Snyder
"Walking: the great adventure, the great affair, the infinite pleasure."

– Gary Snyder
"To walk in nature is to witness a thousand miracles."

– Mary Davis
"The more you walk, the more your heart sings."

– Unknown
"Walking is the best possible exercise."

– Thomas Jefferson
"There is no wifi in the forest, but I promise you will find a better connection."

– Unknown
"Hiking is a way to cleanse the mind and escape the noise of everyday life."

– Unknown
"On the top of mountains, as everywhere to hopeful souls, it is always morning."

– Henry David Thoreau
"The earth has music for those who listen."

– Shakespeare
"Hiking is a way to awaken the explorer within."

– Unknown
"Walking is a way to reconnect with the simplicity of being."

– Unknown
"Do more things that make you forget to check your phone."

– Unknown
"Remember to look up to the stars, not down to your feet."

– Stephen Hawking
"I might look like I am listening to you, but in my mind, I am hiking."

– Unknown
"I slow down when hiking. The rhythm of nature is more leisurely. The sun comes up, it moves across the sky, and you begin to synchronize to that rhythm."

– John Mackey
"I see my path, but I don't know where it leads. Not knowing where I'm going is what inspires me to travel it."

– Rosalia de Castro
"Getting to the top is optional. Getting down is mandatory."

– Ed Viesturs
"The woods are lovely, dark and deep. But I have promises to keep, and miles to go before I sleep."

– Robert Frost
"Thousands of tired, nerve-shaken, over-civilized people are beginning to find out that going to the mountains is going home; that wildness is a necessity."

– John Muir
"The trail leads not merely north and south, but up to the body, mind, and soul of man."

– Harold Allen
"Everyone wants to live on top of the mountain, but all the happiness and growth occurs while you are climbing it."

– Andy Rooney
"I like being near the top of a mountain. One can't get lost here."

– Wislawa Szymborska
"The hardest mountain to climb is the one within."

– J. Lynn
"Because in the end, you won't remember the time you spent working in the office or mowing your lawn. Climb that goddamn mountain."

– John Kerouac
"Between every two pines there is a doorway to a new world."

– John Muir
"Some women want diamonds… others just want a hammock, a campfire and some peace & quiet."

– Unknown
"I'd rather be hiking in the rain, than sitting inside at a desk on a sunny day."

– Unknown
"Let's wander where the wifi is weak."

– Unknown
"Adventure is worthwhile in itself."

– Amelia Earhart
"Only those who risk going too far can possibly find out how far they can go."

– T.S. Eliot
"Remember to turn everything off once a week – including your brain – and walk somewhere quiet."

– Unknown
"Keep climbing, and when you reach the top, don't forget to turn around and help someone else up."

– Unknown
"The climb might be tough and challenging, but the view is worth it. There is a purpose for that pain; you just can't always see it right away."

– Victoria Arlen
"Chasing angels or fleeing demons, go to the mountains."

– Jeffery Rasley
"We move through this world on paths laid down long before we are born."

– Robert Moor
"We don't stop hiking because we grow old, we grow old because we stop hiking."

– Finis Mitchell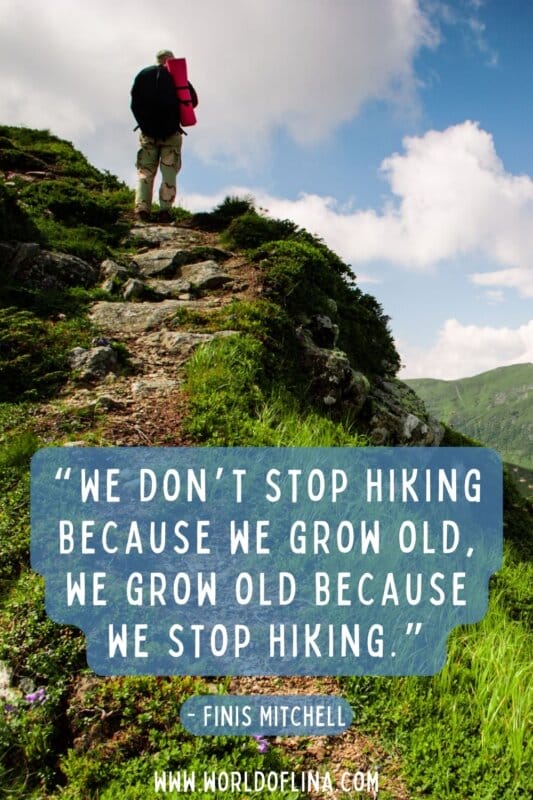 "You need special shoes for hiking – and a bit of a special soul as well."

– Terri Guillmets
"May your dreams be larger than mountains and may you have the courage to scale their summits."

– Harley King
"The biggest reality check you'll get amongst mountains is realizing how small you are."

– Inspire with Quotes
"You have to hike up the mountain path to reach the summit. Thinking won't get you there."

– Marty Rubin
"If you find a path with no obstacles, it probably doesn't lead anywhere."

– Frank A. Clark
"Nature is painting for us, day after day, pictures of infinite beauty if only we have the eyes to see them."

– John Ruskin
"My father considered a walk among the mountains as the equivalent of church going."

– Aldous Huxley
"The experienced mountain climber is not intimidated by a mountain, he is inspired by it."

– William Arthur Ward
"Mountain hikes instilled in me a life-long urge to get to the top of any inviting summit or peak."

– Paul D. Boyer
"The moment my legs begin to move, my thoughts begin to flow."

– Henry David Thoreau
"When the sun is shining I can do anything; no mountain is too high, no trouble too difficult to overcome."

– Wilma Rudolph
"Clouds come and go, the mountain remains."

– Meeta Ahluwalia
"You never climb the same mountain twice, not even in memory. Memory rebuilds the mountain, changes the weather, retells the jokes, remakes all the moves."

– Lito Tejada-Flores
"Hiking is the best workout! You can hike for three hours and not even realize you're working out. And, hiking alone lets me have some time to myself."

– Jamie Luner
"The higher you climb on the mountain, the harder the wind blows."

– Sam Cummings
"There is always an adventure waiting in the woods."

– Katelyn S. Bolds
"I love hiking because it clears your mind, enriches the soul, takes away the stress, and opens up your eyes to a whole new world."

– Claudette Dudley
"I felt my lungs inflate with the onrush of scenery – air, mountains, trees, people. I thought, 'This is what it is to be happy'."

– Sylvia Plath
"The way up to the mountain is always longer than you think. Don't fool yourself, the moment will arrive when what seemed so near is still very far."

– Paulo Coelho
"I could never resist the call of the trail."

– Buffalo Bill
Check out:
– 150 Best Sunset Quotes
– 50 Best Solo Travel Quotes
– 45 Best Travel With Friends Quotes & Captions
– 40 Romantic Couple Travel Quotes
---
Like it? Pin it!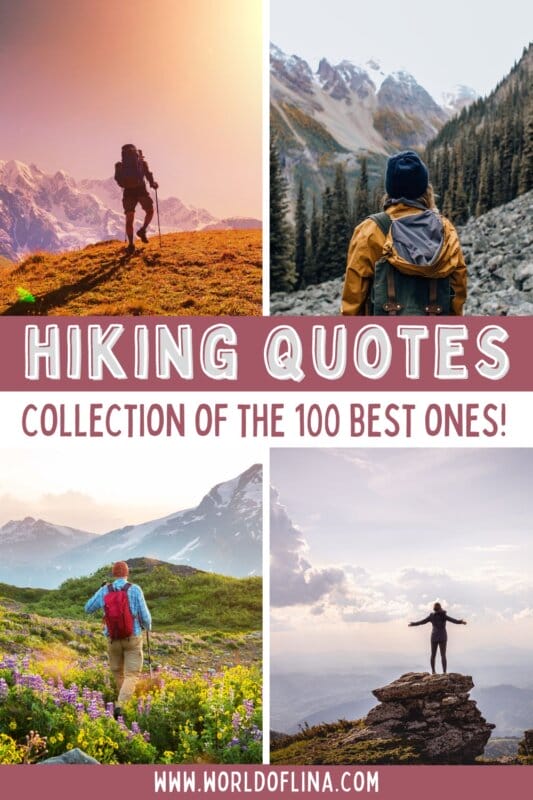 ---
Do you want to travel like me?
Here are some of my favorite travel tips and resources:
Flights: I prefer using CheapOair or Skyscanner to book flights. The destination everywhere feature is perfect for finding some cheap deals!

Accommodation: Booking.com is my favorite site to find some great hotel deals. I do love staying at a local place as well, thus I book an Airbnb every now and then.

Travel Insurance: There are many reasons why travel insurance is important and I never travel without having one. I use the simple and flexible one from World Nomads to be protected against unforeseen events.

Tours: I love taking tours to explore destinations like a local. My favorite website to book them in advance is GetYourGuide.

Camera Gear: I use a Nikon D5300 camera with an 18-105 mm and a 10-20 mm wide-angle lens to take my photos.