Best Places To Watch The Sunset in Los Angeles
Before I went to California, people had told me already that the sunsets there are to die for. No wonder my expectations were accordingly high and watching the sunset in Los Angeles just had to be on my LA itinerary for 5 days!
Luckily I had the chance to experience quite a few stunningly beautiful ones during my trip. Here are my absolute favorite places to watch the sun disappear beyond the horizon in the City of Angels:
(This post contains affiliate links, which means I receive a certain percentage of a sale if you purchase after clicking.)
Griffith Observatory
You probably remember Griffith Observatory from the movie "La La Land" with Emma Stone and Ryan Gosling. (If you haven't watched it yet, time to do so now!)
Located on the south side of Mount Hollywood and high above the city of Los Angeles, it offers a fantastic panoramic view.
To go there you can either take an Uber, Lyft, or the public bus called "DASH". If you have a rental car you can approach the observatory via the Vermont or Fern Dell entrances to Griffith Park.
I recommend you to go either on top of the building or just around the main entrance to the right side of it. There you'll have the perfect view to see the sun go down above the city.
Since I went to LA in February, the sunset was pretty early at around 5:45 pm. Therefore I still had enough time to go inside the observatory and visit the different kinds of exhibitions as it's open till 10:00 pm.
If you're also interested in watching live shows in the Planetarium or looking through telescopes, you can check out their official website for more information.
I took this picture only a few minutes before the sun finally set. It was wonderful to see how the buildings from downtown Los Angeles reflected the sunlight so beautifully.
Runyon Canyon Park
Another top place to enjoy a fantastic sunset in Los Angeles is Runyon Canyon Park at the eastern end of the Santa Monica Mountains.
The large park is a great place to go for a hike – especially for a sunset hike! To go there you can use two different entrances.
I stayed at an Airbnb in Hollywood and therefore the southern entrance at the end of North Fuller Avenue was the closest one. If you want to enter the park from the north you can use the entrance at Mulholland Drive.
Whatever entrance you choose, you will definitely find your way to one of many awesome viewpoints. However, be aware that the hike from the southern entrance is way more exhausting.
It took me a while to climb up the hills to find this amazing overlook.
Even though it takes some effort to reach this sunset spot, it's totally worth it. You'll be rewarded with an overwhelming view and another spectacular sunset in Los Angeles.
By the way, a little bird told me it's likely to spot a celebrity in Runyon Canyon Park. So if you're in a desperate search for your favorite singer or actor – this is the place to go! 😉
Santa Monica Beach
Hands down, watching the sunset at Santa Monica Beach – one of the best beaches in the USA – was my biggest highlight from the entire trip to California.
Not only because I just love any sunset at the beach, but it was seriously the most perfect one I've ever seen in my life!
Moreover, it was the place I was the most excited about going to and it definitely exceeded all my expectations.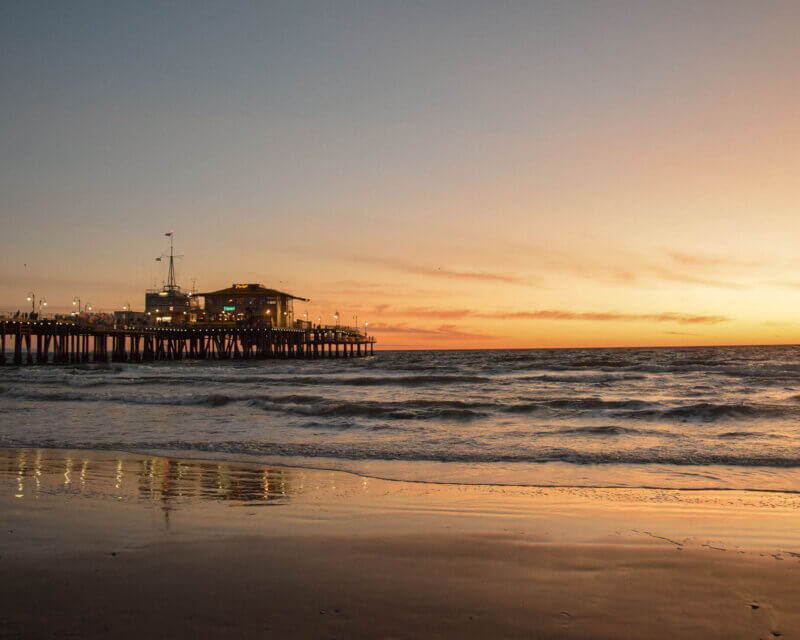 If you're in Santa Monica there are quite a few options to watch the sun disappear over the ocean. At first, there's the opportunity to take a ride on the Ferris wheel at the pier which costs you $ 10,-.
To save some money it's also possible to either just walk along the pier or sit at the beach as I did.
Furthermore, there are plenty of hotels along the beach offering some nice views from their rooftops. Sipping a cocktail while watching the sun slowly go down is always a great way to end a day.
Do you know those kinds of moments you wish would last forever? Well, that particular moment at Santa Monica Beach was such a moment for me. If you go there I really hope you can experience it for yourself as well.
I've been dreaming of watching a warm, magical summer sunset in California for years, and with my trip to LA, it finally came true.
Well, almost as we went there in February but I'm used to temperatures around 0 so it felt like summer for me! 😀
I wish I could have experienced more magical sunsets but my time in LA was way too short.
If you've been to Los Angeles already, what were your favorite places to enjoy some amazing sunsets? I would love to go there the next time I'm heading to California! 🙂
Check out:
– 9 of The Best Things to do in Downtown LA
– The Perfect Los Angeles Itinerary For 5 Days
– How to Use Public Transport in Los Angeles
---
Do you want to travel like me?
Here are some of my favorite travel tips and resources:
Flights: I prefer using CheapOair or Skyscanner to book flights. The destination everywhere feature is perfect for finding some cheap deals!

Accommodation: Booking.com is my favorite site to find some great hotel deals. I do love staying at a local place as well, thus I book an Airbnb every now and then.

Travel Insurance: There are many reasons why travel insurance is important and I never travel without having one. I use the simple and flexible one from World Nomads to be protected against unforeseen events.

Tours: I love taking tours to explore destinations like a local. My favorite website to book them in advance is GetYourGuide.

Camera Gear: I use a Nikon D5300 camera with an 18-105 mm and a 10-20 mm wide-angle lens to take my photos.