Die Wasnerin – a Perfect Place to Relax & Unwind
This blog post is written in cooperation with Die Wasnerin and based on my personal experience at the hotel.
When was the last time you spent an entire day just doing things you appreciate, things that are good for your body and soul? Whether it's to finally finish that book you started months ago, practice mindful Yoga or enjoy a long walk in nature after a while.
Maybe you want to relax, let your mind wander and be far away from any distractions.
At the hotel Die Wasnerin, I guarantee you find the long-sought-after tranquility and peacefulness that bring your body, mind and soul into harmony.
(This post contains affiliate links, which means I receive a certain percentage of a sale if you purchase after clicking.)
Where to Find The Hotel Die Wasnerin
This 4-star superior hotel is located in the town of Bad Aussee in the so-called 'Ausseerland', a lovely small part of the famous Salzkammergut region in Styria.
It's surrounded by lakes and impressive mountains including the Dachstein which is home to the Dachstein Giant Ice Cave, one of Austria's most famous landmarks.
Thanks to its convenient location, it's easily reachable from many large Austrian cities such as Salzburg, Linz and Graz and even the journey from Munich or Passau takes less than three hours.
The fastest way to get here is undoubtedly by car, but there are also good train connections available.
Coming by train from Vienna is still a bit laborious and requires many train changes, unfortunately. However, this is going to change because the entire Salzkammergut region – including Bad Aussee – is designated as the European Capital of Culture in 2024.
In the course of this, train connections will be expanded which also includes a direct connection from Vienna to Bad Aussee!
Interesting Facts to Know About The Hotel
Before I start raving about my incredibly great and relaxing time at the hotel, I would like to share a few significant facts about this unique place with you.
Because in my opinion, Die Wasnerin is not just one of many hundreds of wellness hotels in Austria, no, it is by far the best I've ever been to! Trust me, that's not an exaggeration, it is the pure truth!
Old History
The history of Die Wasnerin is truly fascinating since its roots can be traced back to the 15th century.
Already hundreds of years ago, (mostly) aristocrats and wealthy citizens came here to spend their summer holidays in the beautiful Ausseerland. Well-known people like Gustav Mahler and Oskar Kokoschka became regular guests of the house.
To get more details about the entire history of the house, simply walk along its hallways. There you will find a complete timeline hanging on the walls, showing the development of the hotel from its very beginning to the present day.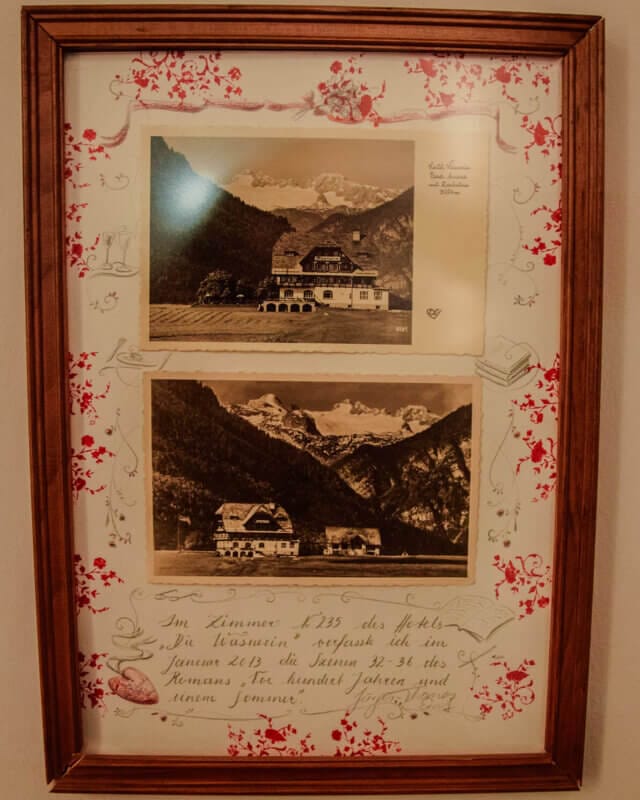 Today, Die Wasnerin consists of two parts: The 'old traditional house' which is under monument protection and the newer part which was opened in 2006.
Thanks to the architectural feat, both parts merge harmoniously with each other and result in a great overall picture – from outside as well as from inside.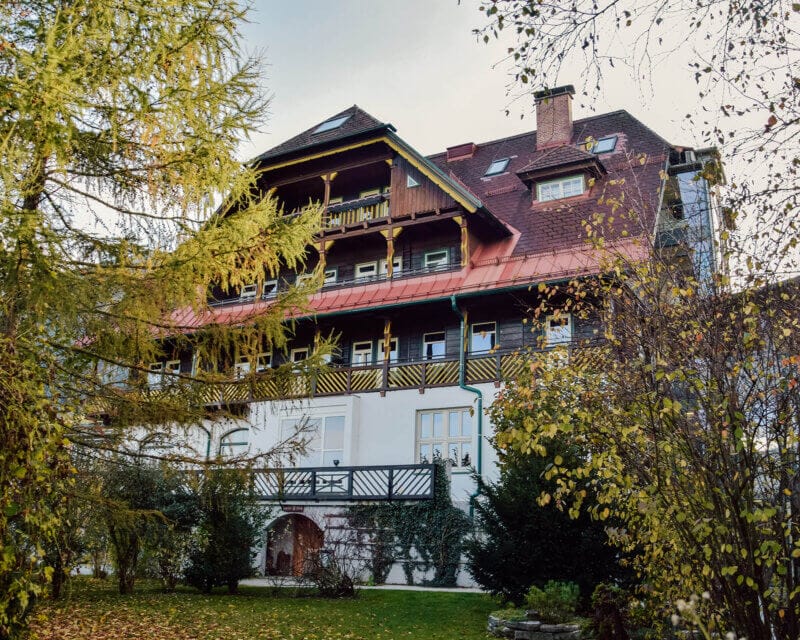 Three Different Philosophies
We all know that many companies and also hotels often advertise certain philosophies, but do not really live them.
At Die Wasnerin, the focus is on three mission statements and each of them is completely and truly lived by every single staff member to ensure guests get exactly what they expect – and even more!
1. Wellness
The first great focus is on wellness in every possible sense. That is why the hotel's spa area is named after our body's center and most important point: the navel.
At 'Navel – The Spa', what the official name is, you can allow yourself to relax your body, mind and soul to the fullest. Special cosmetic treatments and different body massages bring you into a state of deep relaxation.
The trained staff inquires about any wishes you might have and caters to your needs completely.
Moreover, the 2,400 square-meters big wellness area with comfortable loungers, cozy blankets, and private areas invites you to relax, switch off your mind and forget anything that bothers or worries you.
A generous whirlpool, a heated outdoor and indoor pool, various saunas and more help you get into a state of deep satisfaction and well-being.
Of course, I checked it all out by myself but I will write about that a little later. Let's move on to the second philosophy of the hotel!
2. Literature
The second emphasis is on a topic rather unlikely to find at a hotel anytime soon again.
Die Wasnerin does call itself a literature hotel and that's for a good reason. Every year, the hotel hosts different literature events where famous Austrian and German authors come for a meet and greet and to read a few pages out of their published books.
While exploring the old and new parts of Die Wasnerin, you will most likely come across a couple of bookshelves distributed throughout the entire hotel. These are not only intended as decoration but guests can also borrow and read them during their stay.
There's even a whole lounge dedicated to books. It's filled with a large number of traditional literature but also newly released books from young, talented writers.
Here you have enough seating options to lean back and read your favorite book or dive into completely new worlds.
So, if you are an avid reader, don't do it like me and bring your own book(s). Instead, discover something new by choosing one (or more) of the many books displayed.
They're already waiting to be read by you!
3. Yoga
Last but not least, at Die Wasnerin you find enough possibilities to join multiple activities throughout the day. One big focus hereby is on all conceivable kinds of Yoga.
Whether it's Yoga for beginners, Aerial Yoga, SUP Yoga, and even Yoga for golfers – there's no type of Yoga you won't find on the program! Up to three lessons per day are offered so you can choose the one which sounds the most appealing to you.
If you want to experience it more in-depth, special Yoga workshops and retreats can be booked anytime as well as individual private lessons.
Focus on Sustainability
Another great thing about Die Wasnerin I can't miss mentioning is how much importance they put on sustainability.
For example, in terms of food and bath amenities, the hotel cooperates with regional suppliers who only provide the best organic high-quality products in Austria. Furthermore, they also generate their own green electricity through a photovoltaic system on the roof.
Die Wasnerin also has its own small fleet of electric vehicles including a couple of electric cars to rent and e-minibusses to pick up guests from the train station, for instance.
With everything the hotel offers, there's something you won't find at the hotel: plastic packaging. Everyone here tries to avoid using it as much as possible and use alternatives instead.
So yes, more plus points for the great implementation of a remarkably sustainable hotel!
My Unforgettable Stay at Die Wasnerin
Now that you've gotten an overview of the hotel's values and philosophies it's time to share my personal experiences. Together with my partner, I had the opportunity to stay two nights at Die Wasnerin a few weeks ago.
Arriving in a Sustainable Way
Even though we would have been faster and more flexible by car, we decided to come by train.
Why you might ask yourself now.
Well, the answer is simple: Because it's more sustainable. Moreover, we both could enjoy the breathtaking landscape passing by during our 2.5-hours journey.
You know, I don't travel around this part of Austria that often, unfortunately, so it was a wonderful occasion to get some new impressions.
Besides, I knew that once we arrive at the hotel, we would get an electric car to use – completely for free! Because at Die Wasnerin, everyone who arrives by train can borrow an e-car or e-bike for free.
Isn't that awesome?! For my part, I don't know of any other hotel offering this.
Anyway, since we arrived a bit too early and our room wasn't ready, we used this opportunity to explore the charming town of Bad Aussee.
After a short walk through the town, we then had lunch at a very traditional and old restaurant called 'Blaue Traube'. Although it's a long-established place, they had two vegan options on the menu, much to my delight.
Satisfied and with a full belly, it was time to head back and pick up the keys to our room.
A Room to Feel Good
After entering the open, bright reception hall, we were heartily welcomed by the entire reception team. They gave us all the relevant information and invited us to a glass of sparkling wine before accompanying us to our room.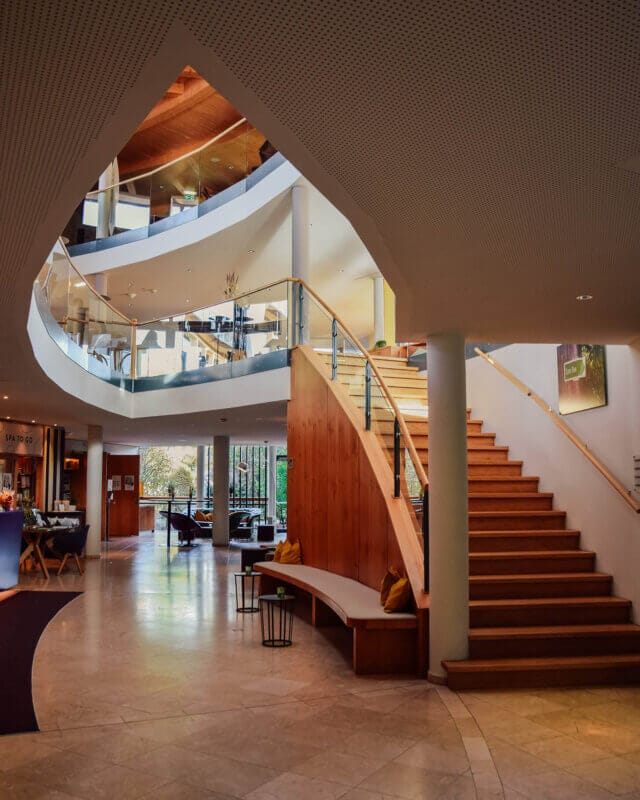 Our room was in the new building on the second floor. As soon as I opened the door, I felt immediately at home.
The first thing that struck me right away was the epic view of the imposing Dachstein mountain. We also had a big balcony with cozy chairs from where we could enjoy the view to the fullest.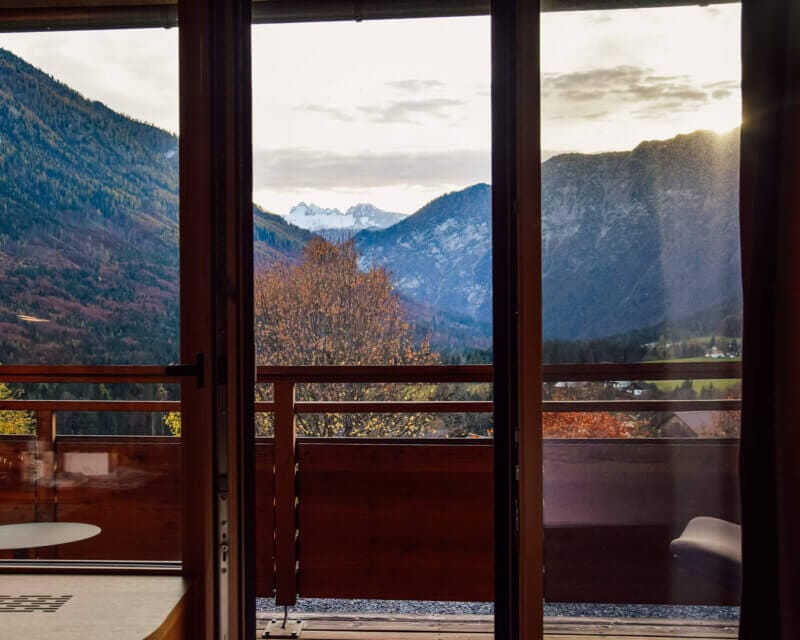 Inside, the room was furnished with a large, very comfortable and inviting bed, a homely seating area with cushions, a flat-screen TV and enough possibilities to stow away our clothes.
I loved the fact everything was in green and brown natural tones, giving the room a soothing ambiance.
Even the minibar, which is usually just a small fridge somewhere in the room, was built in a separate cupboard. When opening its door, the light went on and we had the choice between coffee, tea, cold drinks or snacks.
Of course, the bathroom was just as spacious including a bathtub, a shower, a separate toilet and regional bath amenities such as shampoo, showering gel, body lotion and soap.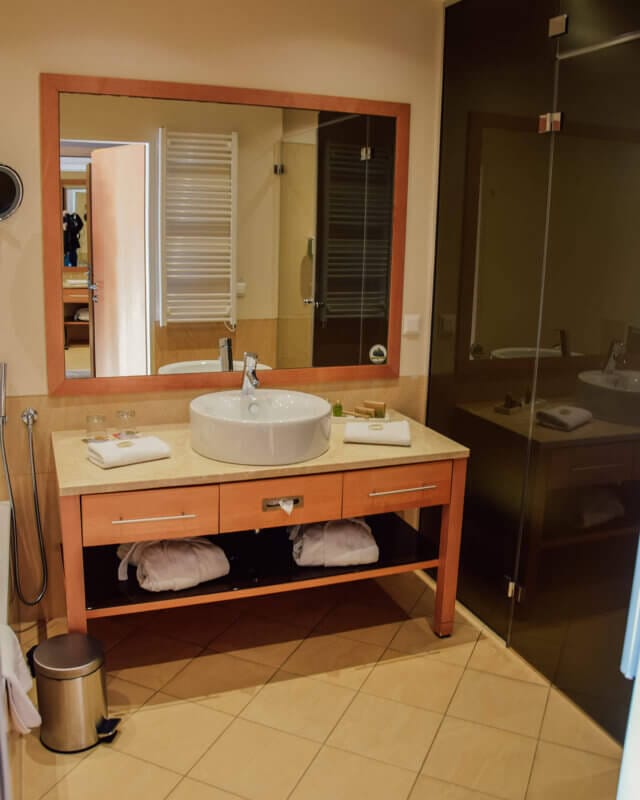 Furthermore, we already had bathrobes, towels and bags prepared that we could take with us to the wellness area.
Talking about the wellness area: Of course, we wanted to go there as quickly as possible but before, we couldn't help it to explore the hotel and its surroundings.
What There is to Find …
When we left our room and headed in direction of the new wing, we found ourselves on the 'play floor' – as I love to call it. This floor featured a pool table and various board games for a fun time.
One level below was the main bar of the hotel named 'Herzstück' which can be translated to 'centerpiece'. Quite fitting as the bar is located right in the middle of the hotel.
After a short coffee break on the terrace, we made our way to the hotel garden.
Here, the staff grows their own herbs and a lovingly arranged biotope invites everyone to enjoy nature's beauty. It's a wonderful place to take a stroll and learn more about the native plants.
I also noticed that the rooms on the ground floor facing the garden all had a separate fenced area. These rooms are specially designed for dog owners who like to take their four-legged friends with them on vacation!
If I had known that before, I would have taken mine too!
After our short tour of the hotel, it was finally time to check the wellness area, the one thing I was looking forward to the most.
So back to the room, quickly packed our wellness bags and off we went!
2,400 Square-Meters of Relaxation
The wellness area is divided into two parts.
On one side are the heated outdoor and indoor pools and enough relaxation areas, all spread over three floors. Whereas on the other side is the nude area with saunas, an outdoor whirlpool and also cozy relaxation zones.
We decided to spend the rest of the day at the pools where we did a few laps, let the bubbles of the indoor pool ease our tensions and read a few pages in our books.
The good thing about a heated outdoor pool is the fact you can also swim outside when it's rainy and/or cold. I don't know about you but I love the feeling of swimming in a warm pool and feeling the fresh raindrops on my skin!
Deeply relaxed and happy but also a bit hungry we left the wellness area a couple of hours later to get ready for dinner.
Vegan Food Heaven
I was really very curious and looking forward to dinner because I had heard that Die Wasnerin puts great importance on healthy nutrition and especially vegan food.
Thus my expectations were accordingly high.
And yet, they were surpassed by quite a bit.
As soon as the waiter handed us the menu and I had a look at it, I felt my mouth water. A completely vegan 5-course menu awaited me.
Of course, they don't cook just any dishes at this hotel. While reading the menu, I noticed how much attention was paid to regional and seasonal ingredients.
My starting course, for example, was a champignon aspic with root vegetable and crispbread. Followed by a frothy black horseradish soup and a fruity sorbet to neutralize the taste buds.
As main course I got a paprika filled with tempeh and for the grand finale, they served me chocolate chestnut cake with pralines, cinnamon ice cream and sour cherry.
The entire menu was not only a sensation for my taste buds but also a feast for the eyes.
That's how our first day at Die Wasnerin ended: With two completely full bellies but 100% satisfied!
How to Start The Day Right
I don't know about you but I can't start the day without breakfast. Whether it's cereals or a good portion of oatmeal, I just need to eat something in the morning.
What I like even better is having the opportunity to choose from many different options at a breakfast buffet.
But should I tell you what is the absolute best?!
When the buffet contains such a large number of vegan choices I can no longer count them with two hands!
At Die Wasnerin exactly this was the case. The variety of plant-based options at the breakfast buffet was simply phenomenal, I had never seen such a rich selection anywhere else before!
I was truly overwhelmed – in a good way.
Now I don't even know where to begin to list what was there. Best I keep it short to leave you with a few surprises for your stay.
Hands down, my absolute favorite things at the buffet were the vegan walnut chocolate brownies. Something so indescribably tasty and soft, it melted on the tongue.
I couldn't help but ask for the recipe which the staff at the reception kindly sent me by mail. The fact that you can ask for any recipe and they'll happily provide it for you is simply amazing!
Other personal highlights of the buffet I want to mention here include their homemade spreads such as hummus and guacamole, an immense range of fresh and dried fruits and homemade jams.
Last but not least, I can highly recommend ordering a caffè latte with oat milk.
Everything else you need to see and try yourself!
A Full Day of Getting Pampered
Since it was already our last day, unfortunately, we decided to let ourselves be pampered in the spa.
My partner opted for a partial body massage whereas I tried their special deceleration treatment. It's a gentle massage ritual with aromatic oils using certain techniques to bring the entire body into a state of deep relaxation.
A truly pleasant experience!
With the long list of various massages, beauty treatments and more, it was hard to make a decision. I don't think there is anything they don't offer at their spa!
So it's no wonder the hotel only recently received the 'Relax Guide Spa Award' which makes it one of the best wellness hotels in Austria. Totally deserved in my opinion!
Afterward, we spent the rest of the day in the wellness area where we tried their different saunas and relaxed a while in the outdoor jacuzzi with a view of the surrounding mountains.
Another great thing about the wellness area at Die Wasnerin is the fact it's only accessible to hotel guests. This means you don't have to sit in the sauna with 20 other people but can enjoy a bit of privacy.
Oh and don't worry if you get thirsty or hungry. There are so-called 'refueling stations' in all parts of the wellness area providing several sorts of teas and snacks such as apples, dried fruits and nuts.
I tell you, doing nothing for a whole day feels really good! I hadn't been so completely serene and in harmony with myself in a very long time.
And yet even a day of doing nothing makes you really hungry at some point. Luckily, it was already time for dinner, but unfortunately, it was 'the last supper', so to speak.
Vegan Food Heaven Part II
Just like on the first evening, a completely vegan menu was served to me.
This time I got avocado maki as a starter, followed by cabbage soup and rolled barley risotto with fennel and vegetables as the main course.
The dessert was a strudel filled with a paste of date and poppy seeds and beetroot sauce. A very interesting combination that I had never eaten before.
They truly love to experiment with different tastes!
We ended the evening with a few rounds of billiards and some drinks before we fell contentedly into bed.
Time to Say Goodbye …
If there is one thing I don't like at all about spending time at such amazing hotels then it's saying goodbye. Unhappily, every great stay comes to an end.
After a final breakfast, it was time to pack our bags and head to the reception. The checkout process was very smooth and the staff was so incredibly kind, we even received a pine soap as a small gift.
A driver brought us back to the train station where we took the next train home.
Looking back I can only say that I enjoyed every single minute of my time at Die Wasnerin to the fullest.
It wasn't only the beautiful rooms, the great wellness area or other facilities of the hotel that made my stay so special.
No, it was mainly the employees who were so extremely attentive and friendly!
Whether it was the staff at the bar who remembered exactly which coffee we had consumed the day before or the waiter at the restaurant who greeted us by name. Every single employee made me feel like being part of a big family.
And I just want to say THANK YOU for that!
So, when do you book your stay at Die Wasnerin? Maybe we'll see each other then. 😉
---
Like it? Pin it!
---
Do you want to travel like me?
Here are some of my favorite travel tips and resources:
Flights: I prefer using CheapOair or Skyscanner to book flights. The destination everywhere feature is perfect for finding some cheap deals!

Accommodation: Booking.com is my favorite site to find some great hotel deals. I do love staying at a local place as well, thus I book an Airbnb every now and then.

Travel Insurance: There are many reasons why travel insurance is important and I never travel without having one. I use the simple and flexible one from World Nomads to be protected against unforeseen events.

Tours: I love taking tours to explore destinations like a local. My favorite website to book them in advance is GetYourGuide.

Camera Gear: I use a Nikon D5300 camera with an 18-105 mm and a 10-20 mm wide-angle lens to take my photos.