Everything to Know if You Visit Bangalore Palace
Bangalore is probably one of the less touristy places in India. Therefore the number of attractions is rather small.
One sight that should be on your list tho is Bangalore Palace, a beautiful and stunning building surrounded by lovely gardens. To make it easier for you here's everything you should know if you visit Bangalore Palace in India!
Visit Bangalore Palace – Everything Important to Know!
Before you make your way to the palace there's some information you should know beforehand.
(This post contains affiliate links, which means I receive a certain percentage of a sale if you purchase after clicking.)
Location
The palace is situated in the heart of the city and therefore easily reachable. You can either take the public bus, an auto-rickshaw, a taxi or – what I recommend you – an Uber.
Also, most of the city tours offered in Bangalore have the palace included so you won't have to worry about getting there.
Tours you might find interesting:
The exact address is Palace Road, Vasanth Nagar, Bengaluru, Karnataka 560052 as you can see on the map below.
Opening Hours
You can choose any day to visit Bangalore Palace as it's open on all days of the week throughout the year. However, it may happen that it's closed for public due to renovation work or weddings.
Plan your visit according to the opening hours (from 10:00 am & 5:30 pm) and keep in mind that you need at least 1.5-2 hours to see everything!
Entrance Fees to Visit Bangalore Palace
The entrance fee varies depending on if you're Indian or a foreigner and if you want to use your camera or not.
Here's the price list from what I can remember & what I paid. I did some research by myself before I went to the palace and all those websites mentioned cheaper prices than what I actually paid.
So there's no 100% guarantee the prices are still the same.
Indian: 250 Rupees
Foreigner: 480 Rupees
Phone camera: 300 Rupees
Proper camera: 700 Rupees
Camcorder: ~ 1500 Rupees
Compared to other places in the city, the prices to visit Bangalore Place are extremely high! I paid 1.180 Rupees in total (entrance + camera) which is €15 in total.
TIP: PLEASE double-check your receipt if they charged you for the correct things.
Even though I told the guy at the entrance that I have a proper camera with me, he charged me the amount for a phone camera only.
So when the security guy inside saw me taking photos with the camera, he asked for the receipt – which was wrong, of course.
I tried to explain that the guy at the entrance typed the wrong amount on the receipt and that I wanted to pay for using my camera.
He took me back to the entrance guy where I had to pay the remaining amount (after arguing because they wanted to charge me 700 Rupees again.)
SO do yourself a favor and ALWAYS double-check to avoid unnecessary effort.
History & Architecture of Bangalore Palace
Maybe you're not a fan of history but you should really know some basic facts if you visit Bangalore Palace!
The construction of the palace started in 1874 when King Chamaraja Wadiyar decided to build his own grand home in the city of Bangalore. Four years later in 1878, all construction was done and the palace was officially finished.
If you take a close look at the palace, maybe you can see a similar architectural style as many European castles and palaces have.
Rumors say it's because the king got his inspiration from Windsor Castle and other structures in England and also France. Moreover, the vine-covered walls make you feel like you're in England and not in India!
This particular architectural style is called Tudor – mixed with Scottish Gothic. Apparently a lot of elements inside the palace are imported from Britain.
Inside The Building
As soon as I got inside the palace I was overwhelmed by its beautiful design. Tons of pillars and arches are part of the more Hindu style interior – something you may not expect from outside.
Every building's room has its own colorfully patterned walls with breathtaking chandeliers hanging from the ceiling.
My absolute favorite parts of the palace were the two lovely courtyards including fountains and a tile bench in art-deco design.
Apparently one of the fountains was a gift from a Spanish royal who came for a visit once.
Besides architectural masterpieces, the palace is also home to many great paintings made by Raja Ravi Varma during the past few centuries.
Moreover, there are countless photos showing either the Wadiyar dynasty and its different generations or Bangalore's evolution over the last decades.
TIP: You can take a FREE 45-minute audio guide tour through the palace to learn everything about the history.
Outside The Palace
If you saw every corner inside the palace, don't forget to take a stroll in the surrounding garden. Even though I felt that it lost his charm a bit as it doesn't look well taken care of.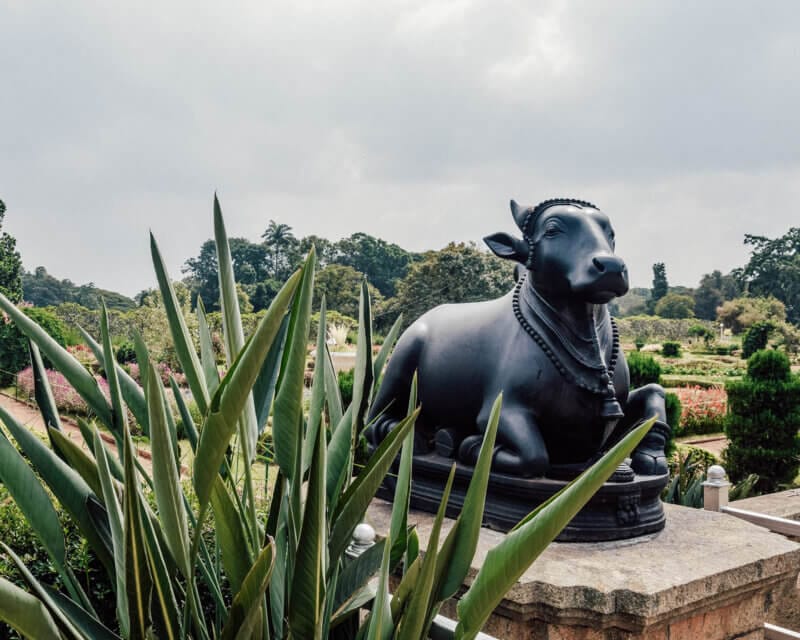 Right next to the palace, there are many big tents because nowadays, the palace grounds also serve as the venue for concerts, weddings or exhibitions that take place in Bangalore.
Bangalore Palace is an architectural masterpiece and an interesting historical place.
If you love extraordinary interior and want to learn more about Indian history than you should definitely visit Bangalore Palace!
---
Like it? Pin it!
---
Do you want to travel like me?
Here are some of my favorite travel tips and resources:
Flights: I prefer using CheapOair or Skyscanner to book flights. The destination everywhere feature is perfect for finding some cheap deals!

Accommodation: Booking.com is my favorite site to find some great hotel deals. I do love staying at a local place as well, thus I book an Airbnb every now and then.

Travel Insurance: There are many reasons why travel insurance is important and I never travel without having one. I use the simple and flexible one from World Nomads to be protected against unforeseen events.

Tours: I love taking tours to explore destinations like a local. My favorite website to book them in advance is GetYourGuide.

Camera Gear: I use a Nikon D5300 camera with an 18-105 mm and a 10-20 mm wide-angle lens to take my photos.