Is This The Coolest Dinner Spot in Fes, Morocco?
During my travels, my decision on where to have dinner is mostly not based on the menu only. For me, the place itself is often way more interesting. I really enjoy sitting either outside in a lovely backyard or maybe on a rooftop terrace.
When I was in Morocco, we stumbled upon the coolest dinner spot in Fes. I can honestly say it was the most amazing and unique dinner place in my life so far!
(This post contains affiliate links, which means I receive a certain percentage of a sale if you purchase after clicking.)
It was late in the afternoon when we finally arrived in Fes. After we checked in at our accommodation in the city, we decided to head for dinner as we hadn't eaten a lot that day.
What I usually do to find a nice, vegan place to eat is I either look at Happy Cow or simply type in "vegan restaurants" in Google Maps. Especially before my trips, I normally do some research and note all the good spots down.
Of course, I did the same to find a great dinner spot in Fes. However, this time, my friend and I discovered an absolutely amazing place thanks to Andi from Destinationchaser, a fellow traveler we've been following on Instagram.
She posted the place we went to in her stories and so we found the address of this restaurant.
Where to Find The Coolest Dinner Spot in Fes
Actually, it didn't seem to be very difficult to get there from our accommodation. We typed the address in Google Maps to find out it was only a 15-minute walk away.
Very hungry but excited we walked to the older part of the city where we hoped to find the dinner spot in Fes.
Here's the address of the restaurant which is called "Dar Sidi Idir".
Well, it didn't take that long until we got completely lost in the souks of Fes. Needless to say that Google Maps stopped working as soon as we entered the maze of narrow streets in Medina.
We decided to ask if someone knows the way and after a few negations we were successful!
A very nice guy showed us the way and we were more than grateful as we finally arrived at the restaurant. Actually, it was located on a rather big street, however, the sign was very small and easy to overlook.
We were welcomed by a friendly waiter whom we told about our plan to visit the rooftop terrace of the restaurant.
After we had to climb narrow and steep stairs we found ourselves on the rooftop terrace. It wasn't the one we imagined tho and we were a bit disappointed.
We told the waiter we saw another location and showed him the picture Andi posted in her stories.
As soon as he saw the picture he smiled and pointed at a small metallic spiral staircase we had overseen. We climbed it very carefully and there it was, the place we wanted to find so badly.
There was just one problem: Neither a table nor chairs were on that small terrace. How were we supposed to eat?
Dinner With a View
It didn't take a long time until they brought a table and two colorful stools to sit for us. Normally the small rooftop terrace is not open for guests but the owner made an exception.
As soon as the furniture was arranged, we ordered our food. It was a very easy decision since the menu card was relatively small and we both were vegans.
Luckily some traditional Moroccan dishes are already vegan such as Vegetable Tagine, Couscous with Vegetables and Moroccan Salads. We ordered all of those dishes + some Moroccan bread as well.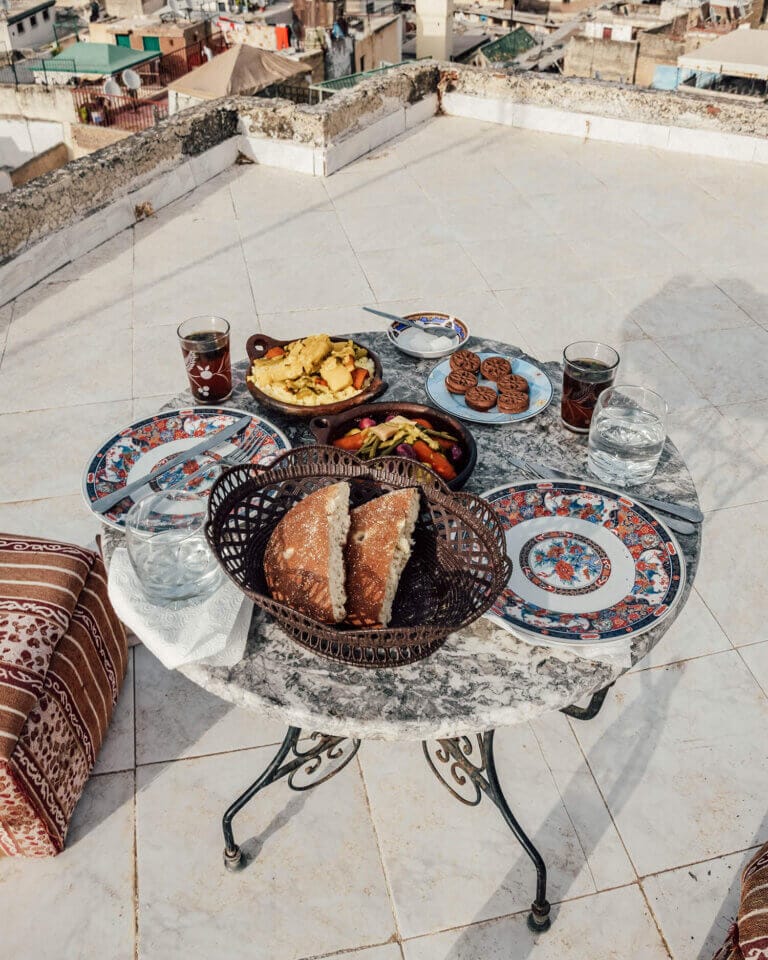 Of course, we also got the typical Moroccan mint tea to drink and some cookies as dessert.
Admittedly, I was a little bit skeptical about the food as the reviews weren't that good. However, everything they prepared for us tasted really delicious and the prices were very cheap too.
Not to forget the friendly and kind waiter who arranged that lovely dinner spot for us!
We paid MAD 250 (~ €24) in total which is not expensive at all considering the breathtaking view we got in addition!
Meet Aysha
Besides the stunning view and the tasty food, we met a new friend there as well. Soon after our dinner arrived, the cat from the restaurant – her name was Aysha – joined us and stayed with us the entire time.
You need to know that my friend and I both own cats and we're literally obsessed with them! She was such a lovely little soul and very cuddly too.
After we finished our food we kept sitting there for a while since we couldn't stop soaking in that view of Fes.
I guess we could've sat there for hours but it was 7:00 pm already and the owner told us they were closing at that time. Reluctantly but super happy we left and thanked them for everything they had arranged for us!
My Honest Review of Our Dinner Spot in Fes
I can honestly say this dinner spot in Fes was probably one of my all-time favorites ever! It was awesome having this rooftop terrace completely for ourselves.
Plus that incredible view and good food made everything 10 times better.
Of course, I can't tell you that this is the absolute best place to have lunch or dinner in Fes as I couldn't check out other places.
However, my experiences were only positive and thus it was definitely one of my absolute highlights during my time in Morocco! I would even say having dinner there is one of the best things to do in Fes in general.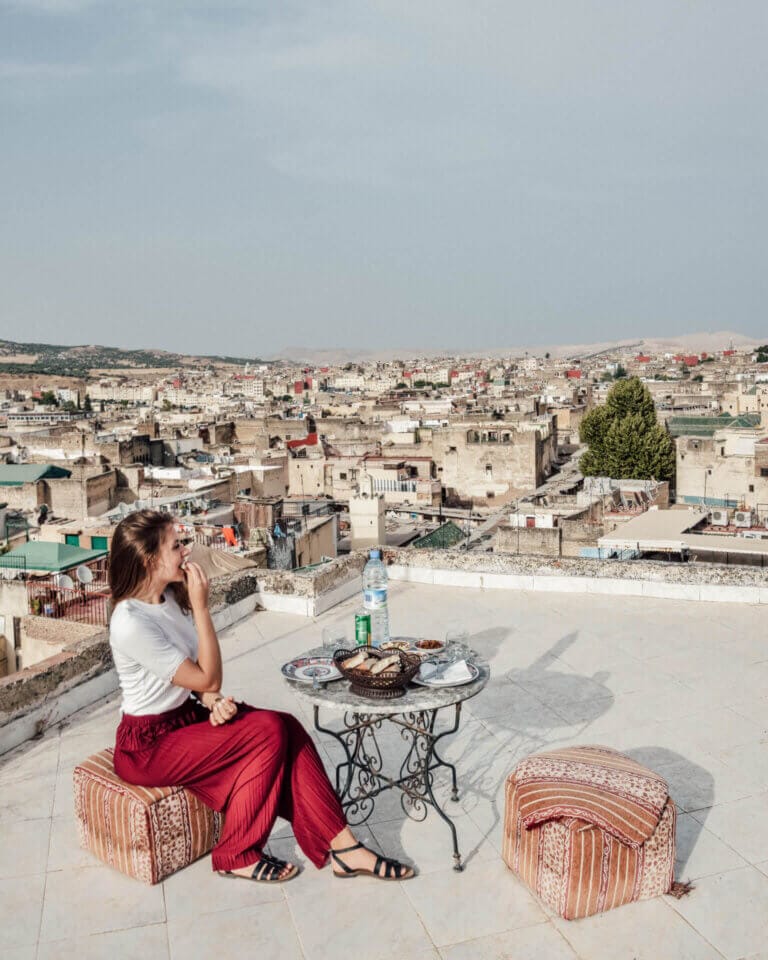 Where To Stay in Fes, Morocco
If you want to go to Dar Sidi Idir I recommend you choose accommodation somewhere close to it.
During our time in Fes, we stayed at the Riad Zamane & Spa, a very beautiful and lovely Riad close to Medina and the famous Blue Gate.
As I already mentioned above, it was also a short 15-minute walk from the restaurant and thus truly perfect for us!
---
Like it? Pin it!
---
Do you want to travel like me?
Here are some of my favorite travel tips and resources:
Flights: I prefer using CheapOair or Skyscanner to book flights. The destination everywhere feature is perfect for finding some cheap deals!

Accommodation: Booking.com is my favorite site to find some great hotel deals. I do love staying at a local place as well, thus I book an Airbnb every now and then.

Travel Insurance: There are many reasons why travel insurance is important and I never travel without having one. I use the simple and flexible one from World Nomads to be protected against unforeseen events.

Tours: I love taking tours to explore destinations like a local. My favorite website to book them in advance is GetYourGuide.

Camera Gear: I use a Nikon D5300 camera with an 18-105 mm and a 10-20 mm wide-angle lens to take my photos.